For the second installment of our journey across America in search of the best Land Art, we're venturing to Pacific Northwest to check out Robert Morris's Johnson Pit No. 30 and Herbert Bayer's Mill Creek Canyon Earthworks—two seminal pieces in the history of artful environmental interventions. These essays are excerpted from Phaidon'sArt & Place, a compendium of must-see site specific works across North and Central America.
JOHNSON PIT NO. 30
Robert Morris
King County, WA, USA
Commissioned in 1979 by the King County Arts Commission, the project Robert Morris (b.1931) made outside Seattle, Washington, is—with his Grand Rapids Project X (1974) in
Michigan—one of two extant earthworks by the American artist. Like its predecessor, the project for Johnson Pit No. 30 was conceived in response to a site in need of environmental remediation. In Grand Rapids, Morris recreated a hillside that had been carved out to provide material for highway construction; in Seattle he was asked to stabilize and reconceive 1.5 hectares (3.7 acres) of land in and around a disused gravel pit in a then undeveloped area southeast of the city.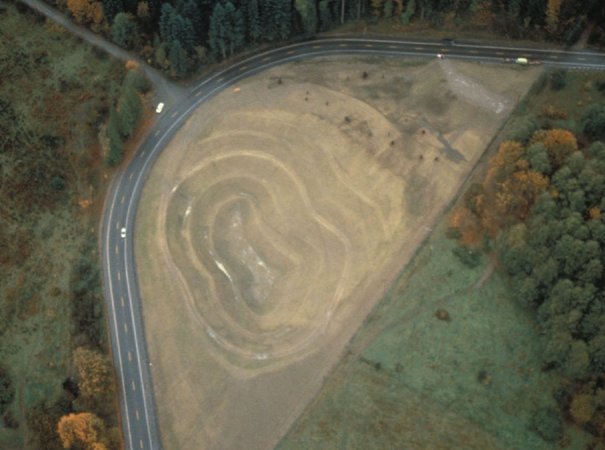 Morris's design, which reimagined the pit as a kind of amphitheater, with the sides formed into stepped concentric rings of earth planted with resilient rye grass, did not erase all evidence of what had come before: the artist left a number of tree trunk stumps, blackened with tar, around the upper level of the site to remind viewers of the preceding environment. The work has weathered the passing of the decades relatively well; the cuts that form the terraced structure have worn down over the years into more gentle slopes, and steps have been installed. The surrounding area has been substantially developed in the intervening years as a residential neighborhood, and today Morris's reclamation is a popular park, with the open terraced spaces used as a dog run by locals.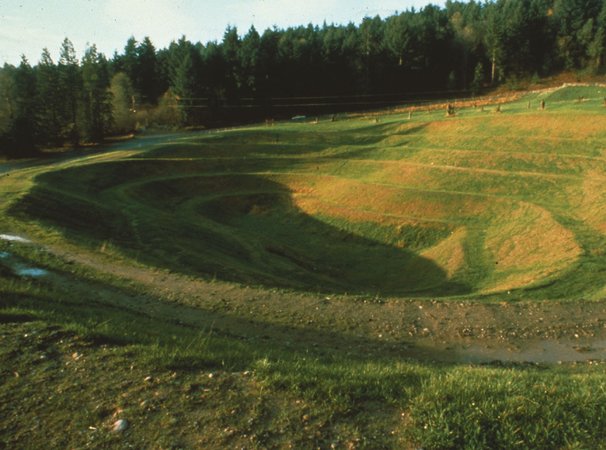 Sponsored by a consortium of cultural and governmental bodies, including the U.S. Department of the Interior and the Bureau of Mines, the Johnson Pit No. 30 project was, as Morris wrote, "the first instance of the hiring of an artist to produce art billed as land reclamation." The location was one of several chosen for potential artistic intervention as part of "Earthworks: Land Reclamation as Sculpture," a symposium and residency program held in Seattle that also included artists Iain Baxter, Richard Fleischner, Lawrence Hanson, Mary Miss, Dennis Oppenheim, Beverly Pepper, and Herbert Bayer.
MILL CREEK CANYON EARTHWORKS
Herbert Bayer
Kent, WA, USA
Mill Creek Canyon Earthworks is the final environmental work by the Austrian-born designer, architect, and artist Herbert Bayer (1900–85), whose 1955 Earth Mound in Aspen, Colorado, is widely considered to be the first contemporary environmental artwork. Like Robert Morris's Johnson Pit No. 30, Bayer's project at Mill Creek Canyon in the city of Kent, Washington, emerged from the "Earthworks: Land Reclamation as Sculpture" symposium and residency program held in Seattle in 1979. Bayer's site was a 1 hectare (2.5 acre) portion of a public park in what is today a residential neighborhood in a dormitory suburb of Seattle. Set at the foot of a canyon, the area was subject to cycles of flood and drought, and Bayer's solution was to compose a series of geometric landscape features—hillocks, berms, and pathways and excavated rings, as well as canals to manage storm water runoff—that were designed to be both elegant and functional.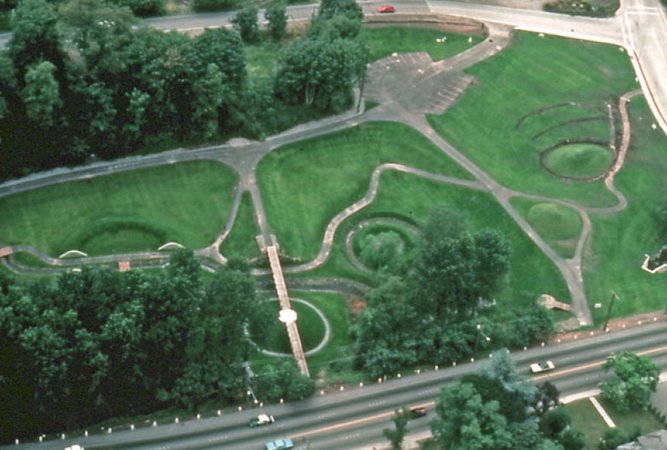 Three decades on, Bayer's work continues to operate as both public amenity and remedial intervention—although it is now a protected city landmark, the role of Mill Creek Canyon Earthworks in the city's water management protocol was confirmed when its dams were renovated in 2008 to meet more stringent Washington State standards.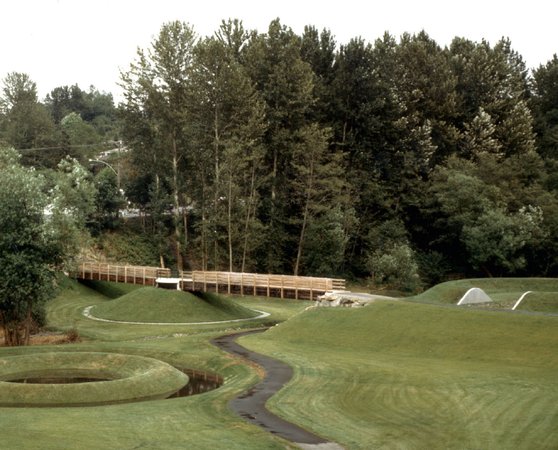 In the 1920s, Bayer had studied and taught at the Bauhaus with Walter Gropius, Wassily Kandinsky, Paul Klee, and László Moholy-Nagy, becoming the school's director of printing and advertising. He developed typefaces and worked as an art director at a fashion magazine before fleeing Germany in 1938, eventually settling in New York. In the United States he continued his work as a graphic designer while also producing artwork in a variety of media. In 1946 Bayer relocated to Aspen, Colorado, where he designed the grounds of the Aspen Institute for Humanistic Studies. It's perhaps not surprising that it was there, surrounded by forest and mountains, that Bayer began to develop a program calling for artworks to be made from (and not simply distributed across) the surrounding natural landscape, including Earth Mound, which was described by curator Jan van der Marck as "the first instance on record of landscape as sculpture."