We're all familiar with the stereotypical notion of the "poor starving aritst"—but what does it mean to call art "poor"? In 1967 Italian critic Germano Celant coined the term Arte Povera —literally "poor art"—to describe a circle of diverse artists working in Italy throughout the 1960s and '70s. Celant saw their work as embracing the possibility of "discarding all visually univocal and coherent discourse," as these artists turned away from Italy's rising commodity culture and chose to work rather with the "poor" materials left behind from consumerism. Through new materials like soil, rags, or trash these artists aimed to challenege and disrupt the commercialized values they saw overwhelming both the contemporary gallery system and society's new post-war economy. In this brief essay from Phaidon's Art in Time , we explore the diversity of Arte Povera's key figures to celebrate the opening of Marisa Merz's (the movement's sole female aritst) first major US retrospective, "The Sky is a Great Space" at the Met Breuer .
FROM BARNYARD TO THE WHITE CUBE: NEW MATERIALS
Celant trumpeted Arte Povera 's radical new media: 'animals, vegetables and minerals have cropped up in the art world.' Jannis Kounellis (b. 1936), for example, tethered twelve live horses to gallery walls for a three-day installation, providing a new slant on equestrian traditions in art and rethinking the value of permanence for artworks.
Giovanni Anselmo, Untitled , 1968
Giovanni Anselmo (b. 1934) used a head of lettuce to investigate 'primary' energies. In this work, nature's fundamental forces—tension, gravity and time—are both catalyst and storyline. The inert (granite blocks) is juxtaposed with the organic (lettuce), bound together (but only temporarily) by wire that loosens as the lettuce wilts.
ACTIVATING THE VIEWER IN A POST-WAR CONSUMER SOCIETY
Michael Pistoletto performing his 1967 'walking sculputre' at the Museo Nacional de Bellas Artes in Havana, Cuba, 2016
Arte Povera puts viewers into new relationships with art: palpably engaged, they became participants, interacting with or activating works. In an installation by Gilberto Zorio (b. 1944), bright yellow sulphur powder becomes black when the viewer draws a magnetic handle over its surface. Iron powder, attracted to the magnet, rises to the surface and temporarily creates a mark that eventually diminishes. Michelangelo Pistoletto (b. 1933) drew viewers into the artistic process by creating an event; he rolled his Globe (1966-68) of compressed newspapers through the streets of Turin on its way to being exhibited. Two years of newspaper were mashed together into a giant sphere that asks us to think about world events and the progression of time.
AMBIGUOUS COMMENTARY BLURS ART AND LIFE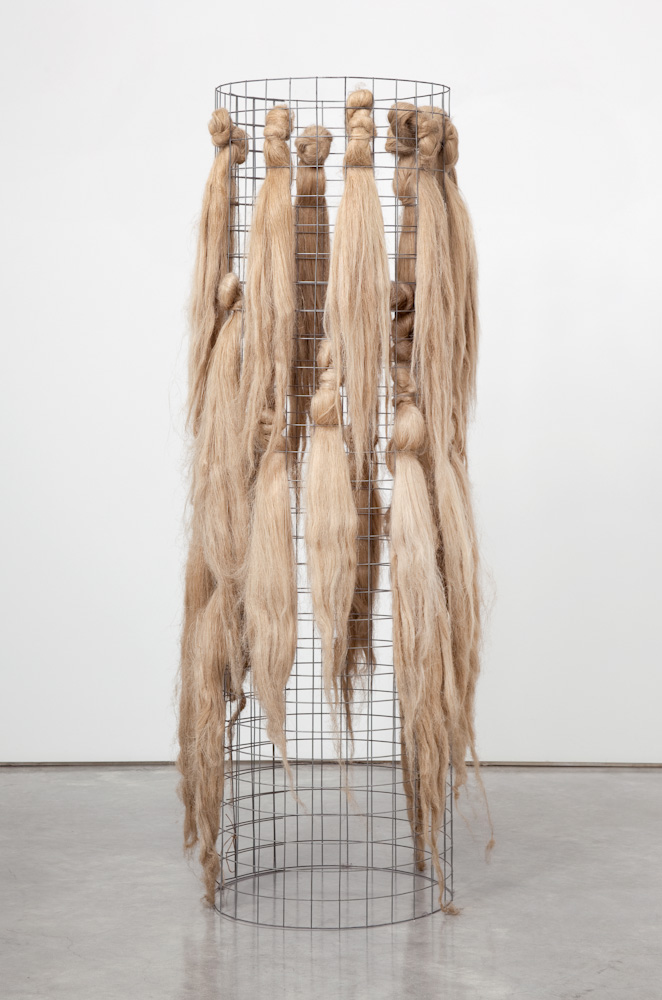 Marisa Merz, Untitled , 1966
Marisa Merz (b. 1931) and Mario Merz (1925-2005) considered shelter and community, but in different ways. Her indeterminate enclosure, Untitled (1966), is 'peopled' with hair-like hanks of fibre ringing its top. His Igloo di Giap metaphorically evokes preindustrial nomadic societies. While not overtly or strictly political, these pieces and others, including sculptures of Italy by Luciano Fabro (1936-2007), provide a lyrical commentary on society and world events. Fabro upended Italy's familiar boot, now strung up like a carcass of meat- or like the body of disgraced Mussolini.
In describing his own art, Pistoletto might be seen as speaking for the group: 'all forms, materials, ideas and means are to be used.' Arte Povera is an art that celebrates blurred, fluid distinctions between art and life, art and craft, past and present.
[related-works-module]