Here are four reasons to collect a print from Larry Bell 's Untitled series:
1. Though these may look like they were made yesterday using digital editing software to stretch and warp a photo, these anachronistic works were made by an analog process started in the late '60s (the artist finished the works in 1974). The artist used a motorized panoramic camera to photograph models as they moved. The resulting warped figures were the basis for his flocked screen prints.
2. Though aesthetically different from Larry Bell's minimalist work, this series of prints illustrates the artist's longstanding interest in the nature of perception and light. He was one of the key figures of the Light and Space movement of the '60s (alongside James Turrell , John McCracken , and Craig Kauffman).
3. Bell was interested in capturing the "sixties psychedelic " feel when he produced these prints. He was once quoted saying, "I smoked a lot of pot and did some acid in my younger days, and when I saw the 1970 film Performance with Mick Jacker, it reminded me of the images I was working on."
4. Last month Vanity Fair published the feature "Portrait of the Artist: Larry Bell." In it, the artist says, "What interests me in the process is the very ironic and improbable reality that is the unexpected. Spontaneity and improbability are the kinds of things that turn me on. The three most important tools in an artist's studio," he emphasizes, "are improvisation, spontaneity, and intuition."
5. Join prestigious museums like the Art Institute of Chicago, the Pompidou, the Guggenheim, the Hirschhorn, LACMA, MIT, MoMA, SFMOMA, the Stedelijk, the Tate, the Whitney, among many others in collecting the work of Larry Bell.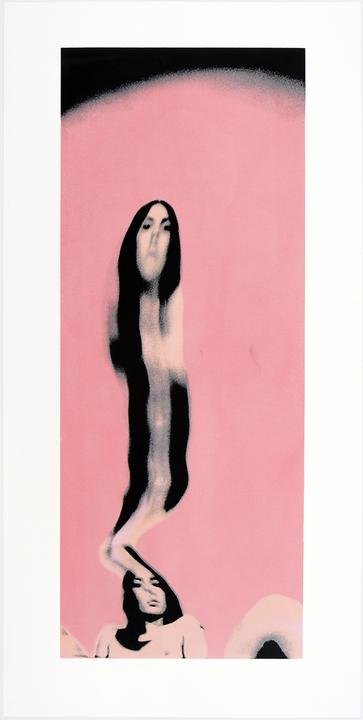 Larry Bell, Untitled #4, 1974 is available on Artspace for $2,500 or as low as $220/month
[related-works-module]