In luxury markets where cutting-edge concepts are currency, collectors and dealers alike tend to fetishize youth almost as much as they do talent. With all the visual flotsam bobbing in the wake of the post-Instagram art world, it becomes harder and harder for even the sharpest insiders to parse "fresh" from "new," conditions that further encourage trust in 20-somethings to constitute the avant-garde. Here's the thing, though: art—good art— is hard-won. A thoughtful, engaged practice necessitates some track record of failure, re-appraisal, false starts, and dead ends. Late-stage Rembrandts heave with a glinting world-weariness his early work can't touch; the Monets that matter impart real life through aging eyes. It seems improbable that every art darling will remain eternally smooth, skinny, and dumb, and for those whose late recognition proved the by-product of long-entrenched social bias, a recent institutional interest in under-acknowledged artists has confirmed that youth is not the only prerequisite to relevance. Like a fine wine, no?
Here are six artists who got the success they deserved a bit later on in the process.
CARMEN HERRERA
Install view of her 2016 solo show at Lisson Gallery via NPR.com
At 103 years old, Herrera may not be an overnight sensation, but she is a testament to the power of unrelenting consistency in the studio. She's been churning out pitch-perfect minimalist abstractions since the mid-'50s, drawing on her background in architecture to nuance her relationship with line and form. Throughout her decades-long tenure on East 19th street, Herrera was well-respected by peers like Mark Rothko and Barnett Newman, but her work was routinely under-valued by gallerists due to her gender and nationality—women were not exactly en vogue at the movement's zenith, and as far as American sentiment towards Cubans was concerned... remember McCarthy? Prior to her rise to the public eye, Herrera's only major show had taken place back in 1984. Thirty years later, a fateful dinner between a dear friend, Tony Bechara, and Frederico Seve, owner of Latin American Collector Gallery, placed her work under the correct microscope at last. Fast forward to 2016, and Herrera found herself the subject of solo shows at the Whitney Museum and Lisson Gallery in New York. As of today, she's been collected by a broad swathe of major institutions the world over. For more insight to her sparkling, tenacious personality, check out her documentary on Netflix, The 100 Years Show, which tracks Herrera's movements in the months preceding her Whitney retrospective.
ROSE HILTON
'Austere Landscape in the Cape', 2002, Rose Hilton via Messums
British painter Rose Hilton spent the first two-thirds of her life coping in the shadow of her husband, Roger Hilton, a celebrated abstract painter of the Cornish St. Ives enclave. Unsurprisingly for a mid-century male artist, Roger was a rampant sexist with a drinking problem, and even the suggestion of his wife's creativity drove him into fits of bileful rage. In order to avoid friction, Rose Hilton waited until his death in 1975 to unleash the full range of her talent, and was properly discovered by dealer David Messum in 1987. He included her in a variety of high-profile shows around London, and it didn't take long for her star to ascend in the sky of the British press. While she is primarily lumped in with her husband's historical ilk, Hilton's paintings combine dreamy figuration with hazy, planar pictorial space, activating the softest imaginable color worlds through frenzied brushstrokes and glowing layers of iridescence. Following a 2008 retrospective at the Tate St. Ives in Cornwall, Hilton secured her status as a local legend, and at the age of 88, she still shows regularly throughout England and Europe.
MARK ROTHKO
'Red', 1968 by Mark Rothko via Guggenheim
Mark Rothko is so central to the Abstract Expressionist canon that it's almost impossible to imagine a time he wasn't legendary, but his absorption into the fabric of American painting started surprisingly late in life. Rothko was 43 when he created the first of his iconic "multiform" paintings, having spent years in the pursuit of grittier, Nietzschean surrealist compositions. Although he was showing regularly in New York prior to the debut of this new body of work at Betty Parsons Gallery in 1949, Rothko's cash-flow situation was notoriously tough, and it wasn't until the critic Harold Rosenberg raved about his lateral abstractions that Rothko found himself catapulted into the public eye. Throughout the fifties and sixties, the artist rose to worldwide prominence, featuring in exhibitions at the Whitney Museum, the Art Institute of Chicago, the Tate Modern, and the Guggenheim. Fame never sat well with Rothko, who felt misunderstood by critics, exploited by buyers, and resented by former friends. His suicide at age 66 exposed the dark underbelly to his success—scrutiny is no friend to the creative process.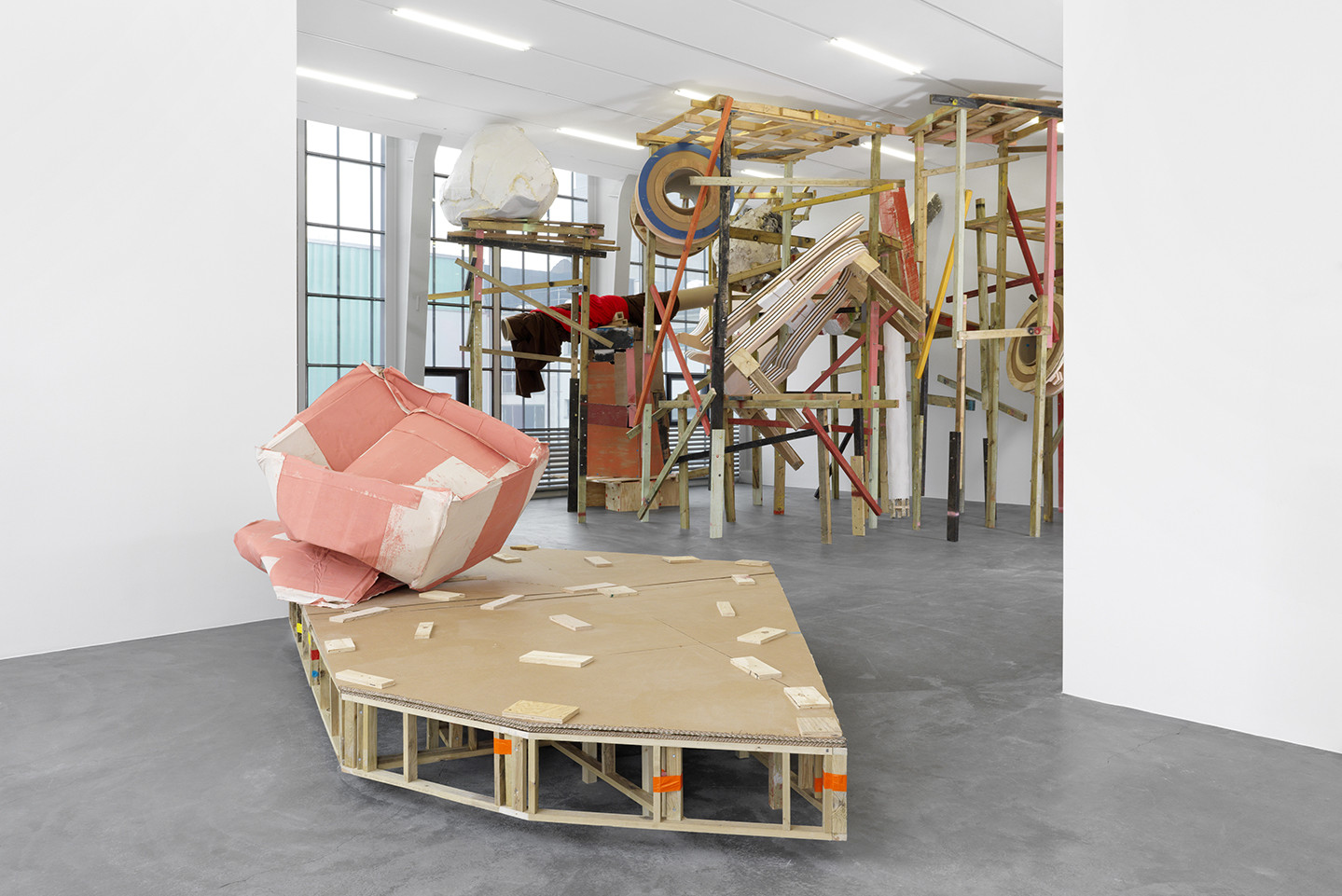 'demo', 2016, at Kunsthalle Zurich via Mousse Magazine
When 74-year old Phyllida Barlow was chosen as Britain's representative at the 2017 Venice Biennale on the heels of being made a CBE (Commander of the Most Excellent Order of the British Empire), she was flabbergasted. Having spent the past 50 years creating bright, sprawling sculptures from low-grade materials, Barlow had long grown accustomed to balancing her studio practice with a position as Director of undergraduate studies at Slade School of Art in London, quietly climbing the academic ladder and showing when and where she could. Chronically under-recognized, but perfectly happy to make work far from the prying eyes of gallerists, Barlow shot from respected anonymity to the highest of high-profile after a breakthrough show at Serpentine in London in 2010, which facilitated eventual representation by bluechip mainstay Hauser & Wirth. This mother of five (!) is still dedicated to making at her own pace, and will be showing new work at the Royal Academy of Arts in London later this year.
'Black and Violet', 1923, Wassily Kandinsky via WassilyKandinsky.net
Moscow-born painter and art theorist Wassily Kandinsky is now considered the godfather of abstract art, but before the age of 30, he hadn't so much as touched a paint-brush. He was a lawyer and economist, in fact, acting as as the chair of Roman Law at the University of Dorpat. In 1896, Kandinsky put a hold on his perfectly respectable career to enroll in the Munich Academy of Art under the creative auspices of Franz von Stuck. Deeply inspired by Impressionist relationships to form, color, and obfuscation, Kadinsky went on to catch the eye of the art world through his writing, first. At age 44, his 1910 treatise "On the Spiritual in Art" reached international acclaim in record time, and critic Michael Sadleir's positive review of the essay in London Art News precipitated broader collector interest in Kandinsky's painting. He then went on to lecture at the legendary Bauhaus School in Germany until a smear campaign by the Nazis forced him to Paris, where he lived out the rest of his career painting the lush, synergistic canvases that defined his legacy.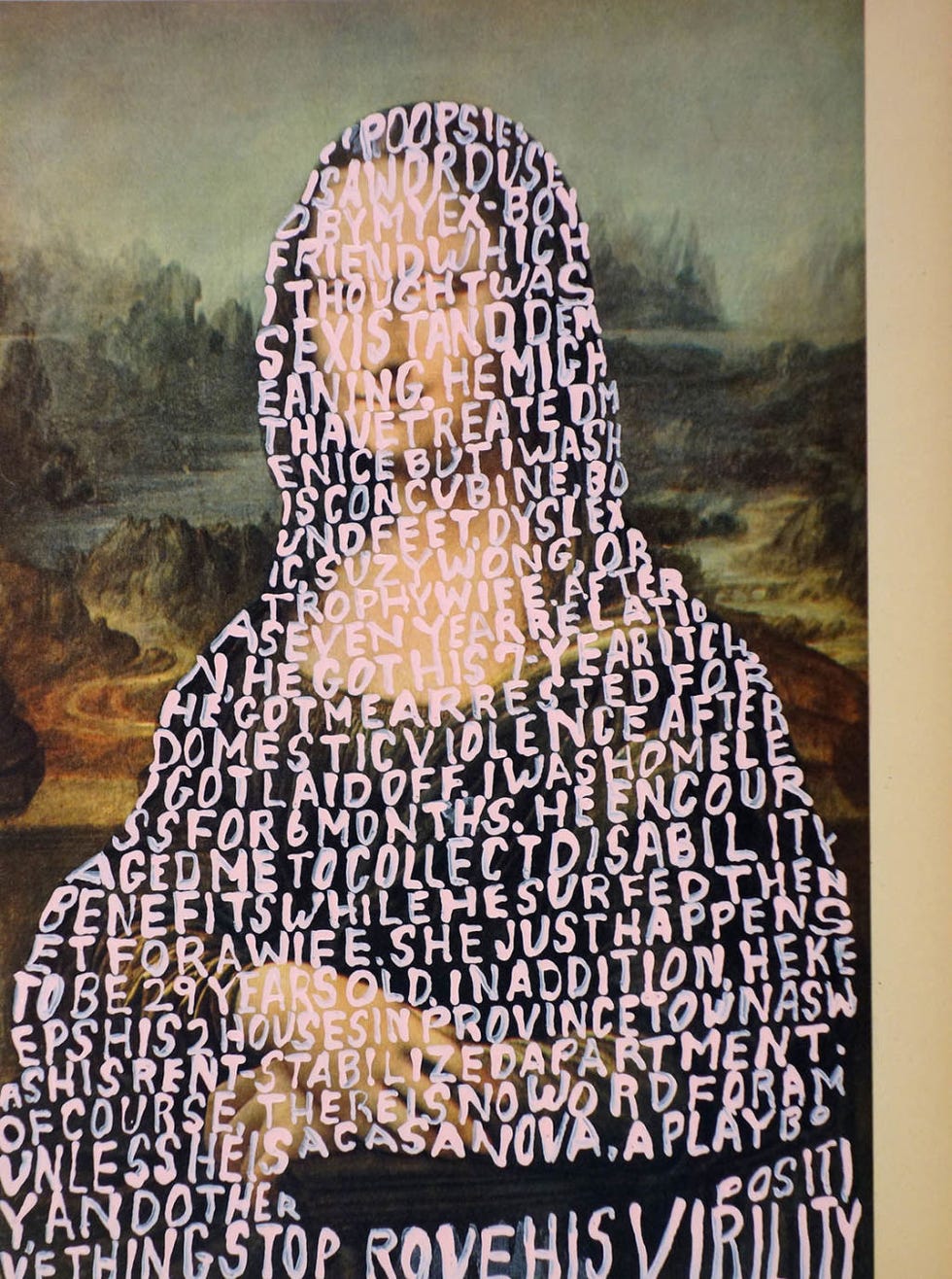 'Words #51' (DaVinci), 2015, Betty Tompkins via Elle Magazine
For decades, 74-year old painter Betty Tompkins was rejected by both the art vanguard and anti-establishment radical feminists for her unflinching representations of sexuality. Tompkins' large-scale black-and-white depictions of pornographic money-shots languished in obscurity until 2002, when they were finally displayed together at Mitchell Algus Gallery in New York. Curator Bob Nickas then included them in the Lyon Biennale the following year, at which point Centre Pompidou purchased one for their permanent collection. This acquisition took place exactly 30 years after Tompkins' work was denied entry to France on grounds of vulgarity. Following a spectacular solo turn at Gavlak Gallery in Hollywood in 2016, Tompkins' installations repurposing sexist slurs as painterly slogans fast became household favorites, garnering attention from outlets as mainstream as Elle and Vogue Magazine. After years of black-lists and radio silence, Tompkins is finally reaching the vast audience her work was always meant for.
RELATED ARTICLES
Under the Influence: Robert Ryman and His Obsession with Mark Rothko's Painting
Dealer Betty Parsons Pioneered Male Abstract Expressionists—But Who Were the Unrecognized Women Artists She Exhibited?