I don't know about you, but when it gets warm out, the first thing I want to do is sit outside and read. With spring finally in full swing, we're getting ready for those lazy-in-the-park days with a list of books to keep us inspired while we bask in the sun. Here are ten books written by artists about art that are sure to get your creative juices flowing.


HOW TO SEE: LOOKING, TALKING, AND THINKING ABOUT ART BY DAVID SALLE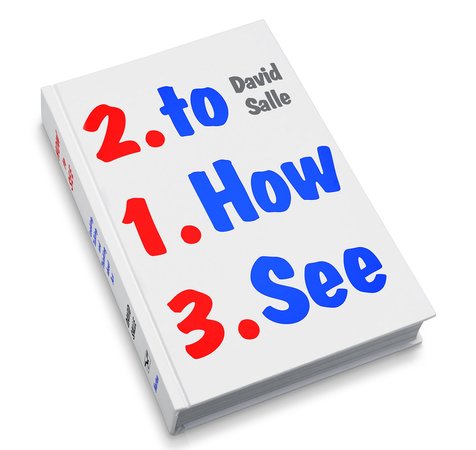 Image courtesy of Amazon
David Salle's book How To See: Looking, Talking, and Thinking About Art is a look at art theory and criticism from the artist's perspective. Rather than projecting meaning and philosophy onto a work, as contemporary critics are often wont to do, Salle offers an alternative way of looking at a work that focuses primarily on aesthetic choices. Writes acclaimed author Salman Rushdie, "If John Berger's Ways of Seeing is a classic of art criticism, looking at the 'what' of art, then David Salle's How to See is the artist's reply, a brilliant series of reflections on how artists think when they make their work. The 'how' of art has perhaps never been better explored." Salle is interested in the way that art works, down to its fundamental core. Speaking about the works of his contemporaries and friends, Salle offers an intimate, humorous, and readable approach to art criticism, teaching us how to open our minds and see with the artist's eye.
PAUL CHAN SELECTED WRITINGS 2000-2014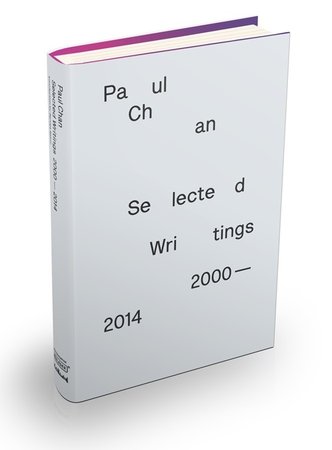 Image courtesy of Badlands Unlimited

Hong Kong-born, Nebraska-raised visual artist Paul Chan is known for wrestling with dualities and deriving influence from a diverse array of voices, many of which are aesthetically and dialectically at odds. Though he is widely regarded as a video artist, Chan's relationship to language has always been an integral part of his practice. In 2010, Chan founded Badlands Unlimited , a publishing company that has put out a number of titles ranging from art criticism to poetry to artist's books to erotic fiction. In this selection of critical essays, the artist muses on both the joys and frustrations of the inherent paradoxes of modern and contemporary art, philosophical thought, and language. Drawing reference to a varied scope of artists and thinkers, from Chris Marker and Henry Darger to Marquis de Sade and Theodor Adorno, Chan reflects on the literary motivations and inspirations for his own work. It, like the variety of influences he draws from, is at once a serious and delightfully humorous read.

INTO WORDS: THE SELECTED WRITINGS OF CARROLL DUNHAM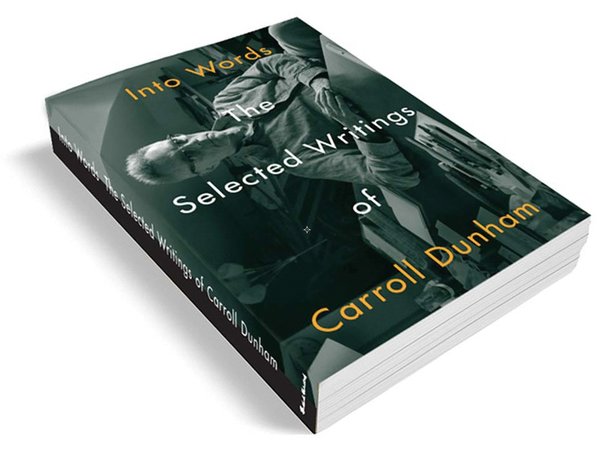 Image courtesy of Printed Matter
Speaking of titles published by Badlands Unlimited, The Selected Writings of Carroll Dunham is a must-read for anyone interested in a look at contemporary art history and culture from an artist's perspective. You've probably seen Dunham 's cartoonish paintings of nudes in colorful landscapes that blend abstraction with figuration, but did you know he's also a really great writer? Featuring intimate interviews with artists such as Peter Saul and in-depth musings on artists ranging from Kara Walker, Pablo Picasso and Jasper Johns, Dunham offers an alternative art history of the past 100 years with equal parts wit and a keen, discerning eye. The book features an introduction from the Chief Curator of the Whitney Museum, Scott Rothkopf, and a publisher's foreward from Paul Chan.


IMAGING DESIRE BY MARY KELLY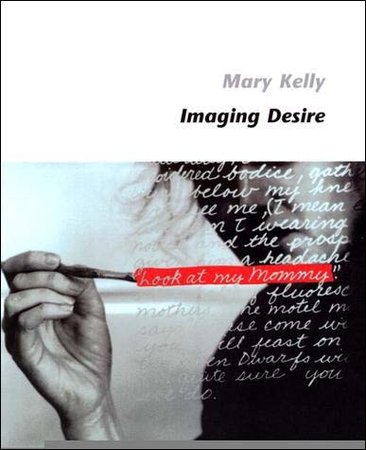 Image courtesy of MIT Press
Imaging Desire is a selection of critical writings from conceptual artist Mary Kelly from 1976 to 1995. In these essays, Kelly poses vital questions about the practice of making and talking about art, and argues for an art criticism that stems from psychoanalysis, feminism, and semiotics. For over twenty years, Mary Kelly attempted to push political and sexual boundaries with her transgressive writings and large-scale narrative installations. This collection of texts illuminates the intersection between her thoughts and visual renderings. As the title suggests, Kelly is interested in discovering the relationship between image and desire, and attempts to reframe the way we think about and look at art. Beyond the scope of feminist and psychoanalytic theory, Kelly's writings are vital in discussing theoretical elements of art today.

THE COMPLETE STORIES OF LEONO RA CARRINGTON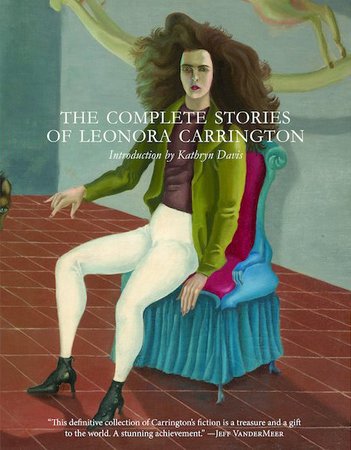 Image courtesy of Amazon
If you're a fan of the surrealist painter Leonora Carrington (1917-2011), then you are going to love. this. book. Famed for her wildly imaginative paintings that are at once as dark as a Hieronymous Bosch and lighthearted as a children's book illustration, Leonora Carrington has illustrated the deep recesses of her mind with a deft hand. Now, for the first time ever , all of the witty and macabre fictional written fantasies of this phenomenal thinker are compiled in one place. (Did you even know she wrote fiction? I sure didn't!) Satirical, hilarious, achingly beautiful and surreal, these stories offer a new perspective into the fantastical psyche of this artist. Of the book, Sarah Resnick of Bomb Magazine writes "the British-born Carrington, who in her youth moved to Paris and befriended the Surrealists, is perhaps better known as a painter of dreamlike tableaus in which wild-maned, wispy androgynes consort with half-human beasts and spindly plant life...yet prose makes available to Carrington a wry deadpan that painting does not—these stories are funny." At once tender and grotesque, these stories are just an absolute delight.


DUTY FREE ART BY HITO STEYERL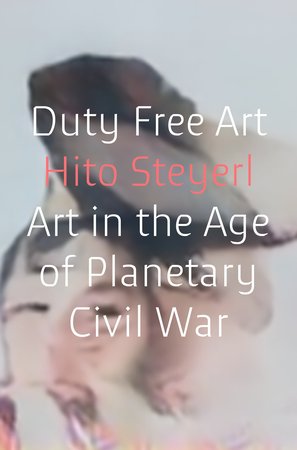 Image courtesy of Amazon
In her book Duty Free Art: Art in the Age of Planetary Civil War, filmmaker and writer Hito Steyerl asks "what is the function of art in the era of digital globalization?" In a world so fraught with environmental destruction, growing inequality, overarching digital technology and surveillance, and inherently capitalist-driven art market where many major museums are funded by corporations such as arms manufacturers, how do we continue to make and appreciate art? Don't worry though, as depressing as that all sounded, Steyerl's exposure of the paradoxes of the art world in the midst of globalization is ultimately enlightening. (I mean, she still makes art). For anyone making art in this day and age, Steyerl's work is an essential read.


FEELINGS ARE FACTS BY YVONNE RAINER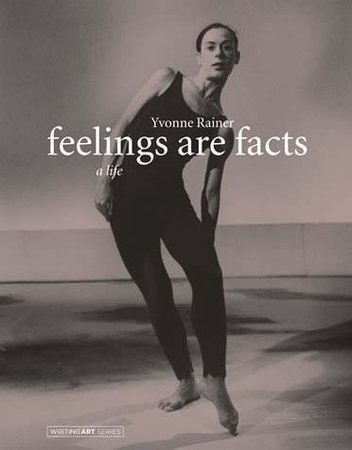 Image courtesy of MIT Press
Ok, so Yvonne lays out a pretty clear and succinct descriptor that will likely discern whether or not this book is for you, so I'm just going to let her do the talking. "If you're interested in Plato," writes the artist, "you're reading the wrong book. If you're interested in difficult childhoods, sexual misadventures, aesthetics, cultural history, and the reasons that a club sandwich and other meals––including breakfast––have remained in the memory of the present writer, keep reading." In this memoir, the dancer, choreographer and filmmaker offers an intimate look at her personal journey with art. Filled with excerpts from her diary, letters, program notes, and snapshots, Rainer deftly illustrates the path of a woman artist in postwar America; tracing her early life as an orphan to her flourishing in San Francisco and Berkeley and her eventual settling in New York City, where she lived and worked alongside artists Martha Graham, Merce Cunningham , Robert Rauschenberg and Yoko Ono and co-founded the iconic Judson Dance Theater in 1962. This book is not concerned with art theory and philosophy, but rather in understanding the trials, travails, and ecstatic moments of living as an artist.

WHERE ART BELONGS BY CHRIS KRAUS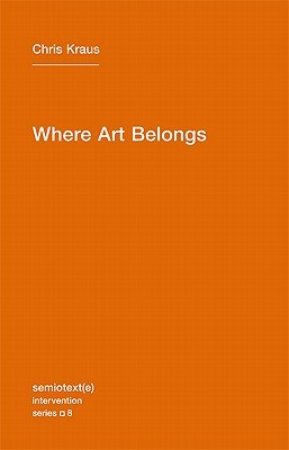 Image courtesy of Semiotext(e)
In her book Where Art Belongs , writer and filmmaker Chris Kraus talks about the use of time as material for art making. Kraus is most known for her musings on the life of the artist, namely what it means to be a creator and thinker and a social being in the world simultaneously.  She argues that "the art world is interesting only insofar as it reflects the larger world outside it." She speaks about the often doomed but nonetheless valiant efforts of small DIY art communities and makes the case that these collectives are what have kept art and creativity alive since the infiltration of a disembodied digital lexicon. Writes scholar McKenzie Wark, "in this book we get post-post-punk angelinos, sex worker art works, (and) a tribute to an artist who sailed away off the edge of the world..so if any of those things are of interest, buy this book." It's certainly an inspiring read that offers hope for the contemporary art world, despite its many faults.

FUCK SETH PRICE BY SETH PRICE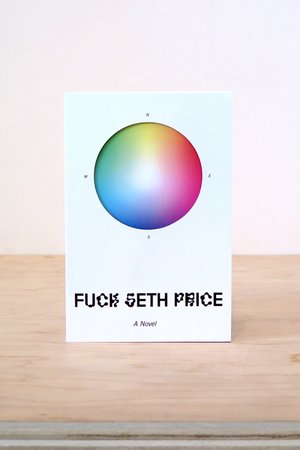 Image courtesy of Karma
Funny title aside, contemporary artist Seth Price's Fuck Seth Price is a provocative short read about what it means to be an artist in today's social, political, and digital climate. In the book, which teeters between fiction, essay and memoir, Price chronicles an unnamed fictional protagonist as he moves throughout the confusing contemporary world and muses on a variety of modalities of visual art, from sculpture to architecture to literature to film. Merging high and low-brow references, Price reckons with the overstimulation of our contemporary mindset and delves into a rabbit hole of cultural-theory speculation in a book that is at once comical, revelatory, and completely confounding.

THE ARTIST PROJECT: WHAT ARTISTS SEE WHEN THEY LOOK AT ART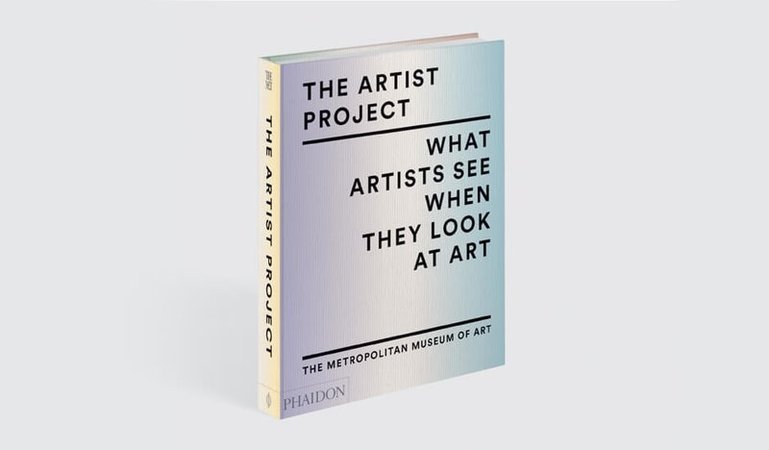 The Artist Project: What Artists See When They Look at Art, Book Available for Purchase on Artspace
Phaidon's The Artist Project is an exciting compilation of commentaries from 120 of today's most influential artists on the works that inspire them. In this selection of interviews, featuring artists from Vito Acconci to Shahzia Sikander , artists discuss works from the Metropolitan Museum of Art that spark their imagination and lend to their creative process, offering readers a unique look at art history through the artist's perspective.

RELATED ARTICLES
Paul Chan on the "Golden Age" of Art Publishing
"I Love Dick": Why Women Artists in the Post-Digital Age Idolize Chris Kraus
The Other Art History: The Overlooked Women of Surrealism

[related-works-module]