On Monday, rapper and fashion-designer Kanye West announced that he planned to gift $10 million dollars to the James Turrell Foundation towards the completion of the Roden Crater, an extinct volcano in the Painted Desert near Flagstaff, Arizona that artist James Turrell has been turning into a monumental work of land art for the past fifty years. A licensed pilot from the age of sixteen, the artist first discovered the Roden crater during a seven-month period spent flying over the desert. Turrell was searching for a small mountain surrounded by plains so that the view from the peak would resemble the view from his plane. Each night, "he would land the plane wherever he happened to be, unfurling a bedroll to sleep beneath its wing. In the morning, he was back in flight," to quote a New York Times Magazine article by Wil S. Hyton.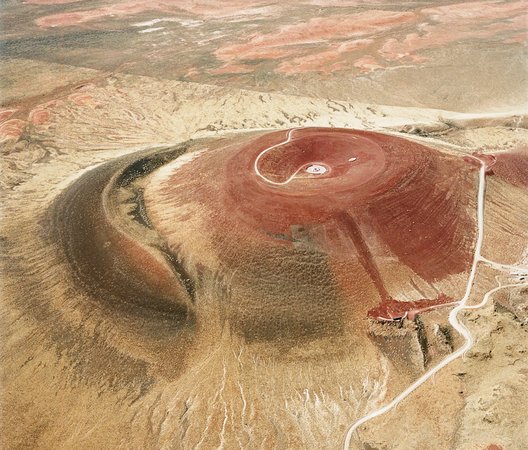 The Roden Crater, image via the New York Times
This hermetic monomania exemplifies Turrell's practice. Born in 1943 to Quaker parents, Turrell registered as a conscientious objector during the Vietnam War. Instead of fighting, he flew Buddhist monks out of Chinese-controlled Tibet. He enrolled in the University of California, Irvine's Studio Art Program, but his studies were interrupted in 1966, when he was arrested for coaching young on how to avoid the Vietnam Draft. After spending a year in jail, he continued the experiments with light that he'd been carrying out at the Mendota Hotel, working alongside other artists in the Light and Space group such as Robert Irwin and Mary Corse. Turrell made his first light projection sculptures by covering the hotel windows, only allowing a predetermined amount of light to waft through. In Shallow Space Constructions (1968), Turrell first displayed what would become one of his signature effects: using light to make the space it was projected on look artificially flat. In the 1970s, he began his "skyspaces" series, in which a small group of viewers could sit in a room and look up at a flattened view of the sky through an aperture in the roof. In 1984, Turrell and Irwin became the first visual artists to receive a MacArthur "genius" grant, allowing him to further pursue and make art about the materiality of light.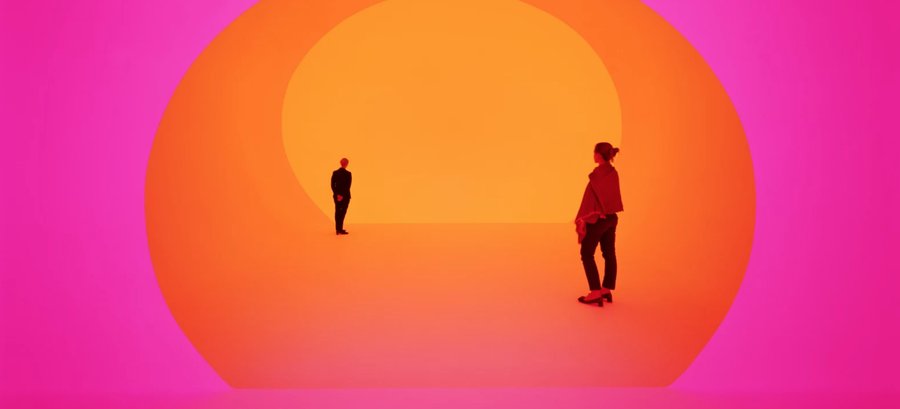 Akhob by James Turrell (2013), image via GARAGE
Since then, Turrell has continued making light sculptures on an increasing scale. In 2013, he had three big exhibitions simultaneously at the Los Angeles County Museum of Art (LACMA), the Solomon R. Guggenheim Museum, and the Museum of Fine Arts, Houston. In total, this three-museum retrospective took up 92,000 square feet. The LACMA show also featured some of Turrell's "Perceptual Cells," which are perhaps his most immersive work. To quote Hyton again, "The visitor approaches a giant sphere that looks like an oversize Ping-Pong ball and lies down on something like a morgue drawer to be pushed inside. When the door is shut, the lights come on, so bright that it's almost pointless to close your eyes. As the colors shift and morph, you begin to see things that aren't there, like tiny rainbows floating in space and crisp geometric forms. It turns out that what you're seeing is the biological structure of your own eye, which, in the blinding intensity, has turned on itself."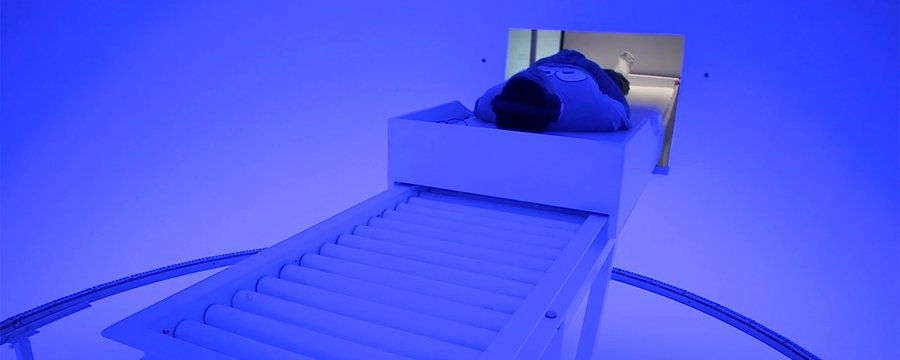 Museum visitor entering one of Turrell's Perceptual Cells, image via Designboom
Unfortunately, the Roden Crater won't be open to the public for at least the next five years, as Turrell is currently working with Arizona State University to fundraise the full $200 million required. Until then, check out this list of our favorite Turrell artworks, or just watch Drake's "Hotline Bling" music video, in which the rapper dances in glowing geometric structures explicitly ripped off from Turrell, who, unsurprisingly, didn't seem to mind. As he said in a statement released by his lawyer, "While I am truly flattered to learn that Drake f*cks with me, I nevertheless wish to make clear that neither I nor any of my woes was involved in any way in the making of the Hotline Bling video."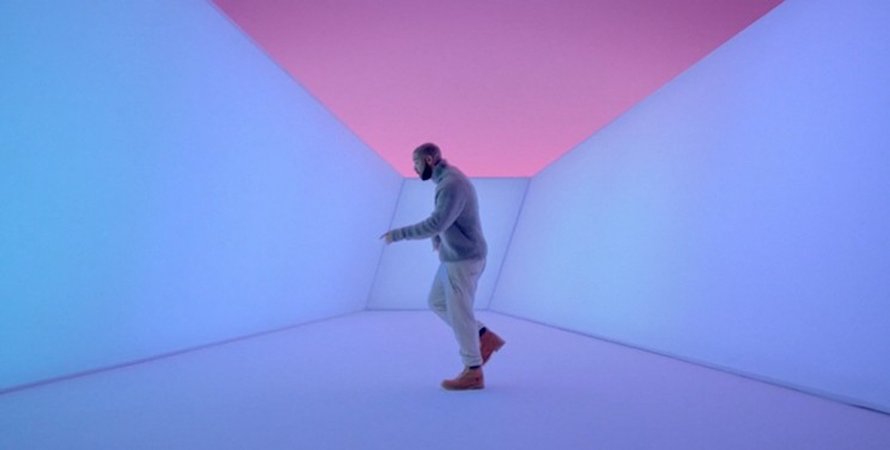 Still from Drake's Hotline Bling music video, image via Gizmodo
WITHIN WITHOUT
National Gallery of Australia
Canberra, Australia (2010)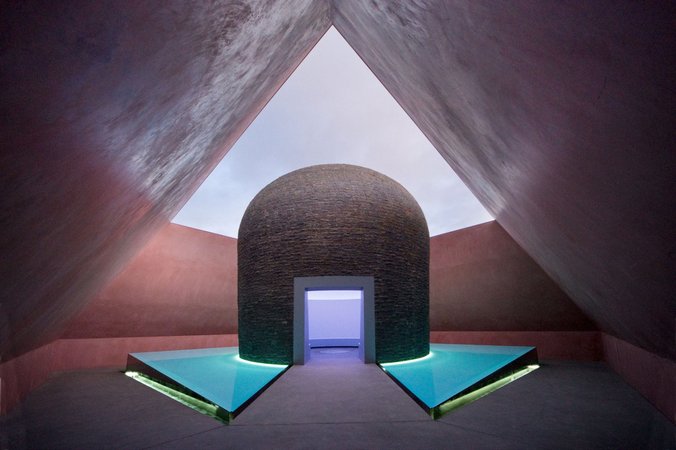 Within Without by James Turrell (2010), image via the artist's website
Within Without is one of Turrell's skyspaces, which, per his website, is defined as is "a specifically proportioned chamber with an aperture in the ceiling open to the sky. Skyspaces can be autonomous structures or integrated into existing architecture. The aperture can be round, ovular or square." After walking up the sloping walkway and entering the square square pyramid (whose walls can be seen on the edges of the image), the viewer is met by a basalt stupa foregrounded by aqua water. Inside the stupa is the viewing chamber, in which the viewer can look up at the sky. The best time to visit the work is at dawn and dusk, allowing you to observe the changes in light.
BREATHING LIGHT
Los Angeles County Museum of Art
Los Angeles, California (2013)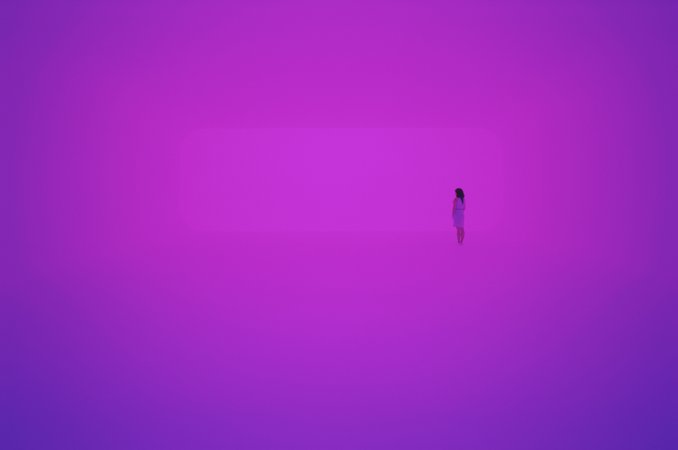 Breathing Light by James Turrell (2013), image via the artist's website
The German word "ganzfield" describes "the phenomenon of the total loss of depth perception as in the experience of a white-out," and with his "Ganzfield" series, James Turrell seeks to create the same effect. When you step into one, it becomes almost impossible to gauge the dimensions of the room: you could be in a small corridor or in an violet-colored abyss.
WEDGEWORK 3
De Pont Stitching Foundation
Tilburg, Holland (1974)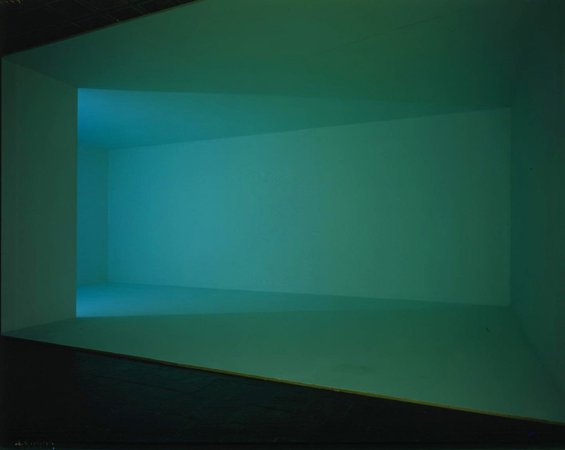 Wedgework 3 by James Turrell (1974), image via the artist's website
In Turrell's Wedgeworks, "the use of projected light creates an illusion of walls or barriers," as evidenced by Wedgework 3, in which light makes a flat wall seem to stretch out like a 3-D accordion. These optical illusions have caused legal trouble for Turrell in the past. "During a Turrell show at the Whitney Museum of American Art in 1980," writes Hyton, "several visitors to a piece called City of Arhirit became unsteady in the bright blue haze and tried to brace themselves against a wall made of light. Some of them fell down. A few got hurt. One woman, who broke her arm, sued the Whitney and Turrell for more than $10,000."
ARROWHEAD
Private residence
Las Vegas, Nevada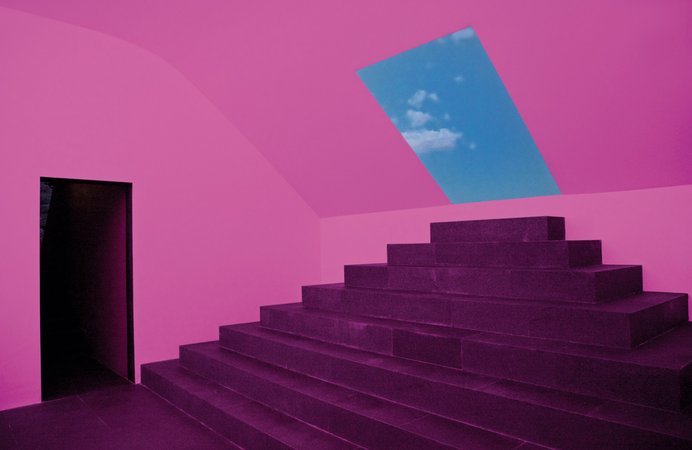 Part of Arrowhead by James Turrell (TK), image via the New York Times
Jim Murren, the chairman and C.E.O. of MGM Resorts International, commissioned Turrell to build a Skyscape in the rocks next to his modernist home. Turrell ended up building two rooms, an Oculus room and a Horizon room: the former captures mixed light from the strip, the latter reflects darker light from the sky. Murren, who, perhaps surprisingly, studied art history in college, is a big fan. "It's a gateway to the celestial world... It captures me in multiple ways, more than a traditional work on paper or work on canvas—the kind of work I was trained to appreciate."
ATEN REIGN
The Guggenheim Museum
Manhattan, New York (2013)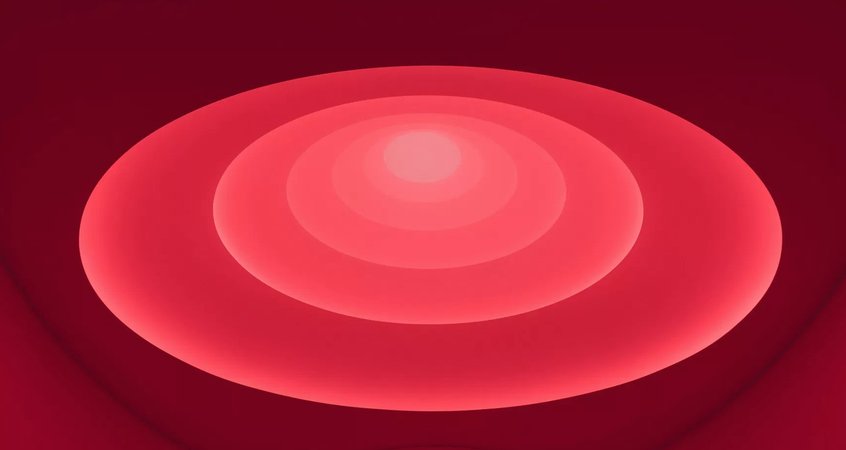 Aten Reign by James Turrell (2013), image via the Solomon R. Guggenheim Museum
The centerpiece of James Turrell's Guggenheim show, his major New York exhibit since 1980, was Aten Reign, in which he transformed the museum's central rotunda, filling it with natural and artificial light of changing colors. Turrell's work reconceptualized how museum visitors saw and approached the museum in addition, as with all Turrell's work, to allowing them to focus on the materiality of light. As Turrell himself puts it, "Light is a powerful substance... I like to work with it so that you feel it physically, so you feel the presence of light inhabiting a space." Other works from throughout Turrell's career were placed on the museum's lower levels.
LIGHT REIGNFALL
Los Angeles County Museum of Art
Los Angeles, California (2011)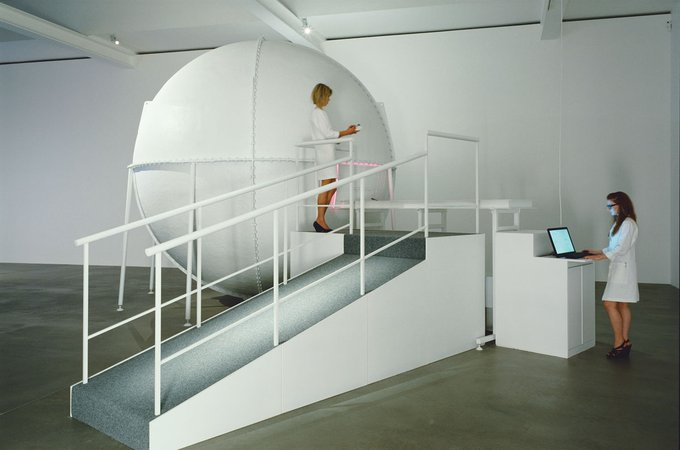 Light Reignfall by James Turrell (2011), image via the Los Angeles County Museum of Art
Turrell's "Perceptual Cells Series" features "enclosed, autonomous spaces built specifically for one person at a time, in which one's perception of space is challenged by light." While the "Perceptual Cells" are certainly claustrophobic, they perhaps come closest to achieving Turrell's artistic aims: "I feel my work is made for one being, one individual. You could say that's me, but that's not really true. It's for an idealized viewer. Sometimes I'm kind of cranky coming to see something. I saw the Mona Lisa when it was in L.A., saw it for 13 seconds and had to move on. But, you know, there's this slow-food movement right now. Maybe we could also have a slow-art movement, and take an hour."
SUN | MOON CHAMBER
Roden Crater
Flagstaff, Arizona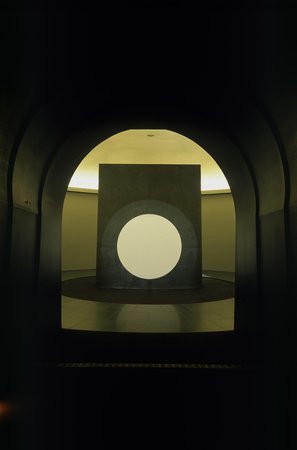 The Sun I Moon Chamber by James Turrell (TK), image via the artist's website
The Sun | Moon Chamber acts as a giant pinhole camera within the Roden Crater, focusing light onto the west side of the monumental image stone for the southernmost sunset and every 18.61 years to mark the Major Lunar Standstill. In addition to being majestic, the room reflect's Turrell's interest in foregrounding different time scales: here, the chamber highlights both daily and geologic time.
[related-works-module]
RELATED ARTICLES
How the Light and Space Movement Prefigured Today's Merger of Art and Tech
10 Artists Who Electrified the Guggenheim's Rotunda, From Barney to Buren
Can You Tell a Donald Judd From a Carl Andre? Test Your Minimalism IQ