Check out this month's artists-to-watch, three of whom are emerging artists with work on view at the Queens Museum biennial, "Queens International 2018: Volumes," on view until February 24, 2019.
JACK WHITTEN
Queens Museum, New York
October 7th, 2018 to February 24, 2019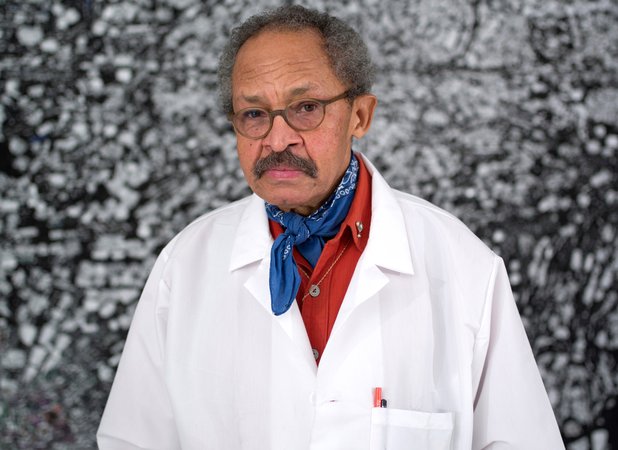 Image via the Paris Review
Jack Whitten was born in 1939, in Bessemer, Alabama, and died this past January 2018. He participated in the student civil rights protests and the March on Washington led by Dr. Martin Luther King, Jr., who he briefly met in 1957. After moving to New York to attend the Cooper Union in 1960, Whitten became influenced by Abstract Expressionism, and was mentored by William de Kooning, who advised him that there was "no such thing as accidents in painting." Perhaps inspired by this take, Whitten became interested in "process art," in which the process of making a work of art becomes just as important as the work itself.
In the early '70s, Whitten began to gain recognition for his range of painting tools: new technology from the Xerox Corporation, a squeegee, an Afro comb, a large rake. As the New York Times reported in their obituary, "Over the years Mr. Whitten worked in paint so heavily layered that he could, and did, cut slices out of it. He made a sort of tile from paint compounds, applying the result to canvas for a mosaic effect," perhaps inspired by the summers he spent in Crete. Whitten was featured in numerous solo and group shows at institutions including the Whitney, which staged a solo of his work in 1974, the Studio Museum in Harlem, and the Metropolitan Museum of Art in 1983. He was represented by Hauser & Wirth, which recently published his collected writings in Jack Whitten: Notes from the Woodshed. Whitten's work is currently on view in the Queens Museum biennial, "Queens International 2018: Volumes."
SHAN GOSHORN
The Trout Gallery, Dickinson College, Carlisle, PA
September 7, 2018 - February 2, 2019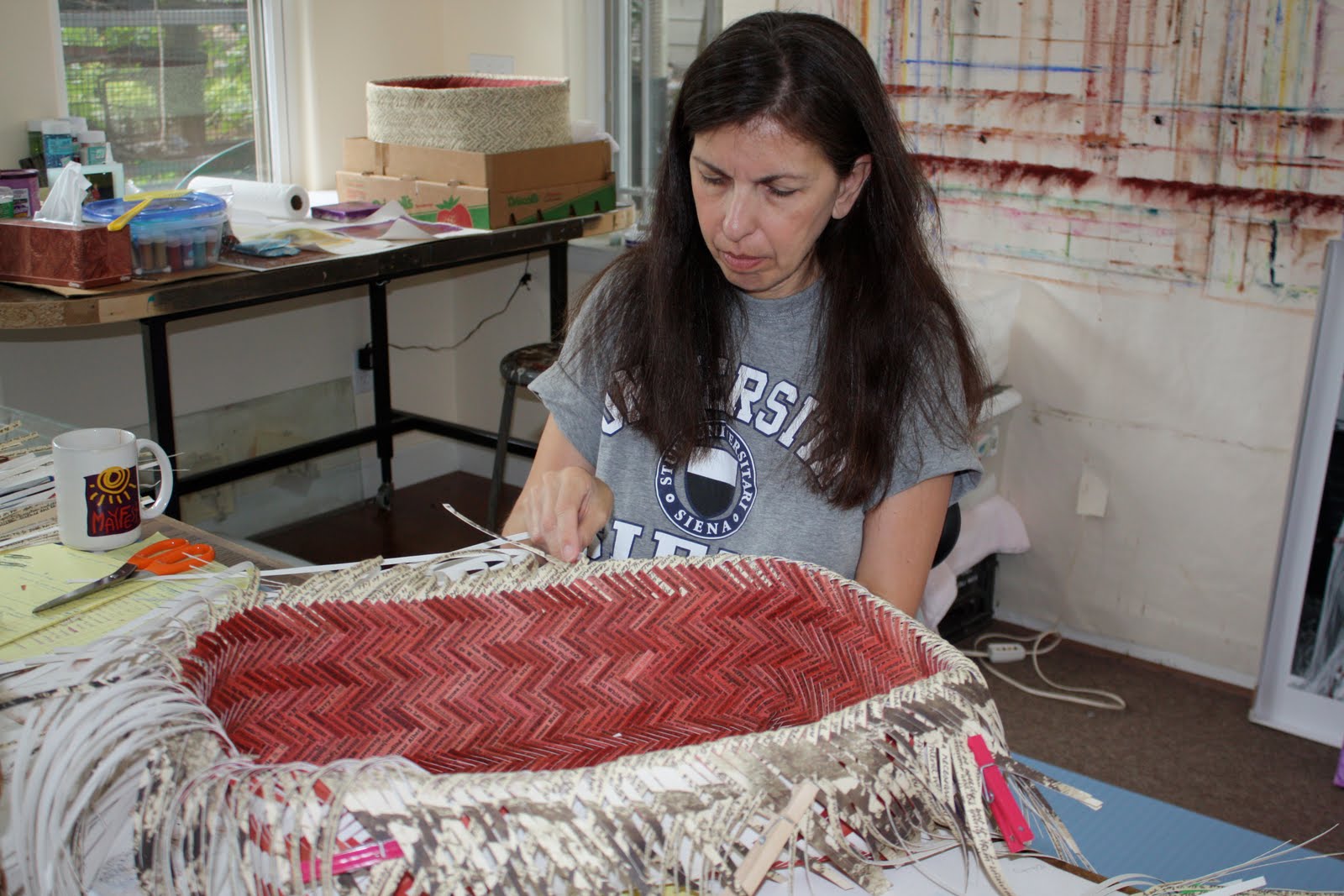 Image via Shan Goshorn
The Tulsa-based Eastern Band Cherokee artist Shan Goshorn has taken basket weaving to the next level. Inspired by the traditional shapes and weaving techniques of Cherokee basketry, the artist weaves paper splints cut from reproductions of documents, photographs, and other paper ephemera, instead of the traditional ancient river cane and oak splints. The resulting forms literally weave together traditional craft with contemporary commentary. For instance, in the 2014 piece Phishing Basket, the artist borrows the shape of a traditional Cherokee fishing basket, historically woven with a wide weave to allow water to flow through and lined with moss to keep fish cool until cooked. In Goshorn's version, woven printed paper aligns to form a reproduction of a photographic image from 1867 showing Indian delegate Alexander Gardner and President Andrew Johnson on the steps of the White House. Surrounding the image are woven paper reproductions of nine treaties the U.S. government negotiated with nine different tribes—treaties that made promises that were never upheld, resulting in the loss of land for native people. Goshorn writes on her website, "The title is a play on the computer term 'phishing,' which is defined as deliberate misrepresentation for financial gain."
Goshorn, a recipient of the 2015 United States Artist Fellowship, the 2014 Native Arts and Culture Artist Fellowship, and the 2013 Smithsonian Art Research Fellowship (among other prestigious awards and accolades) has her work in several current exhibitions. "Art for a New Understanding: Native Voices—1950s to Now" at the Crystal Bridges Museum of American Art includes her work as part of their major survey of art made by Native artists. She has a solo exhibition at The Trout Gallery at Dickinson College in Pennsylvania up until February 7. And in Summer of 2019 she'll show her work in "Hearts of Our People: Native Women Artists" at the Minneapolis Institute of Art.
HUGH HAYDEN
Lisson Gallery, New York
September 15 - October 27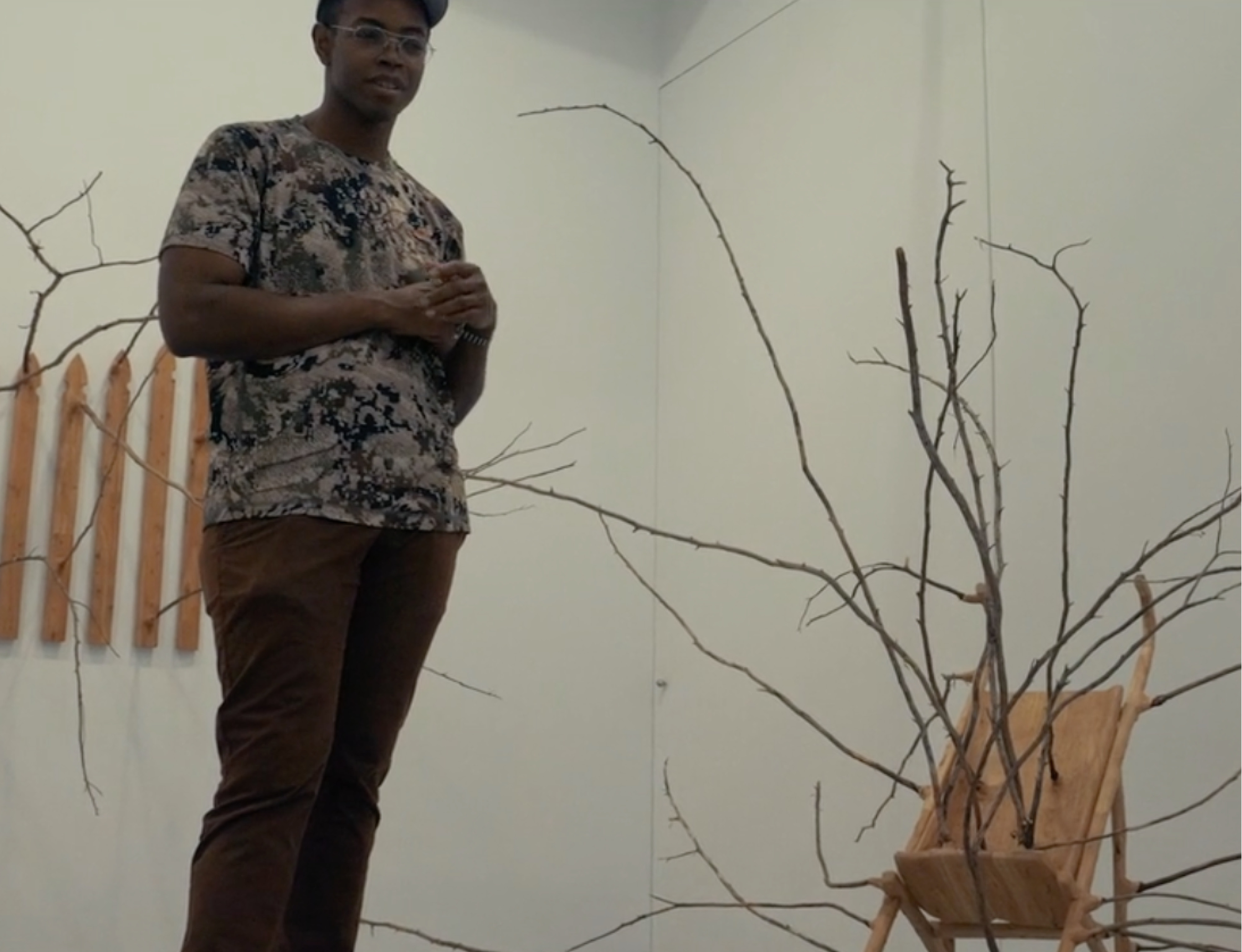 Image via Lisson Gallery.
Straight out of graduate school at Columbia, the Texas-born artist Hugh Hayden hit the ground running. This month, both Clearing gallery in Brussels and Lisson Gallery in New York announced they'd be representing him. Last spring he had a solo exhibition at White Columns. And while still in school, he participated in group shows at Tanya Bonakdar, Marinaro, JTT, Clearing, Gavin Brown's Enterprise, PPOW, and Postmasters among many others. Despite being in the very beginning of his career, Hayden already has a signature style, and it's on full blast at his current exhibition at Lisson Gallery in New York, on view until October 27.
The artist takes found wood—in this exhibition's case, wood indigenous to the U.S./Mexico border—and cuts it up and sands it down to sculpt "composite forms which address themes of assimilation and acceptance, and metaphorically disrupt traditional American social context." Branches are filed into spears, left attached to trunks that have lost their "natural" appearance and have become, instead, material. Hayden connects notions of land (and the trees that grow on it) with ideas of family values and home ownership—signified by the objects trees are used to make: "a shared dinner table, the white picket fence, a baby crib and stroller. These personal components embodied the great idea that dreams are attainable by all people through hard work and determination and that upward mobility can be visible through a series of material objects." The broken promise of the American Dream has been splintered into a collection of relics.
JESSE CHUN
Queens Museum, New York
October 7th, 2018 to February 24, 2019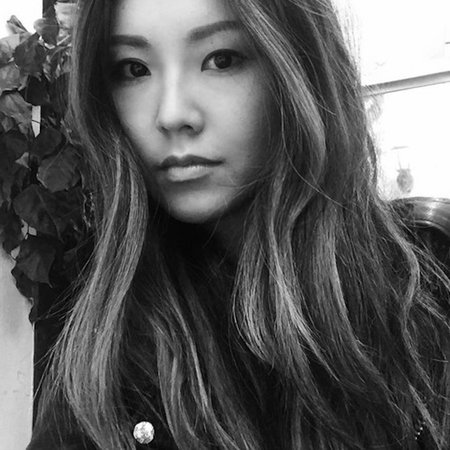 Image via BHQFU
Jesse Chun's most recent NYC solo show, "name against the same sound," looked at the English language via E.S.L., or English as a Second Language, the course that many immigrants use to learn English in the United States. These serene, text-based works explored ESL and the English language more generally as techniques of U.S. cultural assimilation aspects of the English language's broader global hegemony, themes that run throughout her overall practice. Through careful erasure and de-contextualization, Chun's pieces foreground the verbal and non-verbal erasures caused by translation into English and the ways in which the English language functions as a surveillance device. Landscapes, her pieces for the 2018 Queens International, were made "from scanning the watermarked details of various passport pages, and digitally manipulating them to transform them into large-scale landscapes. Devoid of national markers and travelers' data they become portraits of a ubiquitous and unbound nature." Chun received an MFA from the School of Visual Arts (2014) and a BFA from Parsons School of Design at The New School (2006). She has exhibited her work in solo and group exhibitions at select venues including the Drawing Center in New York and BAM in Brooklyn.
EMILIO MARTINEZ POPPE
Queens Museum, New York
October 7th, 2018 to February 24, 2019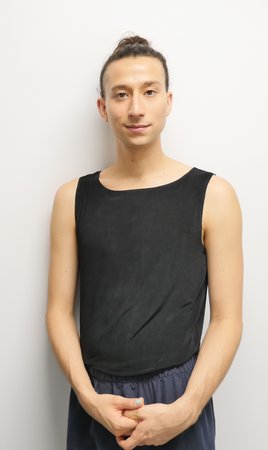 Image via the Laundromat Project
Emilio Martinez Poppe's work at the Queens International is based on Open Credits (2017), an interactive platform in which participants are invited to write down their involvement in the show––installing work, cleaning the space, curating, attending, whatever––and how they'd like to be recognized. The piece aimed to bring attention to the often unacknowledged and uncredited forms of labor that go into doing an art exhibition. Poppe adapted Open Credits for the International in part because the piece is both an individual work and a template, one that can be picked up and used by any individual or institution that wants to reveal the collectivized forms of labor behind a work or show.
The pedagogical aims of Poppe's work are both influenced and shared by the collective BFAMFAPhD, of which they are one of three core members. Formed around shared concerns about debt, rent, and precarity on the lives of creative people, BFAMFAPhD asks: What is a work of art in the age of $120,000 art degrees?" In contrast to debt-inducing forms of art education, BFAMFAPhD makes art and creates pedagogical tools "to advocate for cultural equity in the United States. We bring people together to analyze and reimagine power relationships in the arts." The 25-year-old Baltimore-born artist earned their BFA from The Cooper Union School of Art in 2016, and has exhibited their work in group exhibitions at Manhattan's Abrons Art Center and CUE Art Foundation, and at Flux Factory in Queens.
CHARLES WHITE
MoMA, New York
Through January 31, 2019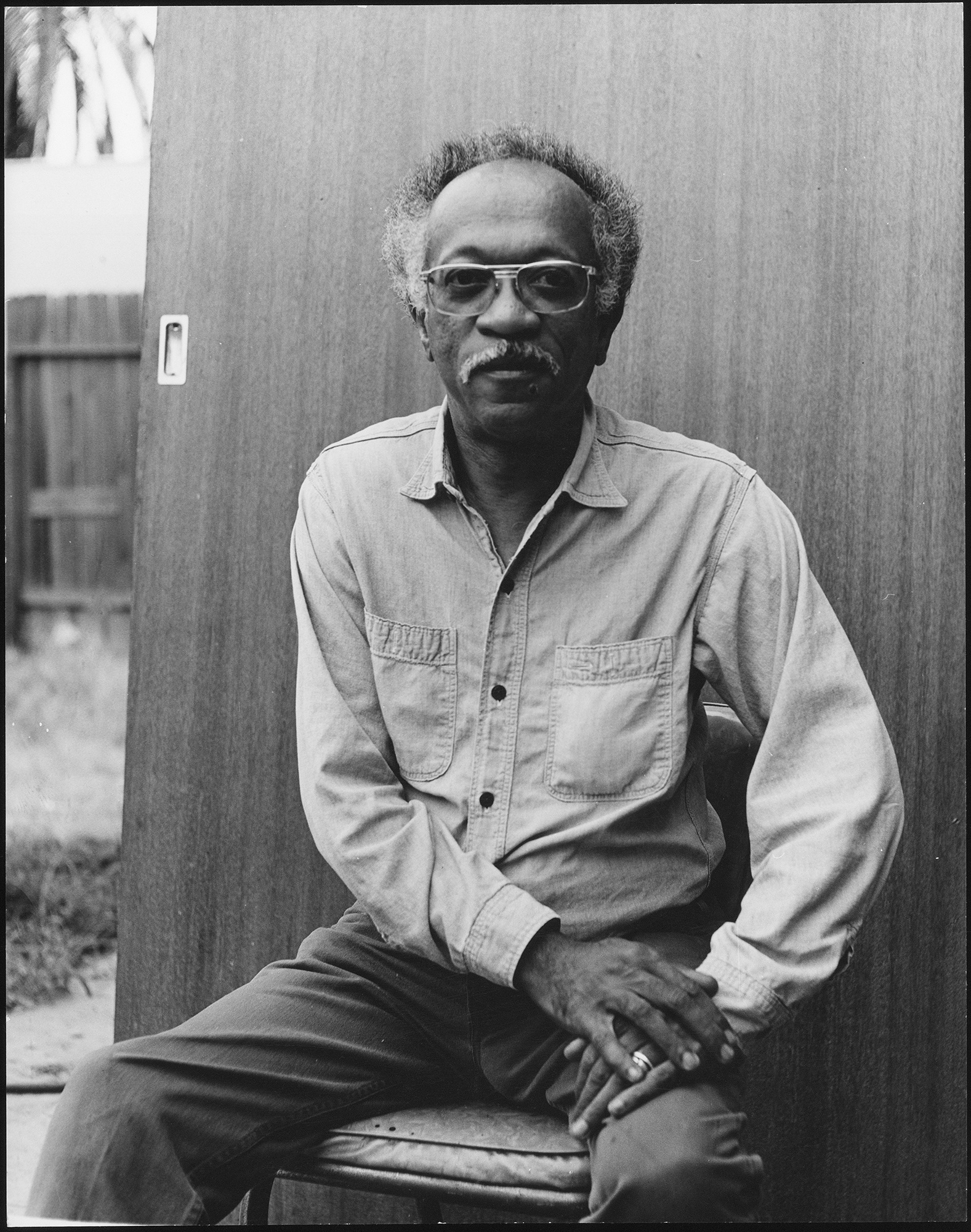 Though we typically highlight living artists in our Art to Watch series, Charles White, who passed prematurely in 1979 at the age of 61, is an artist we'll make an exception for due to the fact that he hadn't had a major museum exhibition for over 30 years, despite his major contributions to the medium. White's work—painting, drawing, printmaking—was never separate from his commitment to celebrating and advancing black culture. "Art must be an integral part of the struggle," he once said. "It can't simply mirror what's taking place… It must ally itself with the forces of liberation." Over four decades, White developed a style and approach to his portraiture, which he described as "images of dignity," that depicted powerful images of African Americans.
White was also a key figure in the community of whichever city he lived in—Chicago, New York, or Los Angeles. Serving as a mentor and teacher to young artists who were attracted to his socially committed practice, White taught highly successful contemporary artists Kerry James Marshall and David Hammons, among countless others. Marshall reflects: "Under Charles White's influence I always knew that I wanted to make work that was about something: history, culture, politics, social issues… It was just a matter of mastering the skills to actually do it." "Charles White: A Retrospective" was initially on view at The Art Institute of Chicago, and is currently up at MoMA New York through January 13. Next, it will travel to the Los Angeles County Museum of Art, where it will be on view from February 17 through June 9, 2019.
NINA CHANEL ABNEY
ICA, Los Angeles
Through January 20, 2019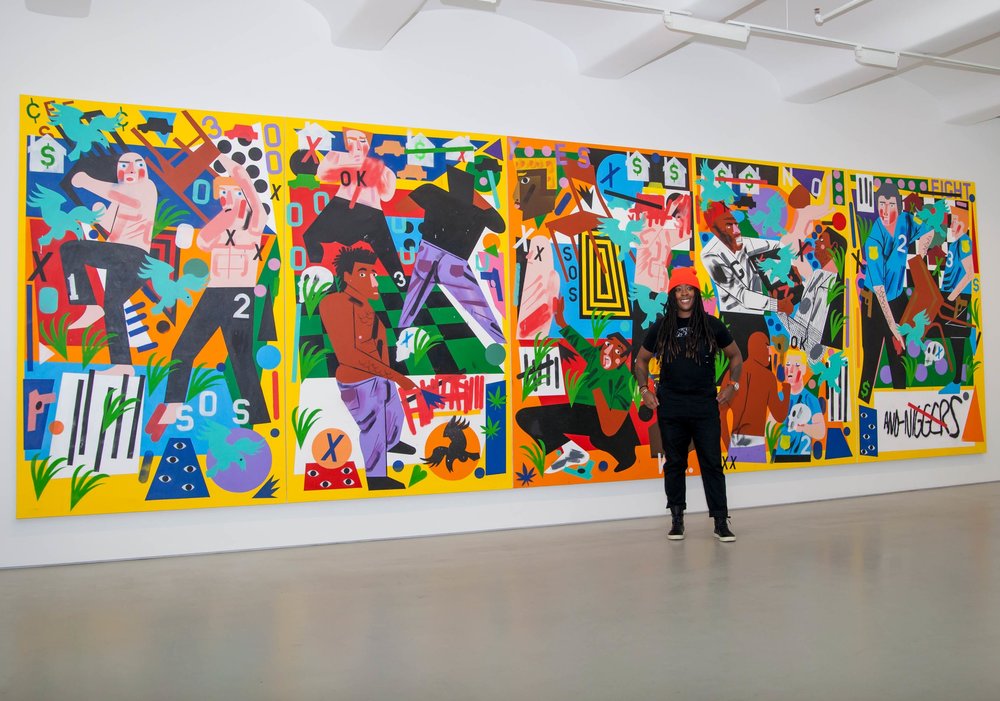 Image via Maria Brito.
Given how iconic and visually unforgettable Chicago-born and New York-based artist Nina Chanel Abney's works are, it seems kind of crazy that her current show, "Royal Flush," at the Institute of Contemporary Art in Los Angeles is her first solo museum exhibition—even if she is only 36! The third installment of this traveling exhibition (it made its sensational debut at the Nasher Museum of Art at Duke University in 2017 before heading to Chicago Cultural Center), "Royal Flush" spans the last ten years of Abney's career as a profound image-maker, branded among Paper Magazine's generation of "Next Irascibles" (a reference to the notorious group of 1950s New York AbEx artists).
The show surveys an artist whose work ricochets with symbolism, form, narrative, and a true and impassioned sense of identity. Her works are anything but shy, tackling everything from sex, police brutality, interracial twerking, and queer party scenes through her distinctive cut-out-esque compositions and lampooning satire and wit. In her own words, Abney's work is "easy to swallow, hard to digest." She is represented by the reputable Jack Shainman gallery, with work included in collections around the world, including the Brooklyn Museum, The Rubell Family Collection, Bronx Museum, and the Burger Collection, Hong Kong. "Royal Flush" is an exciting next step in establishing this already remarkable artist as a household name.
MARGUERITE HUMEAU
New Museum, New York
Through January 6, 2019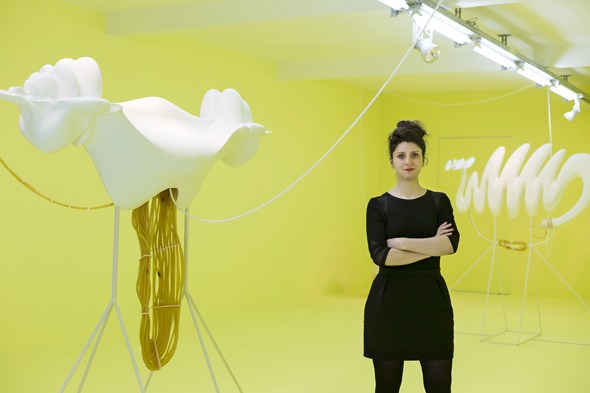 Image via Conversation Pieces.
Right now at the New Museum, the feminine body is on full display. Though they operate as separate exhibitions, Sarah Lucas' "Au Natural", Marianna Simnett's "Blood In My Milk", and Margueritte Humeau's "Birth Canal" all seem to be in direct and synchronous dialogue with one another about the female form in all its visceral, biological, sci-fi inducing iterations. Margueritte Humeau's take on the subject is particularly striking for its intensely primordial affiliations—her alien-like venus figures are profound and poetic musings that singularly weave together the biological act of giving birth with the birth of culture and civilization. In her installation, Humeau envisions a scene from 150,000 years ago, when Mitochondrial Eve, the most recent matrilineal ancestor common to all humans, is estimated to have lived. Ten digitally rendered sculptures, meticulously realized in cast bronze or carved stone, beckon the viewer into a dark space that smells faintly sweet and mineral-like, its odor inspired by bodily liquids associated with birth. This olfactory component of Humeau's exhibition, as well as her process of collaboration with scientists, anthropologists, and engineers, is highly reminiscent of Anicka Yi's work which explores the "biopolitics of the senses."
Similar to Lucas, Humeau is a London-based artist who finds her first solo museum exhibition in the United States at the New Museum. Previous solo shows have been organized at the Tate Britain, Museum Haus Konstruktiv in Zurich, Nottingham Contemporary in Nottingham, and Palais de Tokyo in Paris. She is also the recipient of the 2017 Zurich Art Prize, as well as the 2018 Battaglia Foundry Sculpture Prize. Following its debut at the New Museum,"Birth Canal" will be making its way back to Europe, to be exhibited at Kunstverein Hamburg in February 2019, and Museion, Bolzano in September 2019.