Frida Kahlo is, of course, celebrated for her rich and imaginative paintings that externalize and illustrate pain and frustration, and more specifically, the often agonizing complexities of female embodiment. Her portraits, which were typically of herself and those closest to her, explored her unflinching interest in identity, and have since become reproduced as everything from calendars and greeting cards to postage stamps and paper dolls. The public just can't get enough of her signature style.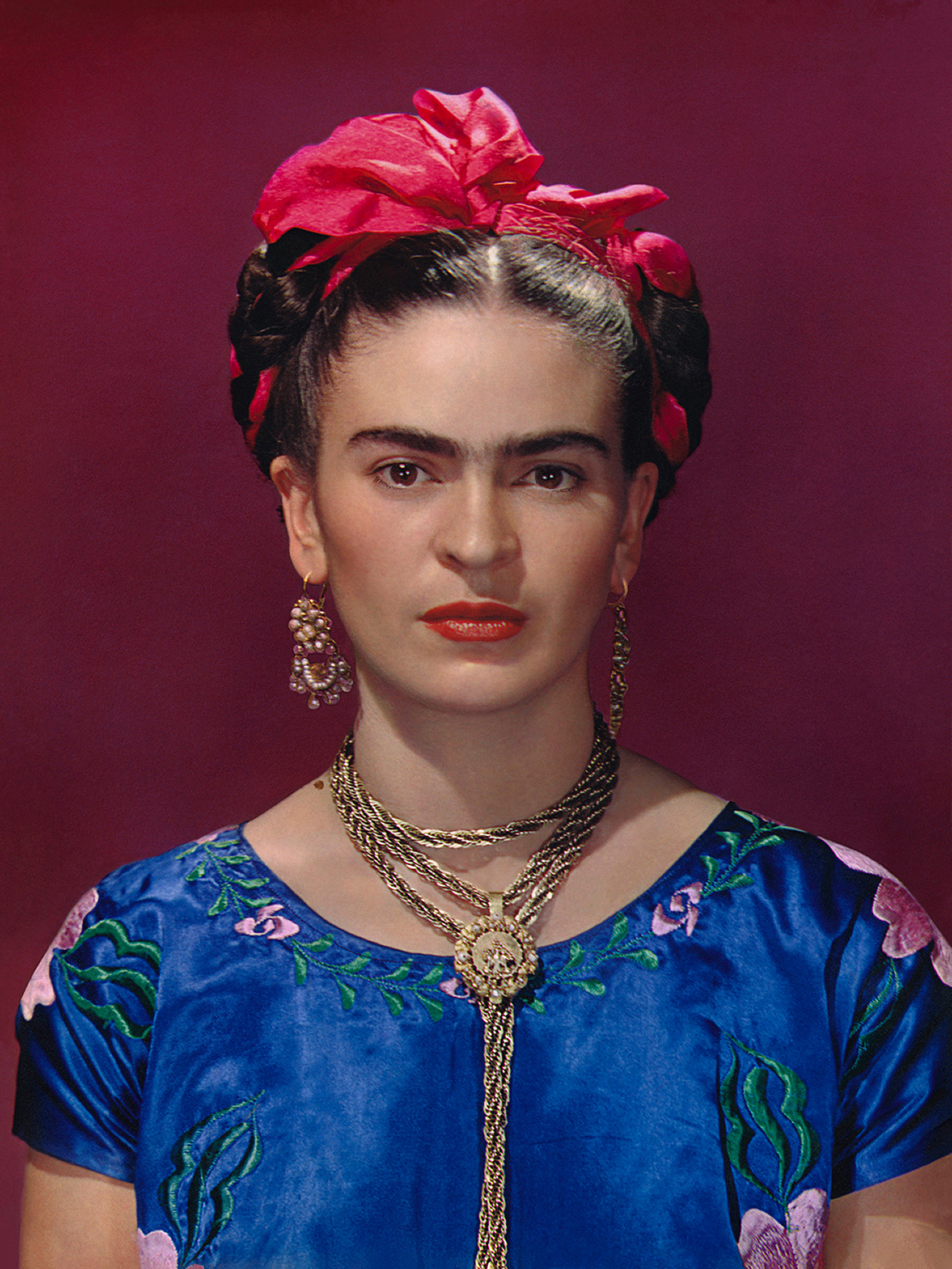 Frida Kahlo in blue satin blouse, 1939, photograph by Nickolas Muray. Copyright: Nickolas Muray Photo Archives
But the cult-like following and appreciation of Frida Kahlo isn't limited to her canvases. Her passionate and tumultuous love affair with painter and muralist Diego Rivera, her publicized struggle with health crises (both physical and emotional), and her love of all things beautiful, has given her an almost-mythic status in the art world and in culture at large. While Kahlo's inner world may have been painful and agonizing, her outer-world—her houses, studios, personal objects, jewelry, and clothing—was astonishingly beautiful and affirmatively vibrant.
A collection of her gorgeous belongings, which had previously been locked away for the 50 years after her death in 1954, are currently on view at the Victoria and Albert Museum in London. (Diego Rivera locked her belongings in a room and demanded that the room stay locked until after his death.) Entitled "Frida: Inside and Outside," the exhibition presents over 200 items from Casa Azul, the artist's studio and house in Mexico City, including makeup, jewelry, clothes, medicines, and her famous red-leather-booted prosthetic leg. (Kahlo had serious health issues, vestiges of childhood polio and a serious traffic accident she sustained as a young women. Decreased circulation to her right leg caused life-long problems and deformity. And though she was celebrated for her long, colorful skirts, she wore them out of what she felt was necessity: "I must have full skirts and long, now that my sick leg is so ugly," she once said. Enduring more than 30 surgeries over her life time, Kahlo had her leg amputated below the knee in 1953 (at the age of 46) due to gangrene. In true Kahlo fashion, her prosthetic limb was adorned in a beautiful wedged, lace-up red-leather boot with embroidered Chinese motifs on appliquéd silk.)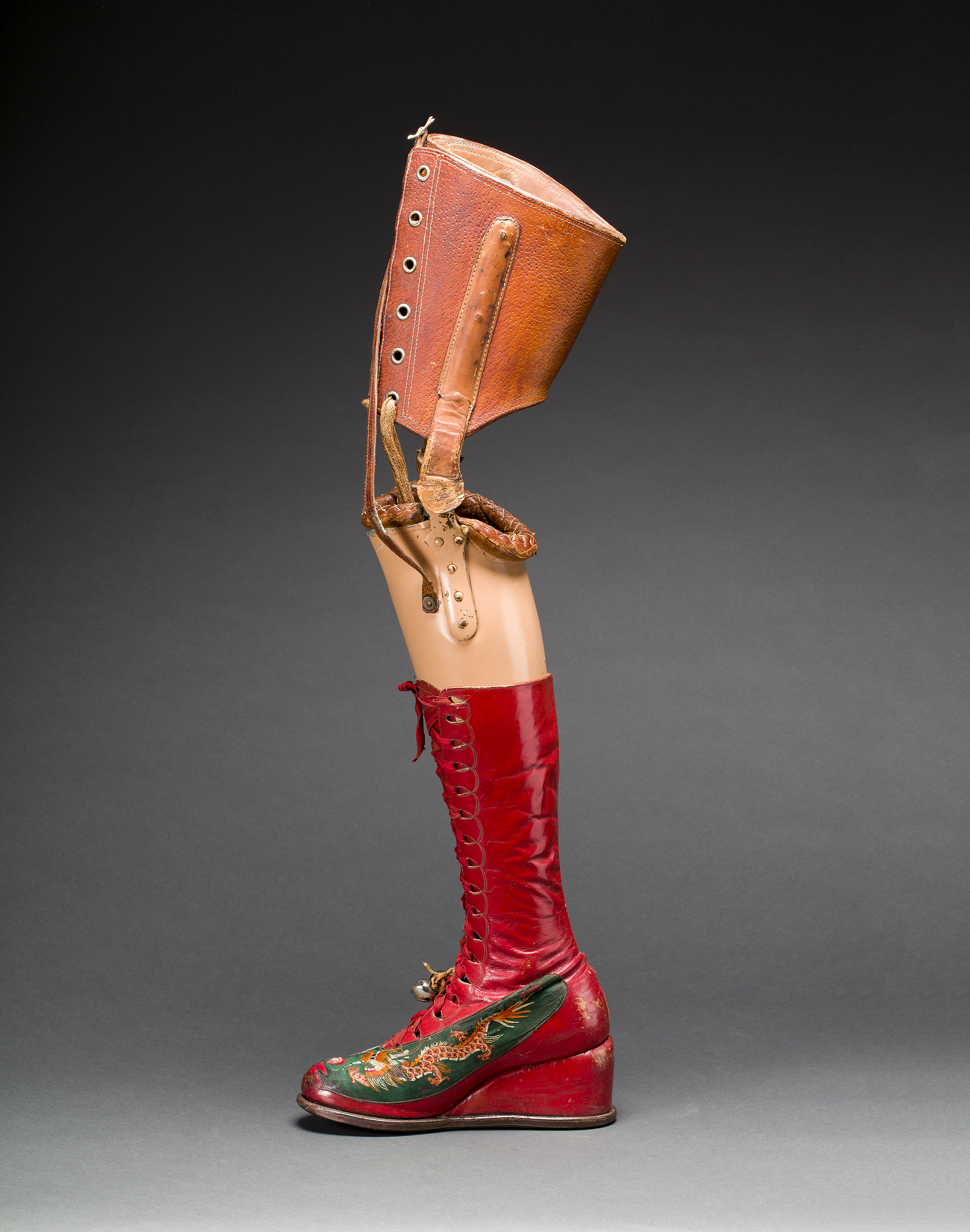 Prosthetic leg with leather boot. Photograph Javier Hinojosa. Museo Frida Kahlo. Copyright Diego Riviera and Frida Kahlo Archives, Banco de Mexico Fiduciary of the Trust of the Diego Rivera and Frida Kahlo Museums.
Though Kahlo's belongings are certainly worth seeing in person on display, there's something to be said for understanding the context in which they were originally housed. To get a better sense of how Kahlo lived with the beautiful objects that surrounded her, and to get a peek into her domestic life as an artist, daughter, and wife, we scoured the archives for images of the artist's homes and studios in Mexico City.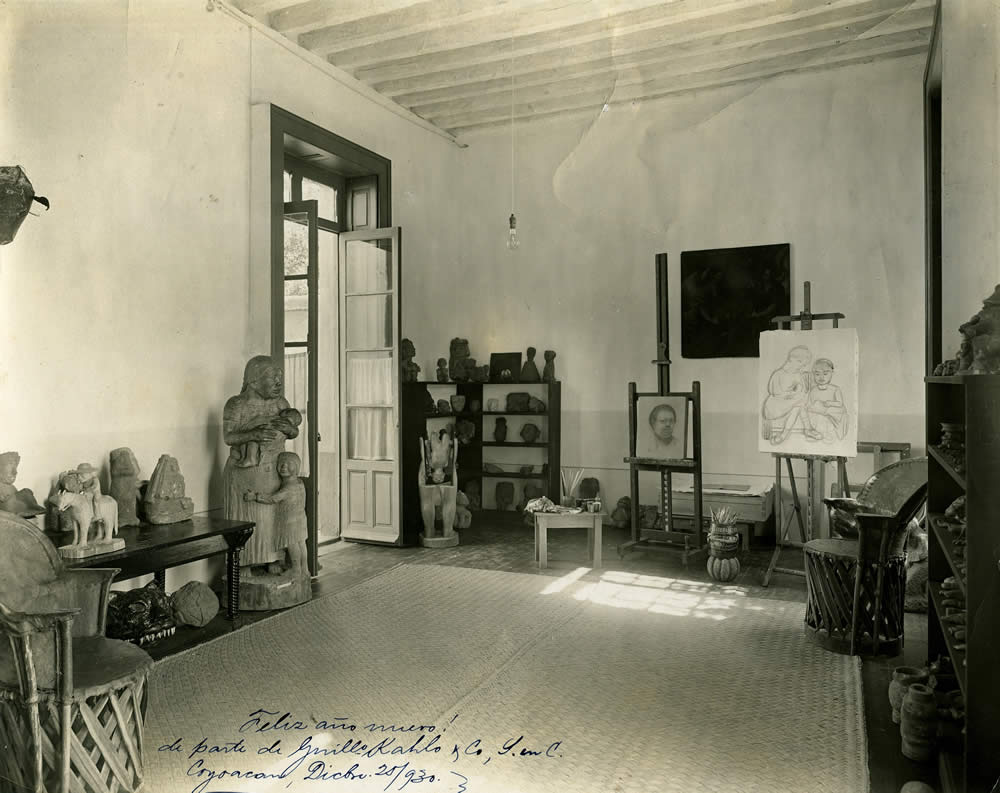 All historic photos of Casa Azul via Museo Frida Kahlo. © Frida Kahlo & Diego Rivera Archive, Bank of Mexico, Fiduciary in the Diego Rivera and Frida Kahlo Museum Trust
Throughout her lifetime, Khalo worked between two different studios in and around Mexico City. The first, in Coyoacan, is what's known as Casa Azul (the Blue House). The house was Khalo's childhood home, which remained at the center of her creative universe, and is the place where she died. Now, the house functions as the Museo Frida Khalo, preserving the artist's personal objects as well as some of her most known works, like Long Live Life (1954), Frida and the Caesarian Operation (1931), and Portrait of My Father Wilhelm Kahlo (1952).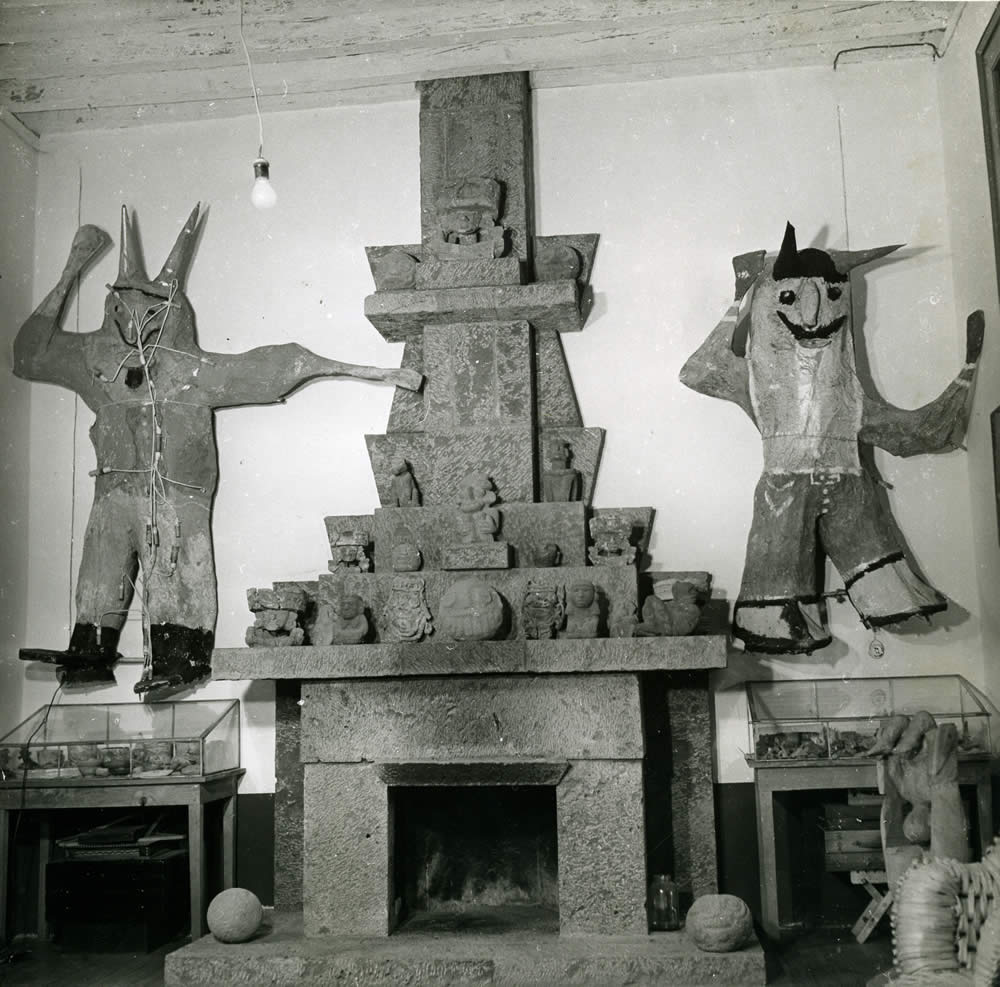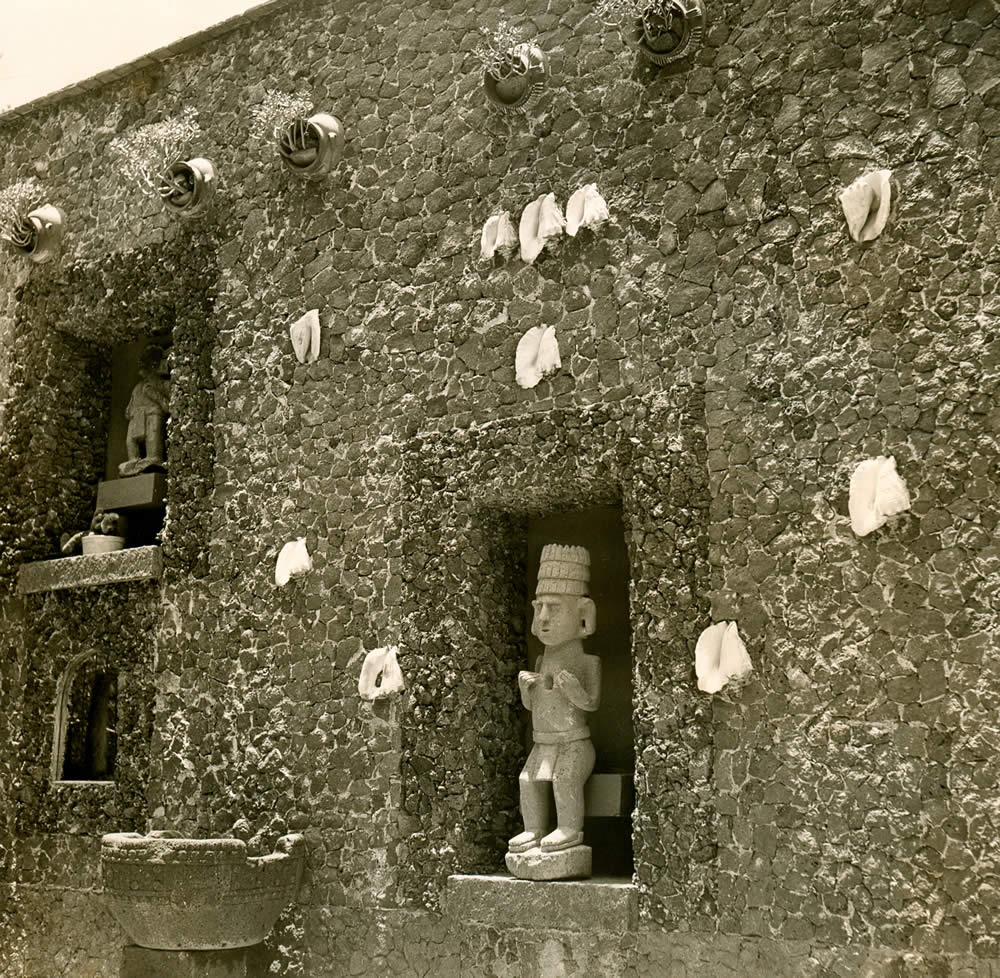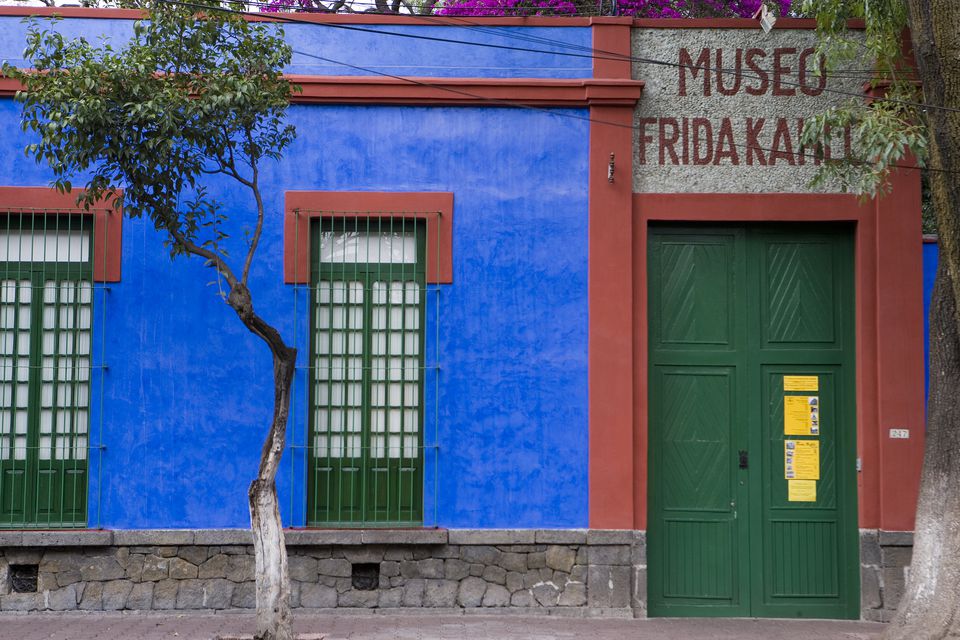 Present-day Casa Azul, the Museo Frida Kahlo. Image via Trip Advisor.
Kahlo also lived and worked on a compound designed by friend and architect Juan O'Gorman, which connected two twin houses occupied by Kahlo and Diego Rivera. The twin houses were connected by a bridge, allowing the couple to visit one another whenever they wished, while they retained their own separate spaces that allowed them to work in private. The structure itself is architecturally stunning; its airy, functionalist design was essentially a showcase for O'Gorman's avant-garde architectural innovations. Using steel and glass, a concrete helicoidal staircase, and intentionally exposed electrical and piping, O'Gorman illustrated his acute understanding of European avant-garde techniques used by architects like Le Corbusier. But he also referenced traditional Mexican folk art, like exposed clay paneled ceilings, bright exterior colors, and a cacti fence lining the property's perimeter.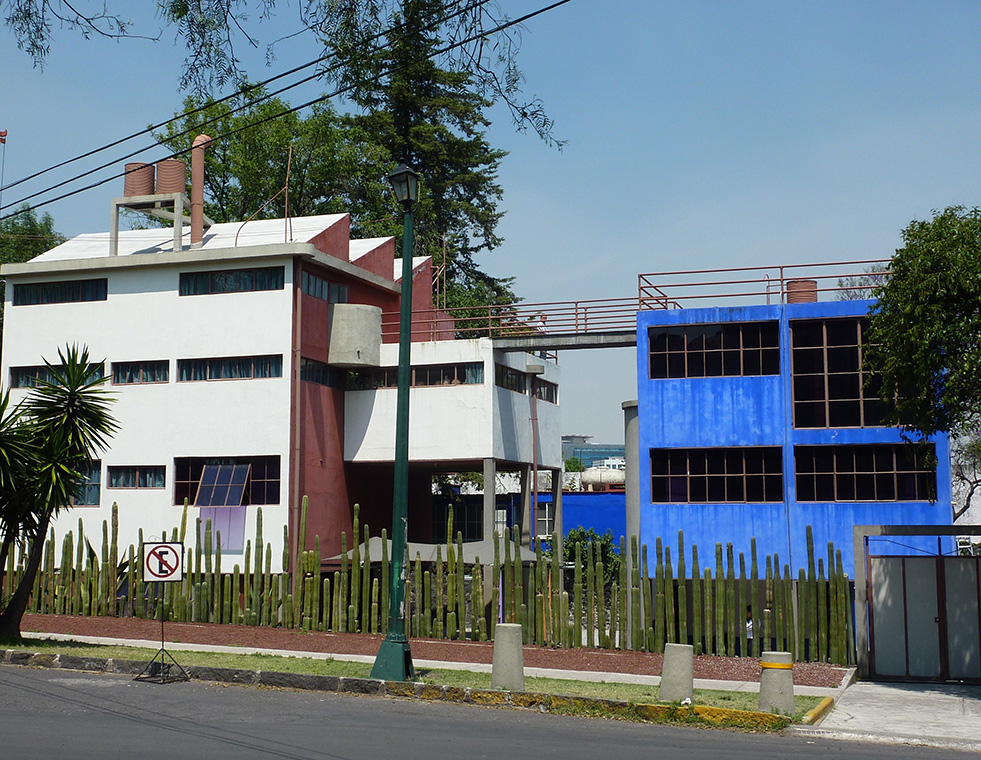 Exterior of Riviera and Kahlo's compound. Image via Time Out.
Rivera lived at this house from 1934 until his death in 1957, while Kahlo lived back and forth between this residence and her family's home in Coyoacan. After Rivera's passing, the painter's daughters inherited the house and drastically modified the compound; they demolished the bridge connecting the two artists' quarters, subdivided the plot, and replaced the cacti fence with one of volcanic stone, among other renovations. In 1981, the National Institute of Fine Arts bought the modified compound to create a museum dedicated to Rivera and Kahlo. After years of renovation informed by archival photographs, correspondence, and other documents, along with the advice of many scholars and architects, the museum (called Museo Casa Estudio Diego Rivera and Frida Kahlo) opened its doors in 1997.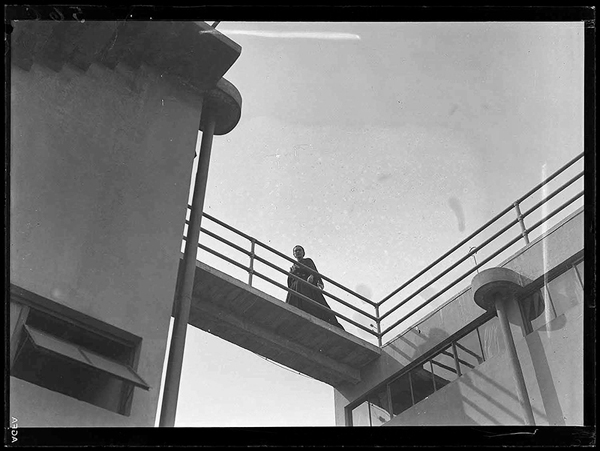 Frida Kahlo on the bridge connecting her space with Riviera's. Martin Munkacsi, "Fridha Kahlo standing on bridge between house-studios, Mexico City", 1934. Image via Fans in a Flash Bulb.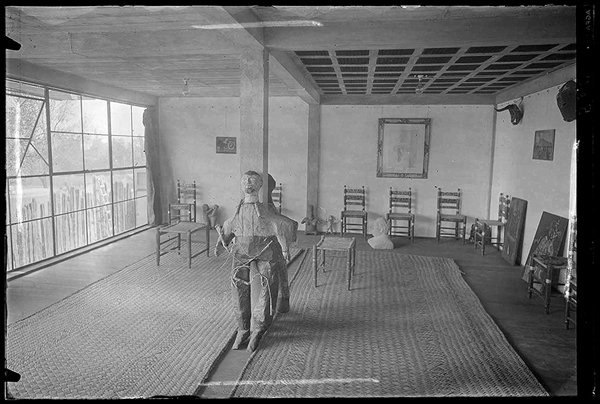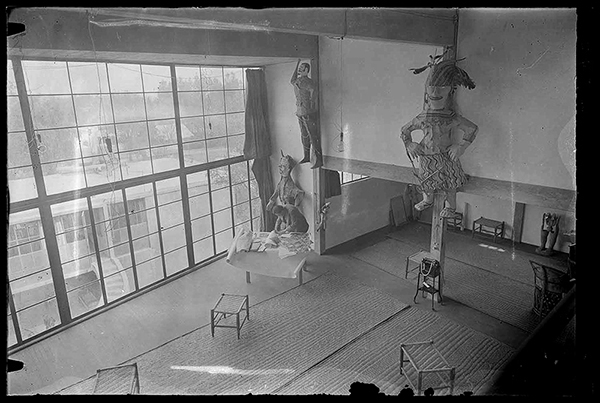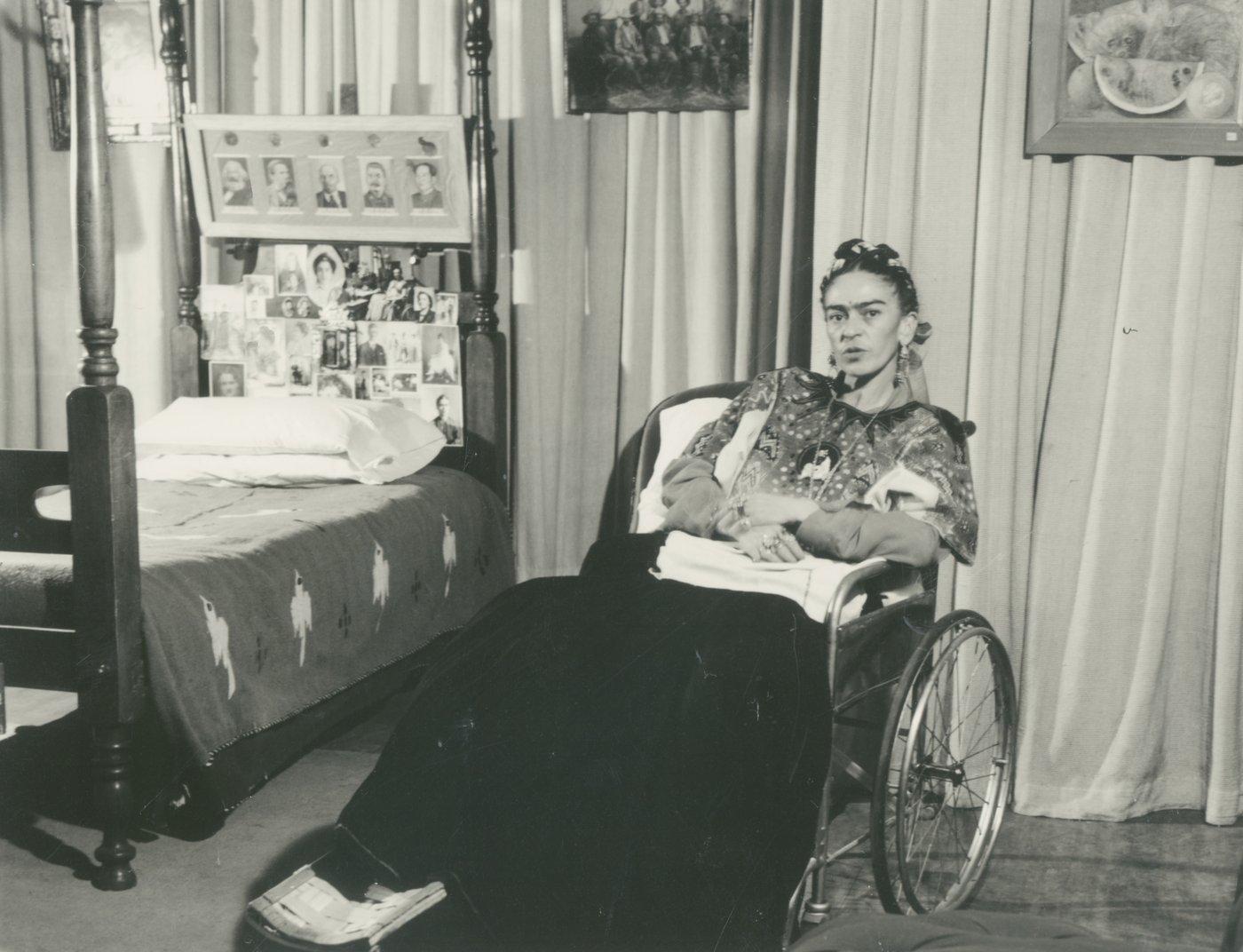 "Frida Kahlo: Making Her Self Up" at the Victoria and Albert Museum runs from June 16 to November, 2018.