Pablo Leon de la Barra is the Guggenheim'sUBS MAP Global Art Initiative Curator for Latin America, which means that it's his job to stay up-to-the-minute on the latest developments in art from the region. He's also one of the authors of Phaidon'sArt Cities of the Future, a roundup of a dozen global avant-garde destinations. Here, the art expert and writer shares some notable works from this year's edition of the Material Art Fair, on view in Mexico City's Expo Reforma February 4-7.
GALA PORRAS-KIM
Future Spaces Replicate Earlier Spaces
Commonwealth and Council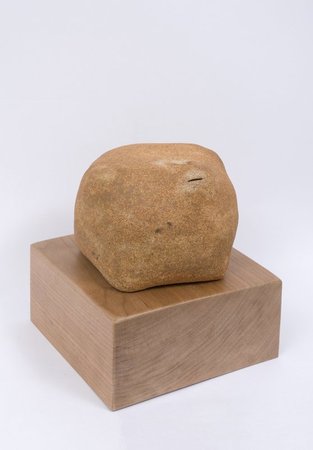 The Colombian-Korean artist Porras-Kim is one of the most interesting artists of the Los Angeles scene today—she will be participating this year in the Hammer's "Made in LA" biennial and in LACMA's 2017 "LA/LA Los Angeles/LatinAmerica" exhibition. This group of works belongs to the series Future Spaces Replicate Earlier Spaces, and are inspired by ancient Peruvian sound vessels and pots "re-discovered" by a man named Don Wright in New Mexico who reinterpreted them as "entheosound" ritual objects. In the same way that the Peruvian vessels were reinterpreted by Wright, the sculptures created by Porras-Kim are available for future uses and reinterpretations.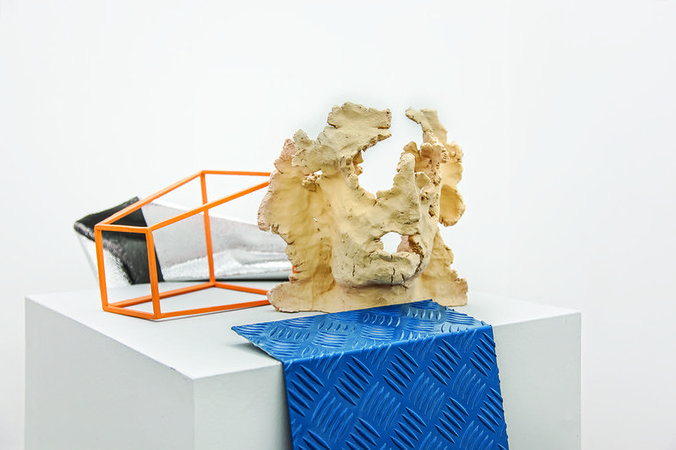 This work is part of a series developed by the Istanbul-based artist Emre Hüner in Mexico, in which he has used local materials like ashes from Colima's volcanos as well as substances like obsidian, bronze, and sand. Through this body of work, Hüner continues his research on the subjects of utopia, archeology, ideas of progress, and the future through the re-imagining of spatial and architectural entities as well as organic and artificial forms.
YANN GERSTBERGER
not yet titled
Lodos Gallery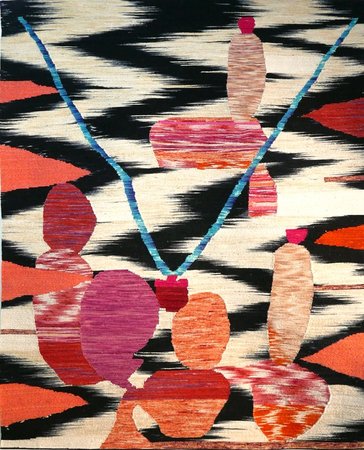 Yann Gerstberger is a French artist who has lived in Mexico since 2012, where he has been developing a series of textile works inspired by traditional tapestries but constructed using a technique he has developed. He glues the fibers and materials onto the tapestry, where he depicts images inspired by Modernist European painting as well as Mexican patterns.
CIBELLE CAVALLI BASTOS
Bananas State of Mind
Bosse & Baum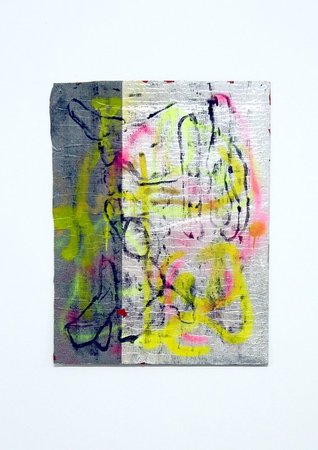 Cibelle is a Brazilian artist, musician, and performer based in London. All the paintings from this series are painted on timber wood insulation. Here, the silver material becomes both a skin and a screen for mental projections as well as a surface where innermost thoughts and feelings become evident. Each painting, or "spainting," as she sometimes calls them (from the combination of sculpture and painting, like the combination of spoon and fork known as the "spork"), responds to the feelings of the artist on the day when it was made. In this case, she was in a "bananas state of mind."
JOSE ARAMBURO
Con titulo
Carne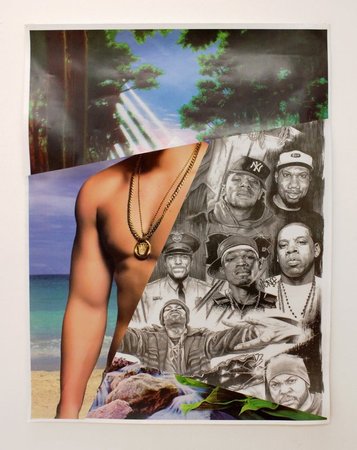 Aramburo is a cult figure in Bogota, widely admired and respected by his fellow artists. This work is from the series "así hablaba Zaratumblr (thus spoke Zaratumblr)" and is a collage composed of a poster of Maluma (the Colombian Regeattón singer) as well as a hip-hop stars and a futuristic landscape. In Aramburo's words, "There's people that do art and that's why they are artists, and there's people that are artists and do art every once in a while." Aramburo certainly falls in the second category.