As an art writer, curator, and publisher who has been based in Mexico City since 2012 and runs two magazines (Terremoto.mx, dedicated to Latin America's art scene, and Petunia, a feminist publication co-directed by Lili Reynaud Dewar and Valérie Chartrain), Dorothée Dupuis knows a thing or two about the state of contemporary art in Mexico. Here, she shares her thoughts on some of the most interesting works from the Material Art Fair, on view February 4-7.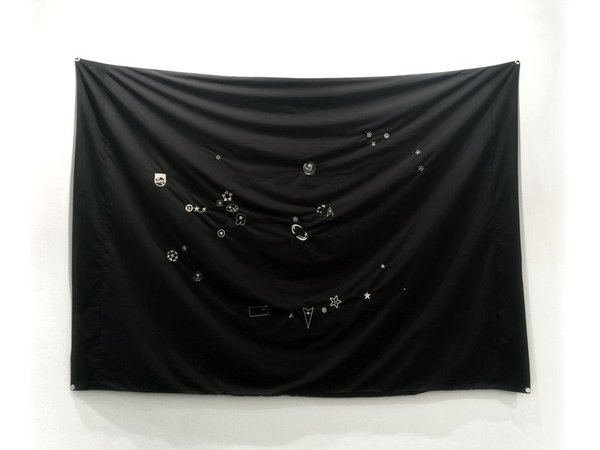 Adriana Martínez is part of this new generation of Colombian artists who have very cleverly internalized the many contradictions of their cultural backgrounds to produce works that express the complexity of our schizophrenic times. This work relates to earlier flags and maps made by Martínez.
ARIANA PAPADEMETROPOULOS
Untitled
Sade Gallery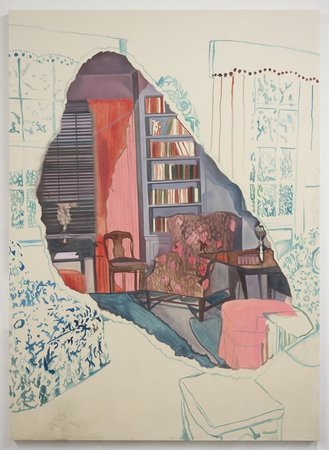 I met Ariana in Los Angeles, and I admire her group of strong and delicate artist chicks. It's refreshing to see women becoming their own muses, so as to confront the cliché of the representation of the feminine—I think it's very useful in these times.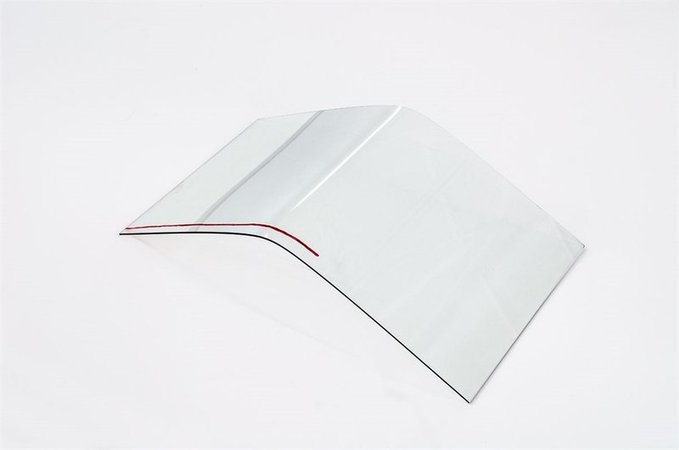 Tania Perez Cordova is one of the few artists to address sculpture in these terms in Mexico, and she does it with talent and singularity.
EDUARDO SARABIA
Untitled (1-2-3-) #7
joségarcía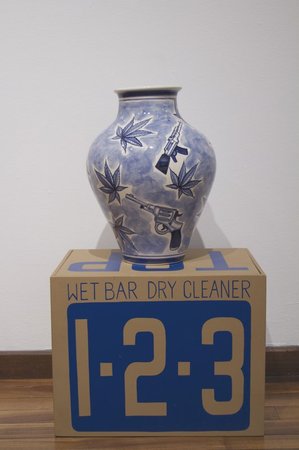 Everyone should have a Sarabia at home—his big potteries and installations mixing art history and pop culture are just genius.
EMRE HÜNER
A Little Larger than the Entire Universe
MARSO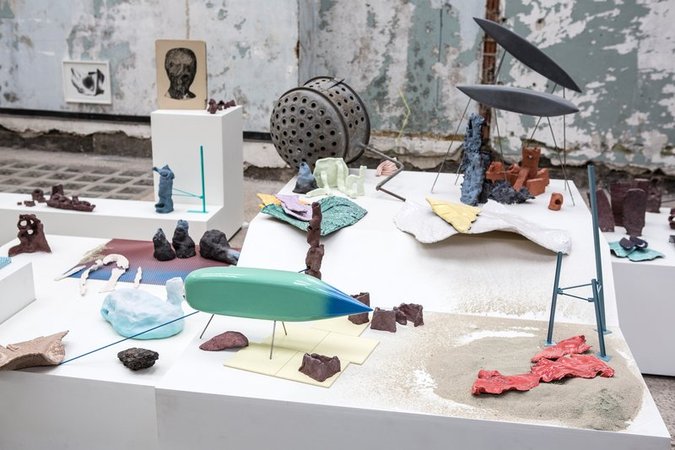 Emre Hüner is a nerd, a painter, and a dilettante albeit obsessive researcher. This series of sculptures is rare as he often doesn't show the sculptures themselves, preferring instead to just photograph them. I like how the installation reflects the complexity of his mind.
ANN HIRSCH
Pretty Little Truth Tellers
American Medium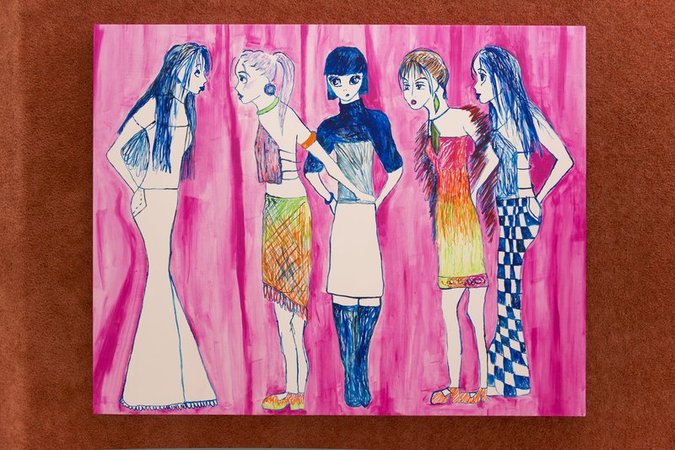 I am super into girly things these days. I work with a whole team of women, and I love that the painting addresses this collaboration in such a simple way.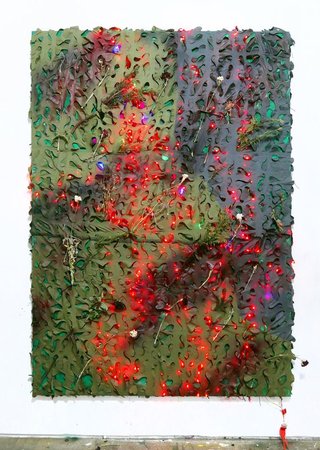 Nico Colon uses military material for this series of paintings that address the current violence present in the mass media of the Americas. I think it's a rare conceptual positioning in painting these days, so it deserves to be put forward.
ERIKA CERUZZI
dullnise
Springsteen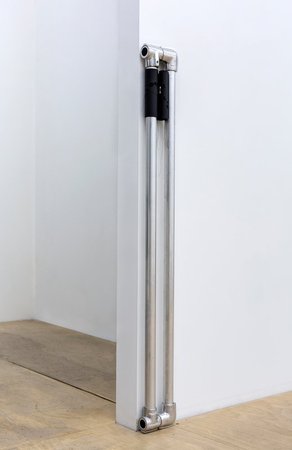 I am just so into product-design sculpture, a sort of fetishistic version of the relational aesthetics methodology (think Liam Gillick, Noah Barker, Cameron Rowland…). This metal structure is so cold and beautiful.
HERNAÍN BRAVO
Colours and Flavors
Casa Imelda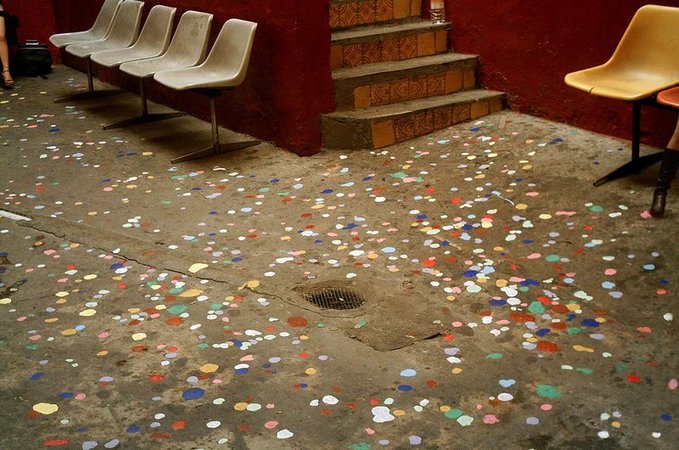 There is a whole generation of excellent Mexican artists that quietly emerge from various art schools in Mexico (here from Puebla), and they have a great eye for urban details and imagery. Hernaín Bravo is among them.
POLLY APFELBAUM
HWP50
Clifton Benevento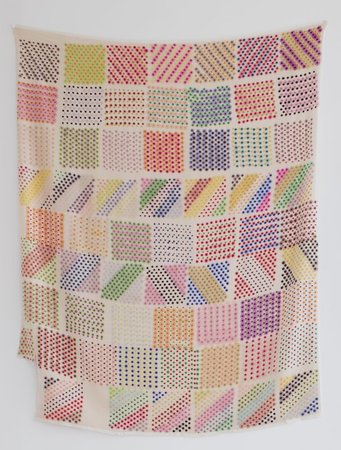 Craft art is such a powerful thing in the Americas. There are so many great female artists that have worked on abstraction from this perspective of the handmade, offering historical counterpoints to ultra-technological narratives such as minimalism. It's great to be able to buy their work these days before it becomes museum art!