This article is part of a series of spotlights on upstart gallerists at Mexico City's 2016 Material Art Fair .
The artists Amelia Szpiech and Hunter Bradley were living in a warehouse building in Baltimore when, in 2013, they realized that the raw industrial space wasn't just a romantically bohemian nesting site—it would be a great place to display art too.
To test their hypothesis, they constructed a gallery space adjacent to their home, placing a wall between the two, painting the walls and floor, and otherwise sprucing it up it to the state where no one would suspect people lived on the other side. They chose the name Springsteen and their first show featured five avant-garde artists from their network, with the pieces ranging from a houseplant in a electronically fogged-in vitrine to digitally enhanced photography to a glass tabletop presenting a robotically altered mouse. They were off to the races.
Since then, the couple has staged nearly 20 shows featuring rising stars like Jon Rafman , Bunny Rogers , and Sofia Leiby , and a year ago they moved their operation to a professional storefront space. Somewhere along the way, the two morphed from artists with an apartment gallery to dealers. "The galley has been my sole creative endeavor these past three years," says Szpiech. "I've put everything into it." Same for Bradley. Baltimore, meanwhile, has embraced their efforts. "We work with younger emerging artists, and it's been very supportive, I would say," she adds. "It's a smaller market, so there's room for experimentation."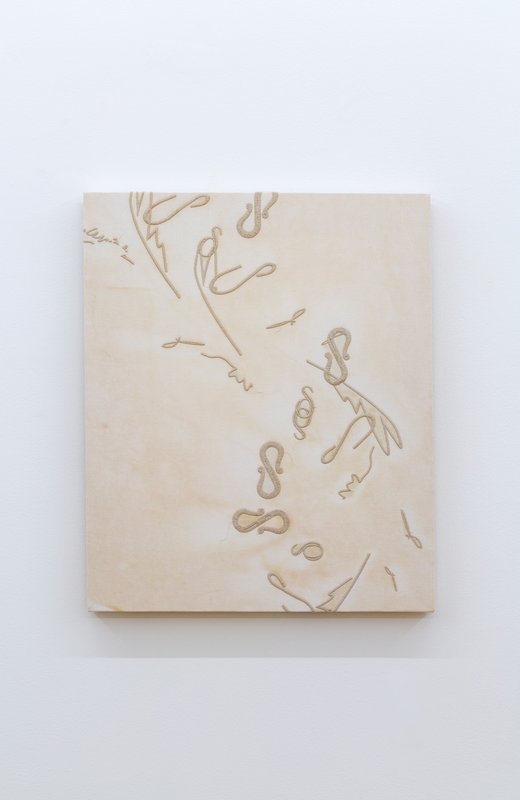 Erika Ceruzzi's Guanine ro/lock
The dealers, however, have been keen to expand their reach beyond Baltimore, and they have been energetic in bringing their program to art fairs. (They're members of NADA , for instance.) Now, for the Material Art Fair , they imported a pairing of robotic sculptures by Colin Foster —including a "modified" bug zapper that now works as a sculptural object, while still killing bugs—and paintings and found-object pieces by Erika Ceruzzi . "It's slow, I would say," Szpiech says of the fair. "But doing these kinds of international fairs is great for meeting artists and collectors. And we were excited to put their work together."
As for their gallery's name? It has nothing to do with the Boss. "To be honest, neither of us have ever listened to his music, and we have no connection to him," Szpiech explains. "We just liked the word broken down: 'spring,' a time of renewal and growth, freshness, and birth; and 'teen,' a paradoxical period of experimentation, rebellion, and maturity. We liked the connotations—and, also, you never forget the name."
RELATED LINKS:
Meet The Dealers: L.A.'S Arturo Bandini Hits The Big Time By Breaking All The Rules
Meet The Dealers: Bogotá's Carne Gallery Invents A New Economic Model For Artist-Run Spaces
Meet The Dealers: Corrado Folinea's Galleria Acappella Brings An Edgy Artist's Voice To Naples
Meet The Dealers: New York's Kimberly-Klark Gallery Finds A Space For Emerging Artists To Breathe In Queens
Meet The Dealers: Kosovo's LambdaLambdaLambda Gallery Provides An Outlet For A Generation Of Artists Weaned On War
Meet The Dealers: How London's Bosse & Baum Gallery Turned A Former African Church Into A Temple Of Collaborative Art