This article is part of a series of spotlights on upstart gallerists at Mexico City's 2016 Material Art Fair.
Four years ago, Katharina Schendl, an Austrian architecture graduate who had founded the web journal Footnotes on Art, a platform devoted to the art scene in Central and Eastern Europe, received an invitation from Kosovo National Gallery director Erzen Shkololli to travel down to Prishtina and explore the art milieu there. To her surprise, she loved it.  
Still isolated from much of the world since the Kosovo War of the late 1990s—Mexico doesn't recognize the country to this day, for instance—the population is mostly under 30 years old, and a spirit of hardship-born improvisation suffuses the culture. "The art scene is very vibrant," says Schendl, who got to know its ins and outs by canvassing it for her journal. "For me, it's the most exciting art scene in the Balkans." She returned to Vienna and began raving to her lifelong friend Isabella Ritter, a young art historian, about her amazing finds. Then, in 2014, she convinced Ritter to fly to Prishtina—which is only an hour away from Vienna, after all—to see a show by Flaka Haliti, who had been tapped to be only the second artist to represent Kosovo in the Venice Biennale. She was taken by it too.
At one point in their trip, the two went to drop off some art books at a local bookstore, only to find that the shop had gone out of business. It was on a picturesque side street, next to a nice restaurant run by a photographer, and it immediately struck them as a perfect spot for a gallery. "We said, 'Let's do it,' Schendl recalls. "You know, sometimes these things happen. It's like falling in love." They opened in January of 2015, naming their operation LambdaLambdaLambda to evoke the idea of sorority at the suggestion of an artist, who playfully took the moniker from the fraternity in Revenge of the Nerds.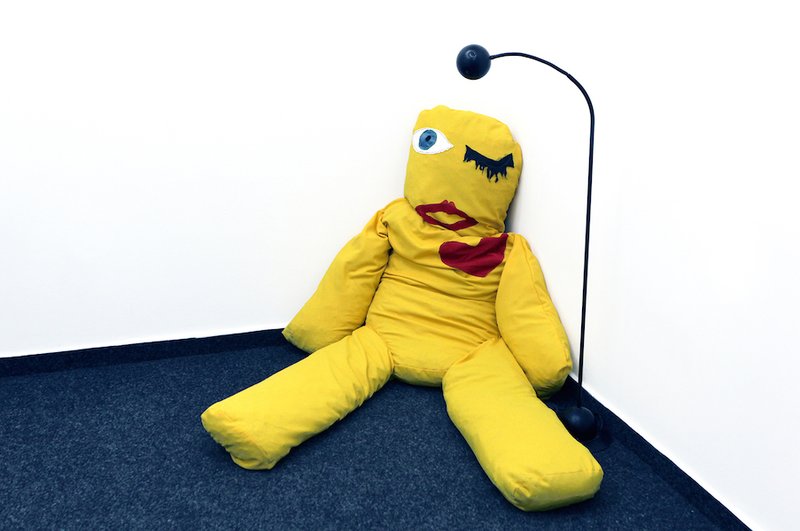 Dardan Zhegrova's Your Enthusiasm to Tell a Story
Since then, the two have mixed shows of young Kosovar artists with others from Europe as a way of fomenting cultural exchange, and have produced educational programing as well. The collector base in Prishtina is still inchoate, but that's a work in progress. "I didn't go there because I was interested in collectors," says Schendl. "I went because I was interested in the artists." Last winter, the two published a book surveying the young contemporary artists of Kosovo, in part, she explains, because "there's hardly anything published on the art scene there, and there's nothing online." Schendl has begun learning Albanian too.
Now, for the Material Art Fair, the dealers brought down a solo show by the 24-year-old poet and art prodigy Dardan Zhegrova, and it leaves an impression. Consisting of a single human-sized stuffed voodoo doll, the sculpture has a tape player concealed behind its large red heart that plays love poems recited by the artist, whose homosexual orientation is still problematic in his conservative country; the viewer is meant to get down on the floor with the doll and embrace it, putting an ear over the heart to hear the poem. Priced at $2,200, it alternates every day between a white, brown, and yellow version, two of which have one eye closed and one eye open—a symbol of cautious optimism—and one, the white, with both eyes open.  
The powerful installation brings attention to Kosovo's art scene at a time when the country is beginning to reengage with the international dialogue. This year, for instance, Jamie Donoughue's short film Shok became the first movie made in Kosovo to be nominate for an Oscar. Now that LambdaLambdaLambda is showing up at more fairs around the world, one can hope that its art scene will break out as well. 
RELATED LINKS:
Meet The Dealers: L.A.'S Arturo Bandini Hits The Big Time By Breaking All The Rules
Meet The Dealers: Bogotá's Carne Gallery Invents A New Economic Model For Artist-Run Spaces
Meet The Dealers: Corrado Folinea's Galleria Acappella Brings An Edgy Artist's Voice To Naples
Meet The Dealers: New York's Kimberly-Klark Gallery Finds A Space For Emerging Artists To Breathe In Queens
Meet The Dealers: How London's Bosse & Baum Gallery Turned A Former African Church Into A Temple Of Collaborative Art
Meet The Dealers: Baltimore's Springsteen Gallery Fuses Low-Fi Art With Technological Experimentation