The New Museum's assistant curator Natalie Belltook time out of her jam-packed schedule to weigh in on these pieces from LISTE 2016, on view June 14-19 in Basel, Switzerland. If you have a low-key love affair with contemporary photography, a predilection for blown glass works, or just a healthy appreciation for interesting artworks from rising international artists, these are works to look out for at the fair.
JOANNA PIOTROWSKA
Untitled, 2014
Dawid Radziszewski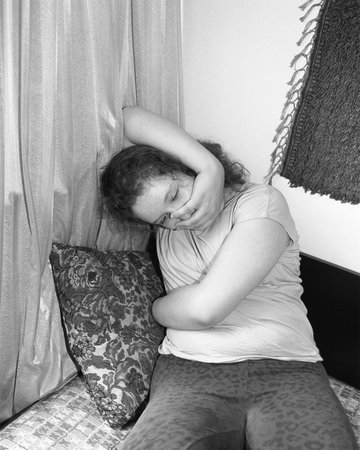 Joanna Piotrowska's photographs are strange and seductive. There's a psychological charge to them that is nicely disorienting but also dark. This one stands out as the most painful and exquisite—I can think of few images that would better evoke that variety of abject that so often comes with being a teenager.
JESSE DARLING
Colonel Shanks, 2016
Arcadia Missa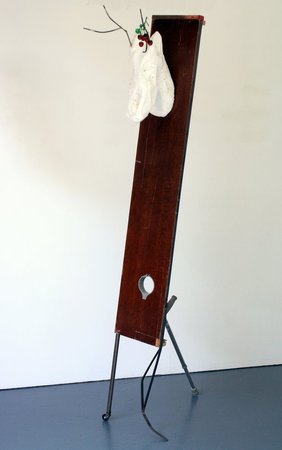 For similar or related reasons I really like Jesse Darling's maladroit misfit figures, and this one, with its crutch, makes me think of a hobbling Icarus after the fall. But Darling's sculptures touch on a slightly different theme—not so much the awkwardness of bodies, but the many handicaps that persist in imagining and representing them.
VALERIE SNOBECK
Reservoirs, with Stains, Dust, and Burns (Rolled and Rammed), 2016
Essex Street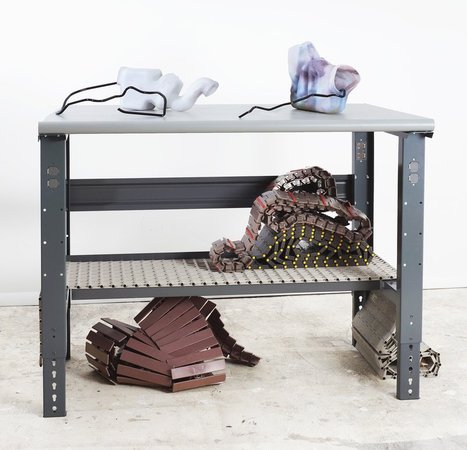 Valerie Snobeck's Reservoirs are glass, but their opaque finish makes them look more like the plastic automotive fluid tanks they are cast from. I find their crumpled, idiosyncratic shapes very alluring. They look too readymade to be dreamt up, but too bizarre to actually be from engines. Is it a kind of utilitarian uncanny when forms are so rigorously designed that they look organic?
SLAVS AND TATARS
Hung and Tart (full ruby), 2014
RASTER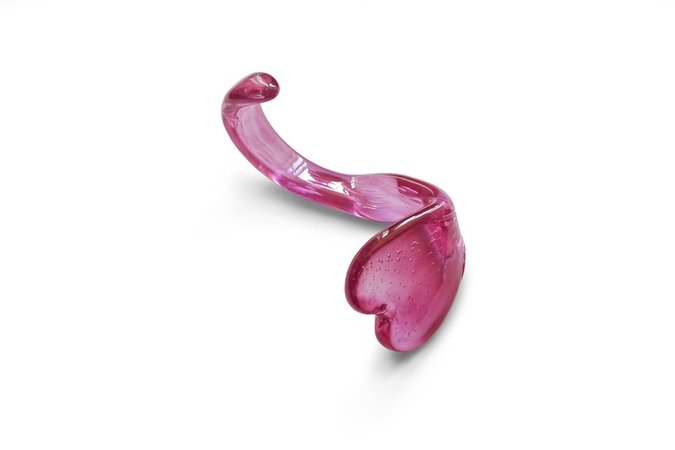 This glass work by Slavs and Tatars is from a larger project that evolved from their studies of medieval guides for kings and princes, which is a research topic that could undoubtedly reveal a lot about how power is wielded today. I'm not sure how I feel about glass tongues, but this one happens to remind me of Duchamp's coyly erotic Objet-dard and anyway Slavs and Tatars's word play is certainly in the same kingdom.
GEORGIA GARDNER GRAY
Science (Ötzi the Iceman), 2015
Croy Nielsen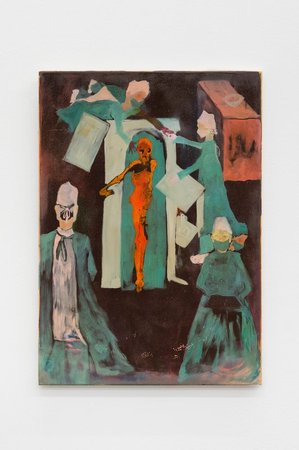 This is the first I've seen of Georgia Gardner Gray and I'm loving the palette, which vaguely reminds me of my favorite Toulouse-Lautrecs. Better still, you have a resurrection scene with the doctors levitating like angels, and a sinewy and fey looking Ötzi stepping out just like a medieval Jesus.
ANNA HULAČOVÁ
Easter Warrior, 2011
Hunt Kastner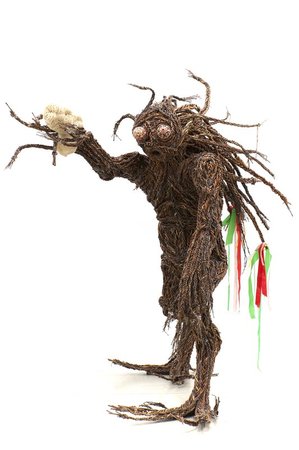 Many of Anna Hulačová's other sculptures seem to give primitivist and folkloric forms a modernist touch à la Brancusi, but this basket-brained monster—I don't know. Don't tell Science, but I bet he's what killed Ötzi. That, or he's just another dazed straw man back from Burning Man and happy not to have caught fire. Either way, I like what's going on.