As always, Spring/Break tends to show more emerging and unknown artists, at least in comparison to the Independent, Volta, the Armory, and even NADA (that is, when NADA still operated in New York). So, if you're looking for more affordable work to add to your collection, or are hungry to "discover" artists you'd be unlikely to come across otherwise, Spring/Break is the place to go. (Just don't necessarily expect that every booth will have knowledgable booth attendant with a price list handy; the fair isn't as "professional" or by-the-book as the others.)
For its eighth edition, the Spring/Break Art Show set up shop directly across the street from Trump Tower, in 866 United Nations Plaza. Acutely aware of its geographic locale, the organizers of the fair defined this year's theme as "Facts and Fictions," prompting their participants—who, unlike the other major art fairs, aren't necessarily galleries, but instead include independent curators, collectives, and artists—to respond in kind. It's no surprise, then, that the fair was jam packed with #Reistance and anti-Trump-related art, speckled with some text-heavy #metoo pieces, and, inexplicably (but not surprisingly), a LOT of penises. While many of the works that fall into these categories came off as heavy-handed or downright trite, there were plenty of gems to uncover. Here are the best 9 works from the fair, which stuck to our brain without hitting us over the head.
BRENT OWENS
Untitled with Roving Pain, 2019
Curated by Ambre Kelly and Andrew Gori
$3,800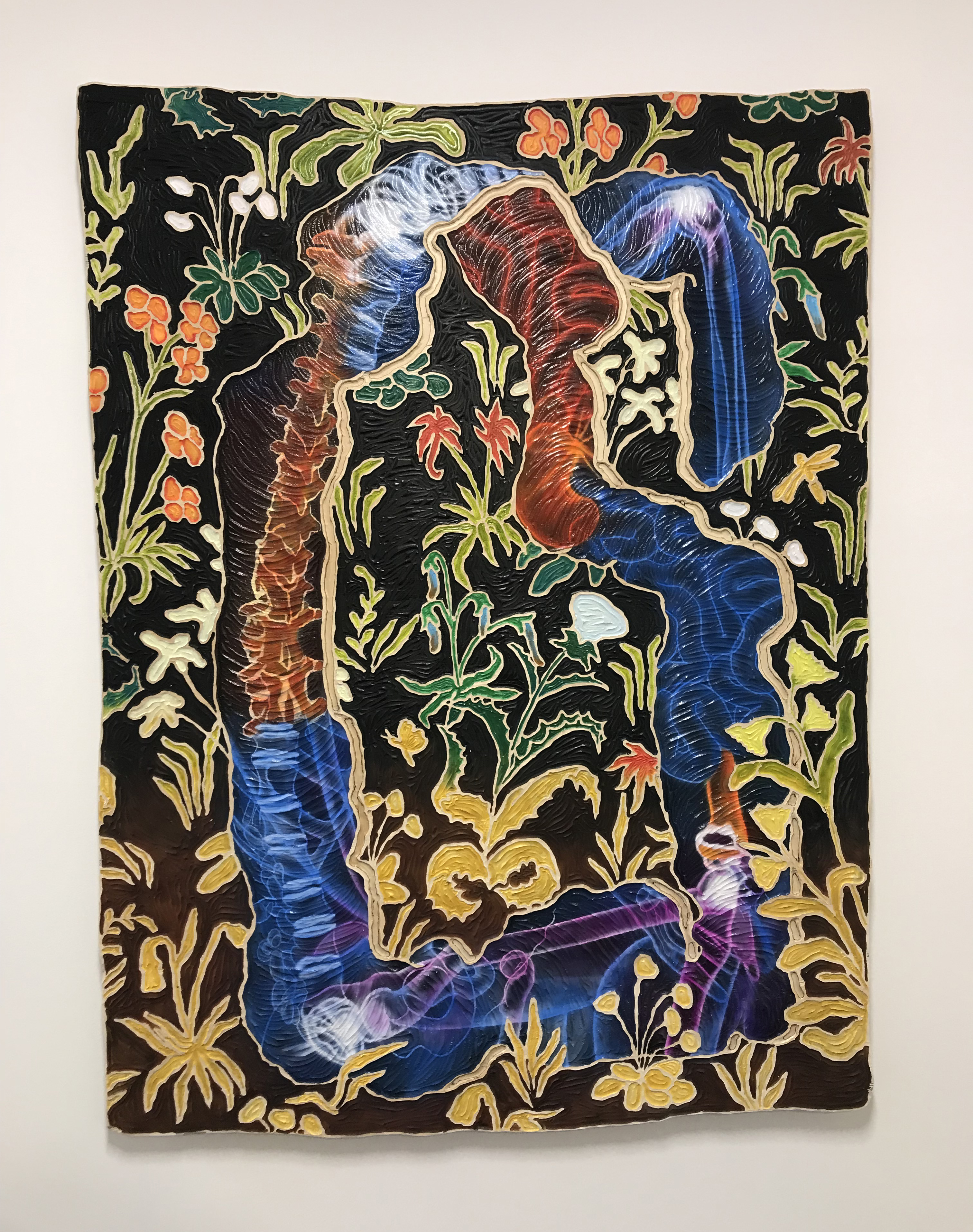 If you're wondering what it might look like to make a painting with power tools, this is it. Brent Owens uses a variety of woodworking tools, like chainsaws, carving knives, and chisels, to make both his sculptures and paintings. This piece—one of three by the artist on view at the fair—was created by carving a rectangular-ish sheet of plywood using a plunge router, a tool often used to cut inlays for cabinetry, and then painting the resulting relief. Unlike some of the artist's older work, which stuck primarily to a brush-on painting techniques, the artist's more recent paintings also use airbrush paint, which appears softer and more gradient-heavy. Writes the artist, "With a heavy nod to the famed Unicorn Hunt Tapestries housed in the Metropolitan Museum's collection at the Cloisters, and some personal and biographical fauna and flora, this series of pieces explores perennial enigmatic and mythical motifs." So far Owens has shown his work mostly in group shows at reputable artist-run spaces like Terminal Gallery and Re:Art in Brooklyn, but with his novel approach to image making, seductive floral patterns, and irregularly shaped substrates, Owens is an artist we'll surely be seeing more of.
SCOOTER LAFORGE
Untitled, 2018
Tall pots $1,200; Medium pots $800; Small pots $600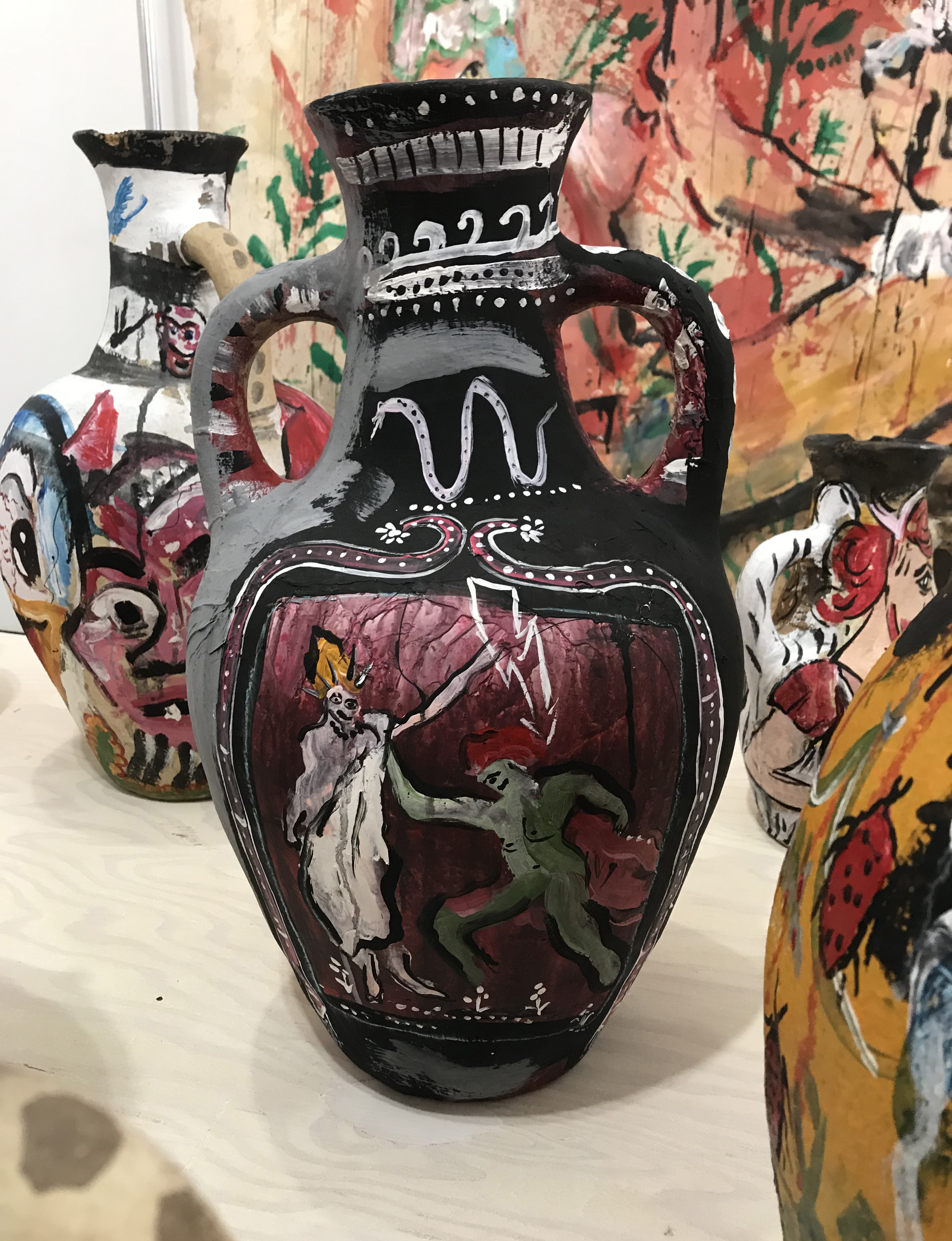 Dozens of painted 100-year-old pots sit on a plywood plinth in this installation by Scooter Laforge, an artist who may be best known for hand-painting garments reportedly worn by celebs like Madonna and Beyonce. Each vessel here includes a mash-up of references, from Disney characters to ancient Roman motifs, which the artist recently studied during a visit to the Metropolitan Museum. The "cheeky scenes," Laforge says, "are jokes." The artist wanted the installation to feel as if it was excavated from Pompei, the historic inspiration for the project. The booth at Spring/Break coincides with a solo show of the artist's work at Howl! Arts, which presents a "large, mural-size paintings that mine the artist's fertile inner emotional realm." The exhibition is up at the East Village gallery until March 13.
ARGHAVAN KHOSRAVI
She Had a Dream, 2018
Curated by Kristen Smoragiewicz
$14,000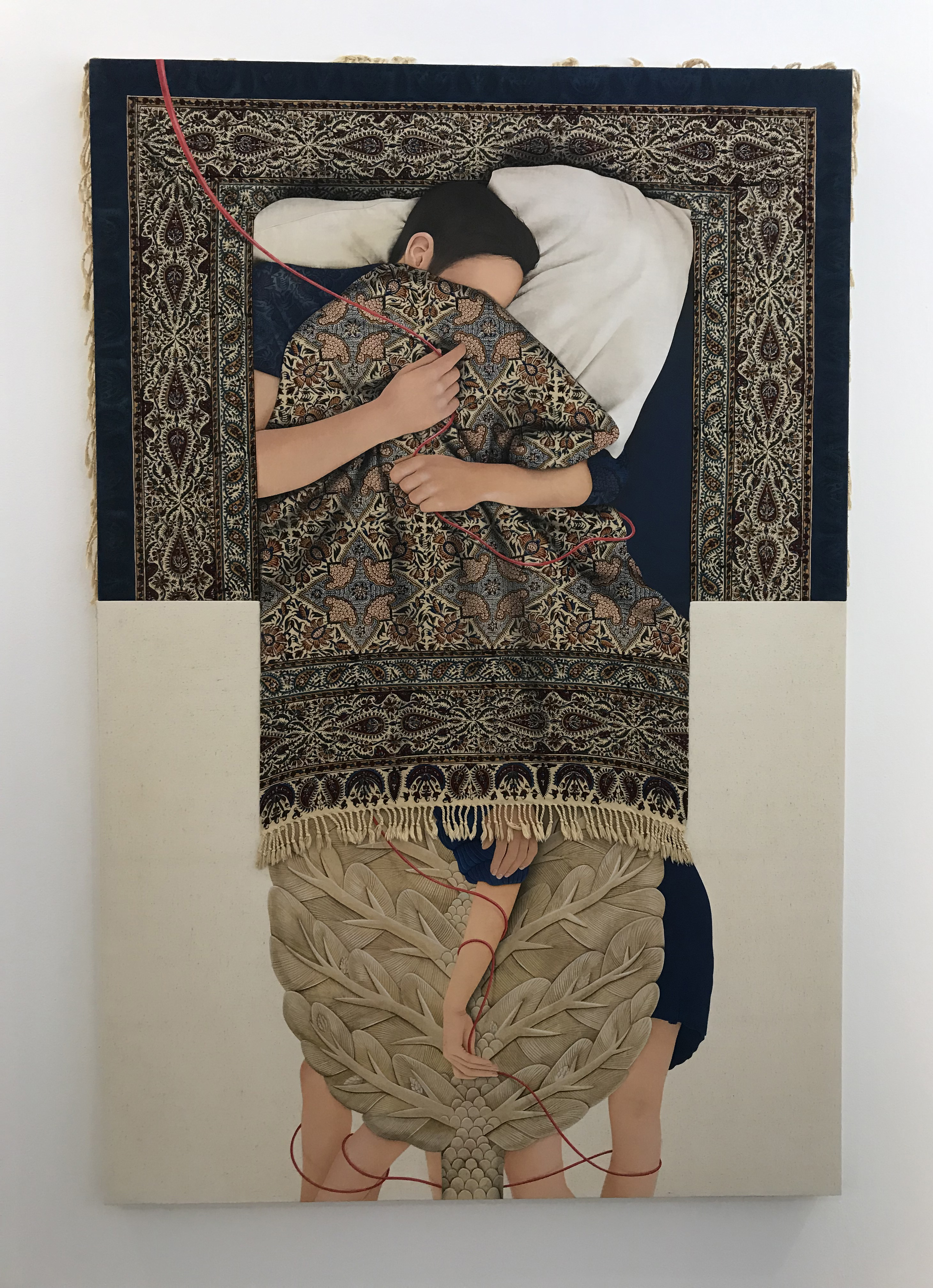 Born soon after the 1979 Islamic Revolution, Iranian-born artist Arghavan Khosravi watched her country transform from a Western-friendly monarchy into a suppressive republic. Her paintings reflect her experience as a child and teenager living what she felt was a "double life," one that required her to adhere to strict Islamic Law in public, and in private, allowed her the freedom to think and act freely, according to the press release. In She Had a Dream, the artist incorporates an actual rug, cut and applied to the painting, its fringe hanging around the edges of the canvas. Says the press release, "Compositionally the work draws influence from the tradition of Persian miniature painting; utilizing stacked perspective, cutaway views of architecture, bold color, rich detail, and frontal or three quarter views of faces." Khosravi earned her MFA from RISD last year, and has previously exhibited at Fridman Gallery, the Newport Art Museum, and the Seattle Art Fair, among others.
SAM BENNETT
Veiled Pleasures #2, 2016
Curated by Jordan Segal
$2,500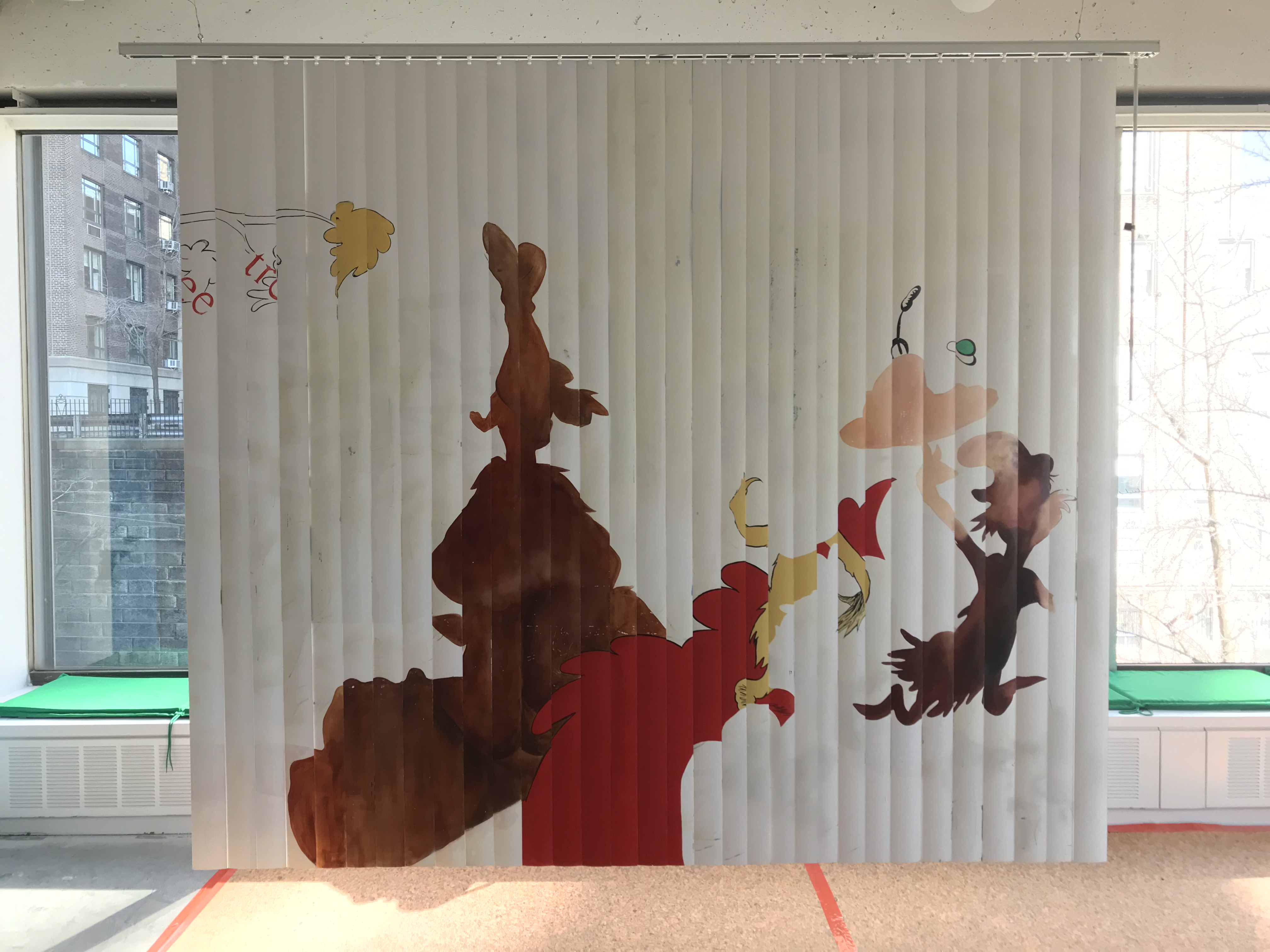 Sam Bennet's painted blinds weren't confined to one booth at Spring/Break; instead they hung throughout the fair, in some cases acting as room dividers. Using acrylic, spray paint, and oil, the artist paints fractured compositions that have a "small-town, Edward Scissorhands kind of vibe," says the curator, Jordan Segal. Taking imagery from both Dr. Suess illustrations and pornography, Bennet "examines heterosexuality from a playful, erotic, and adventurous perspective." The blinds, which are painted on both sides, also point to domestic space, voyeurism, and the relationship between public and private. With an MFA from Michigan State University, Bennet has shown his work at places like the Brooklyn co-op gallery Amos Enos Gallery and the Centro Villa of Mostales in Madrid, Spain.
GRACELEE LAWRENCE
Psychically Milked, 2019
Curated by Anna Cone, Gracelee Lawrence, Jen Dwyer, and Lina Puerta
$4,500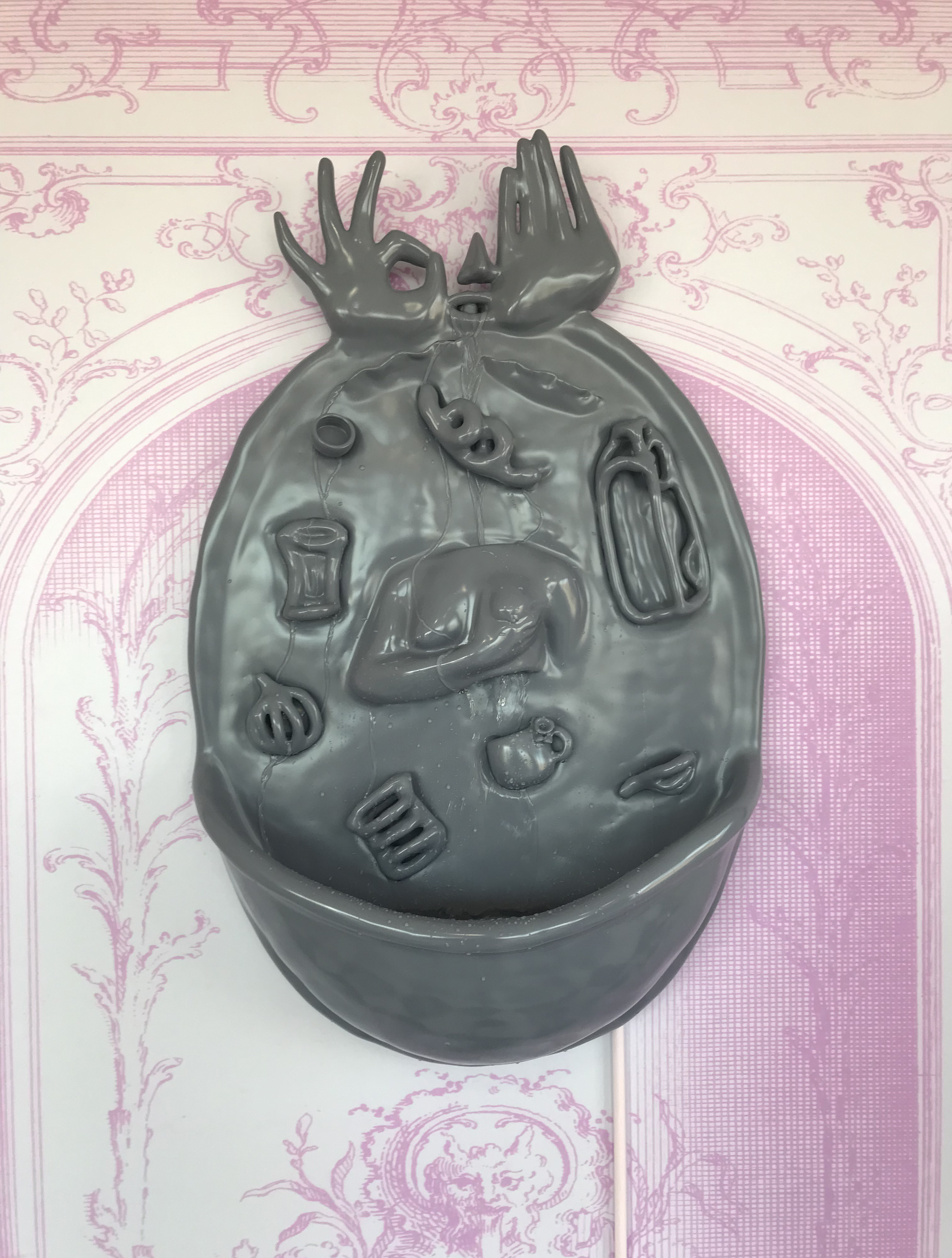 A working fountain, Psychically Milked was made using both digital and hand-made techniques. Drawing in three dimensions using VR sculpting software, artist Gracelee Lawrence digitally created several components of the piece, then 3D printed them in plastic. She also scanned her own torso, and found a 3D model of a cup, and 3D printed those too. Then she combined the elements over foam, and sealed them all together using epoxy and fiberglass, and finished it off with a coat of gray automotive paint. Outfitted with a water pump, the piece is a functional fountain; "water is coded as a female element, and the fountain also references cycles," the artist tells Artspace. With a practice that relies on specialized equipment, Lawrence has been busy making the rounds as an artist-in-residence. She began working on this piece while at the Vermont Studio Center, continued working on it while in North Carolina, where the artists is from, and then finished it off at Sculpture Space, where she's currently an artist-in-residence, in Utica.
HIRO TSUCHIYA
Seeing Boundaries, 2018
Curated by Koki Arts, Tokyo
$1,100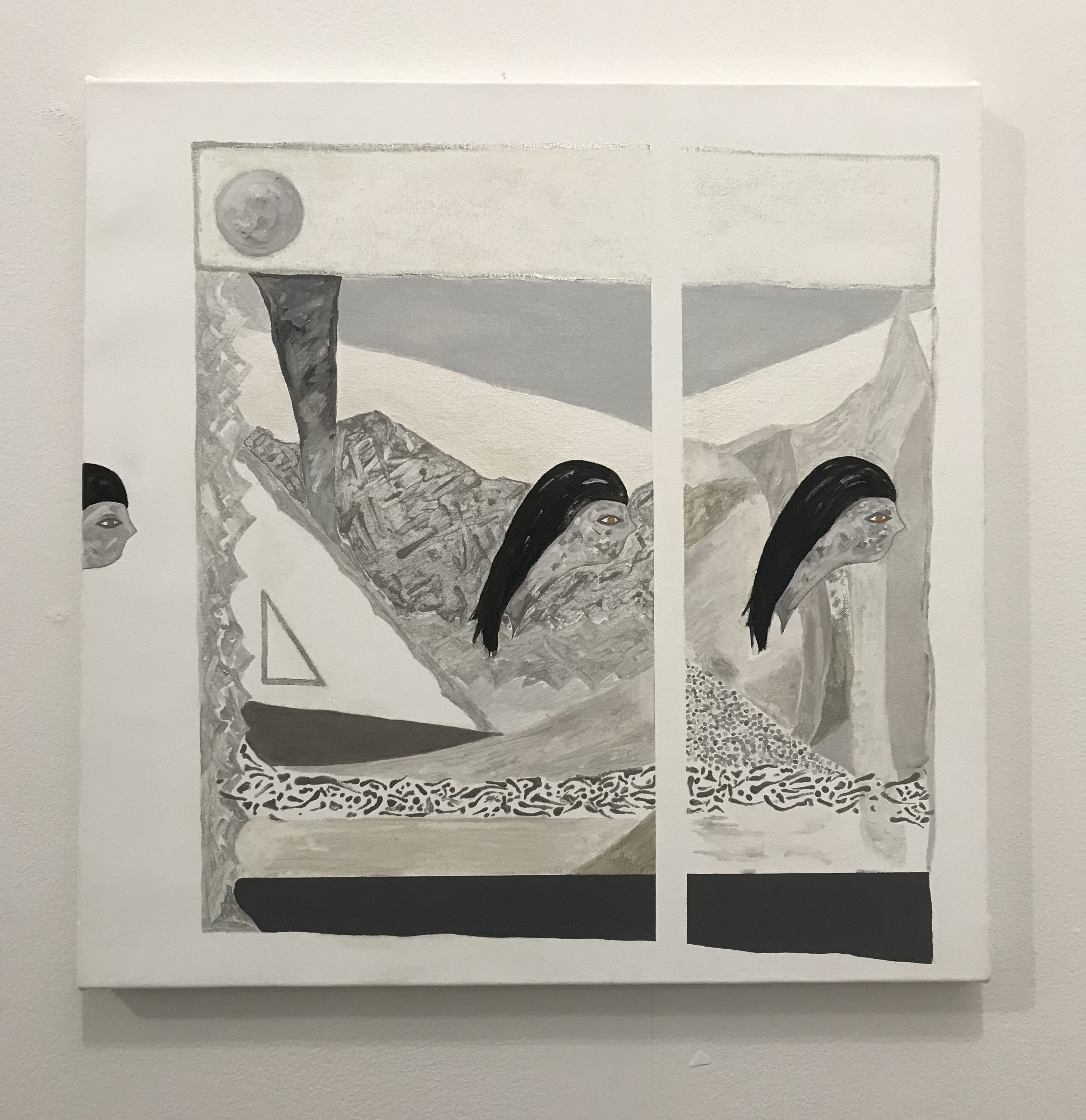 In a booth curated by Koki Arts, the only Japanese gallery to have exhibited at Spring/Break since its inception, Hiro Tsuchiya's neutral-hued paintings are almost entirely abstract, with figurative elements speckled throughout. About death, the compositions are split into two realms: the real, physical world that we inhabit, and the imagined, unknown world of the after life. The three heads represent the passage of time, according to the gallerist. This is the first time the Tokyo-based artist has shown his work in the United States.
NADINE FARAJ
Ages Ago Every Cell In Your Soul Capsized Forever, 2019
Curated by Anna Zorina Gallery
Not for sale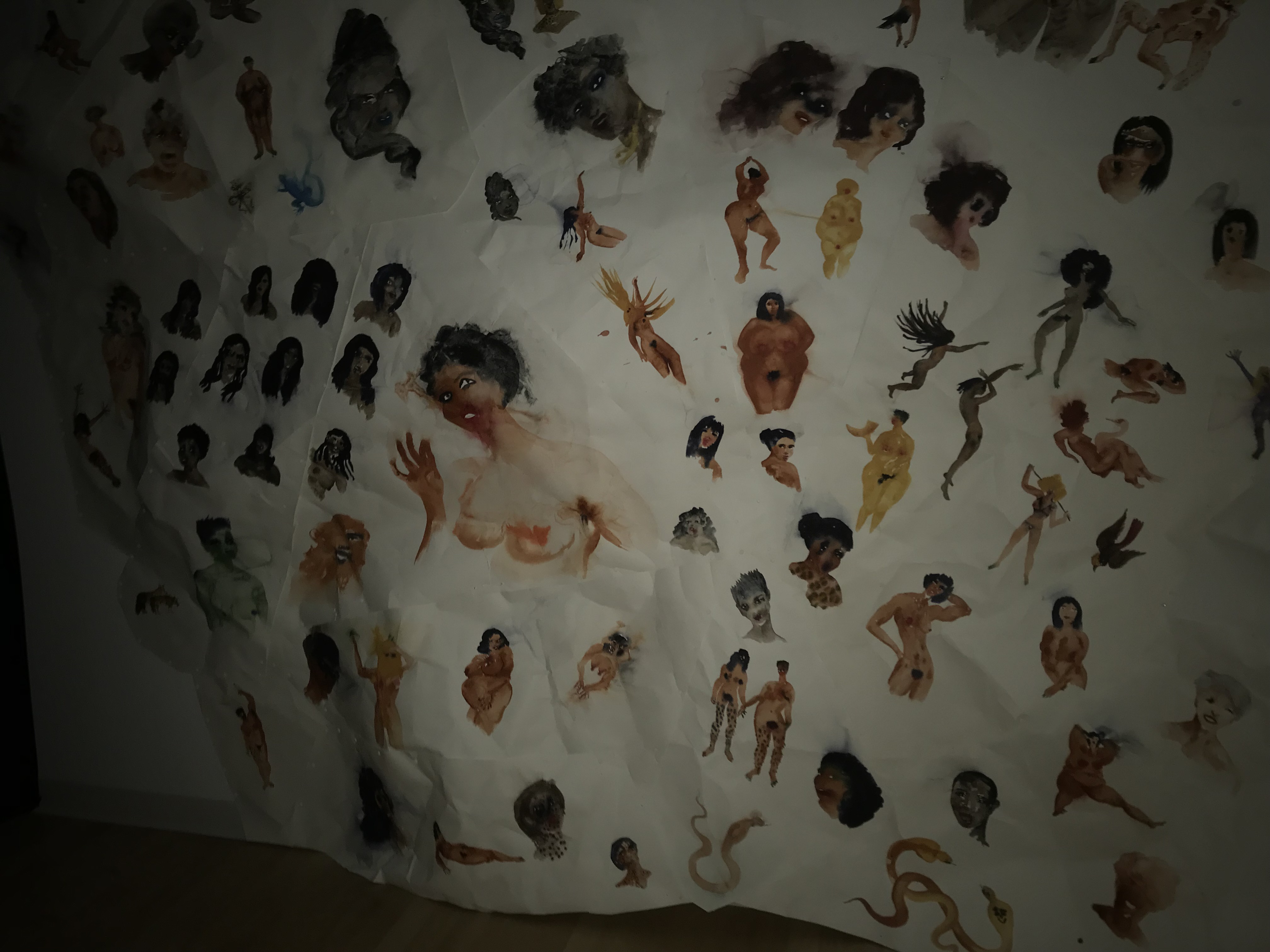 Upon entering this dark, enclosed booth, viewers are handed a flashlight, enabling them to illuminate and view only small sections of the cave-like interior. Drawings and paintings on paper line the lumpy walls, mimicking a cave the artist, Nadine Faraj, has learned about through stories told by generations of female family members. Of Iraqi descent, Faraj references the story of a mystic cave that the women of her family have made yearly pilgrimages to for generations. Members of an ancient Mesopotamian faith, Faraj's family practiced pre-Abrahamic traditions that "were quite liberated when it came to gender expression and sex," says the artist. "Homosexuality was not taboo. Women of that time were encouraged to enjoy their sexuality and use it as a path to nirvana. Spirituality did not conflict with sexuality; both practices were seen as a way to achieve a higher plane." While nothing in this booth is for sale, Chelsea's Anna Zorina Gallery currently hosts an exhibition of about two dozen water color paintings by Faraj. The solo exhibition, entitled "Get Used to Us," is on view until April 6.
ROSE NESTLER
Another Set of Hands, 2019
Curated by Valery Jung Estabrook
$7,000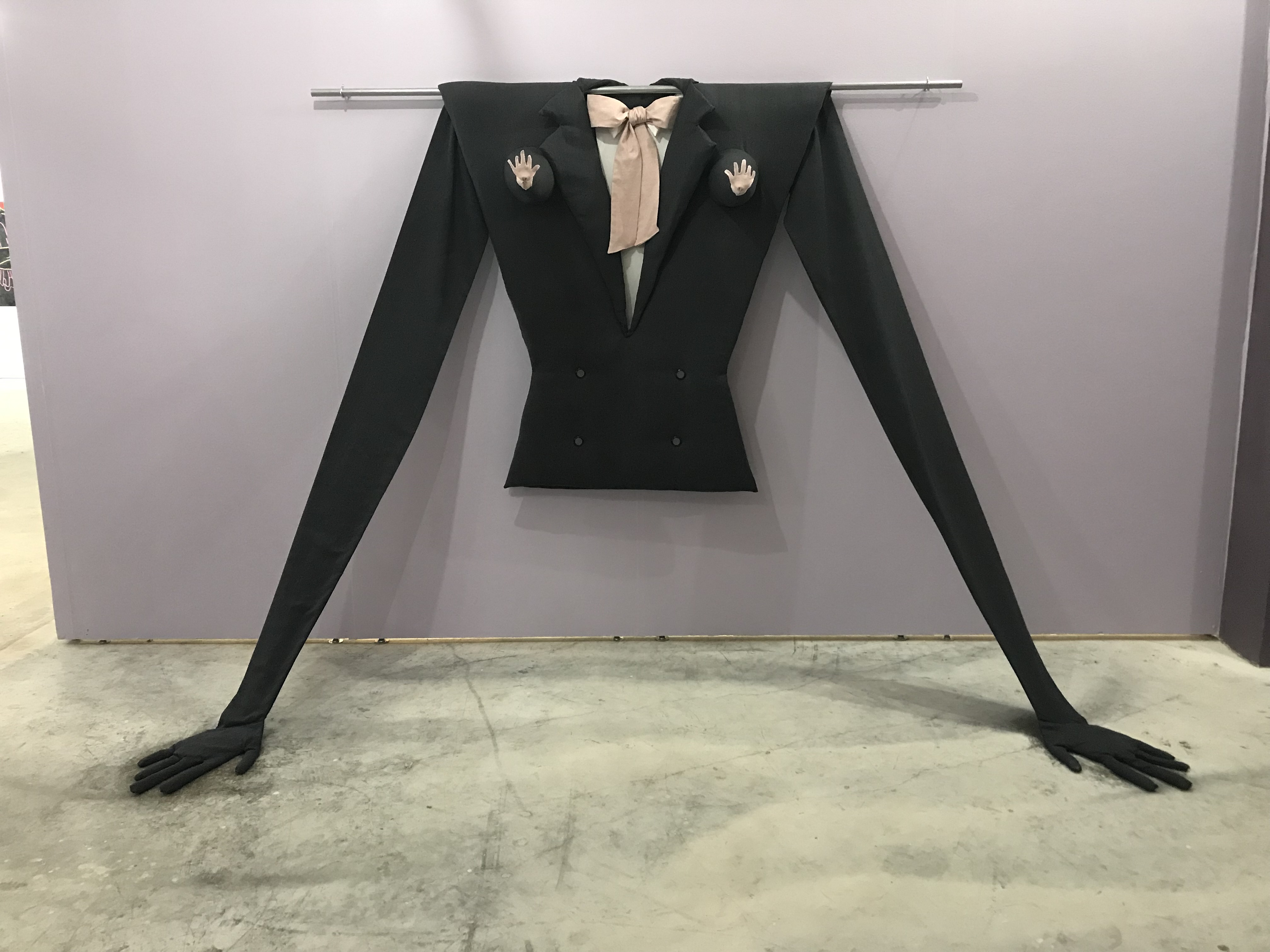 The work of artist Rose Nestler is inspired by the '80s "power suit." The artist thinks of these boxy, shoulder-padded suites as armor or shields, protecting women in the workplace, while also changing their silhouettes to appear more masculine (reinforcing the idea that the only path to success is one that mimics that of a traditional man). In Nester's oversized version, sculpted hands protrude from the suit's chest; "By adding hands the suits become more powerful and weaponized, while also acknowledging the actual body," the artist tells Artspace. The artist also notes that the suite's hands are cast wide and tethered to the ground, allowing the suite to take up space—another privilege typically exploited by men. Nestler, who primarily works with fabric and soft sculpture, received her MFA in 2017 from CUNY Brooklyn College, and has exhibited her work at BRIC Project Room in Brooklyn, Thierry Goldberg Gallery in Manhattan, and Kibbee Gallery in Atlanta, among others. (For more on Nestler's work, we recently wrote about it in a round-up of female artists called "The New Surrealists: Contemporary Women Artists Against Alternative Facts.")
CJ HENDRY
Drug Money, 2019
Curated by John Zinonos
$120,000 (Edition of 2 + 1AP)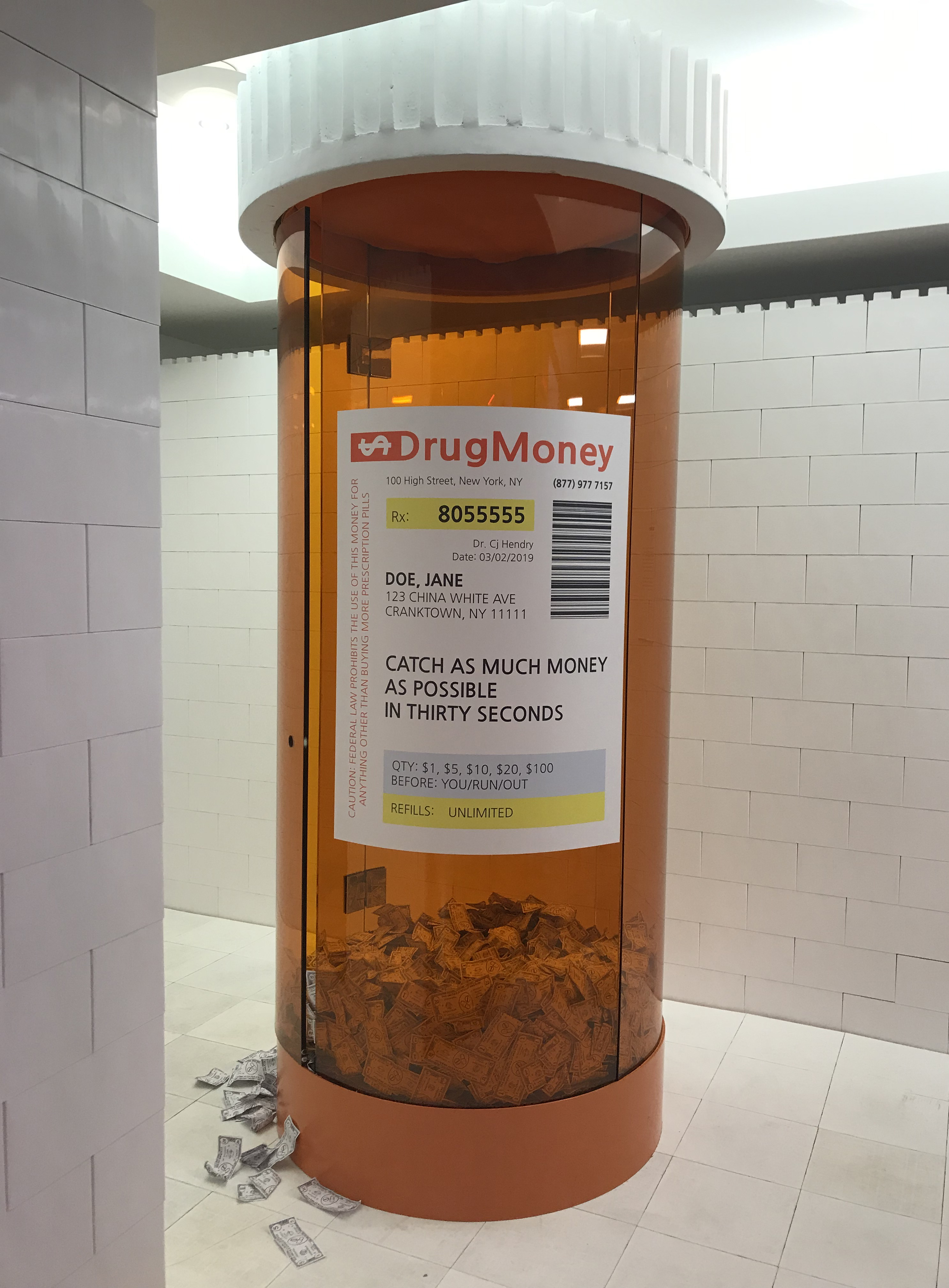 If you've always wanted to climb into one of those grab-the-cash booths on your favorite family game show, now's you chance. The catch? It's fake money, of course. (But still so fun, right!?) Designed to look like a prescription pill bottle, the functional object is the artist's attempt to comment on "how money and drugs exchange hands, and the speed in which that happens," says curator John Zinonos. Hendry, born in Australia and currently based in Brooklyn, typically flexes her creative muscles as a hyper-realist illustrator who works on commercial projects for big brands.