Untitled Art, Miami Beach hosts quite a few new galleries this year. Forty-five of the 133 exhibitors are first-timers at the seven-year-old fair, some of whom are art fair veterans and others who are brand new to the scene. Here, we look at several of the fair's new exhibitors to get a sense of what to expect.
50 Golborne
London
Booth B7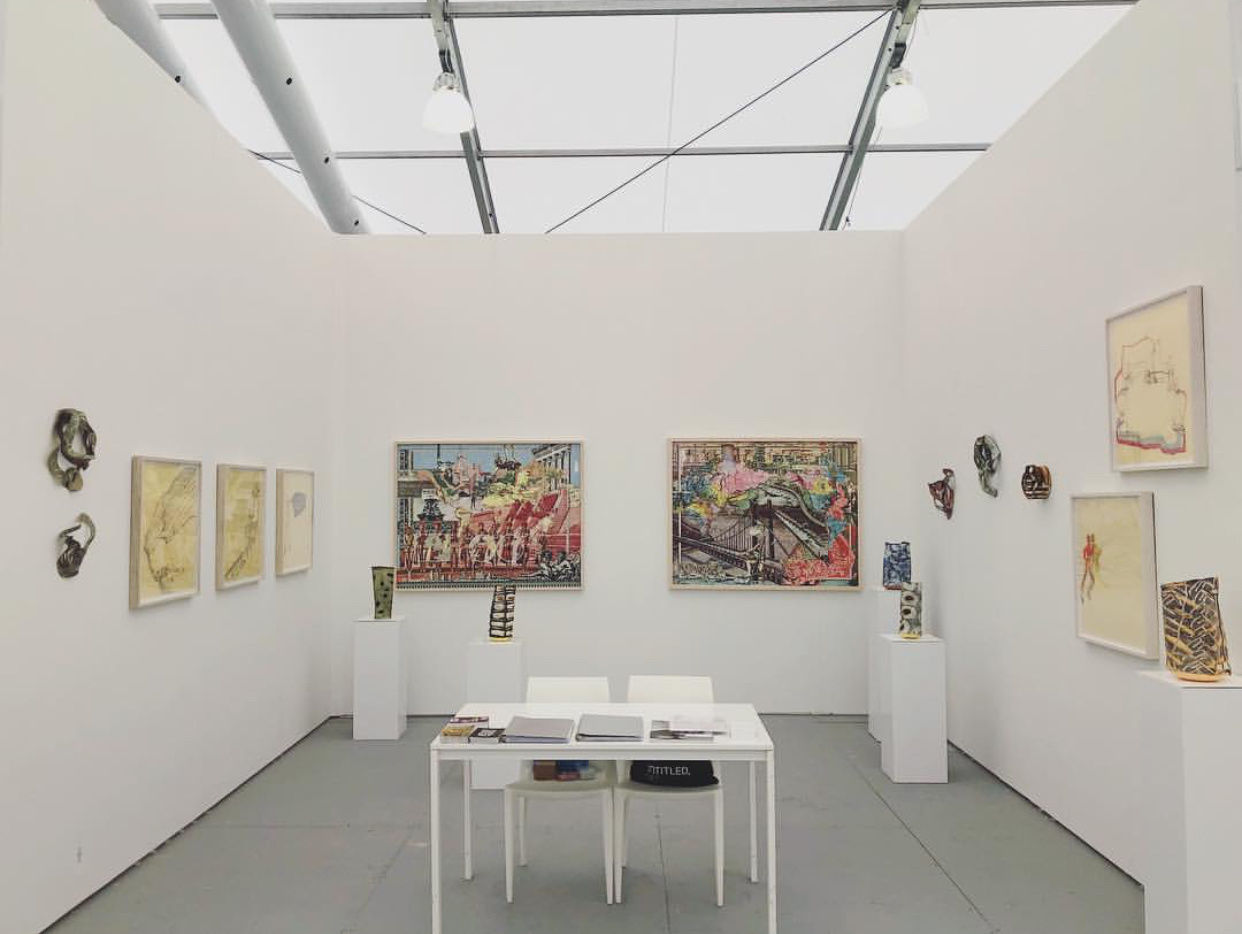 There are couple of reasons why the U.K. gallery 50 Golborne stands out among the rest of Untitled's exhibitors. One is that the gallery doesn't limit itself to promoting objects deemed "fine art;" their inclusive roster represents international "designers and makers" as well. Beaded textiles, functional glassware, carved-wood furniture, and hand-painted ceramics are but a few of the design practices the gallery supports. But what unites both the designers and fine artists of 50 Golborne is the common thread that locates the African diaspora as the impetus for creation. From the gallery's website: "[The gallery] especially supports those relevant to portraying and interrogating a world which is changing fast and in which the African continent and its international Diaspora plays a dynamic and significant role." For instance, earlier this year the gallery presented an exhibition that opened on the UK's Slavery Remembrance Day and coincided with the Notting Hill Carnival, a 52-year-old celebration led by members of the British West Indian community. The exhibition, which featured six artists hailing from around the globe, presented works ruminating on the masks and masquerade as a symbols for both ancient and contemporary African and diasporic cultures. At Untitled, the gallery exhibits works by Malala Andrialavidrazana and Wura-Natasha Ongunji. It's worth noting that when Artspace asked Visual AIDS director Esther McGowan and chief brand officer of Ace Hotel Group Kelly Sawdon, they both listed works by these artists as their favorites.
Pratt Institute
Brooklyn
Booth A48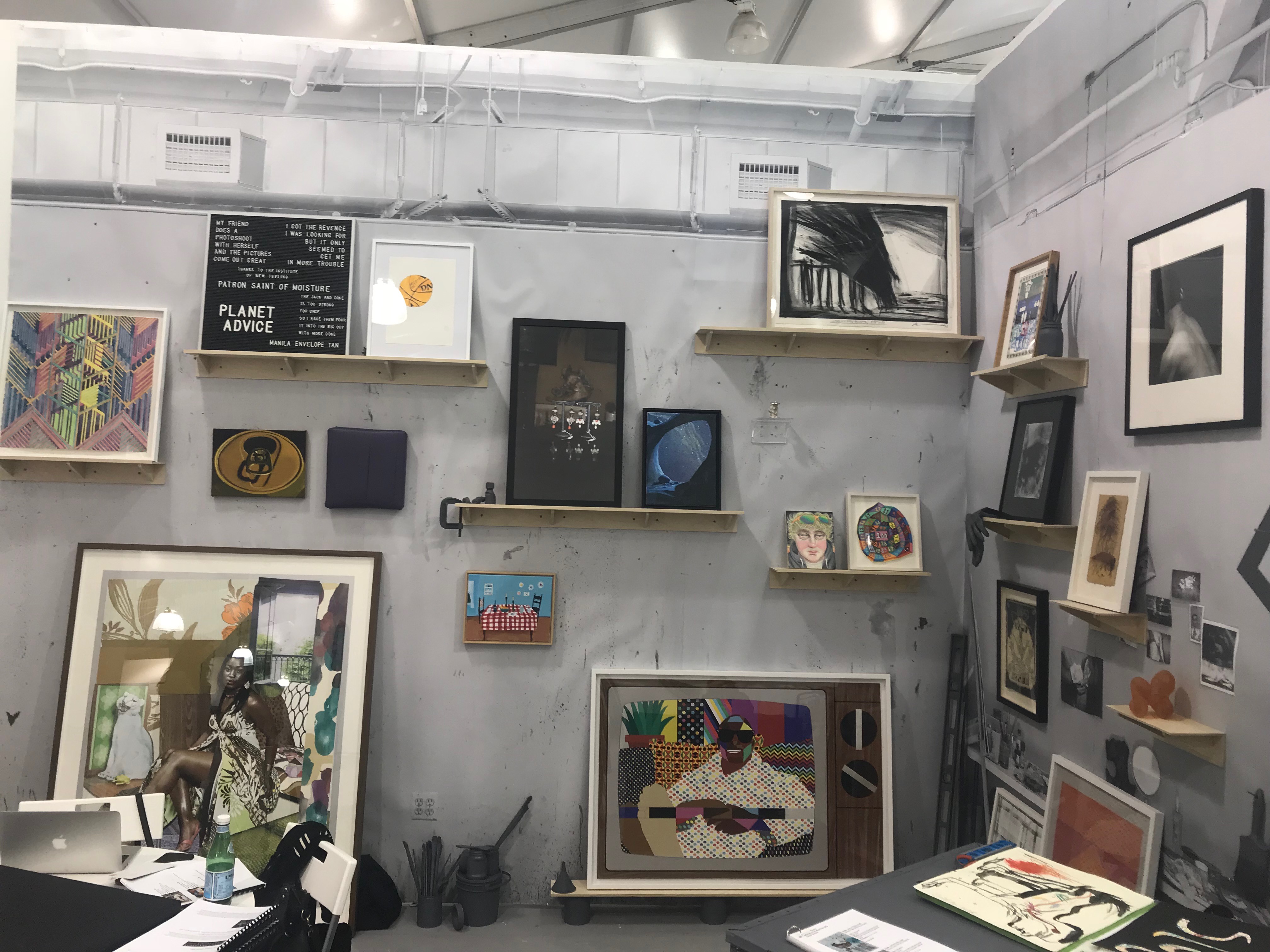 Though Brooklyn's Pratt Institute has always prided itself on creating opportunities for the students that matriculate through its prestigious program, they're really putting their money where their mouth is at this year's edition of Untitled. The booth will exhibit works by the school's alumni, including heavy-hitters like Robert Mapplethorpe, Mickalene Thomas, Swoon, and Derrick Adams, alongside more recent graduates and up-and-comers. Their booth will also celebrate the launch of Pratt Institute Editions (PIE), which invites artists to Pratt's campus to produce editions with master printer Caitlin Riordan and the school's printmaking students. Spearheaded by Riordan and artist and educator Grayson Cox, PIE started this past summer and continues the legacy of The Pratt Graphics Center, which was founded in 1956 and disbanded in 1986. Two prints by Lee Krasner and Ray Johnson, published by The Pratt Graphics Center decades ago, will be hung alongside PIE's inaugural limited edition print by Trudy Benson, who has become one of her generations most sought-after painters since she received her MFA at Pratt in 2010. Pratt's booth at Untitled is a testament to and showcase of the strength and success of its alumni artists… and it's also an opportunity for collectors to score some affordable prints by some top-selling artists. And the best part? Proceeds will benefit a brand new MFA scholarship fund.
Girls' Club
Fort Lauderdale
Booth B21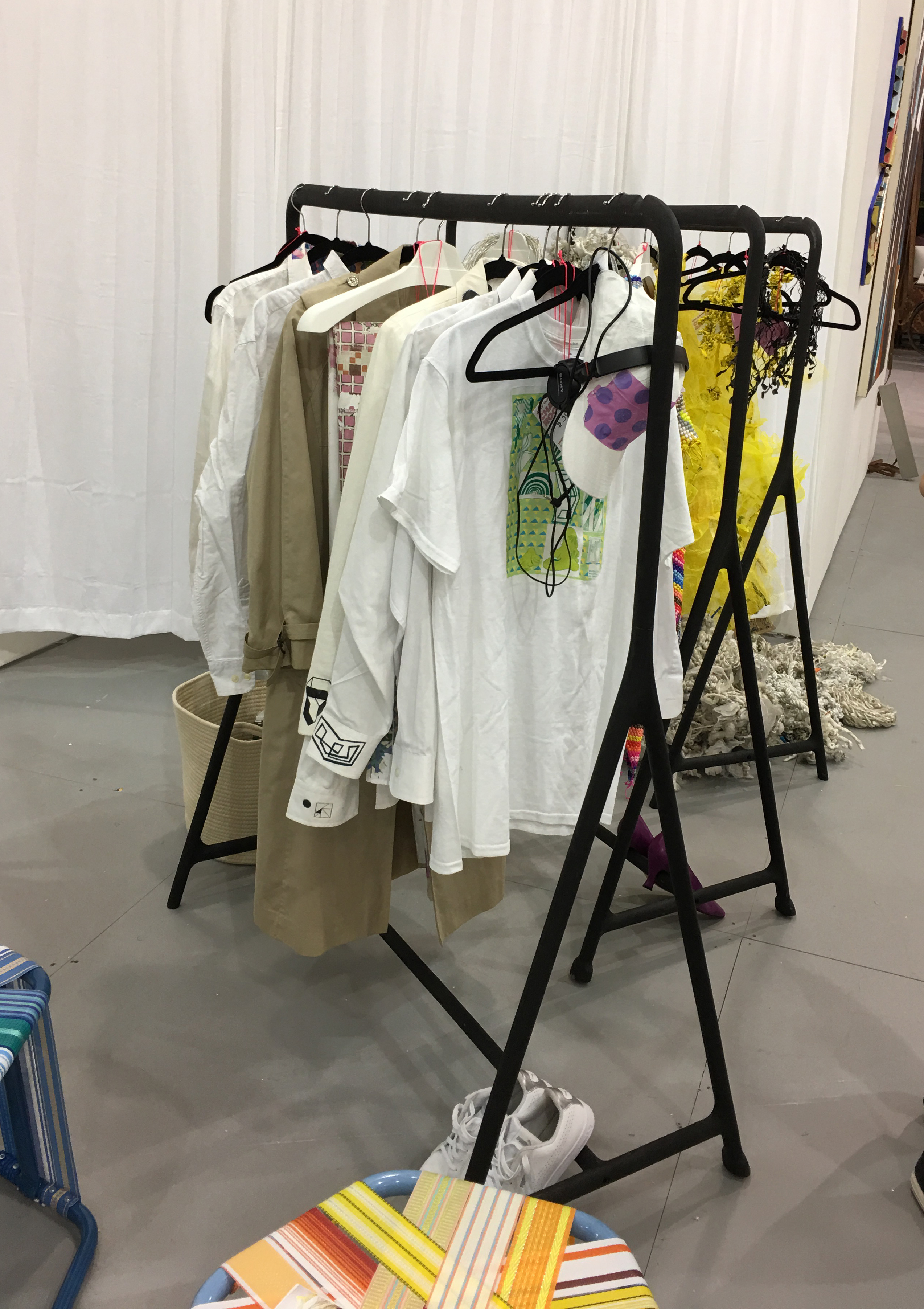 The aptly titled Girls' Club foundation is "the only private collection open to the public that focuses on contemporary art by women in the world." Started in 2006 by collectors Francie Bishop Good and David Horvitz, the 501(c)3 private foundation operates out of a converted warehouse in downtown Fort Lauderdale, and in addition to housing the collection of Bishop Good, also hosts educational programming as well as a black box-style gallery exhibiting rotating shows from local artists. Though is is a private collection, the works they bring to fairs (they've done PULSE in the past) are not from the collection—in other words, they're offered on the primary market and benefit the artists directly. On view at Untitled Art, Miami Beach, Girls' Club will present a collaborative performance called Changing Room by dancer/choreographer Jenny Larsson and artists Lucinda Linderman, Michelle Weinberg, and Natalie Zlamalova. (Performances are scheduled for Tuesday at 6:30, and Thursday and Saturday at 5:30.) In their booth they'll exhibit Polaroids and wearables created by the artists, who also made the costumes for their performance. If you start to feel that art-fair-burn-out creep in this weekend, take the 45-minute drive to Fort Lauderdale to see Girls' Club's exhibition "Boss Lady" with works from the collection by artists like Elizabeth Murray, Wangechi Mutu, Mickalene Thomas, Michelle Weinberg and more.
DENK Gallery
Los Angeles
Booth D27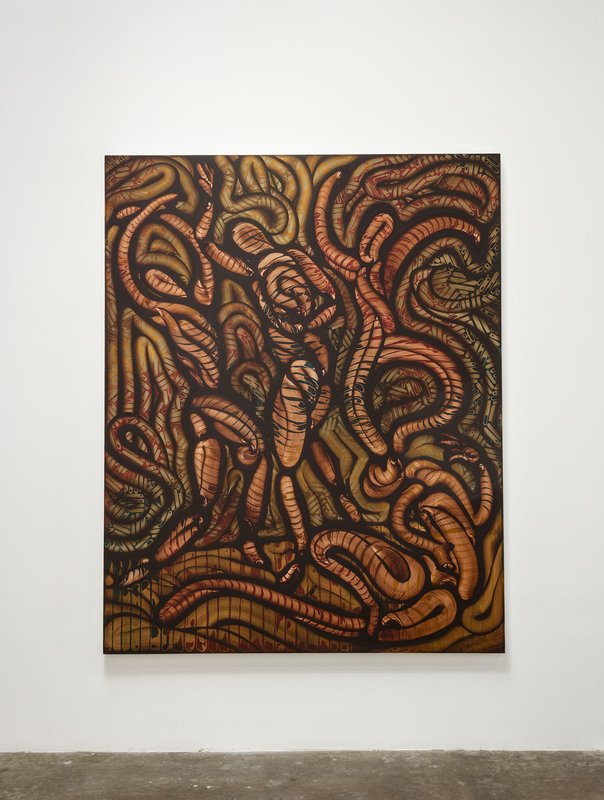 DENK gallery opened two years ago, and its origin story is rather unusual. Dr. Katja Van Herle, an endocrinologist who maintains a private practice in L.A. and who was previously Chief of Endocrinology and the Chair of the Diabetes Task Force at UCLA, and her husband David Hoey, a superyacht captain, opened the gallery with an inaugural exhibition with an artist most known for his Burning Man Sculptures, Arne Quinze. Without significant backgrounds in the arts, their novel approach to commercial art is similar to Van Herle's approach to medicine, in that it's a means to an end—the "end" being holistic wellness. In a conversation with Artsy, Van Herle says, "We always want the gallery, and the art that we're showing, to be thinking about questions of cultural health, in a holistic sense: How is society functioning? How is the city working? How can we give back?" A portion of the gallery's profits support community engagement and arts education, according to Artsy.
Untitled Art, Miami Beach will be the third art fair for two-year-old gallery. (They participated in Untitled Art, San Francisco 2018 and Art Palm Springs 2018.) At Untitled, they're showing work by Nathan Redwood, an emerging Los Angeles-based artist who's exhibited his work at the Museum of Contemporary Art in Los Angeles, the Jose Museum of Art, California, and the Neuberger Museum of Art among others. The artist's acrylic paintings are seductive, layering semblances of domestic landscapes with fractured figurations, and demonstrating a deft technical ability for formal innovation. Though we're having some trouble connecting the artist's primarily formal concerns with the gallery's wellness- and community-oriented ambitions, we think the paintings are definitely worth a peek in person.
RELATED ARTICLES:
From Judy Chicago's Fireworks to Softshell Crab BLTs: Escape Miami Basel's Booth Mania With These Events (and Restaurant Recs)
The Best Artworks at Untitled Art, Miami Beach 2018
NADA Miami 2018 Preview: Marciano Foundation's Jamie Manné Picks Her Favorites