Kelly Sawdon is a partner and the chief brand officer of Ace Hotel Group. Atelier Ace, the creative team behind Ace Hotels, will open a new luxury guest house in New Orleans called Maison de la Luz, which has teamed up with Artspace to produce the Untitled Art, Miami Beach VIP lounges. Here, Sawdon describes her favorite works that will be exhibited at the fair. Check out the Untitled, Art preview, exclusively on Artspace, and to chose your own favorites.
TERESA LANCETA
Sin titulo, 1993
Espacio Minimo, Madrid
Booth #D6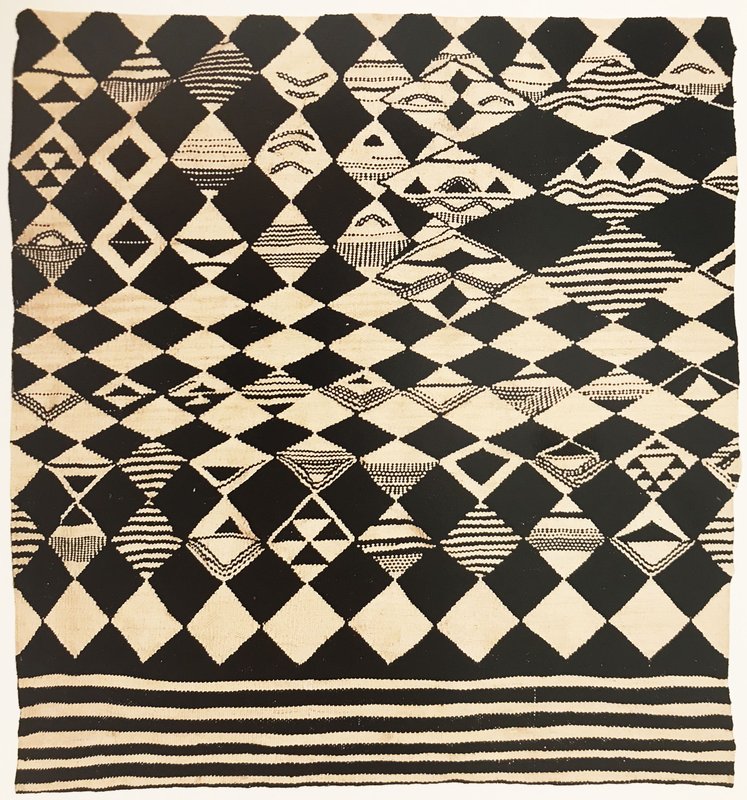 Because I work in interiors a lot for my job, I've developed a longstanding appreciation for fiber arts. For our hotels, we try to source textile pieces that are pieces of art in and of themselves, and Teresa Lanceta's pieces are, frankly, outstanding. Learning about her research practice has deepened my understanding of her work. She has redefined the distinction between decorative art and fine art, craftwork and studio work, essentially taking the unspoken categorization of "women's work" or "ethnic art" and turning it on its head. This piece represents the multilayered process of storytelling, pattern, time, and nature.
MALALA ANDRIALAVIDRANZA
Figures 1856, Geologic#34FF, 2018
50 Golborne, London
Booth #B7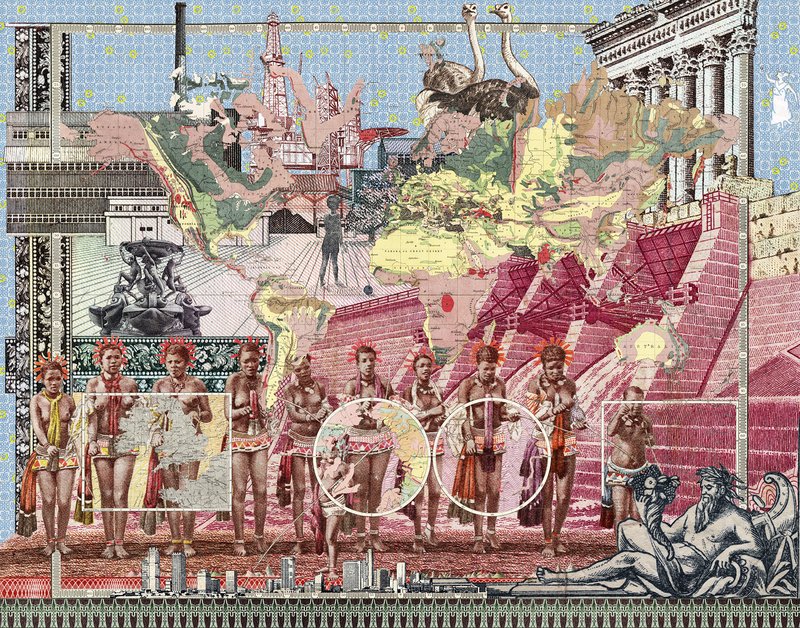 I'm a huge fan of Malala Andrialavidrazana's work and this piece is just unbelievable. The visual layers are a true mimesis of experience: history, culture, politics, hegemony, the architecture of human emotion against representation, how symbols are powerful markers for status. The eye doesn't know exactly where to go at first, and the tension is both uncomfortable and liberating at the same time. She's not telling you what to think or feel— rather, she presents a point of view that defies categorization and easy digestion. Adrialavidrazana is a master of complexity and depth. It's hard to walk away from her pieces, and her ability to hold a gaze on her own terms is genuinely inspiring.
HULDA GUZMÁN
Be kind to your demons (Welcoming the redwoods), 2018
Dio Horia Gallery, Mykonos & Athens
Booth #A7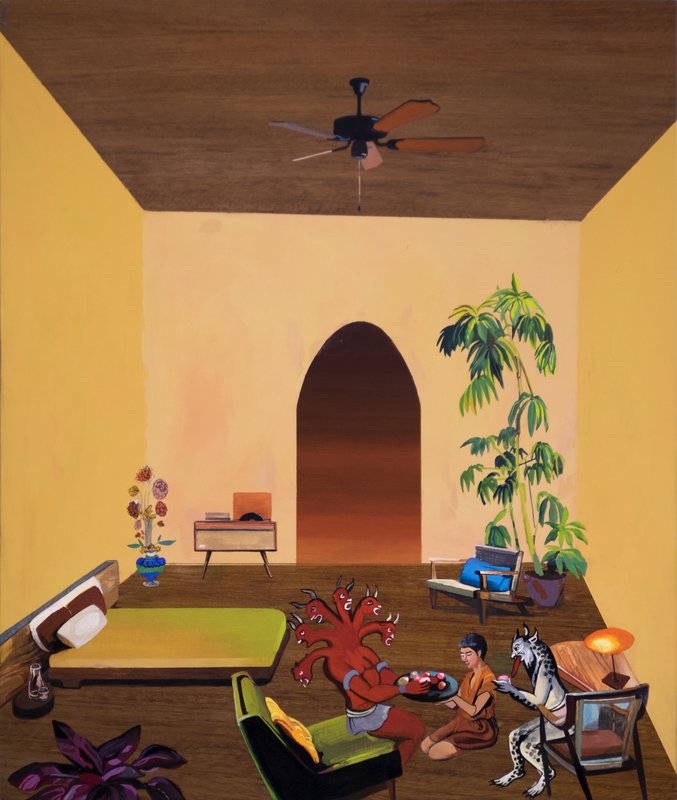 Hulda Guzmàn is a natural storyteller. This piece is so narrative with the unexpected layer of the title, Be kind to your demons (Welcoming the redwoods). The contrast between a room we're all familiar with—walls, ceiling fan, bed, plants, etc.—and the figures inhabiting the space is strangely, surprisingly subtle. It's almost as if the existence of the mundane, the intentional domestic cues, allow us to accept the uncanny and unusual. It's such a strong metaphor for life, isn't it? ...How unbelievable events slip easily into the everyday. This piece expresses itself through cinematic terms: how Guzman was actually able to convey the elastic passing of time through color, movement through storytelling, mood through arrangement. I also love paintings of interiors that challenge the genre and this one is pretty exceptional.
MARY WEATHERFORD
Panorama Drive, 2013
Cirrus Gallery & Cirrus Editions Ltd., Los Angeles
Booth #C14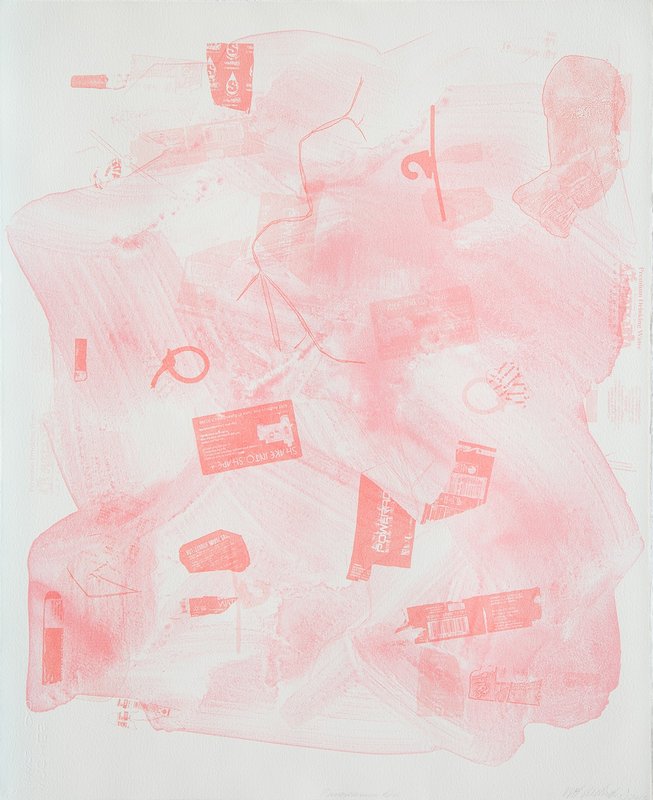 I love this piece for so many reasons. As a frequent traveler, I'm reminded of airport luggage scanners, and a sense of temporality and a liminal existence. It asks: what's private? What's necessary? How can we frame the ordinary in extraordinary terms? The ephemeral graphic elements express process, flattened into a monochromatic plane. It's visually delightful and playful while simultaneously drawing our attention to the literal, physical matter of life: the small objects that contain information on who we are, where we've been. This Mary Weatherford piece is also reminiscent of classical flora sun prints, except they feature man-made objects rather than natural ones. It makes the transparent apparent—namely, that the environment close to us is constructed, plastic. It's a contemporary portrait of our commonality and our relationship to materials, detritus, and the natural world.
EQUIPO 57
Untitled, 1957
Galeria Rafael Ortiz, Seville
Booth #B8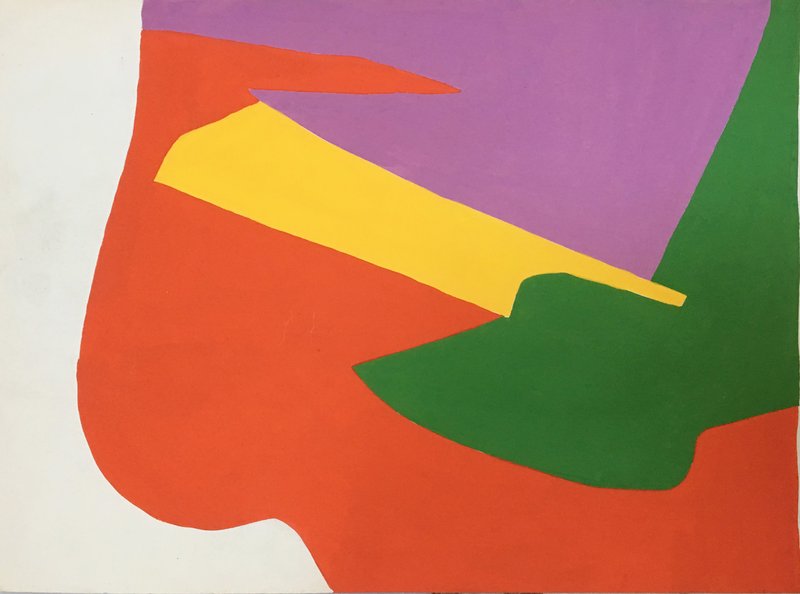 I love the history of EQUIPO 57, how they never signed their work individually, how they were Spanish artists living and working in Paris, and how their collective practice was a political act. I find this particular piece so arresting. The flat, single-dimensional colors juxtapose an incredible amount of movement, the almost violent cuts that the geometric shapes carve into each other. Rather than interlocking gracefully, the edges of each form seem to suggest that boundaries can be problematic. Aesthetically, this painting is graphic and powerful; when you look a little closer, it reveals a different truth about delineation, relationships, and otherness.