Mexico City's art week kicked off yesterday with the opening of Zona Maco, the fair that started 16 years ago in Mexico's urban capital and rose to become the most important and well-attended fair in Latin America. As customary, Zona Maco presented a diverse array of works—from blue-chip to emerging artists—offering an opportunity to collect promising Latin American artists no matter your budget. While the vast majority of the works on our list are by Latin American artists, there were certainly plenty of talent hailing from farther corners as well. With prices starting at $2,000 and ranging all the way up to $1 million for an incredible large-scale work by Carlos Cruz-Diez, Zona Maco offers plenty of opportunities to add to your growing collection—we've rounded up eight of our most promising finds.
ADRIANA BUSTOS
Galeria Nora Fisch, Buenos Aires
Independent Thinker I (2014)
$20,000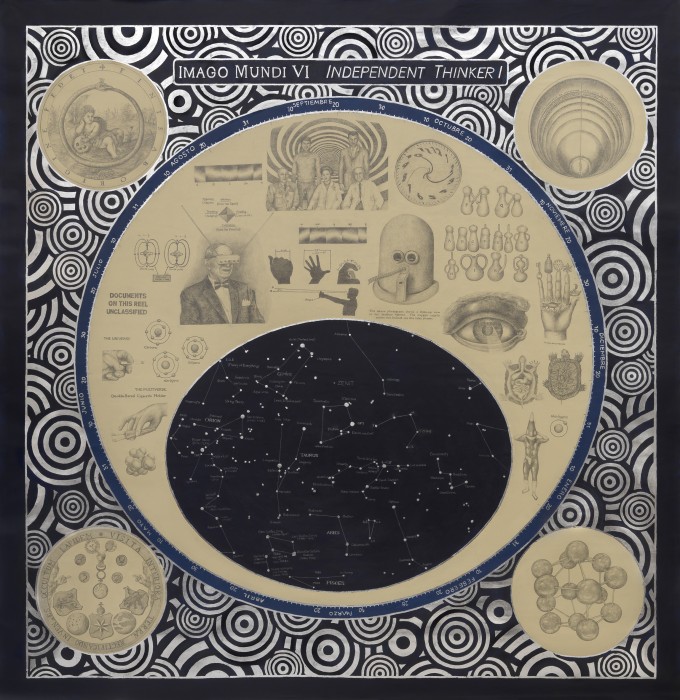 Buenos Aires-based gallery Nora Fisch is known for presenting Argentine artists that are as-yet flying under the radar internationally. At Zona Maco, Fisch offers the mind-bending, alchemic works of Adriana Bustos, who frequently investigates patriarchal hierarchies and corrupt regimes with a gaze toward the occult. Bustos' delicately illustrated work, Independent Thinker I, references sacred plant rituals, starry constellations, and herbal medicines.
MANO PENALVA
Central Galeria, São Paulo
Untitled (Fabric) (2016)
$4,200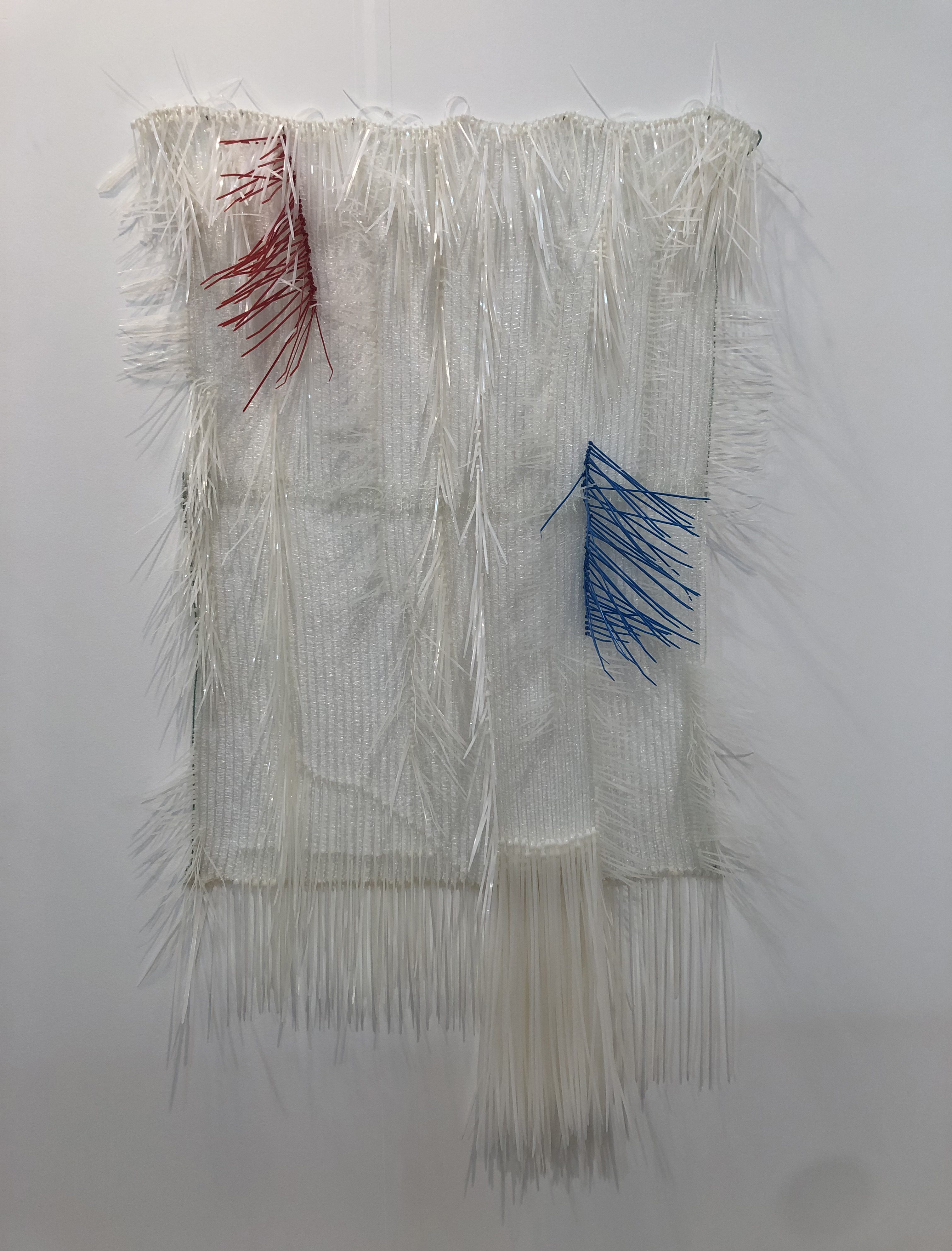 Hailing from Brazil, Central Galeria rested its Zona Maco presentation on Mano Penalva, who deconstructs the shape and aesthetic of flags to consider the fragility—and fickleness—of land borders. Penalva, trained as an anthropologist and driven to explore cultural dichotomies, often incorporates found objects and materials into his works. In Untitled (Fabric), Penalva accents a feathered, white mesh fabric with strips of red and white, showcasing his propensity to point to one particular imperialist power within his oeuvre.
BRUNO GRUPPALLI
Mariacasado Gallery
You mmmade my dreams come ohh true (2018/2019)
$6,000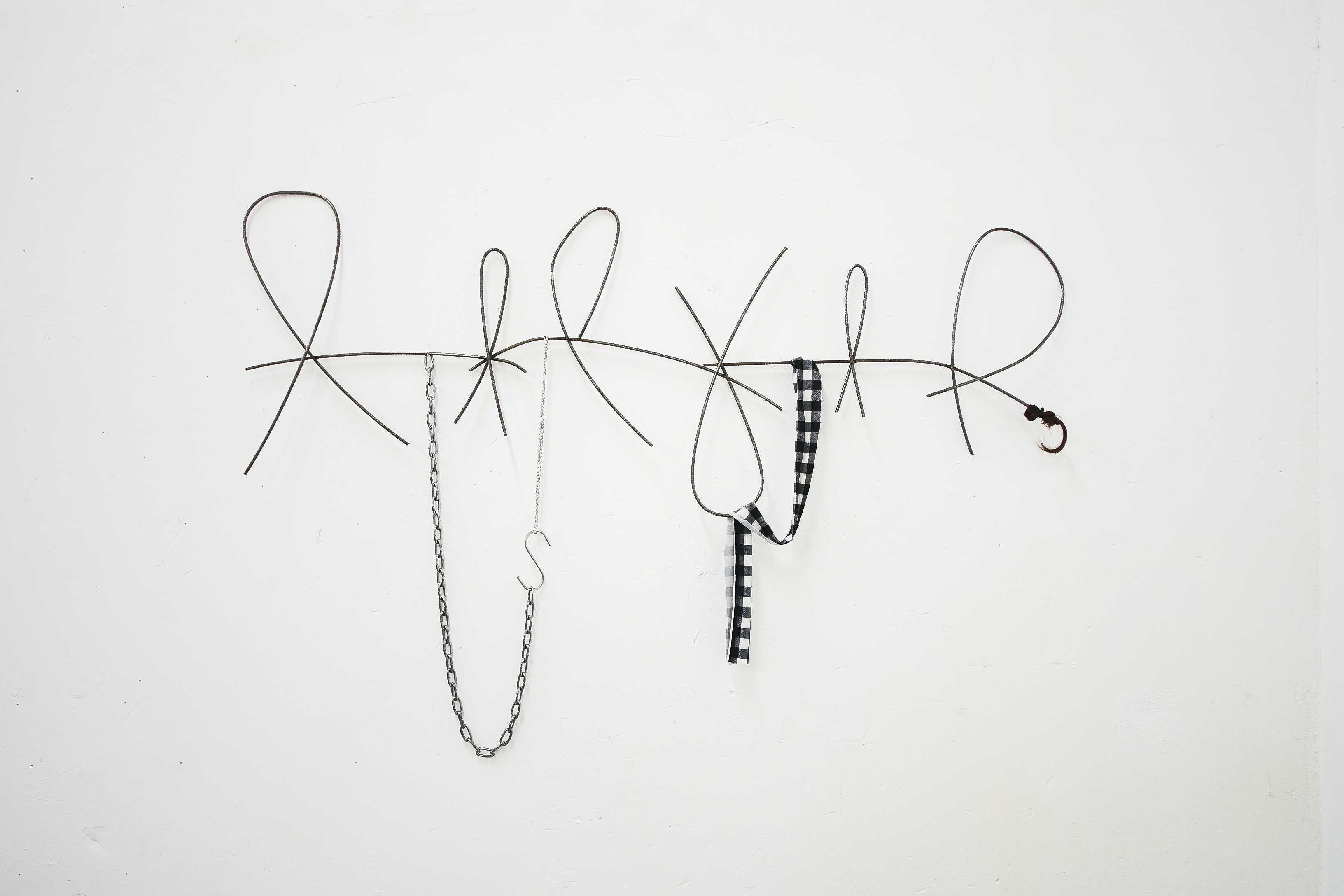 Bruno Gruppalli's sculptural works don't always have an erotic appeal, but the sexually charged metal sculptures on view at Mariacasado's booth are positively kinky. Mariacasado—whose gallery is located inside the dealer's home in the San Isidro neighborhood—recently staged one of Gruppalli's performances. Part of the fair's Zona Sur section, which this year was focused around the performative, Gruppalli's works come to life with Calder-esque shapes, chain metal and grosgrain ribbon.
GIMHONGSOK
Tina Kim Gallery, New York City
Untitled, from the series "Short People" (2018)
$60,000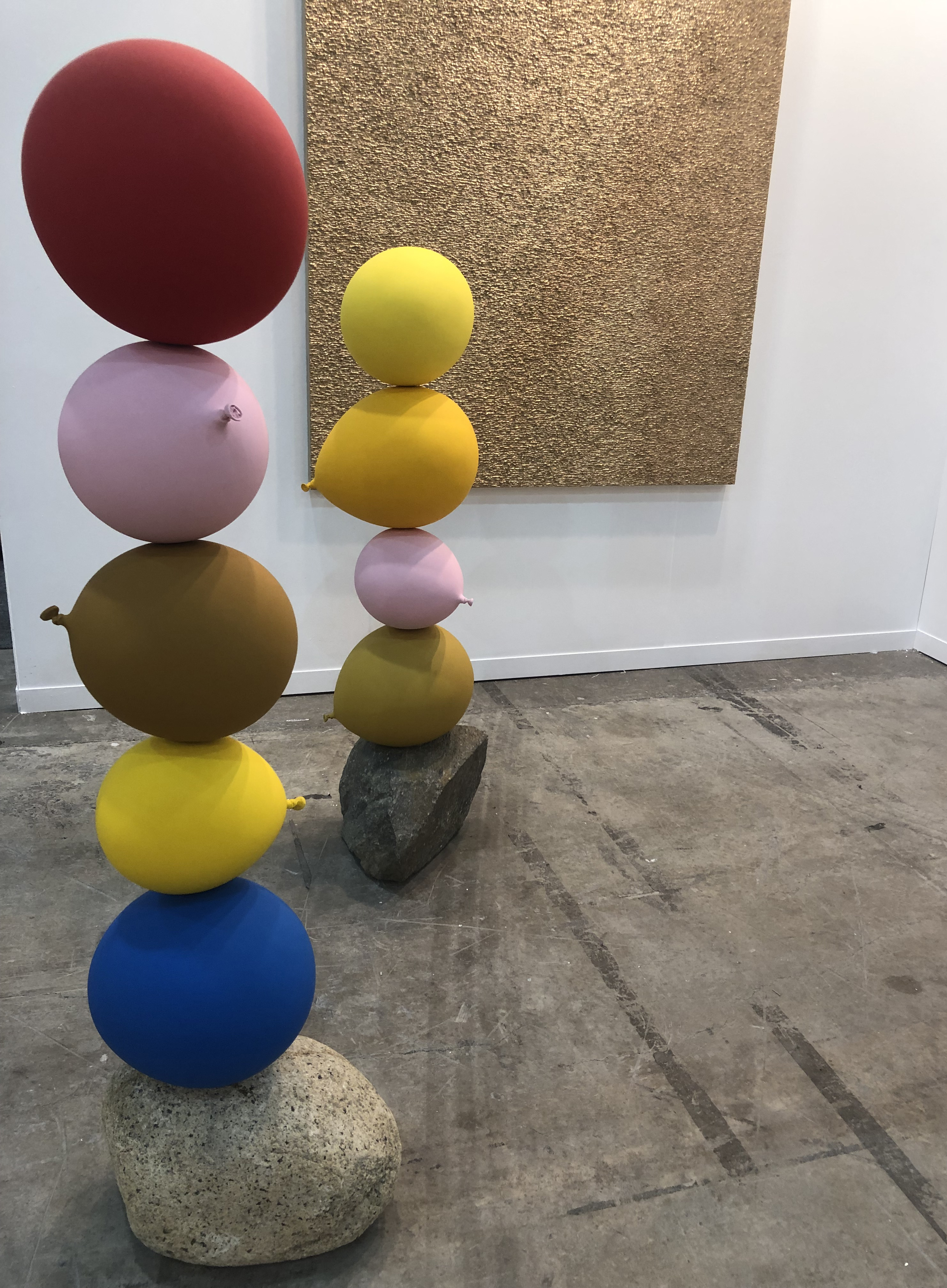 South Korean artist Gimhongsok, who is also represented internationally by Perrotin, recently worked with Tina Kim Gallery in New York to create the exhibition "Short People." To create the works in the show, Gimhongsok asked hundreds of family members, friends, and colleagues to blow up candy-colored balloons. He took each of those balloons and cast a mold, which he later filled with bronze. These balloons were stacked onto each other, forming hundreds of brightly colored, two-foot-tall sculptures that lined the gallery floor. This way, Gimhongsok said, he could have a piece of every person he loved with him—and if you take home one of the sculptures on offer at Zona Maco, now you can, too.
RYAN BROWN
Y Gallery/Galeria OMR, New York City/Mexico City
Untitled (Until I find a name) from the "Let sleeping dogs lie" series (2018)
$1,800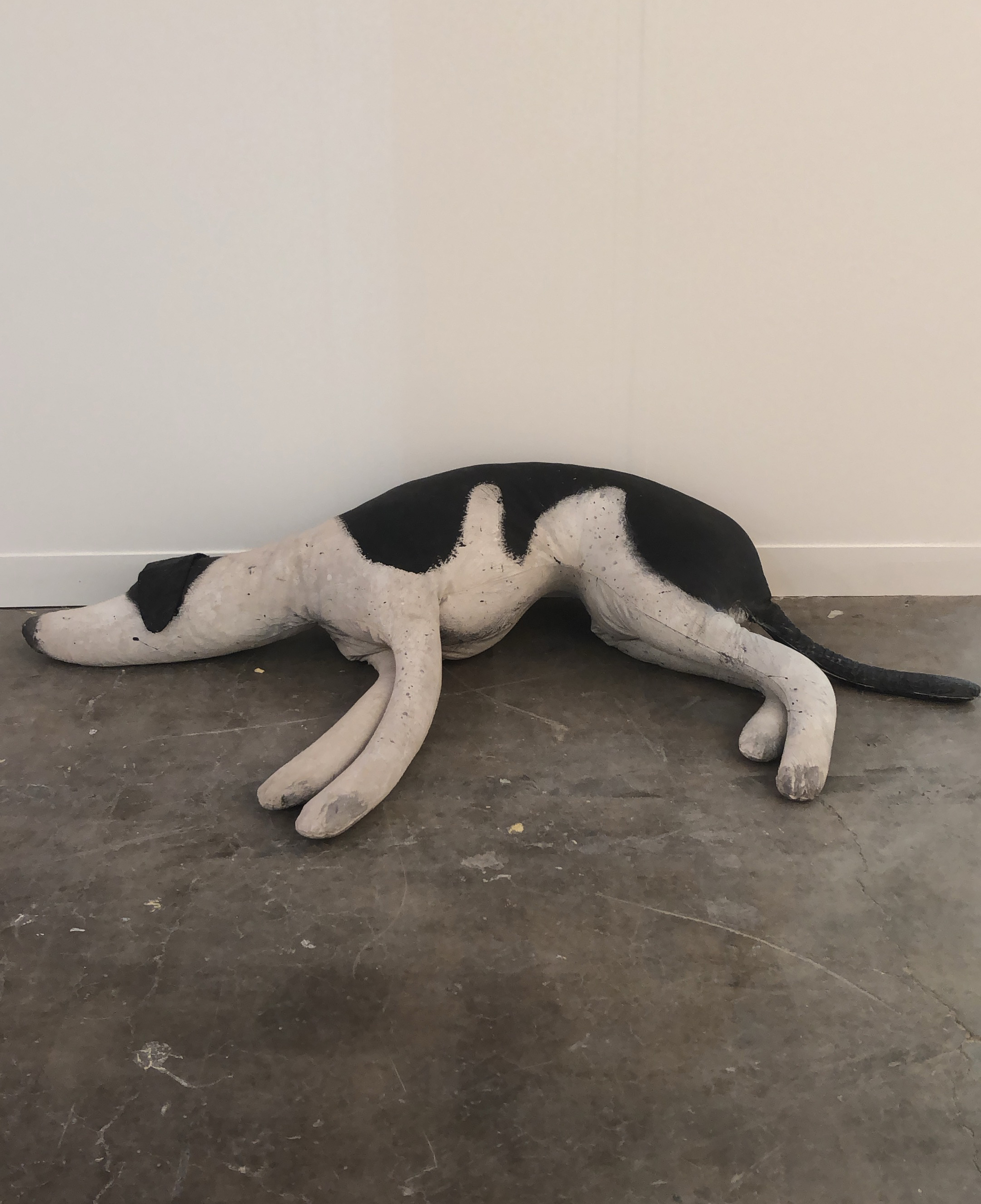 Ryan Brown recently spent a year living abroad in Lima, and was so inspired by the chaos of daily life in the South American capital that his Zona Maco installation took shape around the experience. In a collaboration with his New York gallery, Y Gallery, who represents the artist at a variety of international fairs including MECA in Puerto Rico, and Mexico City-based Galeria OMR, Brown's Untitled (Until I find a name) (2018) makes a giddy splash at the fair: Stuffing and shaping fabrics into lonely, spotted street dogs, Brown's sculptures are strewn across the fair in unconventional ways: on the gallery floor, at the entrance to the fair, even in a hallway.
EDGAR ORLAINETA
Proyectos Monclova, Mexico City
Naturaleza Muerta (Universalismo Constructivo) (2019)
$25,000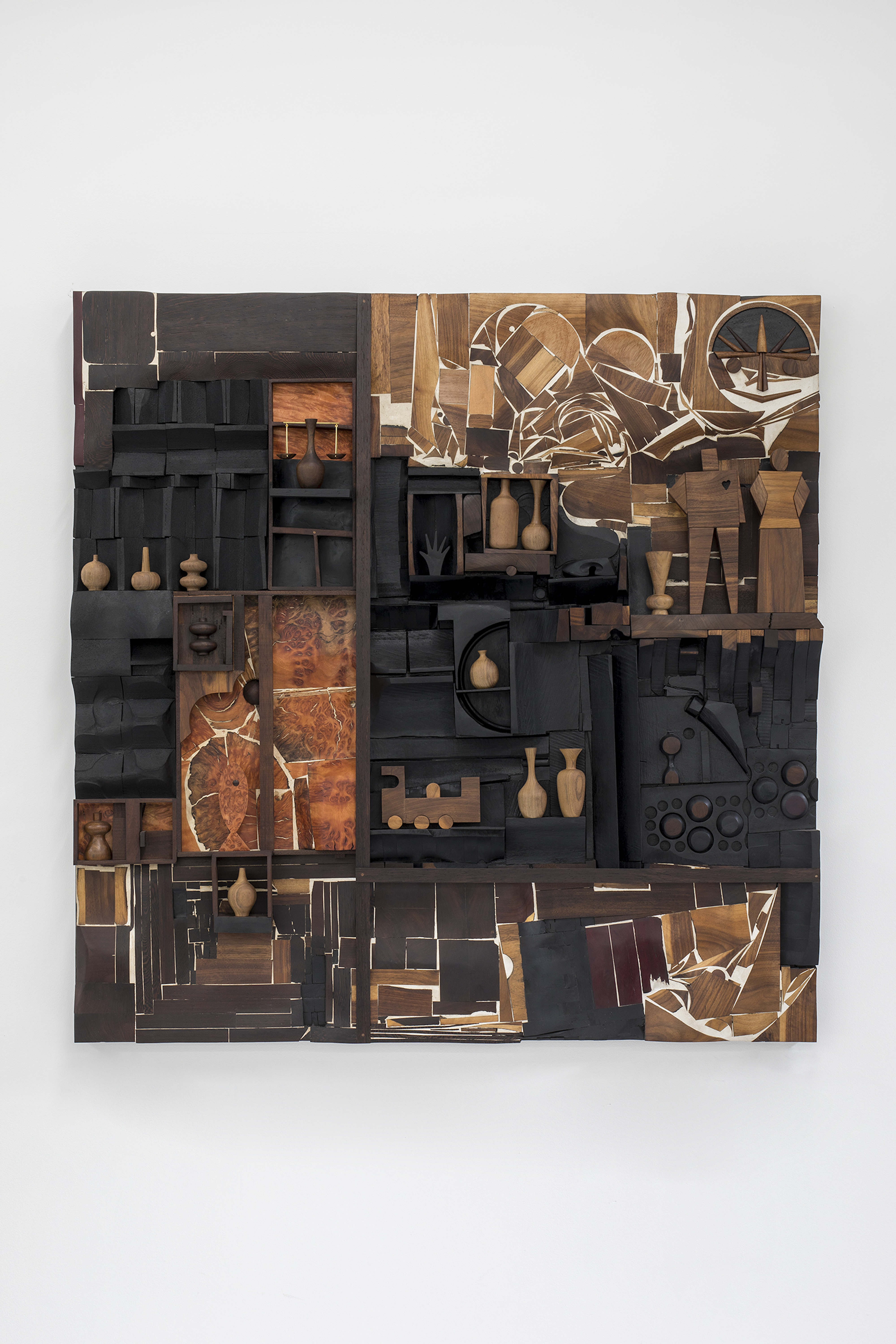 Fans of Louise Nevelson will love this work by Edgar Orlaineta, a 47-year-old Mexican artist whose career has primarily focused on fusing hybrid sculptural forms out of organic materials, while strongly leaning into 19th-century design influences. In Naturaleza Muerta (Universalismo Constructivo) (2018), a three-dimensional work fashioned out of black-painted and natural wood, Orlaineta questions the utility of industrial design objects, which have been mass-produced on an increasingly larger scale over centennia. One of the more established Mexican artists working today, he has long been represented by the gallery.
CAROLINE LARSEN
The Hole, New York City
Fish Boule (2018)
$7,500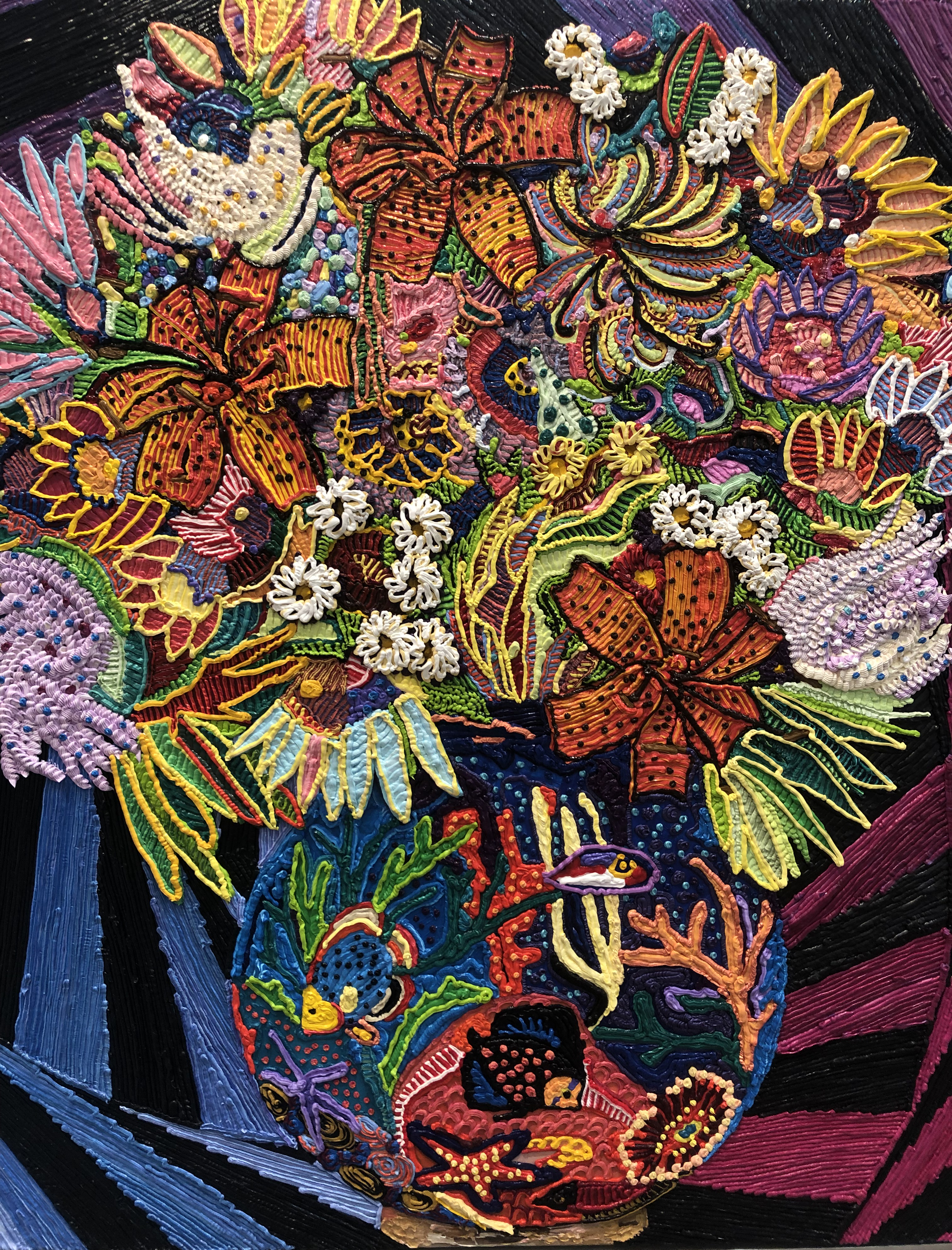 Upon first glance of Caroline Larsen's Fish Boule (2018), you might ask yourself whether your eyes are playing tricks on you. Are her canvases embroidered, or is paint merely spackled on and layered to create such an illusion? The answer falls somewhere in the middle; Larsen uses a pastry tube with varying nibs to layer, line, and weave colors together, to create any number of illusions within the work. Her brightly colored palette can be somewhat kitschy, but that's precisely the appeal.
GABRIEL RICO
Galeria OMR, Mexico City
I (2018)
$6,000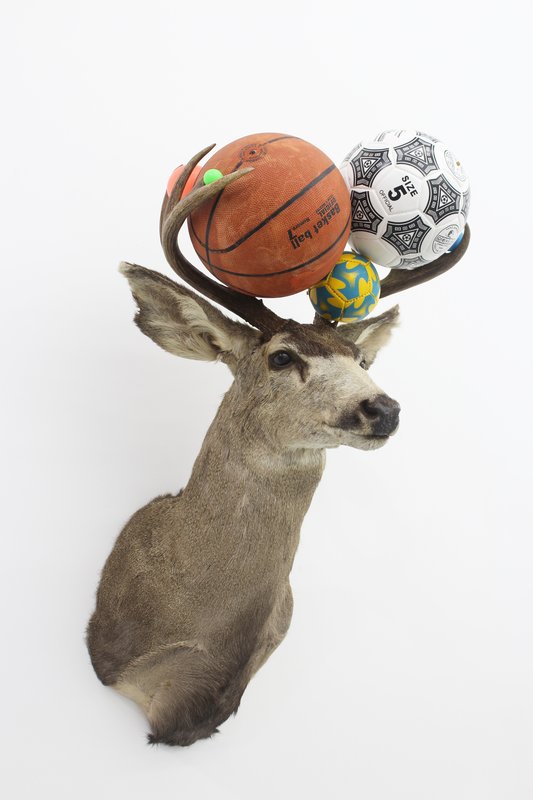 Up-and-comer Gabriel Rico is rather consumed by the versatility of materials, and how they're used across the gamut of their capabilities. In I (2018), for example, he was particularly amazed by the fact that the synthetics used to create ping pong balls and basketballs are also found in a variety of space-bound NASA equipment. He set out to collect and archive these sporty objects (Rico meticulously catalogues found objects within his practice) and aimed to deconstruct how these materials might intersect with the natural. The result is a taxidermied deer, whose antlers hold several of these plastic balls, in a playful, yet inquisitive survey of the world that surrounds us. Rico recently won an internationally juried award as one of Mexico's rising stars, and is mentored by fellow OMR artist Jose Dávila.
GONZALO FUENMAYOR
Galeria Fernando Pradilla, Madrid
The flowers of treason (2018)
$24,000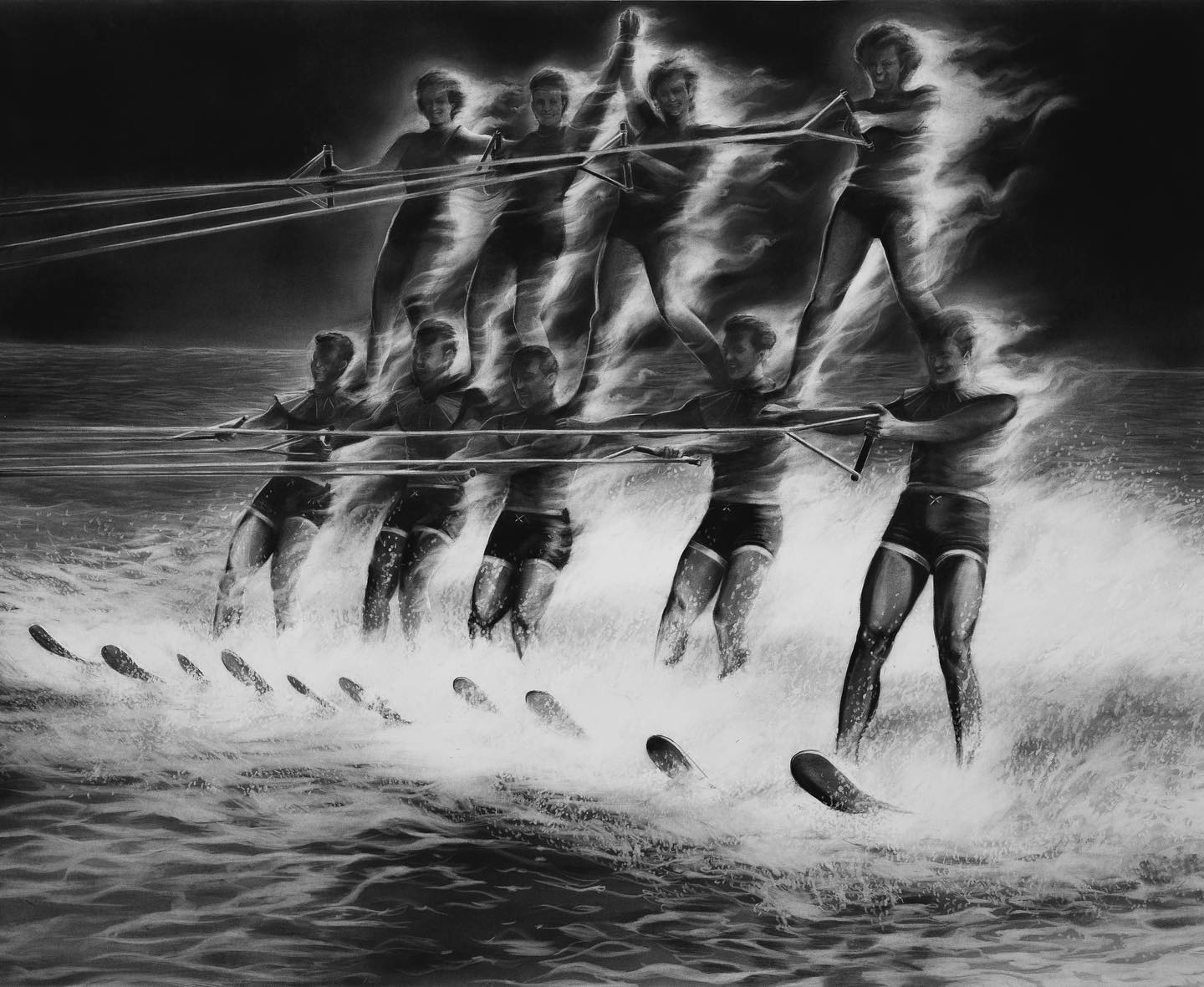 Gonzalo Fuenmayor's large-scale charcoal drawings often evoke ghostly scenes, his subjects illuminated by a studied shadow and light technique. Originally from Colombia, Fuenmayor now lives in Miami, and his works regularly expound on the cultural hybrids between South and North America. Tropical iconography, such as palm trees, pineapples, and water, often make appearances in his oeuvre. In anticipation of his 2019 solo show at Galeria Fernando Pradilla, the Madrid-based gallery offers this work at Zona Maco.
[related-works-module]
RELATED ARTICLES:
8 Mexico City-Based Emerging Artists You Need to Know
Mexico City's Lulu Project Space Brings Global Energy to the Latin American Cultural Capital
Technicolor Towers and the World's Largest Mural: Discover The Public Art of Mexico City