Much has been written about the recent resurgence of painting as the medium of choice for curators, critics, and (especially) collectors. Art fairs, ever attuned to the shifting tastes of the market, have naturally followed suit, meaning booths are filled with eye-catching and often large-scale canvases. (This is not to say we have anything against the medium, of course—check out of rundown of the best paintings at NADA here .) Artists, on the other hand, are more interested in exploring their medium of choice than keeping up with the vagaries of the industry (if they're any good, that is), meaning that many of the booths in NADA Miami Beach 2016 also feature fresh sculptures of all kinds. Here's a brief rundown of some of the best examples from the fair.
HAYLEY SILVERMAN
Control , 2016
Bodega
$5,000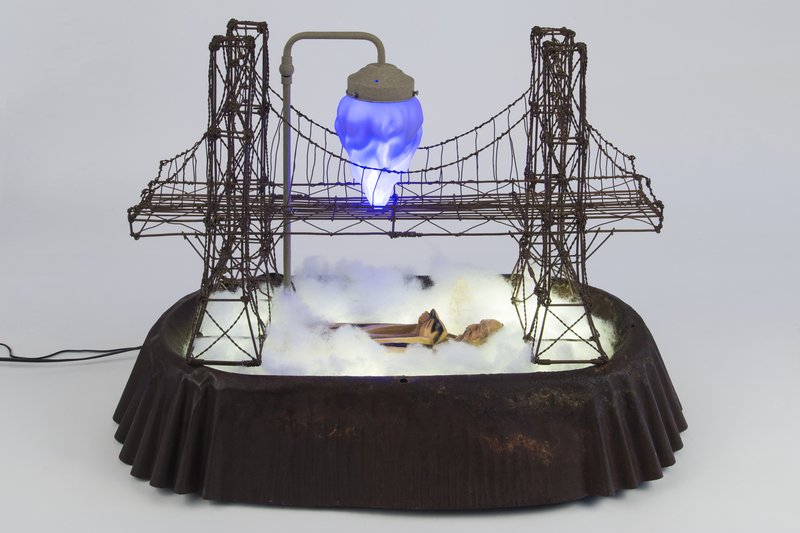 Though Hayley Silverman first came onto our radar for her MoMA PS1 performances incorporating live dogs as actors, she's also an accomplished sculptor best known for her "soup bowls" of cute figurines immersed in noodle-filled bowls of (fake) broth. This work, however, marks a new evolution for her work, eschewing the slick and visceral for a more mysterious, atmospheric effect. Featuring a small statue of a rabbi encased in a cloud (okay, its actually polyester stuffing) rising from a pig feed trough and topped by what looks like a rusted, post-apocalyptic version of the golden gate bridge and a found light fixture, the piece points to Silverman's ongoing fascination with the ways in which folk and Judeo-Christian spiritualty inform both folktales and the real histories they often obliquely refer to. Is it kosher? You'll have to ask a real rabbi.
CRISTINA TUFIÑO
Private Friend #4 , 2016
Galería Agustina Ferreyra
$1,500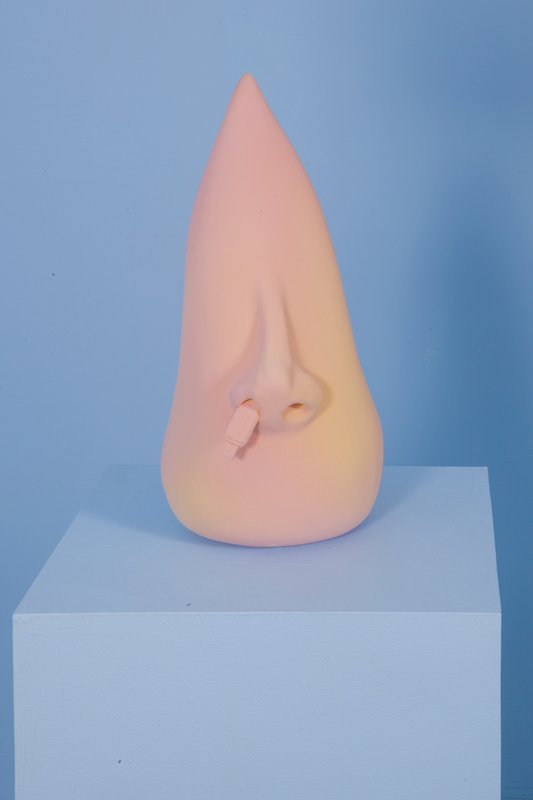 As the granddaughter of Rafael Tufiño, one of Puerto Rico's best-known artists from the era when the island's government sponsored and promoted his and others' prints, Cristina Tufiño knows that she faces something of an uphill battle as she works to differentiate herself from her family's legacy. She's primarily known for her moody and sometimes surreal photography, but she's recently begun exploring sculpture and ceramics with some subtly stunning results. Her series of glazed porcelain works "Fantasmas" showcase her latest developments as she combines inspiration from modernist masters like Noguchi and Brancusi with her own feminist and anti-patriarchal touch, rendering her pieces with soft curves and muted fleshtones even as she exaggerates and abstracts certain features for dramatic effect. Not content with the normal methods of glazing, Tufiño uses alternative modes, including spray guns, to achieve these sensual textures.
YVES SCHERER
Johnny and Kate , 2016
Rod Bianco
$16,000
Straightforward and realistic figurative sculpture is in short supply in the contemporary art world—not that there are many people clamoring for it. Still, in a fair awash with abstraction of all kinds, it's almost refreshing to stumble upon these erotic sculptures by the young Swiss artist Yves Scherer . As an artist, he's devoted his recent work to his apparent obsession with female celebrities and the gilded lifestyles they lead; his solo show at the gallery's booth features paintings with titles referring to the ritzy Amalfi coast in addition to these cast bronze and aluminum sculptures, based off of Annie Leibovitz 's iconic photo of Johnny Depp and Kate Moss engaged in a moment of intimacy. His dealer says that these works amount to a "romantic idealization" of the artist's own life as he imaginatively assumes the role of these starlet's male lovers—no need for deep psychoanalysis here.
ALEX ITO
A Feeding Whisper, 2016
Springsteen
$5,000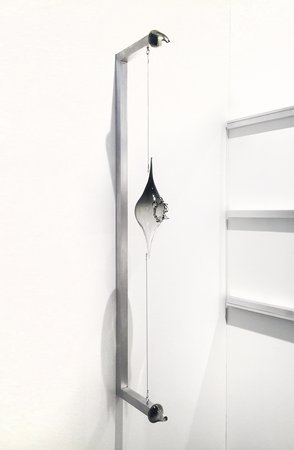 Alex Ito is the real deal: a veritable rising star whose polished but moody paintings and sculptures have earned him not one but two solo shows this fall at emerging galleries in Los Angeles (AA LA) and Baltimore ( Springsteen , who are also showing his work at NADA) in addition to a bevy of group shows and a growing amount of critical attention. Drawing from commercial displays infused with his own dark sentimentality, Ito says that this sculpture represents a move away from the taxidermied animals he sometimes incorporates into his constructions as he searches for new ways to evoke pathos without recourse to organic bodies. His use of blown glass is an effort to explore materials that allow for both an aesthetic and emotional experience to create a piece that's sinister and somehow active while remaining functionally inert; he cites seeking out images of parasites and viruses as part of his research process for this piece, inspired by their ability to alter the space and living bodies around them without ever fully revealing themselves.
YOHEI IMAMURA
tsurugi No. 1 , 2016
KAYOKOYUKI
$20,000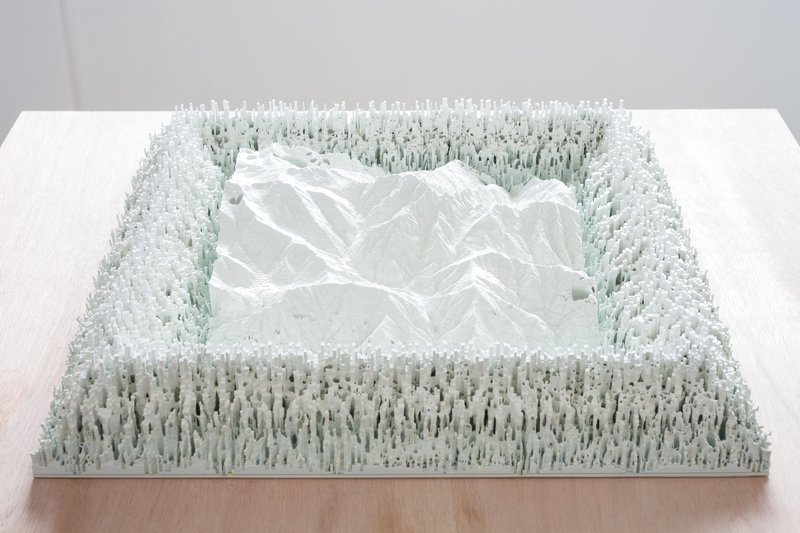 You may not believe this, but it's true: this complex, intricate, and three-dimensional piece is actually a silkscreen print. Long the province of printmakers and DIY t-shirt enthusiasts, the Japanese artist Yohei Imamura has transformed the medium into a tool for sculpture. He starts by creating a diagram of his desired form—in this case, Mt. Tsurugi, a famously difficult-to-climb peak in Japan that has earned the nickname "God's Mountain"—before building up the composition layer by later; this piece took 222 screens, each used 40 to 50 times apiece. The results are delicate topographical models that look more like the au-courant 3D prints that have started popping up in tech-savvy galleries and art fair booths than the handmade constructions they actually are. As for those twisting, boxy shapes that make up the "frame" of the piece? They're simply beautiful (if unintentional) byproducts of this unique process.
STEFAN BENCHOAM
Pot Plant Pot , 2016
Proyectos Ultravioleta
$3,500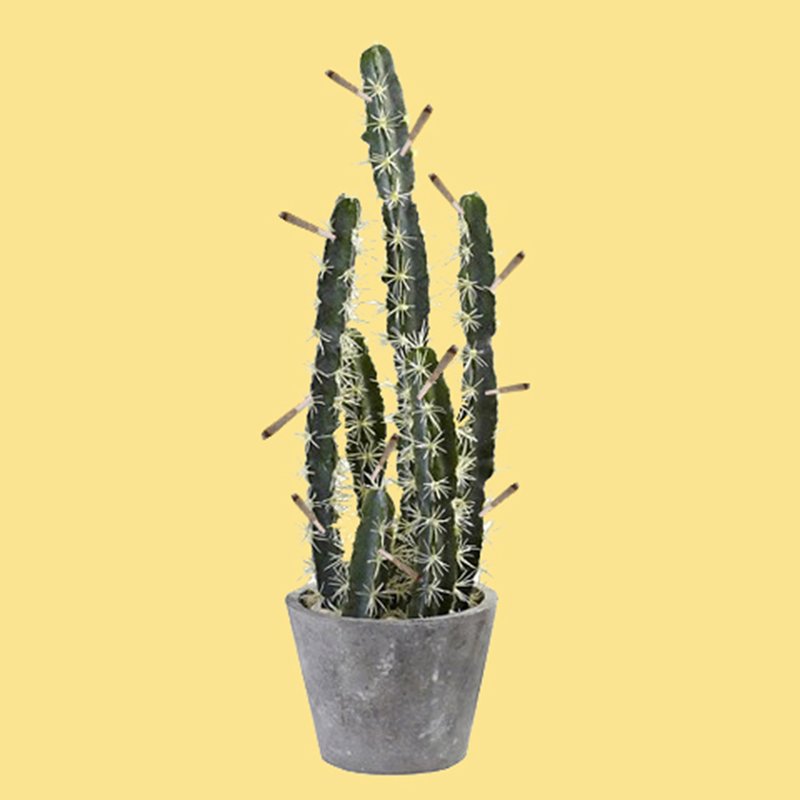 In contrast to some of the other sculptures we've mentioned here, the materials list for this piece tells you most of what you need to know: "Marihuana joints on cactus plant." Designed by Stefan Benchoam, one of the members of Guatemala City's artist-run space Proyectos Ultravioletas , the piece was inspired, as you might expect, by the artist's own "relaxation" habits, namely smoking pot in his garden with his friends. After noticing an accumulation of partially smoked joints gathered near his Lion's Palm plant, he started simply sticking them on the flora to create his own "pot plant" in what he half-jokingly refers to as an "alchemical" process he's now extended to his favorite cactus. Though the legality of purchasing such a sculpture may cause some collectors to balk, Benchoam has a nifty workaround: the piece is sold by certificate, which allows collectors to find their own special cactus to adorn with their own "special" cigarettes.
HANNAH LEVY
Untitled , 2016
Fourteen30 Contemporary
$6,000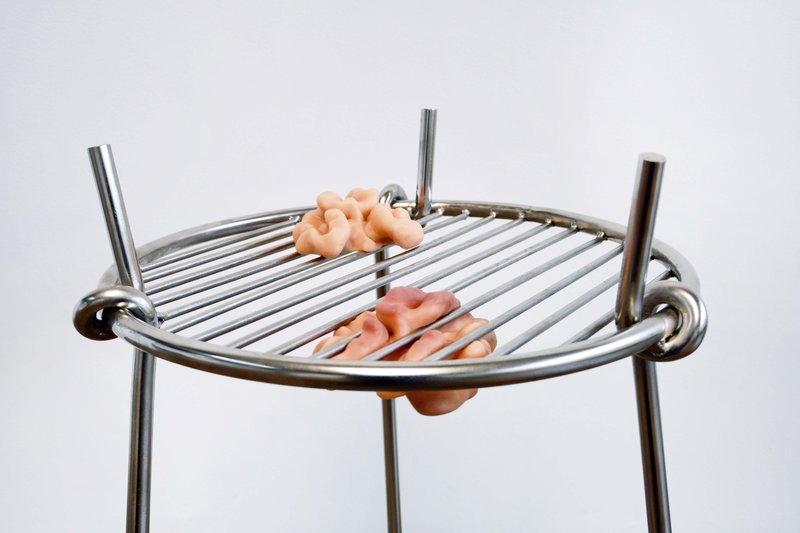 With a BFA from Cornell and and an MFA from the Städelschule in Frankfurt, Germany, it's perhaps not surprising that Hannah Levy draws from the giants of art history in her sculptures, which manage to walk the line between mechanical coldness and a more visceral, bodily yearning. Made from nickel-plated steel and silicone, these works recall predecessors like Hannah Wilke and Carol Bove even as the position themselves alongside contemporaries like Ivana Basic as examples of what a wholly 21st-century sculpture can be. Levy prides herself on making all of the elements of her works herself rather than farming them out to specialists, meaning all of the metalwork and squishy silicon are the products of her own hands. Her dealer sees these pieces as a kind of abstracted portraiture, evoking both the human body as well as the various artificial armatures we use to keep our fleshy forms functioning.
RAÚL DE NIEVES
As Far As You Take Me That's Where I Believe , 2015
Company Gallery
$9,000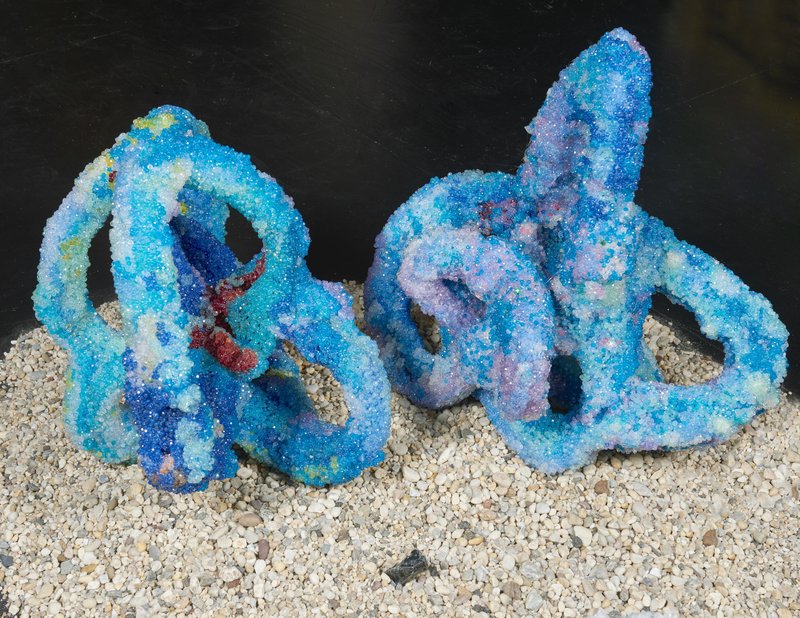 Though you'd likely never know it by looking at them, the basis for this seemingly crystalline sculpture is, in fact, a pair of high-heeled shoes. De Nieves got his start in the realm of performance art, where his healthy appreciation for fine footwear often figured into his work. Now, he's taken to transforming his favorite pairs into glittering abstract sculptures using a mixture of resin, glue, and beads, leaving the original inspiration hidden under layers of decoration. While earlier works sometimes remained wearable (when and where they'd be appropriate remains a topic of debate), these works exist as aesthetic rather than functional objects. Still, the pieces are always sold as a matched pair, meaning interested collectors can rest assured they're getting the real thing somewhere under the glam.
SALLY SAUL
Girl With Apple , 2016
Rachel Uffner
$5,000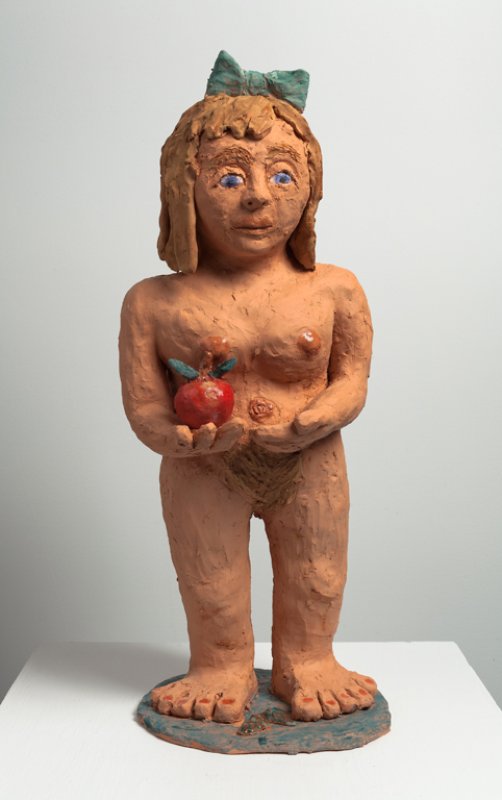 You've probably heard of the American Pop artist Peter Saul , but did you know his wife Sally is currently having a moment of her own? At the spritely age of 70, the longtime ceramacist is in the midst of a breakout, and the art viewing public is all the better for it. The works on view in Rachel Uffner's booth point slyly to her ongoing fascination with mythologies of all kinds, without making any reference overly obvious—if you think the piece above refers only to the Biblical Eve, you may need to look up the story of a certain Aphrodite and a handsome man named Paris. Despite these lofty historical origins, the works also evince Saul's humor and playful nature—they're deep, but, come on, they're also pretty cute.
MEREDITH JAMES
View , 2016
Jack Hanley Gallery
$15,000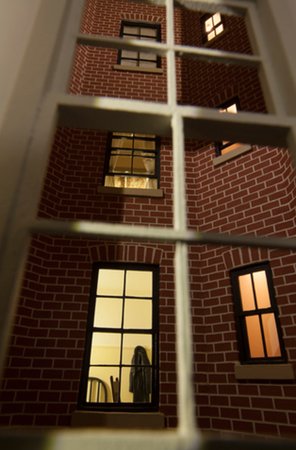 Ever since Marcel Duchamp first unveiled his secret peephole project Étant donnés in 1966, daring sculptors have been trying to figure out how to capture the drama and surprise of that seminal piece of installation art, though few have dedicated as much time and energy to the form as the New York-based sculptor Meredith James. She started perfecting optical illusions and perceptual tricks in her work while studying for her Yale MFA, and her two-part piece View (shown earlier this year at the SculptureCenter ) represents something of a high point. Looking into one of two miniature windows inset into the wall, viewers are greeted with scenes from what are apparently neighboring apartments, complete with pint-sized chairs, plumbing, and a lone coat on a hook, each suggesting a hidden narrative. Fans of French modernism will recall the writings of Baudelaire, who was enamored with exactly this kind of voyeuristic imagining as one of the central features of city life.