Compared to the contemplative, existential seriousness of Art Basel Miami Beach, NADA this year is a splash of cooling pool water, full of frisky—sometimes quite naughty—escapism and easy pleasures. In the booths, plenty of paintings are to be found, and collectors seem to be snapping them up with some alacrity. Here are the standout painted artworks at the fair.
DANIEL HEIDKAMP
Cutouts, 2016
The Journal Gallery – New York
$32,000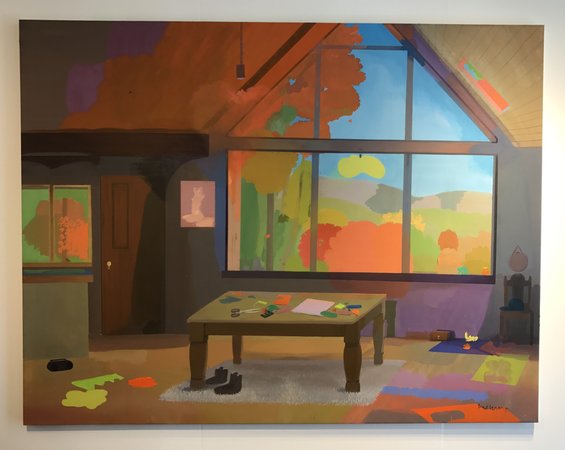 To prepare for his upcoming 2017 show of collages at Pace Prints, the in-demand landscape painter Daniel Heidkamp left Brooklyn for the bucolic calm of an artists' retreat in Bearsville, New York, where he assembled the materials for the work. This generously sized painting commemorates that period, with the components of his collages shown scattered around the room—the makings of one of his signature bouncy castles, a recurring motif, lies on the table—and with a rolling stretch of autumnal nature revealing itself beautifully through the window, flooding the scene with color.
LEONHARD HURZLMEIER
Acrobat With Love Handles, 2016
Rachel Uffner – New York
$16,000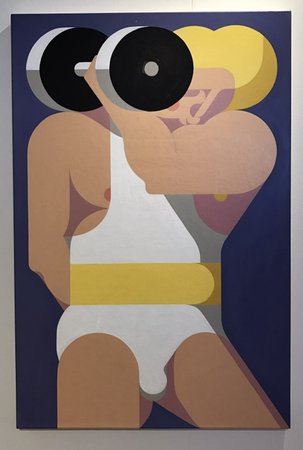 The geometric volumes of Léger meets the dense graphic economy of a playing card in the refined paintings of the Munich-based artist Leonhard Hurzlmeier, whose worked-over canvases of often sexually suggestive figures contain layer after layer of condensations and simplifications of a much looser original image (which lies deeply buried in the underpaint). Already enjoying strong support from international collectors, the artist made four bodybuilder paintings especially for the fair, and one sold immediately on the opening day.
SCOTT REEDER
Untitled, 2016
CANADA – New York
$16,000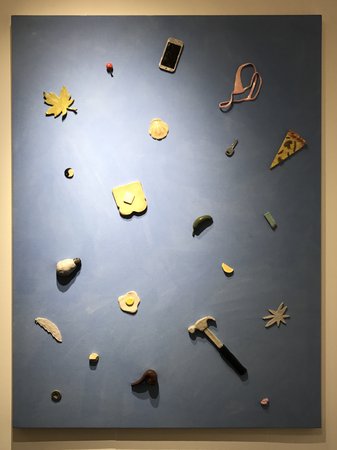 The ever-inventive artist and painter Scott Reeder first dabbled in miniature-sculpture paintings way back in 2004, around the time his famed "Drunk vs. Stoned" show at Gavin Brown's Enterprise, but he put the concept on the back burner until just recently picking it up again. Now Reeder—a master of the silly, hilarious list—makes these pieces by brainstorming with his assistant all the wacky objects they'd like to make, makes them, then affixes them to canvas for winning works like the one on view at CANADA's booth, which was quickly snapped up by occasional Artspace columnist Tiffany Zabludowicz.
NATHANIEL AXEL
Echo Chamber and Spiral Staircase, 2016
Karma – New York
$6,500-7,500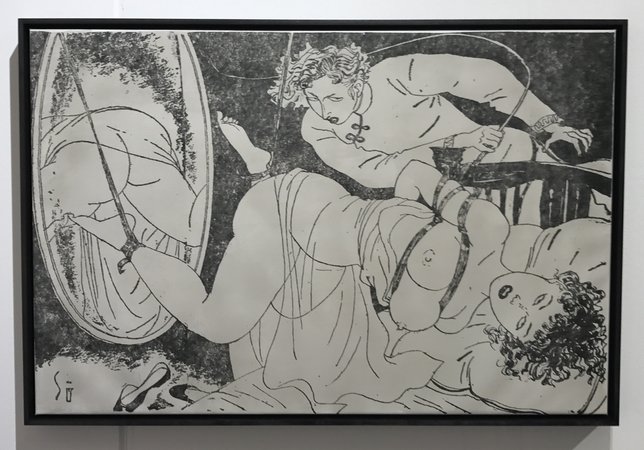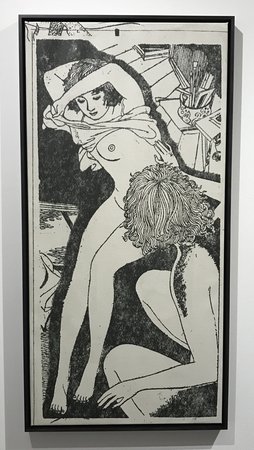 A lover or risqué prints, Nathaniel Axel combs through Japanese illustration and 1950s erotica for exciting images and then digitally cuts and pastes them into even more titillating compositions that he finally inkjet-prints onto canvas. A Philly native who graduated from NYU two years ago, he's already had one show with Karma, and another (perhaps with this body of work) is in planning stages for over the next year or so.
SASCHA BRAUNIG
Dark Comber, 2016
Foxy Production – New York
$4,800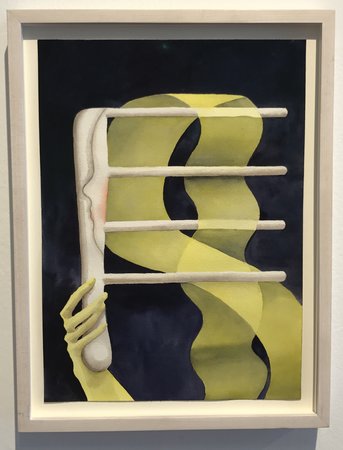 Well known and admired for her internet-era busts of figures seeming to emerge from abstract matrices, Sascha Braunig has recently evolved to paint full portraits as well as these kinds of truncated figurative studies, which create an alluring and elegant sense of mystery. Falling somewhere between Magritte and Tomma Abts, this painting on paper is a looker and, priced to sell, sold to an American collector rather quickly on opening day.
ALEX CHAVES
Keke andFitch, 2016
Martos – New York
$10,000-14,000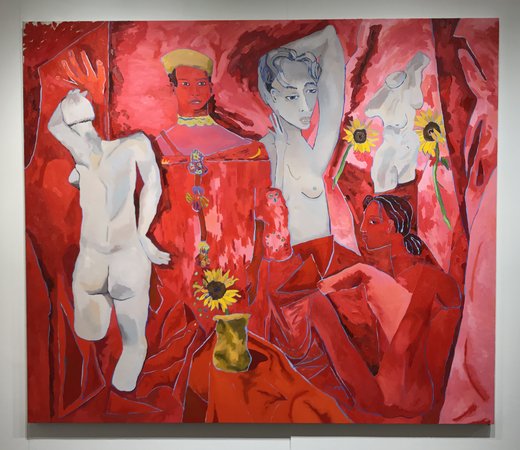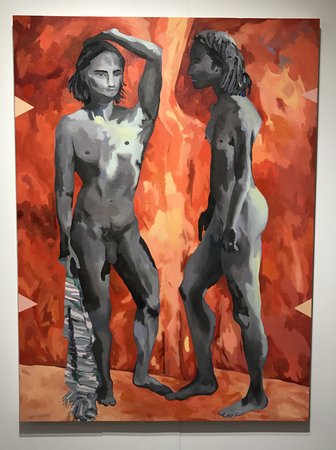 A 25-year-old Wesleyan grad, Alex Chaves is gaining a following in Los Angeles for his portraits of people from his artist social circle that he paints amid a bevy of art-historical references—for instance, just look at Keke, with its mashup of Les Demoiselles d'Avignon, Matisse's Red Studio, and van Gogh's sunflowers. Curators seem to like him, and he was in the "Fort Greene" group show at Venus Over Los Angeles this fall, with another group appearance at Cooper Cole coming up next month.
MICHAEL BERRYHILL
Untitled, 2016
Night Gallery – Los Angeles
$20,000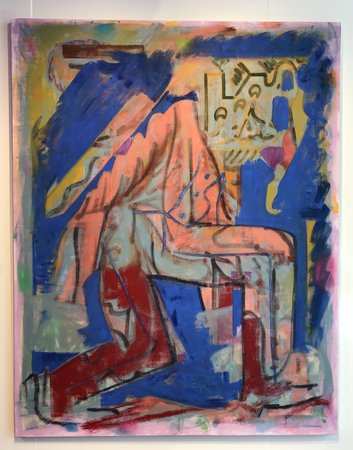 An artist who came up in Night Gallery's powerhouse Columbia MFA, cohort of Mira Dancy, Samara Golden, and Davida Nemeroff, Michael Berryhill is a New York-based artist (hailing from El Paso) whose paintings tend to swirl abstraction around a central figure. Now 40, he takes sedulous care with his canvases, building up 10 to 15 layers of paint to achieve the complexity of his finished images.
JESS
Tethys Festival, 1961
The Landing – Los Angeles
$85,000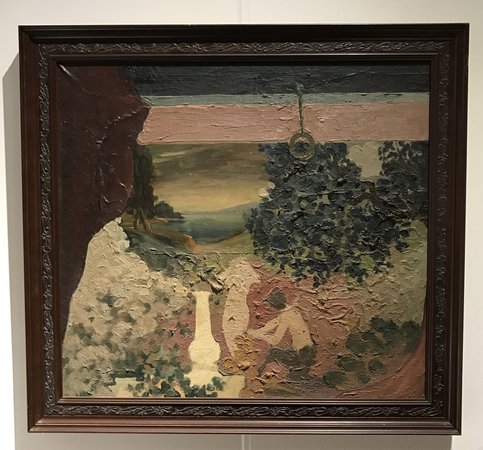 A nuclear physicist who worked on the Manhattan project, creating plutonium for the first atom bomb, Jess Collins (known today simply as Jess) became filled with remorse for what he had done and abandoned his scientific career, turning instead to art. This built-up painting, executed on top of a thrift-store landscape, is actually the first of Jess's famous salvage paintings, and was originally purchased by the Quantum Leap actor Dean Stockwell in the 1970s after an introduction by the artist Wallace Berman—and, encouraging for a historical work at NADA, it sold on opening day.
NADIA HAJI OMAR
Untitled, 2016
Kristen Lorello – New York
$3,900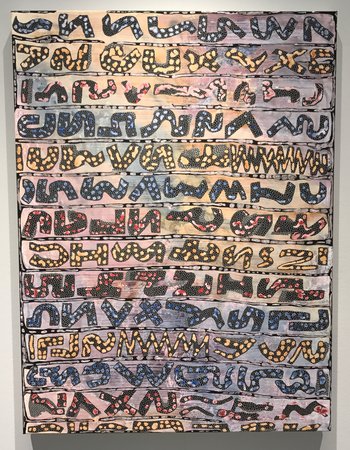 A 30-year-old Sri Lankan artist who studied at Bard and then SVA, Nadia Haji Omar makes her paintings by applying colorful dyes to canvas and then wiping them away to create a faded, tie-dye-esque appearance, then embellishes them with dots and lines that recall Sri Lankan and Arabic calligraphy. Just now getting momentum in her burgeoning career, she had a solo show with Kristen Lorello gallery in September—after that dealer discovered her through the curator Melanie Kress—and now will be in a group show in Chicago next week.
JUNI FIGUEROA
Placemat di Mami and Cotorra Puertoriqueña, 2016
Proyectos Ultravioleta – Guatemala City
$6,000 apiece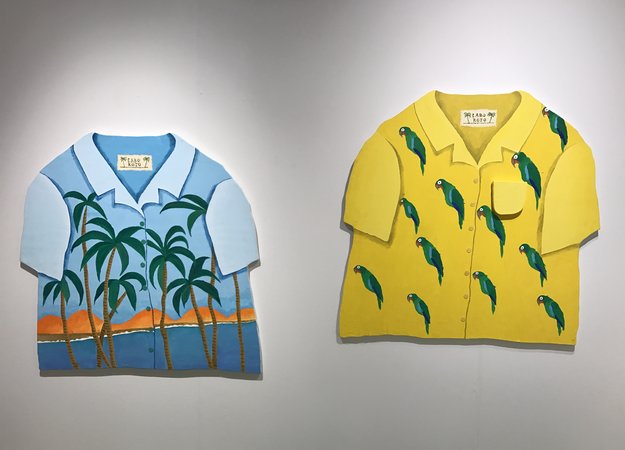 When he was growing up, the now-in-demand Puerto Rican artist Radamés 'Juni' Figueroa was teased by his friends for the ridiculous shirt-shaped placemats that his mom kept at their home in Cabo Rojo. Now the artist, who showed in the last Whitney Biennial, is celebrating those adorable childhood mementos with a new series of characteristically wacky paintings, which were a hit at NADA from the first hours of the fair.
RIDLEY HOWARD
Various works, 2016
Mesler / Feuer – New York
$7,500 apiece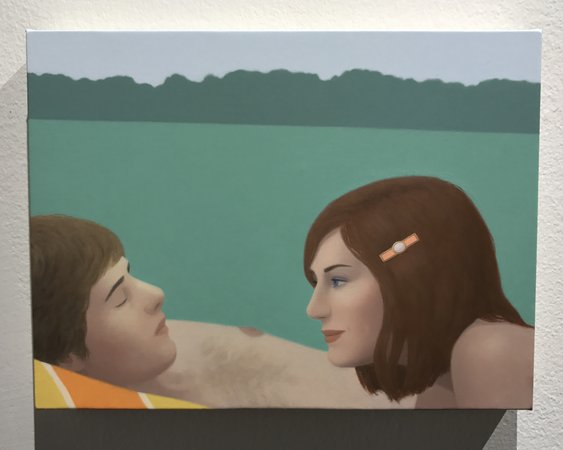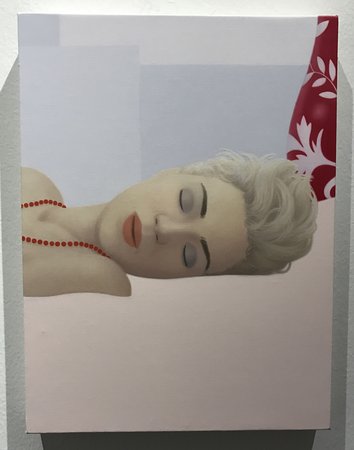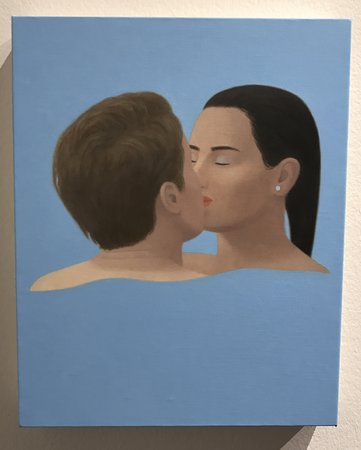 A newcomer to the formidable Mesler Feuer (Feuer Mesler) stable, Ridley Howard is a killer painter who dreams up decorously sensual—and sometimes rather X-rated—scenes that seem to come from the jewel-toned romantic world of an Eric Rohmer film (except one in which the guy gets the girl, or vice versa). A former New Yorker who ran his own miniature Brooklyn gallery 106 Green with his wife, the artist Holly Coulis, Howard has just decamped to Athens, Georgia, which seems like a safe place from which to watch his career as it inevitably catches fire next year. 
LIAT YOSSIFOR
Swirl (Blue Edge), 2016
Patron – Chicago
$20,000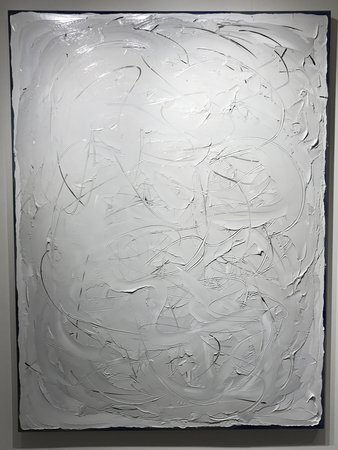 Raised in Tel Aviv by a mother who made pottery from Israel's particularly muted clay, the artist Liat Yossifor makes paintings that pay homage to her mom's material of choice, mixing her own paint to echo the clay's bluish-whitish tint and then slathering great quantities of it—25 pounds' worth—onto canvas. Working the paint performatively with knives, brush ends, and her own body, Yossifor is rarely satisfied with the results, scraping down approximately 80 percent of her compositions and then reslathering the paint on canvas until she gets her imposing creations right.
MAX MASLANSKY
Various works, 2016
Five Car Garage – Los Angeles
$6,500-11,500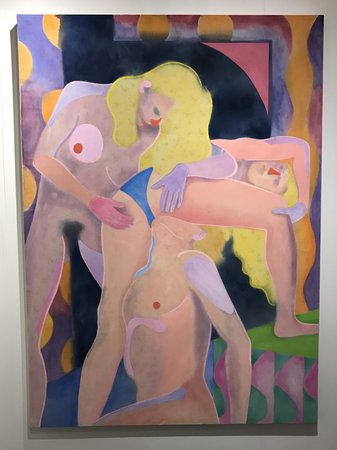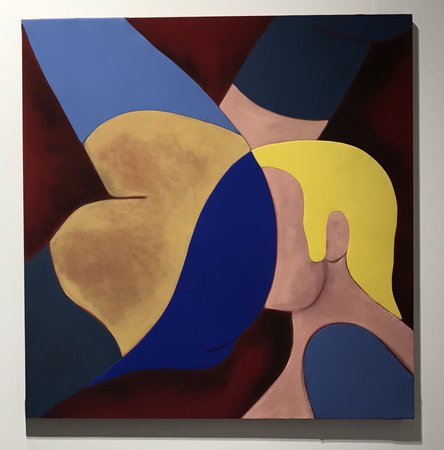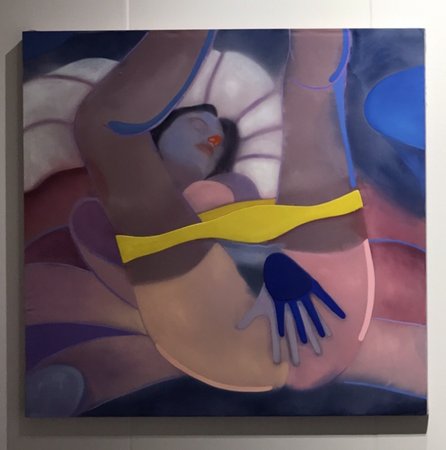 A Bard grad who then trained at CalArts, Max Maslansky specializes in recreating vintage porn scenes on canvases that he faithfully stitches from bedsheets, so that one painting has the dimensions of a queen-size bed, another a king, and others precisely half of a double. Occasionally stitching leather in as well for an extra haptic touch, he paints his outrageously sexual subjects with such delicate floral colors that it's tempting to forget what you're actually looking at—at least until the in-laws arrive.
JOSH SPERLING
Untitled, 2016
Sorry We're Closed – Brussels
$7,500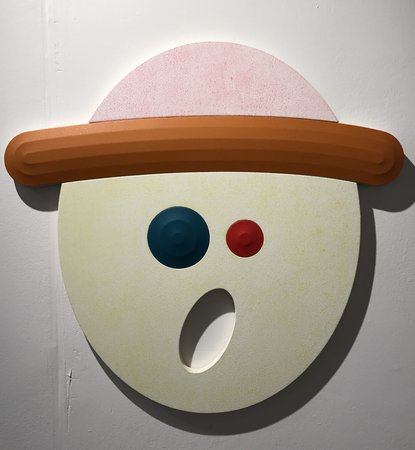 A young New York city artist who is just getting started, Josh Sperling learned the ropes of woodwork from his carpenter father and now makes shaped canvases by carving up wooden components and then stretching them with canvas. Most of the time he works with abstraction, but both of the fun faces he had at NADA sold, and now Sorry We're Closed is bringing him to Art Brussels, too.
GINA BEAVERS
AK Nails, 2016
Michael Benevento – Los Angeles
$7,500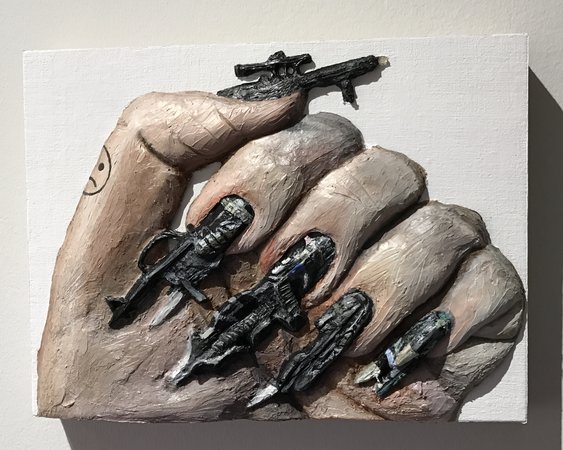 Everyone already loves Gina Beavers's cake-like paintings of sculpturally built-up oils, but if you didn't you'd surely fall for this paean to nail art and assault rifles. It really makes you think. (Note the frowny face tattoo: nail guns are bad news.)
MARIANNE VITALE
Various works, 2016
Invisible-Exports – New York
$16,000 apiece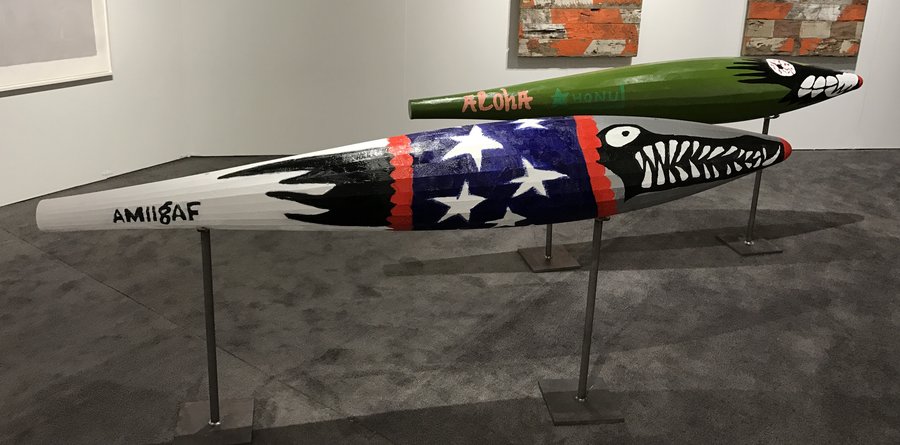 Another artist dabbling in weaponized paintings is none other than Marianne Vitale, who wowed her longtime fans with her exquisitely hung show of 10 missile-art-inspired paintings on phallically shaped wood at New York's Invisible-Exports this summer. Just yesterday she told her dealer that she's not making any more of these terrific pieces, based on so-called nosecone culture (who knew?), so these to beauties may be the last ones available.
ORION MARTIN
Various works, 2016
Bodega – New York
$15,000-25,000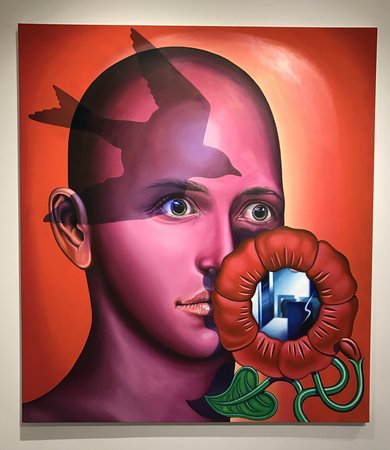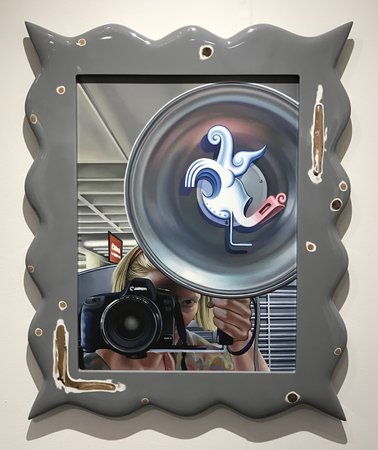 An artist whose star got raised by his inclusion in the Whitney's "Flatlands" show, Orion Martin has been known for his intricate, art nouveau-ish paintings of objects, which he weaves into sophisticated arrangements. Now, however, he's gone all figurative on us, and these stunners—one with his eyes and mouth mapped onto a generic head, the other with real wood impressively inlaid into its plastic frame—are some of the most vibrant, unique paintings at the fair.
MATTHEW RONAY
A relief, 2016
Markus Lüttgen Gallery – Cologne
$12,000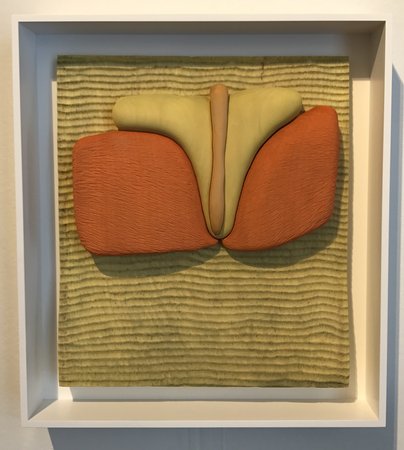 Technically a relief, but, hey,  this evocative work was made by Louisville-born Yale MFA grad Matthew Ronay, who crafts his captivating pieces from wood and dyes. Pleasingly well-wrought, it's naturalistic and abstract at the same time.
JORDAN KASEY
Untitled, 2016
Nicelle Beauchene – New York
$12,000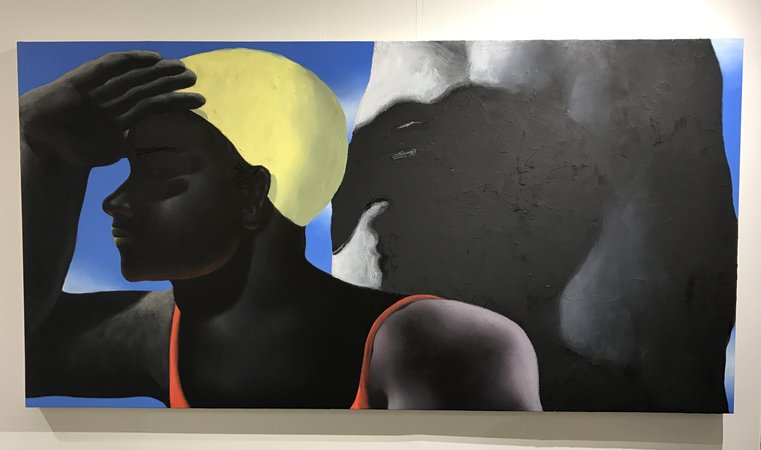 One hopes the solidly built bather in this painting is aware of the grey nude lurking, Trump-like, behind her. An irreverent and continually surprising newcomer, Jordan Kasey applies her chalky palette to figurative scenes that recall Picasso's weightily volumetric Neoclassical period, and she's one to watch.
JOEL MESLER
Various works, 2016
Capital, San Francisco
$6,000 apiece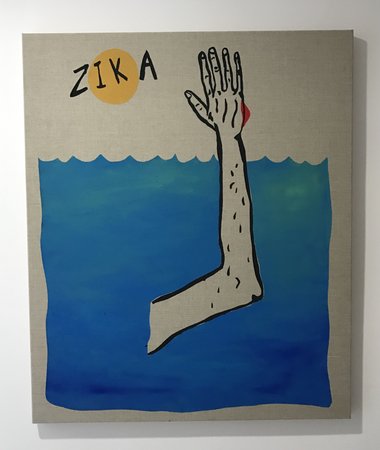 Here's a poem that the artist/gallerist Joel Mesler spontaneously intoned when asked about his splendid solo show in the Deauville Hotel's room 1245, which he embellished with a few hilariously odd balloons that he found at the Walgreens across the street:
Self-reflection
Therapy and therapist
Artist, art dealer
Melancholy self-reflection
Wanting to do better, but finding the joy
In the small places on the canvas
Make sure you notice the balloons