The number of exhibitors taking part in Untitled, San Francisco this year is rather small compared to most other art fairs—and we're not complaining. The smaller the fair, the more manageable, allowing visitors far more time and far less panic over the sheer volume of content to take in and thoroughly investigate. At the same time, within the somewhat microcosmic environment the fair has cultivated with its forty or so booths and integrated special projects, it is encouraging to see a fair (the most commercial aspect of the contemporary art ecosystem) that has hosted such a large percentage of exhibitors who are in one way or another working outside of the commercial gallery industry. Even the commercial spaces exhibiting this year seem to look beyond the kind of work that's appealing to most collectors given the larger looming trends that dominate both the primary and secondary markets of contemporary art today, in favor of offering the public a rich and insightful viewing experience.
A fair that's most known for it's Miami iteration, Untitled opened its second iteration in San Francisco, a city not necessarily known for a strong art market, but one that has seen some promising art-world developments in recent years. Since SFMOMA 's reopening not much more than a year ago, and the subsequent opening of the gallery conglomerate building called the Minnesota Street Project , there has been a noticeable push to reinvigorate (or perhaps invigorate for the first real time) a truly keen interest in contemporary art that goes beyond well-funded canonical greatest-hits exhibitions or, on the flip-side, the unnecessary re-rehashing of "street art."
Minnesota Street in particular marks a well defined move in a new direction for the city, which previously lacked a art-world hub like Chelsea in New York, Culver City in Los Angeles, or even Wynwood in Miami—posing a bit of a conundrum for Bay Area residents hoping to participate in the art scene by regularly attending openings and events.  Minnesota Street encompasses fifteen art spaces, most of which function like traditional commercial galleries, but with the welcomed addition of several spaces that are more educational, curatorial, and community-oriented—like collector and publisher Nion McEvoy's brand new Foundation for the Arts, and the San Francisco Arts Education Project. The whole space functions as a much needed hub for the small city, where the kinds of galleries that might otherwise less-often engage in extracurricular public programming are given more options to do so with the building's ever-revolving succession of events that range from talks and screenings to all kinds of performances, many of which take place in its ample common space amphitheater.
In this sense, it can safely be assumed that a considerate art fair like Untitled is not only welcomed by Bay Area residents that care about contemporary art and the discourses that it often engages or sparks, but that it is in fact a high-time necessity, particularly for a city that continues to grow its wealth and its industry, but does not seem quite as capable yet at breeding a new generation of serious and enthusiastic collectors.
Despite the fact that the city isn't necessarily known for its contemporary art scene, there are, nonetheless, a significant number of galleries in San Francisco that have been doing the important work of supporting and championing not only celebrated but also controversial or unconventional artists for many years. Few hold a higher place of regard than Anglim Gilbert Gallery , (formerly Paule Anglim Gallery, prior to the passing of its principle). Today the gallery is spearheaded by its longtime director, Ed Gilbert, who has been working with seminal artists like Lynn Hershman Leeson for the past thirty years, since just about the very inception of the space itself. Thankfully Bay Area art institutions over the past year have continued to bring the critical work and longevity of Leeson to its public with a retrospective at YBCA last year, a solo show at SFMOMA in 2014, and a current compendium project that spans both The Legion of Honor and the de Young Museum.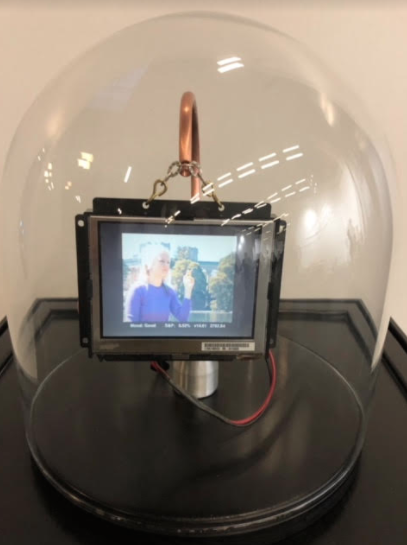 Lynn Hershman Leeson, Synthia , 2000-12. CPU with enclosure, live internet connection. Price upon request.
Now she is also one of eight artists highlighted by Untitled in their Special Projects, which this year focuses on monuments, an apt concept for the Bay Area, which has long been hailed for its architectural achievements and its topographical beauty, and is now in a serious state of transition. For this, Leeson and Anglim Gilbert present her 2000-02 time-based, new media piece, Synthia . Though there are certainly more timely works the gallery could have presented, Anglim Gilbert tells Artspace that they felt that while Synthia was made more than fifteen years ago now, both its visual presence and its conceptual framework still feel new, and certainly culturally and politically relevant.
For one thing, though the quaintness of the relatively small city of San Francisco is clearly not the epicenter of the American financial network, today it dominates California's astounding economic growth, and is now considered a major player in high finance. With that in mind, both the city and the state have historically been at the fore of sociological issues like feminism and soon after, identity politics, which are clearly being cleverly manipulated in the complex work of Synthia . The process that the work both embodies and represents is akin to that of the stock ticker, invented by Thomas Edison, which follows and reacts to shifts in the stock market. Here, Leeson utilizes the character of Synthia and her pre-scripted set of behavioral options to signal the ups and downs, in real time, of the stock market during the work's two-year timespan. Likewise, when stocks are up, Synthia's behaviors are free-wheeling and fun-loving, such as dancing and shopping for luxury goods. When the stock market dips, we see Synthia sitting alone chain-smoking, exhibiting self-loathing and unhealthy behavior. (The gallery also notes the artist's humorous and singular attention to detail, pointing out that the even the moods of Synthia's fish synch with the market's fluctuations so that they swim quickly during spikes and float at the water's surface during downfalls.)
Anglim Gilbert's ongoing commitment to Leeson, and the better-late-than-never appreciation of her work that seems to finally be sweeping galleries and institutions across the country, is a point of much pride for the gallery, making their decision to present Leeson's work for Untitled a natural choice, since the Special Projects' theme dealt with monuments, not only physical but also metaphysical. While the intricacies of the inner workings of the piece may be lost on some of the fair's visitors, it has been clear that its visual sensibility feels fresh and current and relevant to all that encounter it.
Though perhaps less to do with monuments than encompassing the notion of the monumental, another artist featured in Untitled's Special Projects is Judith Scott, whose work is presented by Creative Growth, an organization based in Oakland with a strong association with White Columns in New York, that supports artist with various kinds of disabilities. Creative Growth has fostered and brought attention to a number of dynamic and inspired artists, but for their contribution to Untitled, the organization was excited to show the wiry, found object sculptures of the late Scott. Her work speaks to the resourcefulness of some of the lesser-noticed or appreciated communities that have long made up the poignant underbelly of the Bay Area. Creative Growth's presence at Untitled is unique and the responses they have gotten to Scott's signature, complicated, and warped sculptural forms are testaments to how her practice and aspects of her life, such as having been deaf and having Downs Syndrome, taps into the sentiment of the Bay Area, which is known for welcoming and celebrating people's differences.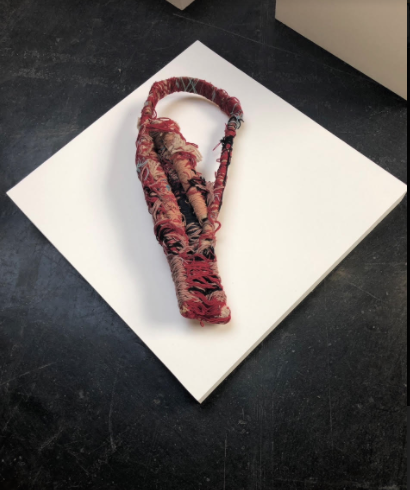 Judith Scott, Untitled , 2000. Mixed mida; fiber, bicyle wheel and fund objects.
Stavanger, Norway's non profit Rogaland Kunstsenter, run by curator Geir Haraldseth, presents the ceramic work of Norwegian artist Odd Sama. When asked about the art market in San Francisco versus the Norwegian capital, Haraldseth was quick to note that both cities feel a bit like pioneering, since neither has a very strong, built-in core of serious collectors yet, and a lot of people are just starting to get their feet wet. With regards to choosing to bring Sama's work to the fair, Rogaland Kunstsenter felt that the unusual duality of Sama's popular medium of ceramics, coupled with his less-common abject and rough aesthetic, relates well to the West Coast and the attitude of Untitled itself, which always feels a bit more off the cuff, a bit less buttoned up, than many other fair on its par. There is, as many visitors have likely picked up on, and as Haraldseth is happy to attest, an undeniabe '90s feel to the tan, sandpaper-like surfaces of Sama's upright, vessel-oriented forms that each donne a gaping, dark, mysterious entry point that makes them seem almost mask-like.
Odd Sama, Puppetopper og fjellfitte , 2017. Ceramics. Price upon request.
Each of these exhibitors represent a distinctly different approach to both the business and the exhibition-making of contemporary art. And, on they're own, they're likely to attract rather divergent kinds of audiences whose motivations and interests in art may rarely overlap. But at Untitled, these galleries, non-profits, and cultural institutions operate on a similar playing field that is scored less by who sells what, and more by the relevance and resonance of the work on view.  In this way, Untitled has done a rather commendable job of briefly spotlighting the cultural value and historical roots of our moment in contemporary art history—more than can be said of most art fairs—regardless of its ultimate aim: to sell art.