This year at downtown Miami's Ice Palace, NADA's bringing some of the hippest young galleries and project spaces to Miami's art fair week. Here are five not-to-miss, show-stopping paintings. 
CHEYENNE JULIEN
Emerging Artist, 2017
64 x 70 inches
LOYAL, Stockholm, Sweden
$8,500 USD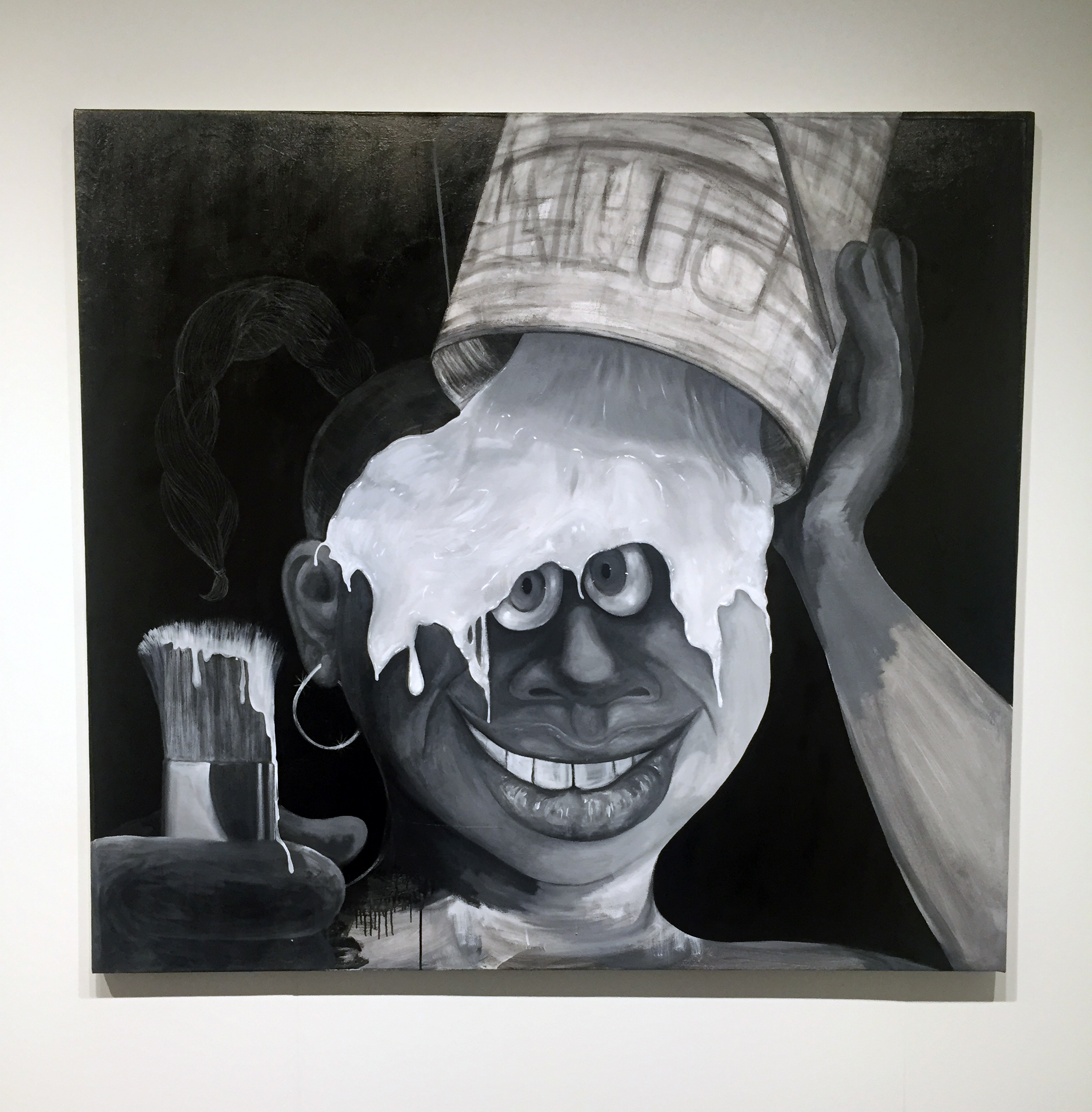 I first saw Cheyenne Julien's paintings at Housing Gallery's inaugural exhibition (read about the Bed-Stuy, Brooklyn gallery's views on artwashing and gentrification), and have been hooked on her rich, strange paintings ever since. The 23-year-old artist's first solo show was at Smart Objects in Los Angeles this past fall, the subject of which was environmental racism, or "racism [that] is not only present in people, but also physically built into the structures of our landscape," according the press release. Julien currently lives in the home where she grew up: a Brutalist high-rise apartment complex in the Bronx, one with exposed concrete that makes the artist feel like she's "in a prison." This large-scale painting in LOYAL's booth is the largest painting the artist has made to date (it's also her first black-and-white painting), and it feels more jubilant than some of her previous work, despite the lack of color. The narrative comes from an ongoing series of charcoal drawings about a young girl artist finding herself in precarious situations, LOYAL's booth attendant told me. In this case, she's spilling a bucket of paint over her head—while grinning. "The girl in the painting just isn't taking her situation seriously," says the gallerist. "It's a comedy, and a tragedy."
TOMASZ KOWALSKI
Untitled, 2017 and Untitled, 2017
70 x 55 cm (each)
Galeria Dawid Radziszewski, Warsaw, Poland
€ 7,500 exclusing vat (same price for each)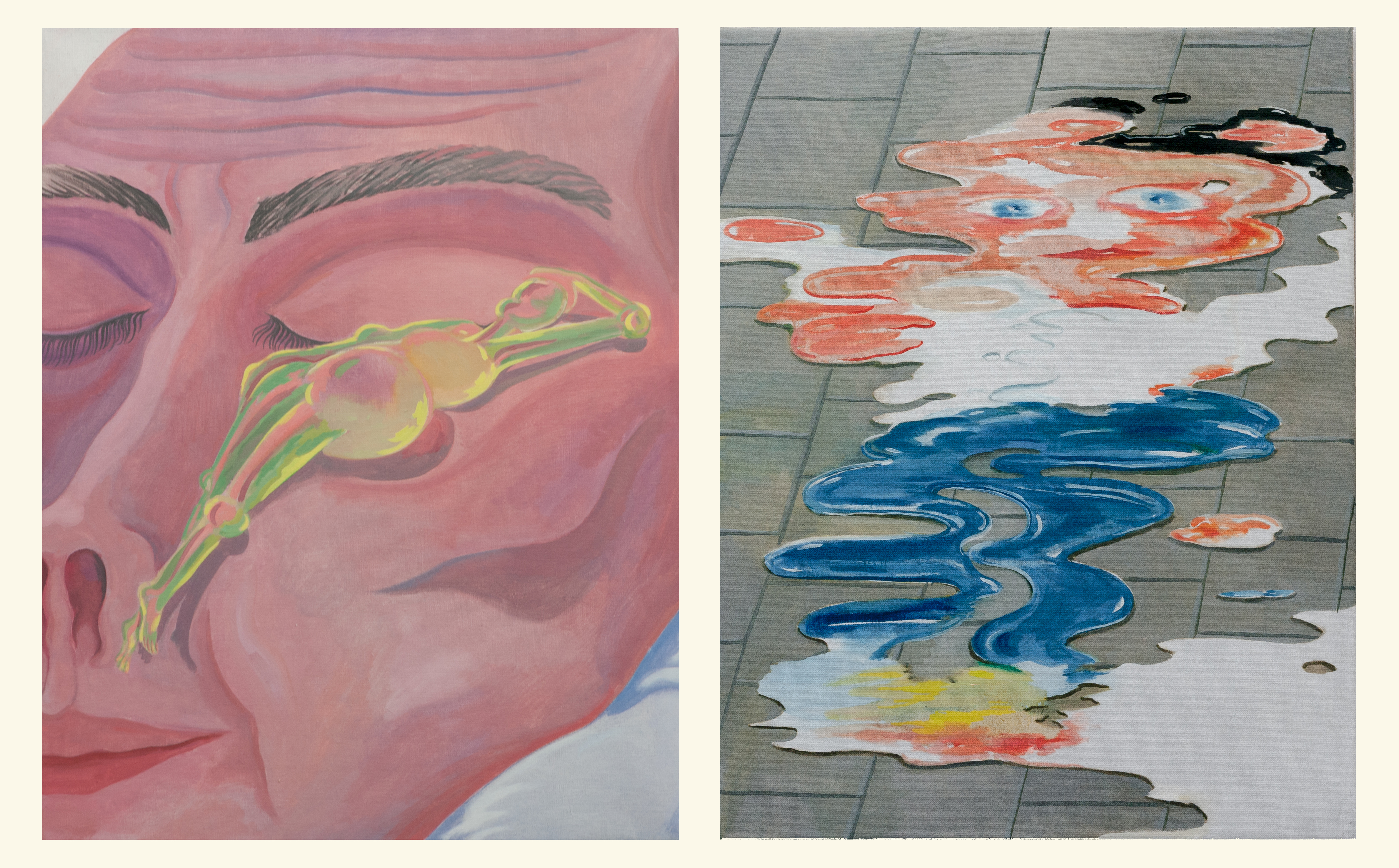 Well known in his home country of Poland, Tomasz Kowalski hasn't shown very much state-side (his one debut was a good one though: a solo show at the Museum of Contemporary Art in St. Louis in 2014.) Meanwhile, his work has made its way into a number of museum collections, including the Centre Pompidou. His figurative paintings read like landscapes; in one, a cartoonish figure literally melts into the landscape, rendered as a puddle on the pavement. In another, a cropped face becomes the background for yet another figure reclining, jelly-like. "They're interior landscapes of the imagination," says David Radziszweski's booth attendant.
JESSE BENSON
Repainting 9 (Orange County), 2017
36 by 27 inches
Michael Benevento, Los Angeles, LA
$4,800 USD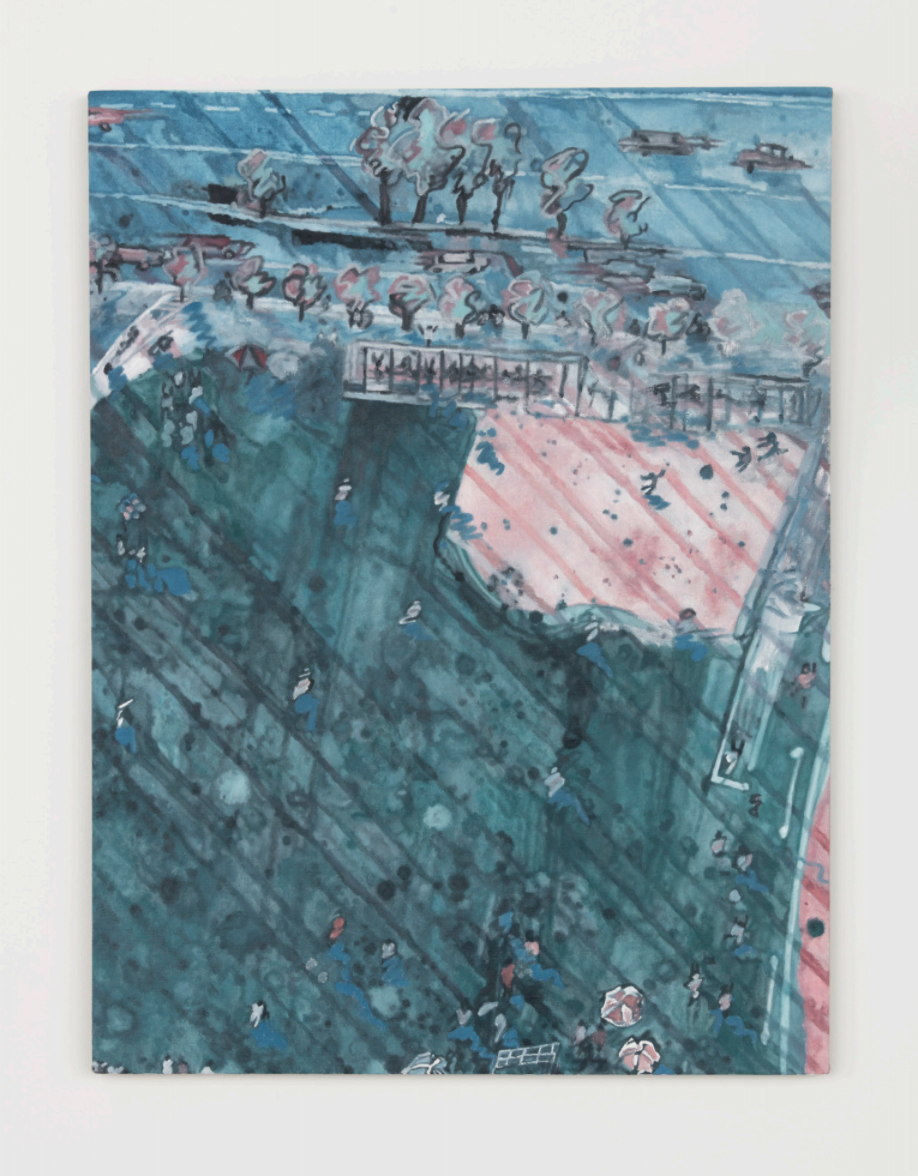 For this series of paintings by Los Angeles-based artist Jesse Benson, the story starts in an FBI storage room holding confiscated paintings. The artist, who has a deep interest in forgery and ideas surrounding ownership, found himself in this room by chance; the pictures he took (covertly and without permission) would become his source material. This one in particular is a cropped section of a photograph he took of a rain-damaged poster; you can see streaks of paint running diagonally across the canvas. (This painting is one of four that comprise the four quadrants of the poster.) Though Benson's fortuitous run in with the FBI (who else can say that?) was a happy accident that acted as a catalyst for just a few paintings, the artist is known for copying the paintings of other artists throughout his career as a comment on authenticity and authorship.
KOAK
Quiet Afternoon, 2017
11 x 16 inches
Et Al. x Alter Space, San Francisco, CA
$2,000 USD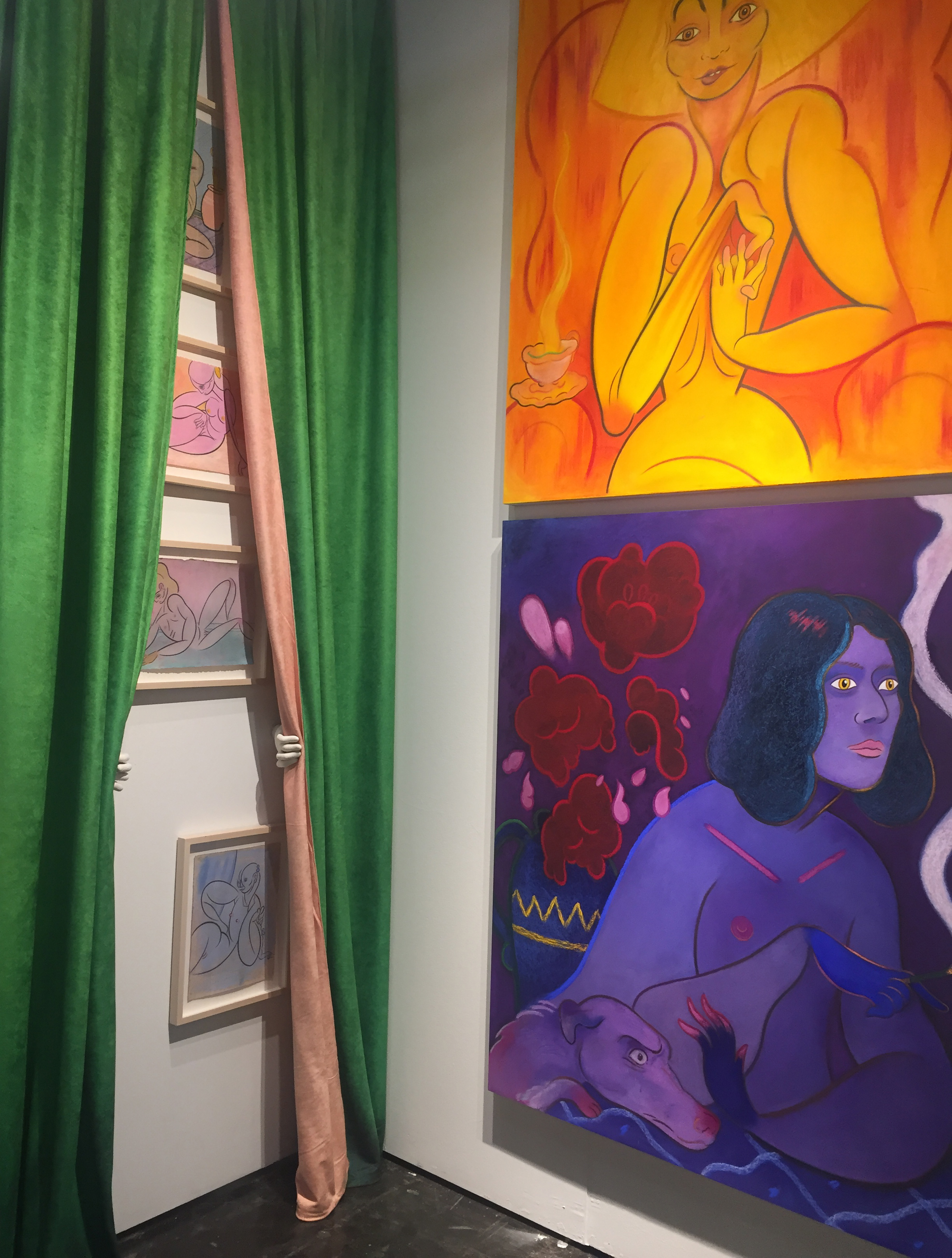 KOAK is no stranger to art fairs (she showed with Alter Space at Material Art Fair and Art Los Angeles Contemporary earlier this year), but this installation is quite new for her. Et Al's small project booth, which they've teamed up with Alter Space to produce, is flanked by luxurious pink and green velvet curtains, held open by hand sculptures, making the small framed drawings of the artists signature subjects—women in the nude—even more seductive, as if they're beckoning you into the boudoir, or perhaps just offering you a sneak peak through the drapes. Et Al's directors tell me that while the subjects of KOAK's stylized drawings and paintings are almost always nude women, they vary quite a bit in terms of "body types and attitudes—some are confident, some are coquettish, some are slouched." The artist recieved her MFA from the California College of the Arts with a degree in comics and fine arts, and her studio practice is split between the two disciplines as well. She's been working on a 400-page comic book for the last five or six years, all the while making these irresistable drawings and paintings.
ALEKSANDRA WALISZEWSKA
Untitled, 2017
14.5 x 26.7 x 0.6 inches
LETO, Warsaw, Poland
$4,000 USD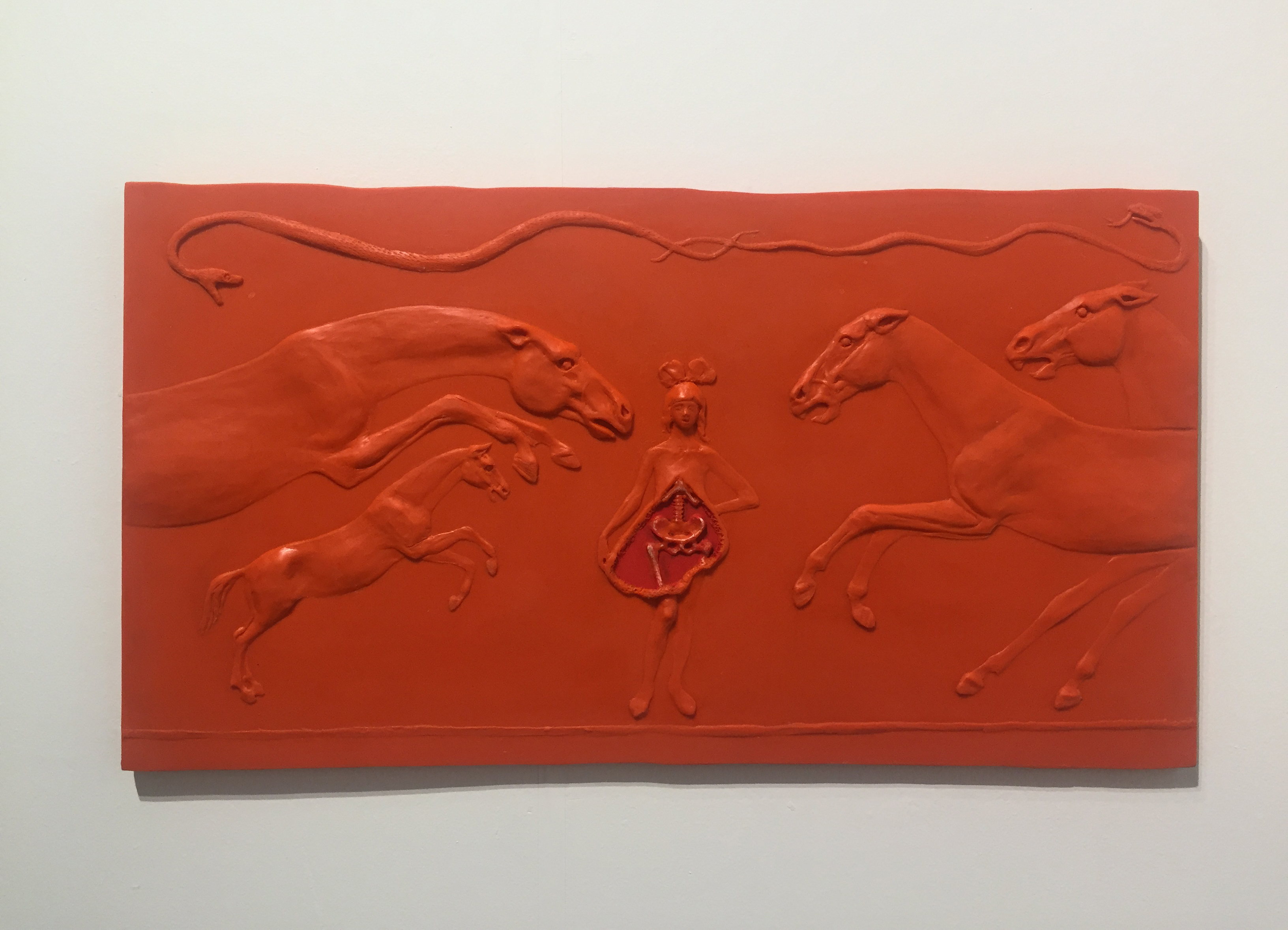 Here we have another Polish artist underknown in the States, but in her home country she as a cult-like following (her fan page on Facebook has close to 88,000 followers.) Two films have been "visually inspired" by her work, most recently The Lure, a "folkloric Polish musical sex-comedy horror movie," according to the New York Times. Waliszewska's drawings are equal parts René Magritte, Wednesday from the Adam's Family, illustrator Edward Gorey, and Witchhouse album cover—full of cats, nude girls in he woods, bloody guts, and some mystic beasts which may or may not be penetrating said nude girls in the woods. Waliszewska approapriates the horror elements of fairy tales, and adds some sexuality and innocence, LETO's booth attendant tells me. He also adds that the artist prefers the printed page over the white wall, and restricts the number of exhibitions and available works to a small numbe per year, instead focusing on producing books (the DESTE Foundation in Athens recently published one.) This alabaster, resin, and pigment relief work represents a new direction for the artist, who recently began sculpting as a way to reconnect with her family's routes—both her parents and her grandmother were sculptors, and her grandmother's equestrian sculptures can be found all over Warsaw's public squares.
Check back tomorrow for our favorite sculptures at NADA!
RELATED ARTICLE:
7 Favorites From Untitled, Miami Beach 2017