During Artspace's trip to FOG Design + Art Fair, which opened this past Wednesday at Fort Mason's pier in San Francisco, we spotted one trend that was hard to miss: pendants aplenty. One of the easiest ways to unify a space, incorporating pendant lighting into your interior design truly lights up any room (literally). From organic forms that mimic the natural world, to glitz-and-glam chandeliers that sparkle and shine, here are the six pendants we couldn't keep our eyes off of.
David Nosanchuk
Butterfly Asteroid, 2017
Fiberglass, white bronze, holly wood veneer
47 x 38 x 40 in.
Hostler Borrows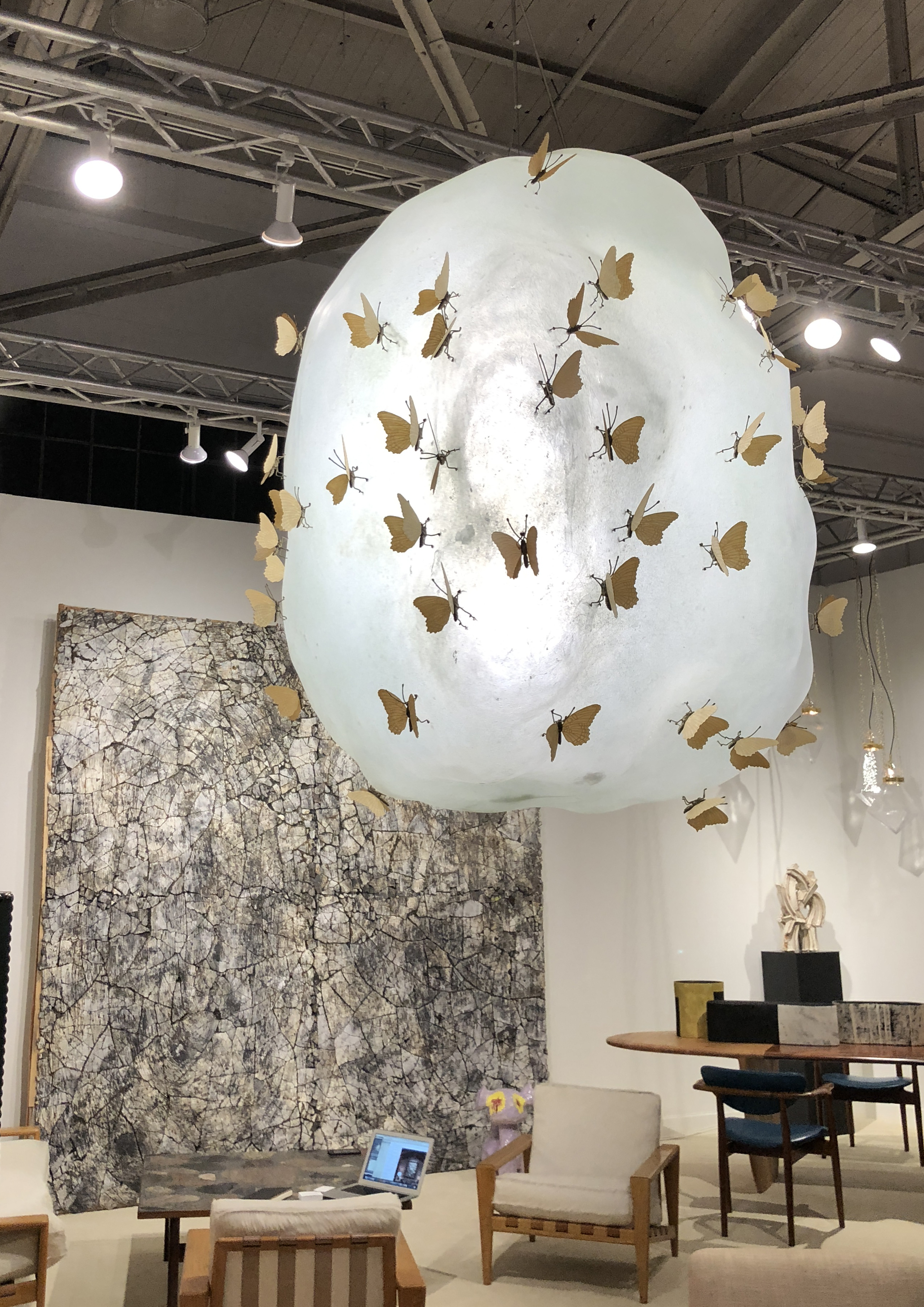 David Nosanchuck is the New York-based artist who created Butterfly Asteroid, which is just that: a scaled model of an asteroid, with life-size sculptural butterflies. The result of both digital and hand-crafted techniques, the pendant uses materials that each tell a story of transformation. The wings of each butterfly are made from holly and beech veneers, while their bodies are solid bronze. A process involving wax connects the wings and bodies together. Meanwhile, the asteroid is rendered in fiberglass, allowing light to emanate as an indirect glow. The artist's interest lies in the juxtaposition in scale between the the asteroid and butterfly—both which can be characterized by movement through air. Both known to make repeated journeys through the ether, the monarch butterfly migrates with the seasons; the astroid orbits the sun.

Barnaby Barford
Jungle VIP Chandelier, 2014
Swarovski Crystal, glass, epoxy putty, enamelled wire
72.8 x 43.3 x 29.5 in.
Each unique, limited to 8 + 1P
Editions David Gill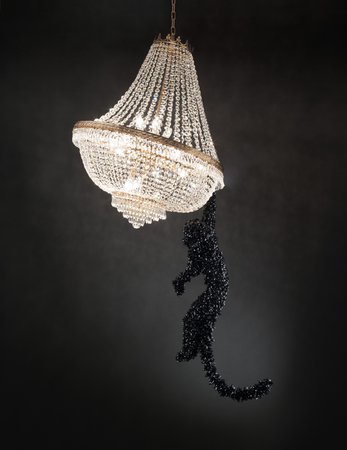 Photo courtesy of David Gill Gallery
Barnaby Barford is a British-born conceptual artist who, rather than prioritizing form and function (as many designers and furniture-makers do), starts with an overarching concept. This chandelier, the centerpiece of David Dill's booth at FOG this year, is no different. The Jungle VIP Chandelier involves a 'jewel'-encrusted monkey covered with over 4,000 black crystals, which hangs on the side of a Swarovski crystal chandelier, leaning to one side to bear the monkey's weight. In a recent statement Barford said, "I wanted to give the chandelier a new life, change its context, and make a sculpture out of it…. and King Louie's song I Want to Be Like You from the The Jungle Book started playing." We don't want to be like that monkey, as much as we'd like to have it.
Fred Wilson
Tears for Desdemona, 2015
Murano glass and light bulbs
37-3/8 x 29-1/2 x 29-1/2 in.
Edition of 6 + 2 APs
Pace Gallery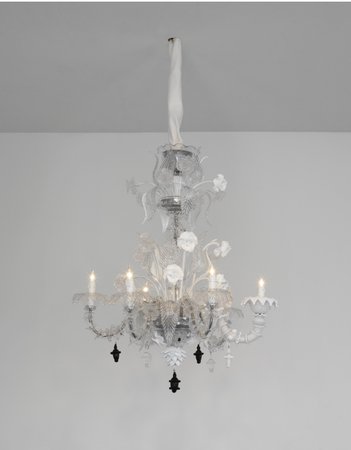 Fred Wilson was the 1999 recipient of the MacArthur Foundation Genius Grant, a huge achievement for any creative in any field. The American artist challenges assumptions of history, culture, race, and convention by reframing objects and cultural symbols, thus alters traditional interpretations and encouraging viewers to reconsider social and historical narratives. Murano glass chandeliers have been an important part of Wilson's practice since 2003, when, as a central part of his installation at the Venice Biennale, the artist collaborated with master Venetian glass makers to fabricate an ornate eighteenth-century-style chandelier. Wilson reminds us that culture is almost never homogenous.
Faye Toogood
Tools for Life Mobile 2, 2017
Patinated cast bronze, hand formed glass, patinated bronze rod
55 x 78.75 in.
Unique
Friedman Benda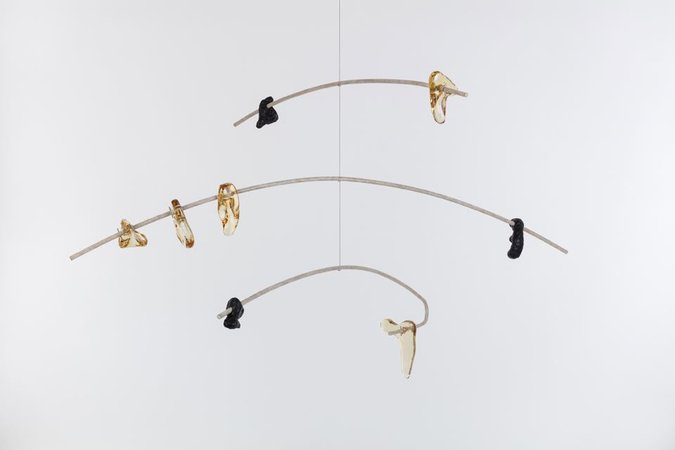 Faye Toogood is a fitting name for a designer whose pieces are just too good to pass up. The British designer works with small-scale fabricators and traditional artisans to hand-make each piece, embracing and celebrating the irregularity of the chosen material. With a background in fine art but also the magazine industry, Toogood makes furniture and design objects that demonstrate a sincere preoccupation with materiality and experimentation. Rendered in glass, the sculptural elements in this mobile reference prehistoric tools—the anthropological representation of the beginning of civilization and human domestication. Each mobile in this series is unique, and they all were inspired by Toogood's interest in historical gender roles and familial identity—making them conceptually rigorous in addition to drop-dead gorgeous.
Christopher Boots
Meteor, 2018
Quartz Crystal
The New Gallery and Twentieth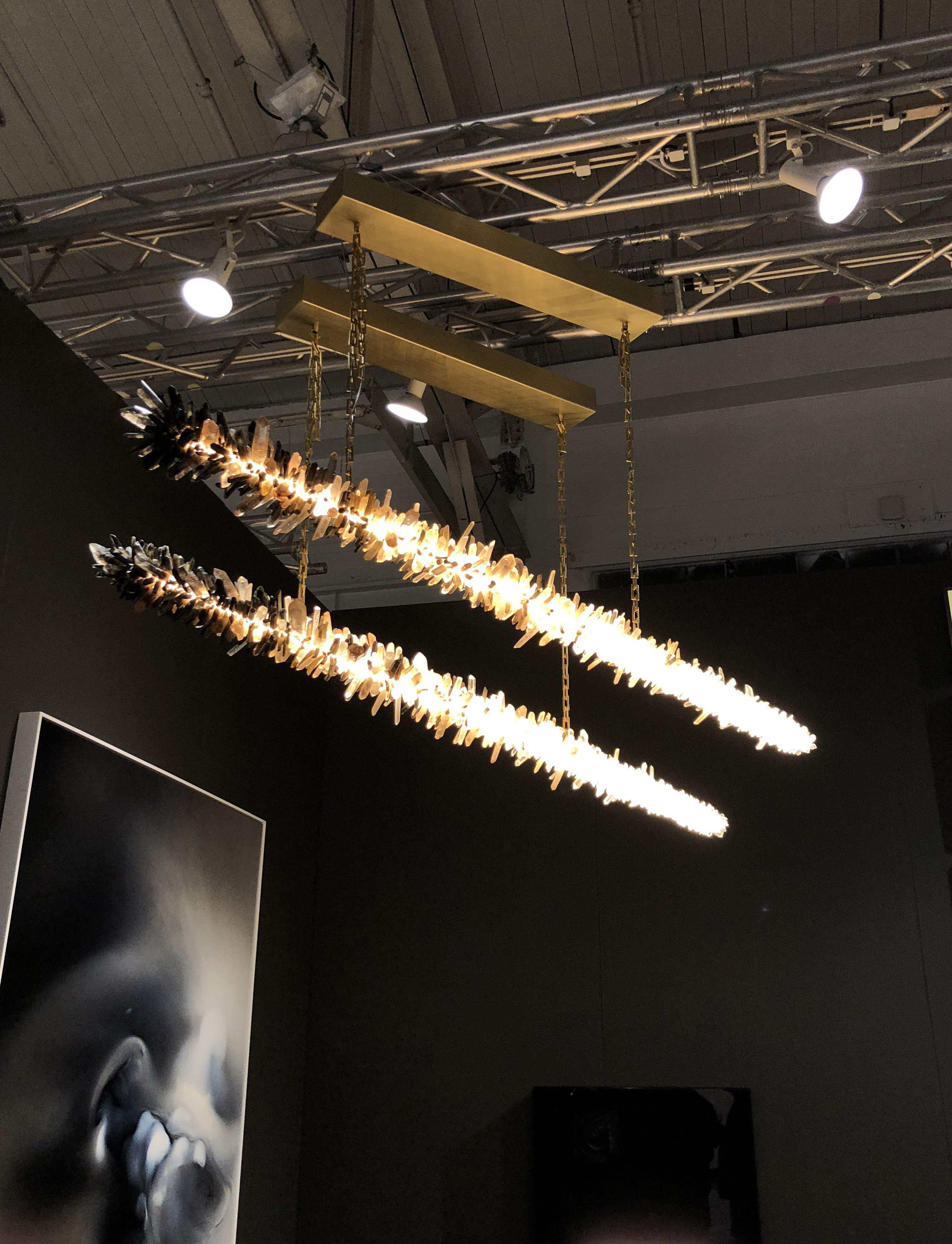 Christopher Boots is a Melbourne-based industrial designer driven by a love of nature and light. He has created numerous large-scale public commissions, along with custom private installations around the world. His work Meteor implements a gradation of smokey-to-clear natural quartz, conveying the movement of cosmic matter. Light emanates through the crystals, casting a dramatic warm glow through the use of LED technology. The shape and energy of Boots's Meteor capture the dazzling dynamism of meteors tearing through the sky.
Stainless steel, lava rock, magnet, paint (yellow)
31 1/2 x 21 7/8 x 4 in.
Tanya Bonakdar Gallery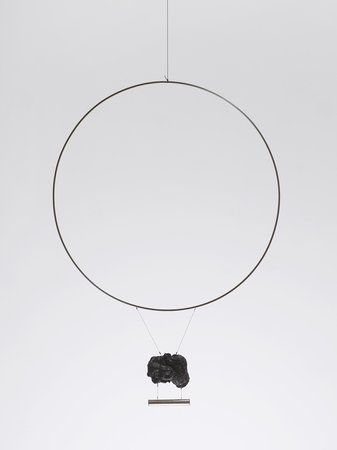 An artist who time and again spectacularly manipulates the viewer's perceptual and phenomenological experience of the world, Olafur Elíasson is widely known for staging all-encompassing installations often using scale to completely envelop viewers in fantastical worlds. Suspended State Compass distills the artist's mesmerizing practice into a single, minimal, and elegant object. The pendant is part of a series of unique mobiles that explore the idea of navigation and orientation. Suspended from the ceiling, each compass is composed of an element from the artist's studio in Berlin (here, a piece of lava) and a magnet that directs the compass towards the North. Installed in a home, the piece orients the residence as the central locus on an invisible map, and reminds the viewer of her relative position in the world.
[related-works-module]
RELATED ARTICLE:
6 Outstanding Artworks at Untitled, San Francisco
SEE ALSO:
Furniture and Lighting on Artspace