Sometimes less really isn't more. We can all admire mid-century minimalist glass box homes, but not all of us would genuinely want to put on our cosy clothes and chill in a modern day descendent of the Barcelona Pavilion.
A set of books, a beautifully executed fabric design, or a simple tabletop puzzle can turn an exquisite, though slightly austere property into a loveable living space.
With this in mind, we've grouped together a series of domestic objects that we think will give your house or apartment the kind of lift you've been looking for.
There's neo-expressionist works, Turner Prize-worthy tea towels, and a t-shirt and sweatpants combo that signals the wearer's deep understanding of both contemporary art and geo-politics. Pick a bundle or two and live life a little more lively this season. To see all these great pieces and more in one place (with a special offer to buy them) go here.
KAREN KILIMNIK & RYAN MCGINLEY - 2 Beach Towel Set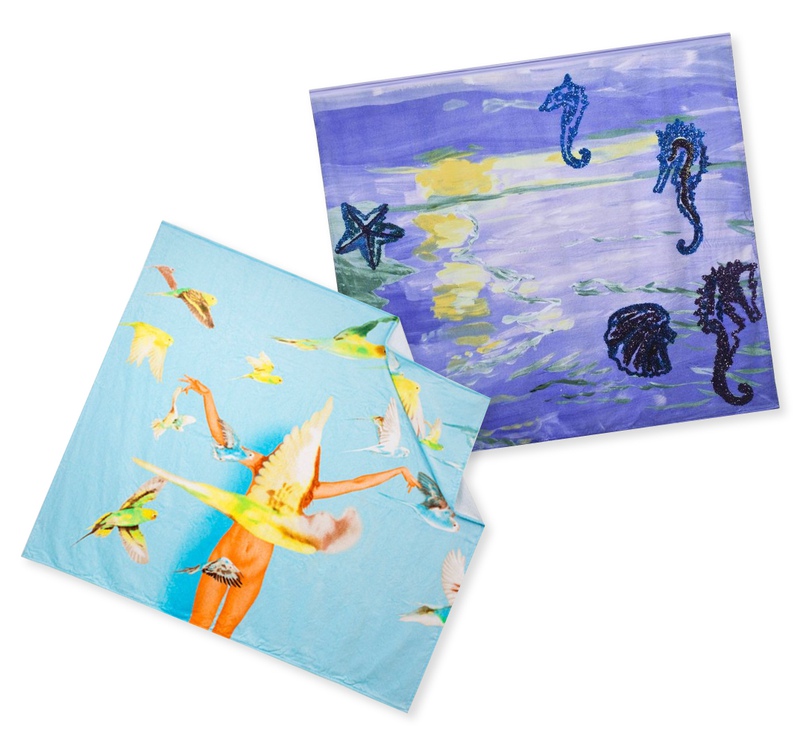 How do you want to dry off after your next wild day out in the great outdoors? The acclaimed East Coast fine art photographer Ryan McGinley offers one option with his ravishing Parakeets work from 2011, printed onto a 100% cotton, machine washable towel. McGinley rose to prominence in the early 2000s, with his exuberant, nude portraits, which seem to express a loveable, carefree sense of hedonism.
Karen Kilimnik, meanwhile, presents a blissful, free floating marine dream in work, Seahorses, Star Fish. Kilimnik's art forms part of MoMA, the Met, the Guggenheim and the Whitney's permanent collections, and she has alighted on a wide range of subjects throughout her varied and successful career, from witches, to Greek gods, to movie stars. This towel is the perfect choice for a late summer beach break, though it would work equally well in a nature lover's bathroom. Can't choose between them? Don't worry; they're available as a pair, at a great price.
JEAN-MICHEL BASQUIAT - 'In Italian' and 'Toxic' Two Puzzle Set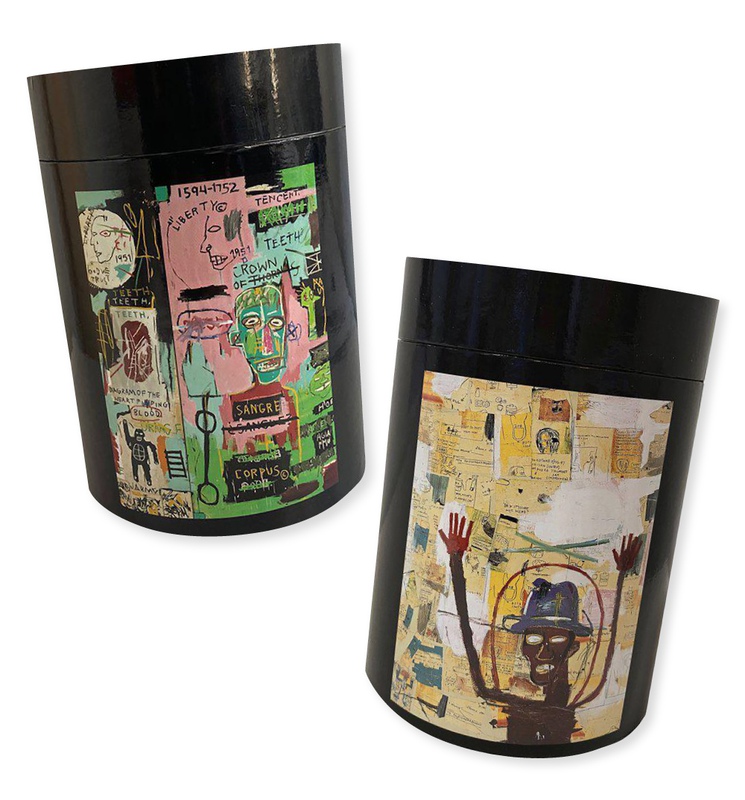 Basquiat puzzled the established art world, when he rose to fame in late 1970s, first as graffiti artist, then as downtown gallery star. His dense, neo-expressionist works are hard to fully understand, but easy to love; they sold for thousands during his short lifetime, and now change hands for many millions, even though the dreadlocked, black art star found it hard to even hail a cab in 1980s New York, despite his wealth.
Why not try to piece together the man via these two works of art, In Italian (painted in 1983); and Toxic (from 1984); they're both from classic works, and both now available as jigsaw puzzles.
AI WEIWEI - Zodiac Ox T-shirt & Pants Set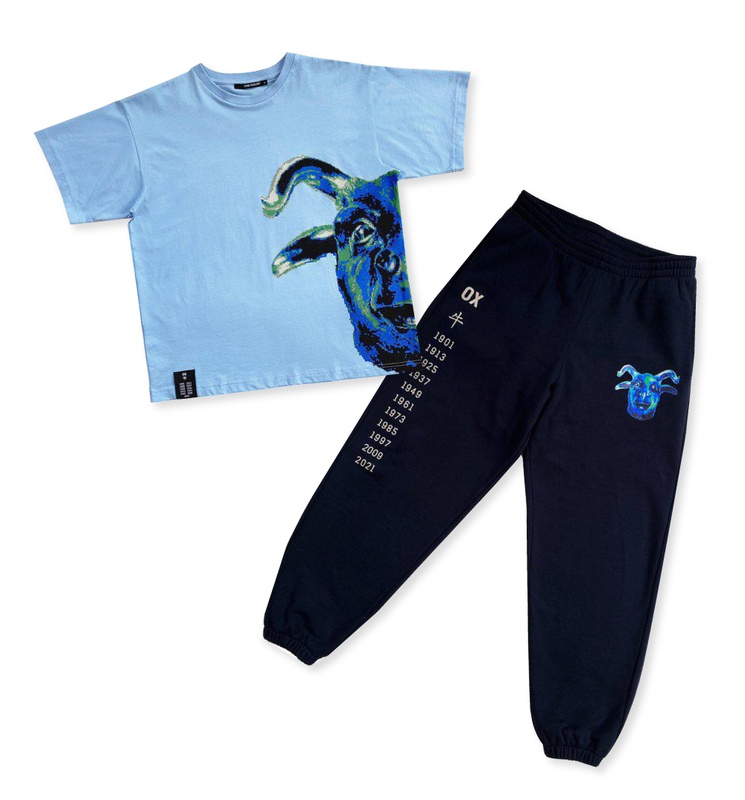 For his first major public sculpture, Ai Weiwei recreated the bronze animal heads which once adorned the famous Zodiac Fountain in Yuan Ming Yuan, the Old Summer Palace, in Beijing.
Those beautiful works were looted by Anglo-French troops in 1860; some have been repatriated to China, yet a few remain unaccounted for and are the subject of fervent debate among Chinese nationalists. Ai is no nationlist, yet his versions of the heads raise questions of authenticity, national pride, and cultural hegemony. Play your part in the debate by donning this Ox head t-shirt and pants set; the clothes may be cosy, but the cultural politics are on point.
KEITH HARING - Set of 2 Keith Haring Books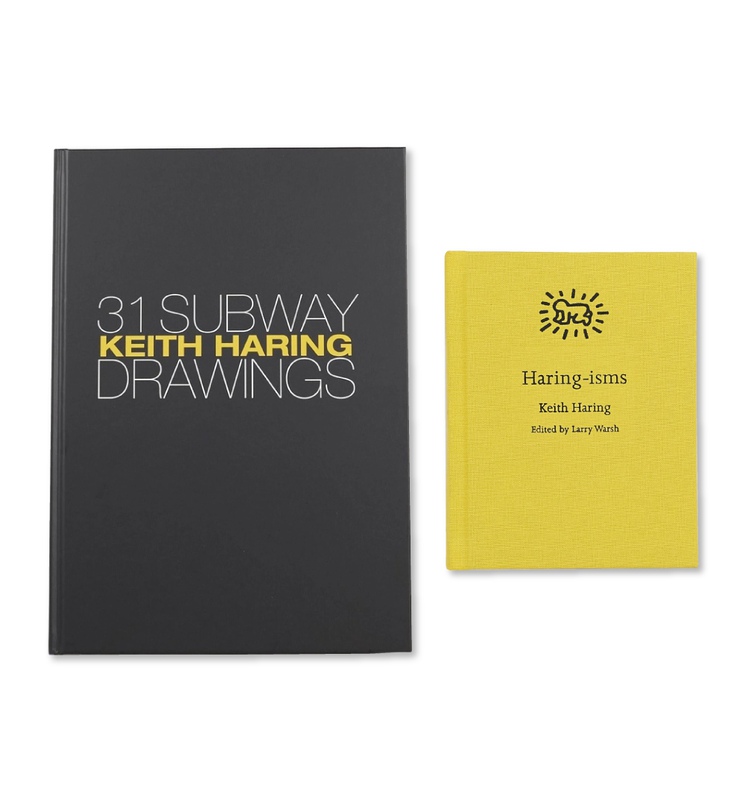 Haring, like Basquait, found fame on the street before making it within the gallery system. Most of Haring's street art has long sincle disappeared. To truly understand his early foundations, you should really snag a copy of 31 Subway Drawings. The book reproduces the works the artist made on the empty advertising panels in New York City's subway system. These smart, subversive, and expressive works are complemented with archival material and essays by Haring scholars.
Need a little more context? Well, complement this with Haring-ism, a book of pithy quotations, drawn from both interviews and the artist's own journals. The book includes such bon mots as ""Art is one of the last areas that is totally within the realm of the human individual and can't be copied or done better by a machine"; "No matter how long you work, it's always going to end sometime. And there's always going to be things left undone"; and "It's a huge world. There are lots and lots and lots of people that I haven't reached yet that I'd like to reach." Perhaps, via this purchase, he can truly reach you.
DAVID SHRIGLEY - 3 Tea Towel Set by David Shrigley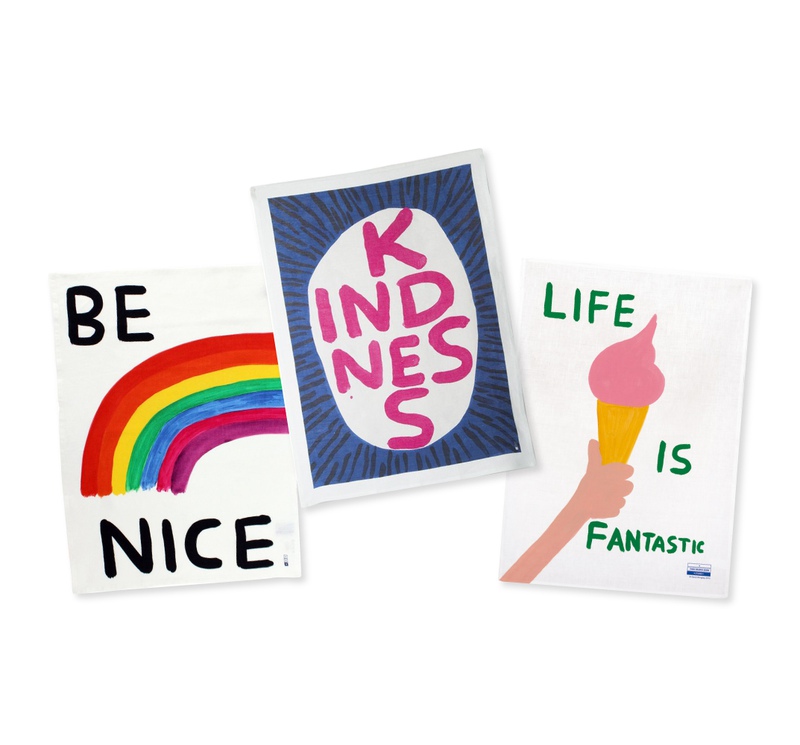 Keeping the kitchen clean and tidy can be a never ending task. Thankfully, David Shrigley, the British artist, can almost always cheer us all up. Over the past three decades, his roughly sketched, sharp-witted works have been shortlisted for the Turner Prize, displayed in prestigious galleries on both sides of the Atlantic, and placed on the Fourth Plinth in London Trafalgar Square.
These signature pieces, are imbued with the kind of cockeyed optimism gallery goers have come to expect from this whimsical contemporary artist. Get them, and housework might not seem quite so bad ever again.
To see all these great pieces and more in one place (with a special offer to buy them) go here.