There is no shortage of exceptional talents at this year's edition of Art Cologne—particularly on the third floor, which boasts NADA x ART COLOGNE COLLABORATIONS, the indie fair's interior satellite to the world's oldest contemporary art fair, and the New Contemporaries section. Here are the artists you need to discover.


PETRIT HALILAJ
Chert (Berlin)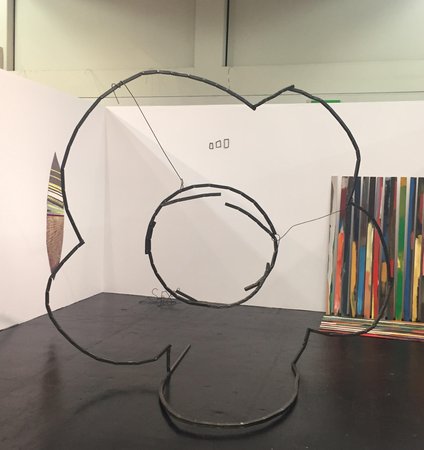 Born in Kosovo in 1986, Petrit Halilaj grew up in the town of Runik amid his country's descent into chaos and internecine atrocities, going to school at a time when kids began doodling m481s and sniper rifles on their desks alongside your typical hearts, flowers, and amateur pornography.
After studying in Italy and traveling the world, Halilaj returned to his hometown as an artist and returned to his middle school just as it was about to be demolished, filming a video of kids vandalizing this former symbol of authority in advance of the wrecking ball and photographing those graffiti-covered desks of his youth. Last year he monumentalized those doodles for a show at the Kölnischer Kunstverein, welding steel tubes to render them as giant drawings in space, and one of those works—a flower strikingly reminiscent of Warhol—was on offer here at the fair for €22,000.
Now 30 years old, Halilaj is already an eminence of Kosovar's new art scene. In 2011, he was included in Massimiliano Gioni's "Ostalgia" show at the New Museum; in 2013, he was the first artist to represent Kosovo in the Venice Biennale; and just last month he closed a massive retrospective at Milan's Pirelli HangarBicocca. Now he's working to set up a new studio in Berlin, so his gallery is trying to leave him alone for a little while, giving him space to catch his breath.
LUCA BERTOLO
SpazioA (Pistoia)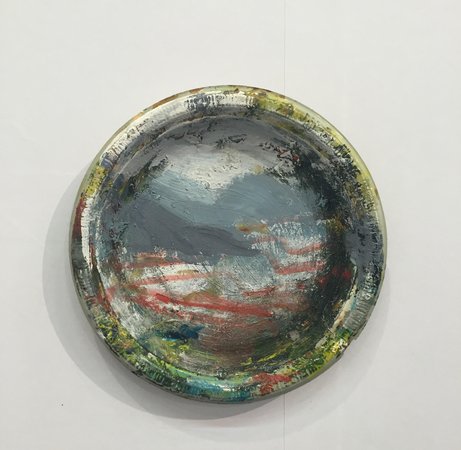 The Italian painter Luca Bertolo, nearing 50, lives among the green mountains of the Tuscan Apuan Alps, where he paints and paints and paints. On everything. At the fair, SpazioA brought a few of his canvases, which have a natural, easygoing style of figuration, and, more interestingly, a series of disposable plastic plates that the artist used to wipe off his brushes until he realized that they were worthy canvases in their own right as well.
Now these dishes contain lush, abstracted landscapes from his region, going for €2,500 apiece—a hefty price for a piece of plastic, sure, but one reflecting his history of showing with venues like the Fondazione Prada, Galerie Perrotin, and Marc Foxx in Los Angeles. 
STUART RINGHOLT
Galerie Neon Parc (Melbourne)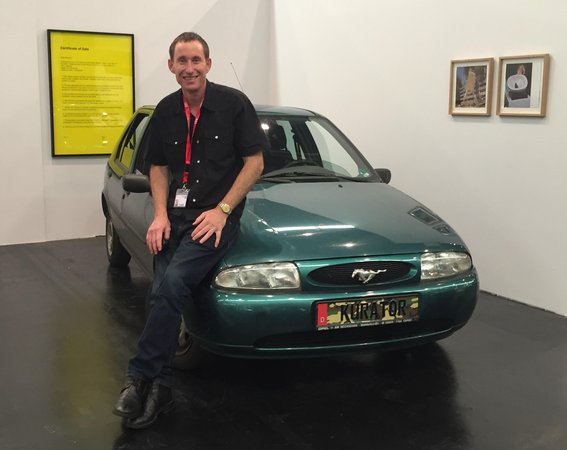 The artist Stuart Ringholt
The Australian artist Stuart Ringholt is adept at seizing attention, to say the least. Walking into the fair this year, one immediately encounters his work on the front steps in the form of rather unremarkable cars bearing vanity license plates that read "Curator," "Kurator," or other variations of the art world's favorite non-artist profession. There are seven of them scattered throughout the fair, including one in Neon Parc's booth that was blaring the Modern Lovers' "Roadrunner" during the vernissage, and each was selected from a movie-casting catalogue and priced at $25,000 regardless of the make. 
Ringholt thinks of these cars as collages of a sort, since his contribution is to overlay one thing on another, which puts them in the same vein as his pieces at the fair that collage an obtrusive object over a pornographic image, allowing the subject to look out at the viewer but not be viewed in return. These notions of nudity and voyeurism also come into play in the artist's most headline-grabbing contribution at the fair: on Friday, before Art Cologne opens, Ringholt will lead an all-nude tour of his favorite works on display, open to all body-comfortable art lovers who apply, which will conclude with a coffee and discussion of such ideas as whether the body is more sexual with clothes on or off (the artist thinks on) and why there's so much discomfort around nudity.


 This, after all, the the subject of a PhD thesis he just completed, and it's the second time that the artist has offered to sell the performance (€130,000), an edition of which is currently owned by the Museum of Contemporary Art Sydney. Those are the only editions he'll ever sell, the artist says, though he reserves the right to keep one artist's proof—which is, of course, himself.
YURI PATTISON
Supplement (London)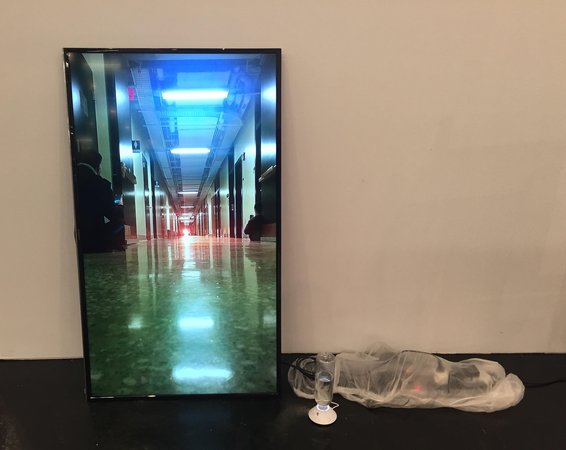 A star of London's future-shock art scene, a milieu that often has some connection to DIS Magazine, the Irish-born artist Yuri Patterson has been preoccupied of late with sleep—specifically the way that our reliance on nourishing shuteye is increasingly being seen as a liability in our global, around-the-clock, never-switched-off tech-enabled world. (Such ideas have been illuminatingly discussed by people like Columbia art scholar Jonathan Crary, whose book 24/7: Late Capitalism and the Ends of Sleep ponders the way that the kind of advanced wakefulness aids used by elite fighter pilots presage an era when only the rich can afford to sleep while the laboring classes work in perpetually lit cities.)
At the fair, one €11,000 work examining this notion was a video—displayed on a flatscreen TV optimized to eliminate sleep-affecting blue light in the evening hours—of MIT students watching as the sun sets along the school's so-called Infinite Corridor to illuminate the entire length of the hall, a phenomenon called MIThenge that happens several times a year; alongside this video, Pattison included a little vaporizer spraying the air with a mist of melatonin, the naturally occurring chemical that triggers sleep. It worked like a charm—one dealer at the gallery said he had to drink a coffee every hour to stay alert.
Pattison is certainly one to watch: this summer he'll have a solo show at the Chisenhale Gallery that's the product of a two-year residency that he used to build a server farm for a Bitcoin-mining operation, and now he's been commissioned by the ICA London to make a new online piece in response to that museum's influential 1968 exhibition "Cybernetic Serendipity."
GRACE WEAVER
Soy Capitán (Berlin)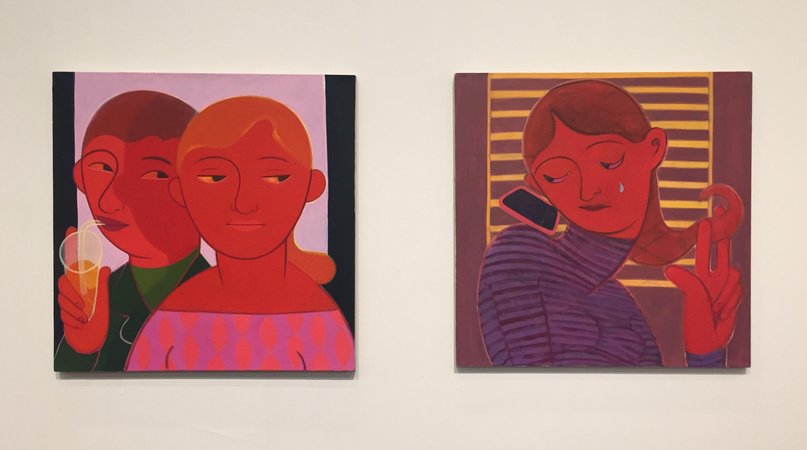 The 26-year-old Burlington-born, New York-based painter Grace Weaver just graduated from Virginia Commonwealth University but she's already off to brisk start, getting attention for her punchily colored paintings of young bohemians bumbling around town. Inspired by Persian miniatures, which provide a model for her dense compositions, Weaver likes to depict notions of girliness and cuteness—both characteristics that are viewed as superficial, but that she thinks should be taken more seriously—as well as clumsiness and gracelessness, with her figures often on the verge of an embarrassing slip.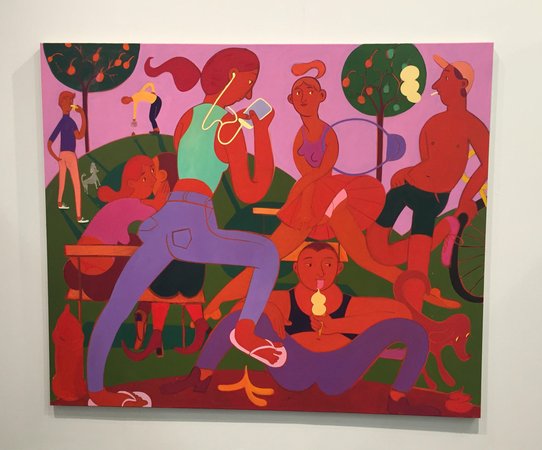 That's the case in her largest painting to date, on view at the fair for €12,500, which features a Seurat-worthy cast of characters enjoying a day at the park, with one woman about to step on a banana peel, another whose panties have been revealed by a gust of wind.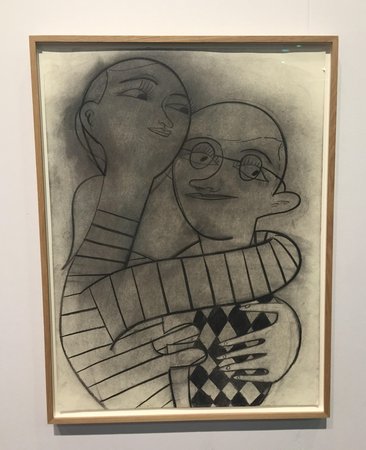 While her figures may recall the loping characters of Sanya Kantarovsky, her paintings—and drawings, also at the fair for €2,600—have a charming energy all their own. As one of her dealers said, "She's trying to be a voice for the young women of her generation." Given solo shows last year at this Berlin gallery and Thierry Goldberg Gallery in New York, she's also in a group show at Simone Subal right now.
SŁAWOMIR ELSNER
Lullin + Ferrari (Zürich)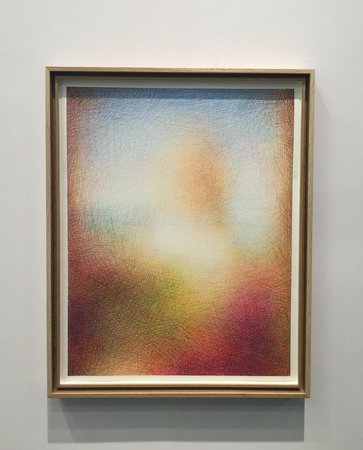 For a series he began last year, the Polish artist Sławomir Elsner has been traveling to the great museums around the globe and photographing great works by the Old Masters, then taking those images back to his studio where he blurs them through Photoshop, projects them onto a piece of paper, and then uses colored pencils to evoke the originals through criss-crossing hatches of straight lines. (He starts with the light colors first, the works toward the dark ones.)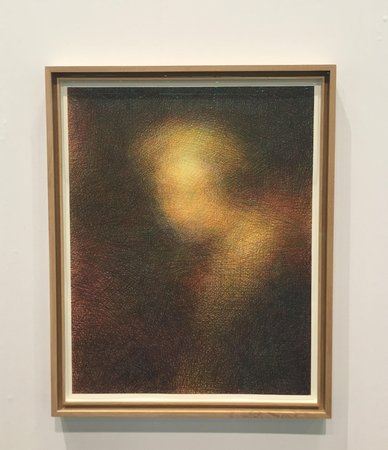 Just turned 40, Elsner has a devoted network of collectors in Germany already, and it's easy to see why from his works at the fair. One, based on Raphael's Young Woman With Unicorn (€7,600), comes off as a rapturous wash of colors in a way that seems to turn that Renaissance artist's delicacy into a visual perfume. Another, from a Rembrandt (€9,500), conjures that painter's brooding intensity alone, leaving behind the warts and all.
VERENA PFISTERER
EXILE (Berlin)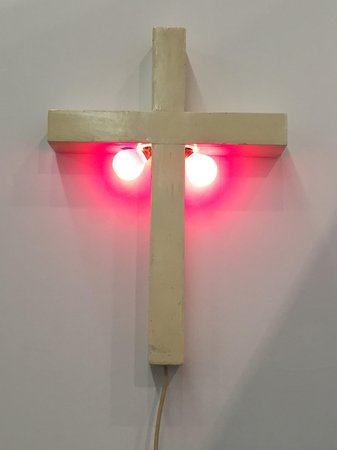 "She's kind of a myth in German art history," a dealer said of Verena Pfisterer, an artist who was born in 1941 in the arch-conservative, religious town of Fulda and who studied at the Art Academy in Düsseldorf until she grew tired of the machismo of its scene. (The famed painter Jörg Immendorff, a peer there, once said that "women artists are for the KKK," with those letters standing for "küche" [kitchen], "kinder" [children], and "kirche" [church].) From the twin traumas of her rigidly Christian upbringing and scarring brush with misogyny, Pfisterer built a captivating body of work aimed at self-therapy and then, in later years when she became a working therapist, at treating others like herself.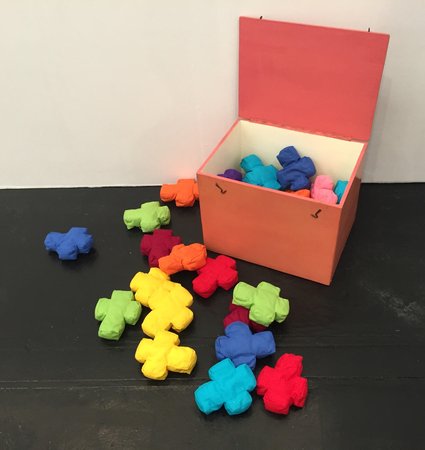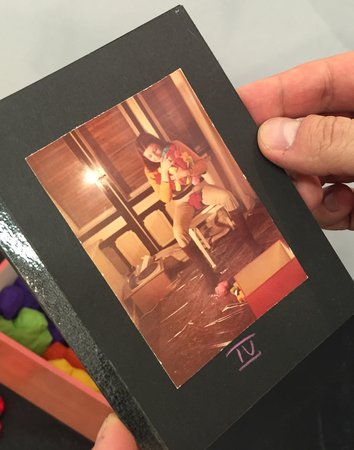 In the fair, these were exemplified by an illuminated crucifix hung with glowing red balls (€15,000) that the artist would parade through local bars in protest of the church's patriarchy, a box containing gender-hybridizing genitals (€15,000), a series of delicate drawings, and a chest of soft little stuffed crucifixes (€28,000) that she would let patients play with, as documented in a rare leporello brought by the gallery.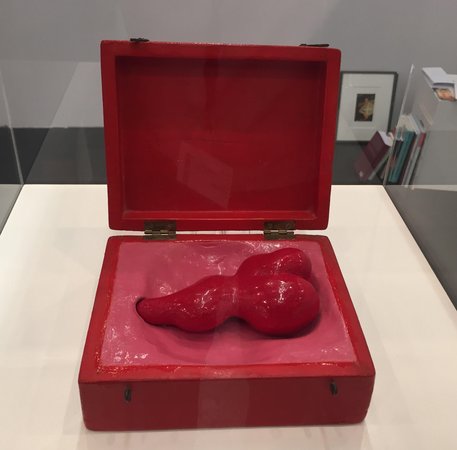 A performance artist and photographer as well whose work recalls Valie Export and Lygia Clark, Pfisterer passed away all but forgotten in 2013—her only real tie to the art world was her friendship with Franz Erhard Walther—and her estate luckily found its way to Berlin's Exile gallery, which is hoping to attract museum attention. "It's more about placement than sales," said the dealer. "I already turned down one sale, which is something I can't afford to do. But I can't bear the idea of her work going into a private home and disappearing forever." Deutsche Bank, however, made the cut—it acquired four drawings for its renowned works-on-paper collection, at €3,500 each.
RY DAVID BRADLEY
Evelyn Yard (London)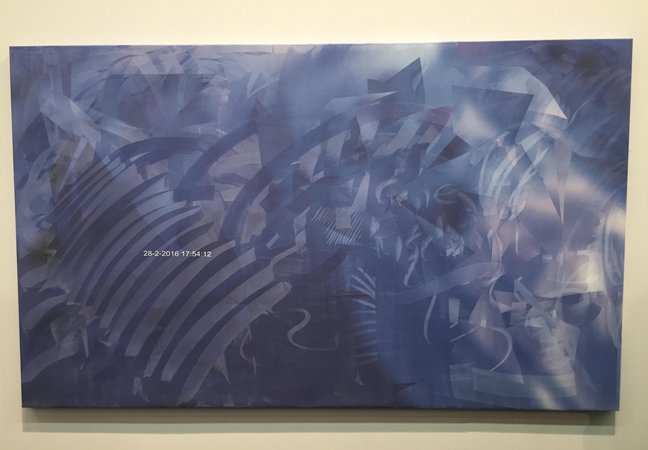 There was a scrum of collectors jockeying for works at Evelyn Yard's solo booth by the Australian artist Ry David Bradley, a frenzy sparked no doubt by the instantly catchy interactive surprise at the heart of his paintings. First, his process: the artist begins with a digital image, either a screen-grab of a person live-streaming on the Periscope app or an urban landscape captured on CCTV, then digitally distorts these images into something Cubistic, then uses a dye transfer to imprint the pictures on synthetic suede. Now, the fun part: because he didn't use a fixative to harden the suede, fairgoers could use little foam brushes to "paint" their own patterns in the soft surface.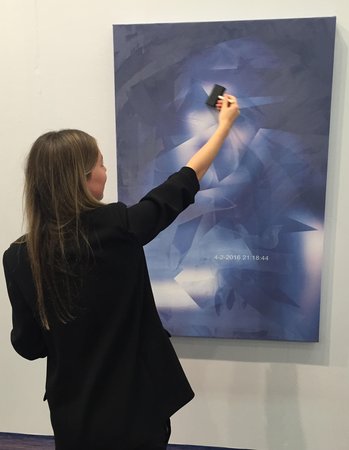 The artist wanted the paintings to be changeable and changing, like digital code, said a dealer, who noted that one of the pieces (€3,500 for the portraits, €5,500 for the landscapes) sold within the first five minutes, and things had proceeded at a fast clip since. "I haven't had anything to eat yet," she said, clearly surprised. "I haven't even had a chance to go to the loo." Slated to be shown at the Brussels Art Fair next week as well through Brand New Gallery, the artist also solo shows at Evelyn Yard and Australian Centre for Contemporary Art coming up this year.
JULIUS VON BISMARCK
Alexander Levy (Berlin)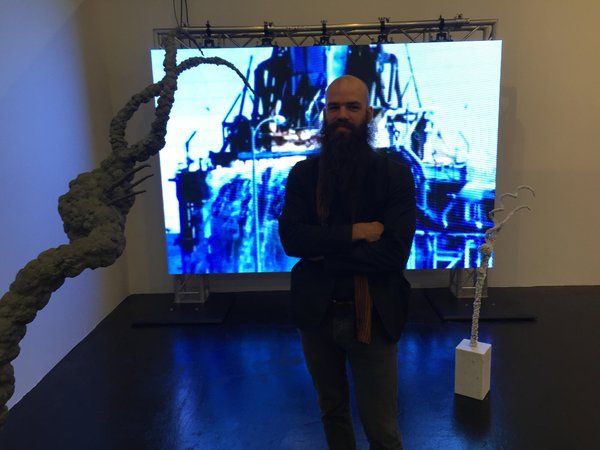 The artist Julius von Bismarck
A former student of Ólafur Elíasson's at the Universität der Künste Berlin, Julius von Bismarck has been fascinated with the history of the space program ever since he began launching rockets into thunderstorms to create artificial lightning, and over the years he has visited all the major space museums to glean what he can of their amazing mechanics. But while the museums only told the stories of the space-shot efforts that worked, Bismarck was more interested in the botched attempts. "For me these failures tell much more about the human will to leave the planet than the successful launches," he said.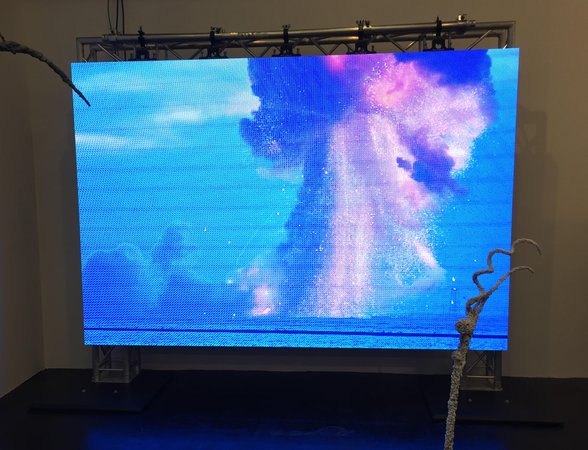 The fruit of this interest was on view at the fair, where the artist presented a video (€10,000) composed of footage from historic rocket failures, from a misfire of Hitler's V-2 ballistic missile to one of SpaceX's whiffed attempts to land its Falcon 9 rocket on an autonomous robot barge (a feat it managed to finally pull off last Friday). As a record of hubris and the strain for superhuman glory—the artist considers successful launches to represent "the ultraphallus, a penis so big it can leave the planet"—the video stirs, and also shocks, considering that the Challenger is one of the most visually spectacular failures. (That tragedy, which led to the deaths of seven NASA astronauts 73 seconds into the rocket's flight, is also represented in the booth by an aluminum sculpture of its explosion, which resembles a horrific worm. It's available for €16,000.)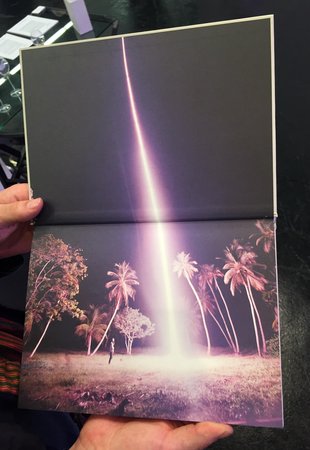 One of the artist's thunderstorm launches
Bismarck is no stranger to spectacle—many may remember him from last year's Art Basel Unlimited, where he sat, walked, slept, and read in a continually spinning saucer for the duration of the fair. Here the work sticks in the brain far more, in part because of the dark note the Challenger contributes. After all, the artist points out, that is the only launch in the video where people died—the casualties in the rest were nothing more than capital. Compare that to the fact that more than two dozen people died building the Brooklyn Bridge, the artist noted, and it makes the achievements of the space program all the more sublime.