"What would it mean to start from a place of abundance?" artist Evan Ifekoya asked with their 2018 exhibition Ritual Without Belief, writes Skye Arundhati Thomas in Phaidon's new book Prime: Art's Next Generation. "Between us we have everything we need." The show held together fragments of the time Ifekoya spends with the archives of artists they admire, particularly Black queer people. In a 2018 interview with Gasworks, London, where the immersive sculpture and image-laden soundscape was first installed, they explained being "interested in the resonances, connections, distinctions between how we have lived, and how we continue to." This is where the abundance lies: in the richness of the past, community ancestry, the wisdom to be gained from the lives already lived, even if history has tried to erase them. An image of light-drenched water printed on vinyl was laid out on the floor and up the walls of the gallery space. It was a representation of the artist's alter ego, Oceanic Sage, whom they describe as "a very watery person." To create their soundscapes, Ifekoya collages together their own voice and atmospheric music with audio clips from popular culture—music references that, for them, hold intellectual concerns of gender and race. They speak of occupying a "polyvocality"; as a queer Black person, they are hyperaware of what it means to have a subject position, as they are often asked to speak for certain peoples and histories.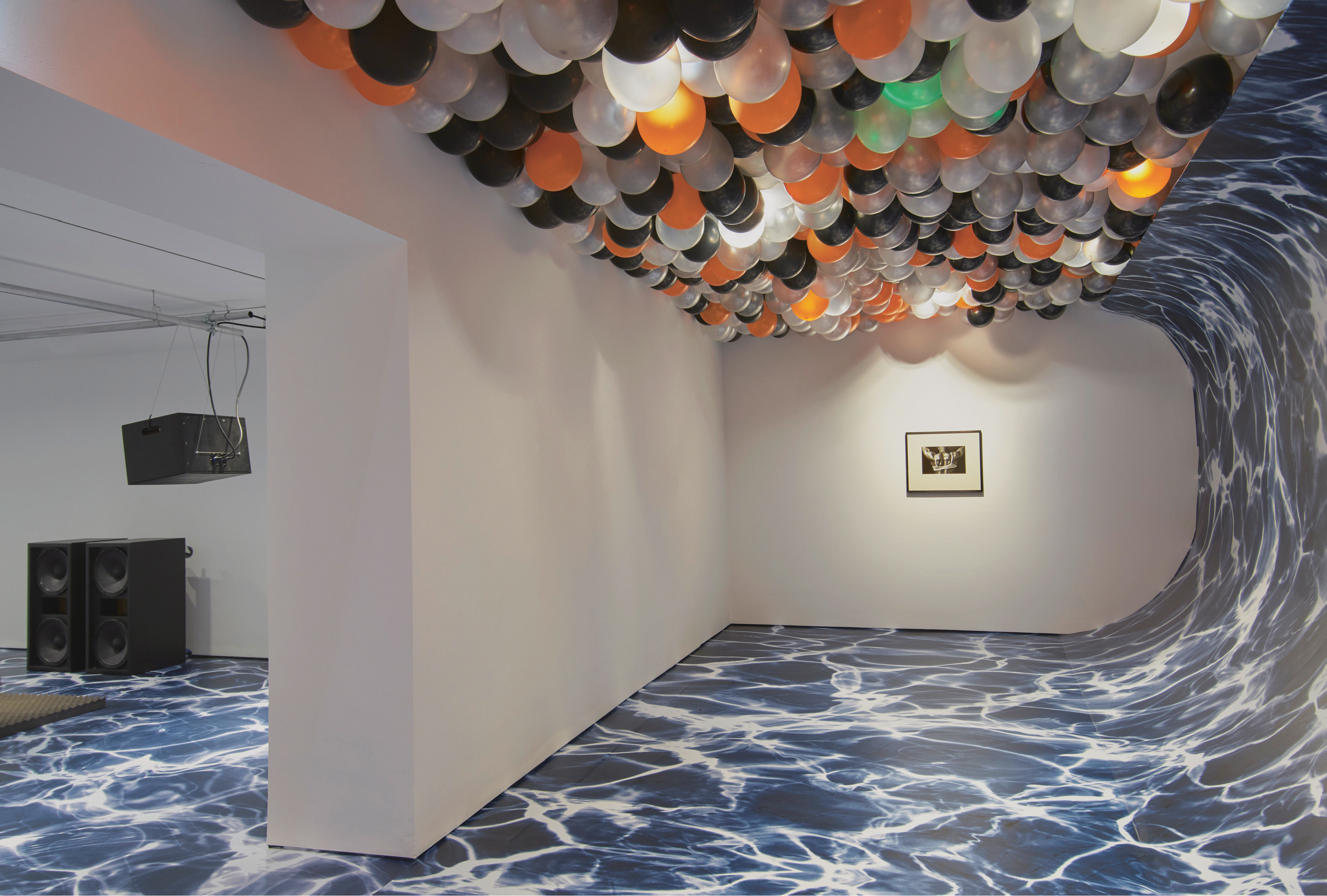 Ritual Without Belief, 2018, mixed-media installation, dimensions variable. Installation view: Ritual Without Belief, Gasworks, London, 2018

At the center of one room in Ritual Without Belief was a framed photograph by contemporary artist Ajamu X, in which a person's muscular back softly ripples open as a delicate white bra is clasped over it. The lingerie is too tight, and very sultry. The image, Bodybuilder with Bra (1990), is both strong and fragile, able to hold the special nuance of what happens between those extremes. Ifekoya slips Ajamu X's work into the space as a way of acknowledging their connection to him—to bridge the gap created by time, one that the artist overcomes through gestures of tenderness and sharing. Balloons float up to the ceiling of the room, a nod to club culture. They carry the metaphor of spiritedness but also of a temporality, of how things can deflate over time and thus need to be reanimated—histories kept alive and breathing. For the video work contoured thoughts (2019), Ifekoya shot a staged scene within a dramatic countryside landscape in Iceland. Time is meant to stand still here; the atmosphere appears otherworldly. The artist's head hovers in a pool of still water, gathered inside a crevice of cut rock. Their eyes are closed, they are meditative—traveling through time, in communion with abundance." - Skye Arundhati Thomas
Ifekoya is one of over a hundred contemporary artists to be featured in Prime: Art's Next Generation, Phaidon's new survey of promising contemporary artists. We asked them a few questions about their life and art. When you've read the story take a look at Ifekoya's artist page on Artspace.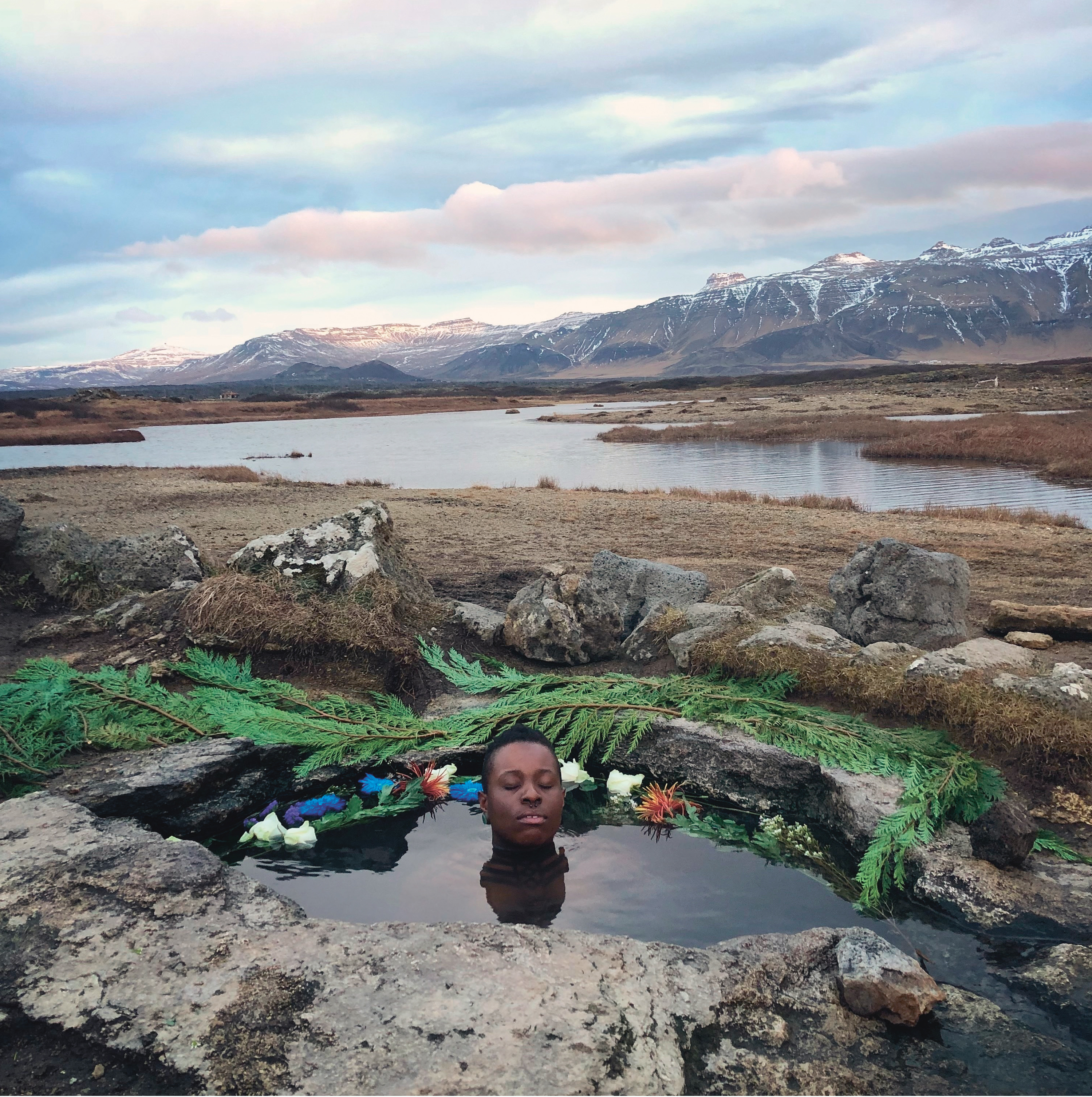 Evan Ifekoya, contoured thoughts, 2019 (still), video, 4:48 min.
How would you describe what you do?
 I think of my work as an artist as an extension of my calling as a spiritual practitioner. I am always intentional about what I create - be that exhibitions, moving image, performance, sound work or writing. I'm also a space holder - for sacred containers, ritual, workshops and sometimes I teach!

What's on your mind right now? We are entering a new season so I'm thinking a lot about cleansing and clearing my environment - mentally and physically, so I can make space for the new. I had quite a transformational experience at the Emma Kunz Centre in Switzerland recently so I'm thinking a lot about that too - about art's capacity to heal and transform and the value of sacred sites and energetic portals.

How do you get this stuff out?
 Working with instruments at home such as rattles and drums helps me to get stuff out energetically. I also record a lot of voice notes on my phone, I have a pretty extensive archive of them now and I make a point to mindfully label each one. Some of them end up a part of my sound works (see Ritual Without Belief and ~ Resonant Frequencies!) Other than that I also keep notebooks and use the notes app on my phone, I take a multi-pronged approach to getting my thoughts and feelings out.

What is a typical working day for you?
 I try to get up at the same time each day, usually by 7am. I write my morning pages, drink tea and meditate for a bit then I do some kind of movement. I'm training pretty hard at the moment - strength training three or four times a week with yoga and jump rope the other days. I'm not training for anything in particular but working out is really good for my mental health and I like the feeling of being physically strong.
After that I eat, drink coffee and check my emails. I try to keep any meetings/studio visits to two days of the week so that I can really take my time with the rest of my day, allowing me to go where I feel called to - to read, to research, to draw, to write, to play. There's usually music playing in the background, which helps keep me focused. I like to break up my day with a long walk, to make sure I get a moment outside and some fresh air. This really helps when I'm feeling a bit stuck creatively, to move any stagnant energy through my body.

In an Instagram age do art books still matter to artists?
 To me, most definitely. Researching in archives and libraries has always been a big part of my practice and it's encouraged me to be proactive about maintaining my own physical archive. Art books are an opportunity to get more in depth information about an artist's practice, more insight into their working process, plus the quality of the images are much better than anything you'll see on the internet!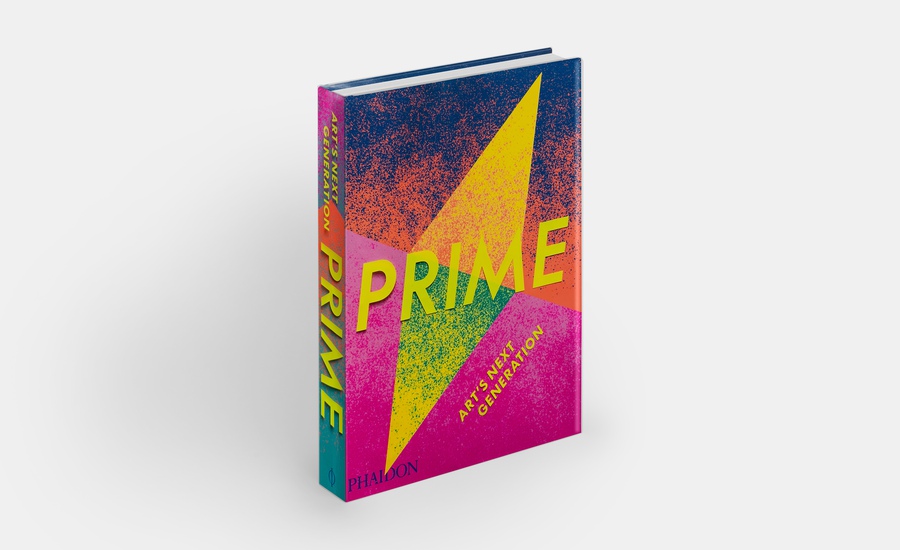 To see more of Ifekoya's work, and that of the art world's most gifted next generation, order a copy of Prime: Art's Next Generation here.