Sebastián Mejía 's photographs show how a city imposes itself onto the plant life that preceded it writes Skye Arundhati Thomas in Phaidon's new book Prime: Art's Next Generation . "He does so with a single but elegant token: the palm tree. Mejía documents the palms of Santiago de Chile, many of which are at least five decades old. In Quasi Oasis 017 (2012), a Chilean wine palm shares a platform with a fuel pump at a gas station. Its trunk juts upward, out through a hole cut in the station roof. Ultimately, it is a jarring scene: concrete has been poured over the tree's roots, and its trunk is encased within the hard interior of the metal roof. Despite the tree's enclosure in concrete and tin, it continues to survive. Its leaves flutter; its trunk is thick and grand; its canopy shifts in the wind.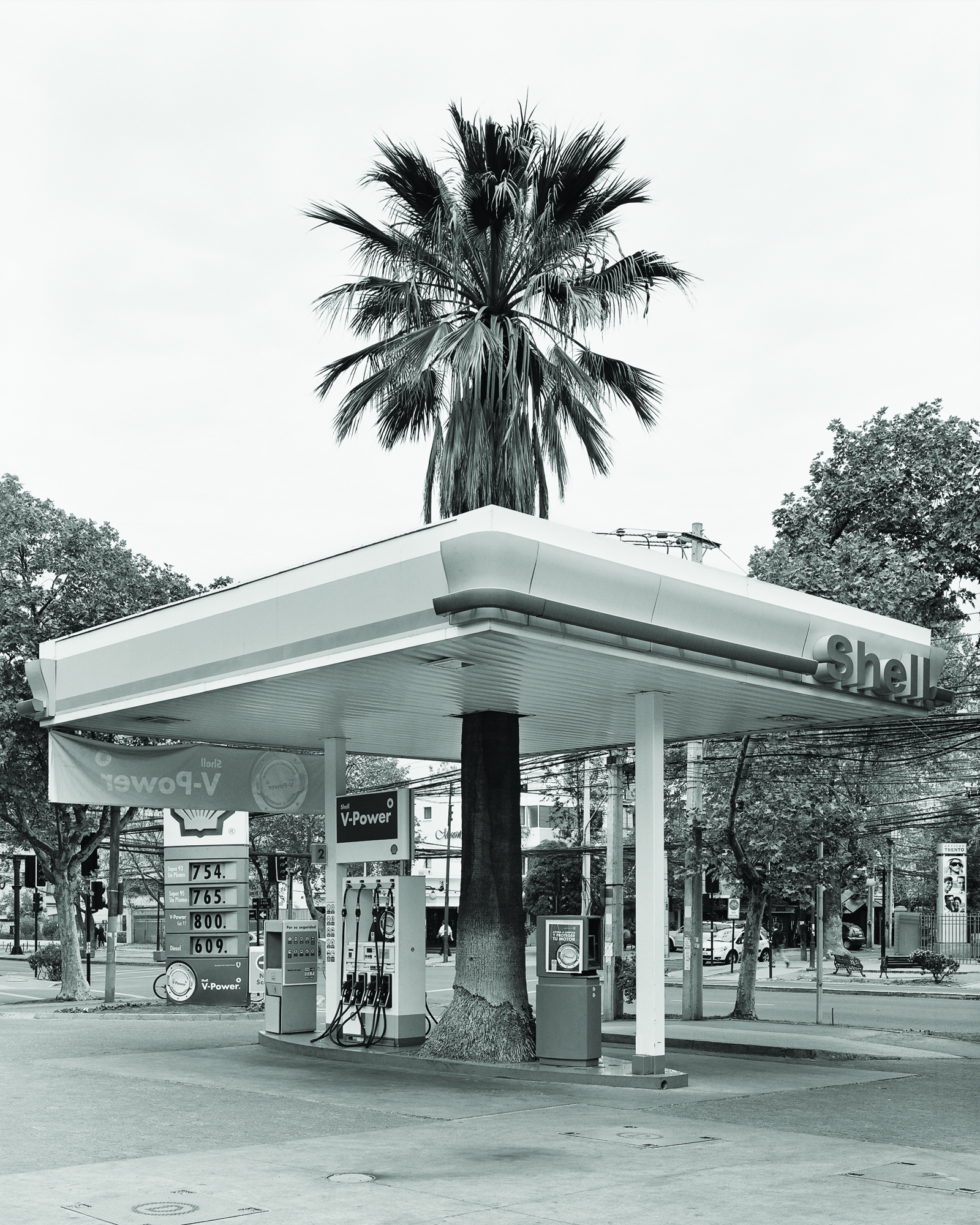 Sebastian Mejia – Quasi Oasis 017 , 2012, c ourtesy the artist

In Quasi Oasis 012 (2013), a Canary palm towers between two small buildings, locked behind an iron fence. Fossil records have estimated that date palms go back fifty-six million years—the palm tree is one of the most resilient in the world. In accompanying images, Mejía zooms into small, often bizarre details: in Landing (2018), a cement globe has apparently, and rather oddly, crashed into the base of a wall, surrounded by debris; in Fence (2018), a thin piece of barbed wire snakes up a wooden fence, like a hurried scribble.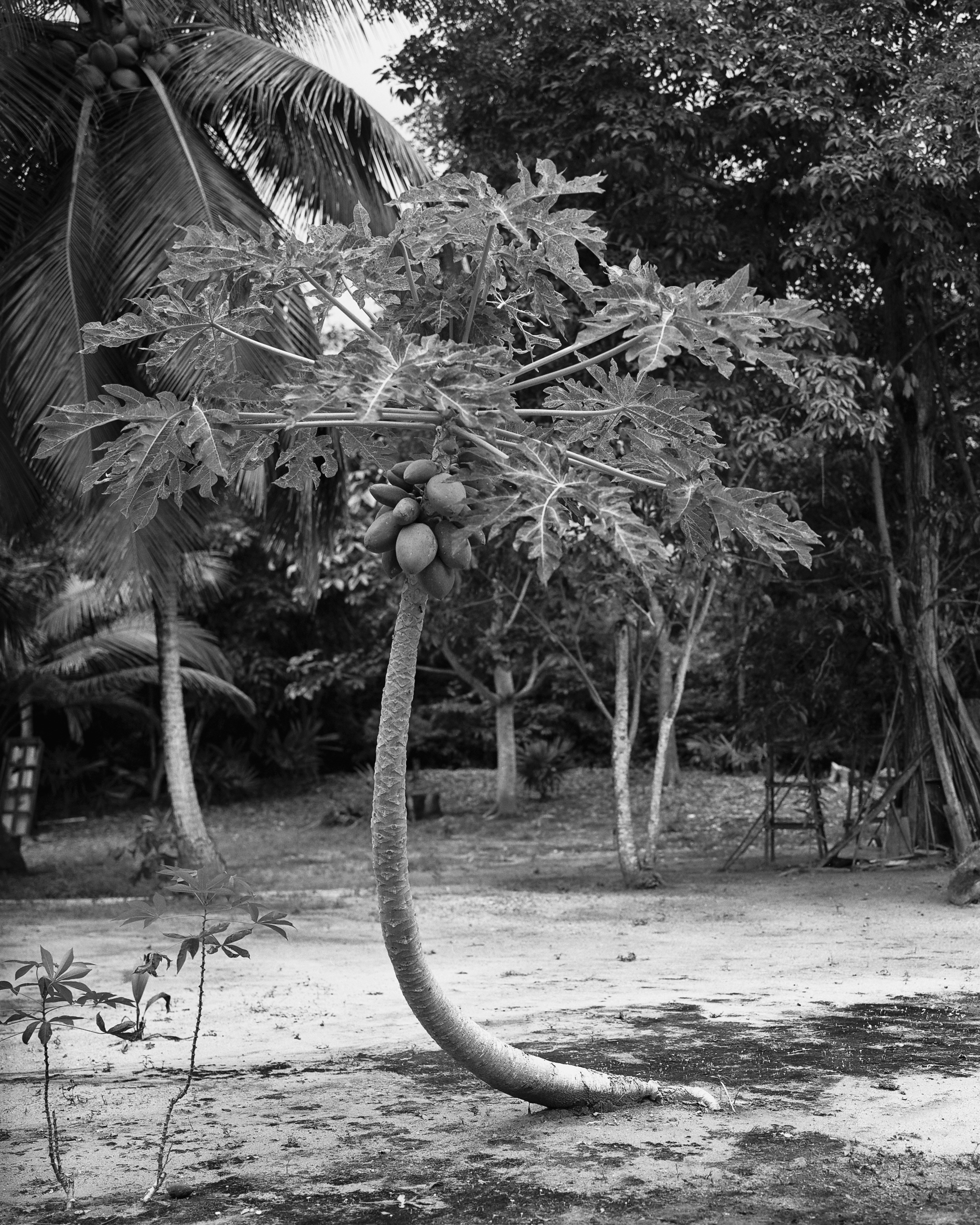 Sebastian Mejia – c ourtesy the artist
Mejía's images offer us depth and scale; we see a city's nooks and crannies and how they often carry the remains of a lusher natural life. The artist places his tree protagonists at the center of his images. "The way in which [the palm] defies gravity is also very moving to me," Mejía said in a 2019 Financial Times piece. His images carry this fascination, reflecting how trees rebel against clean logic.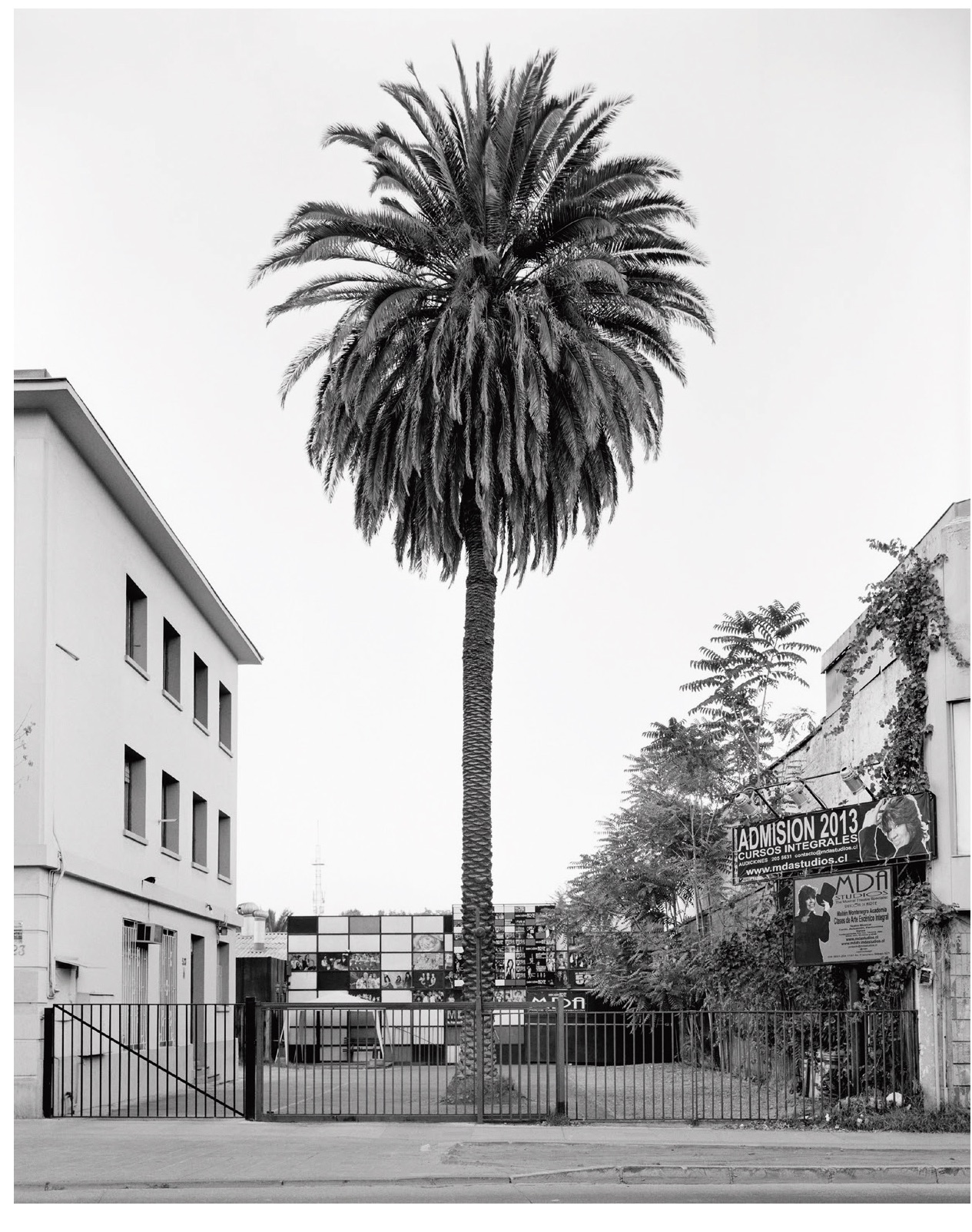 Sebastian Mejia – Quasi Oasis 05 , 2013 ,c ourtesy the artist
In Quasi Oasis 05 (2013), a King Palm's spiky top hovers in front of a tall glass building, an intentional juxtaposition in which tower and tree are shot as though side by side, although in fact they are a great distance apart. Perspective makes it so that they are almost of the same height and stature, two powerful totems in conversation with each other—one an ancient being, slim and robust, the other a shining beacon of the future, all glass, steel, and twenty-first-century flashiness.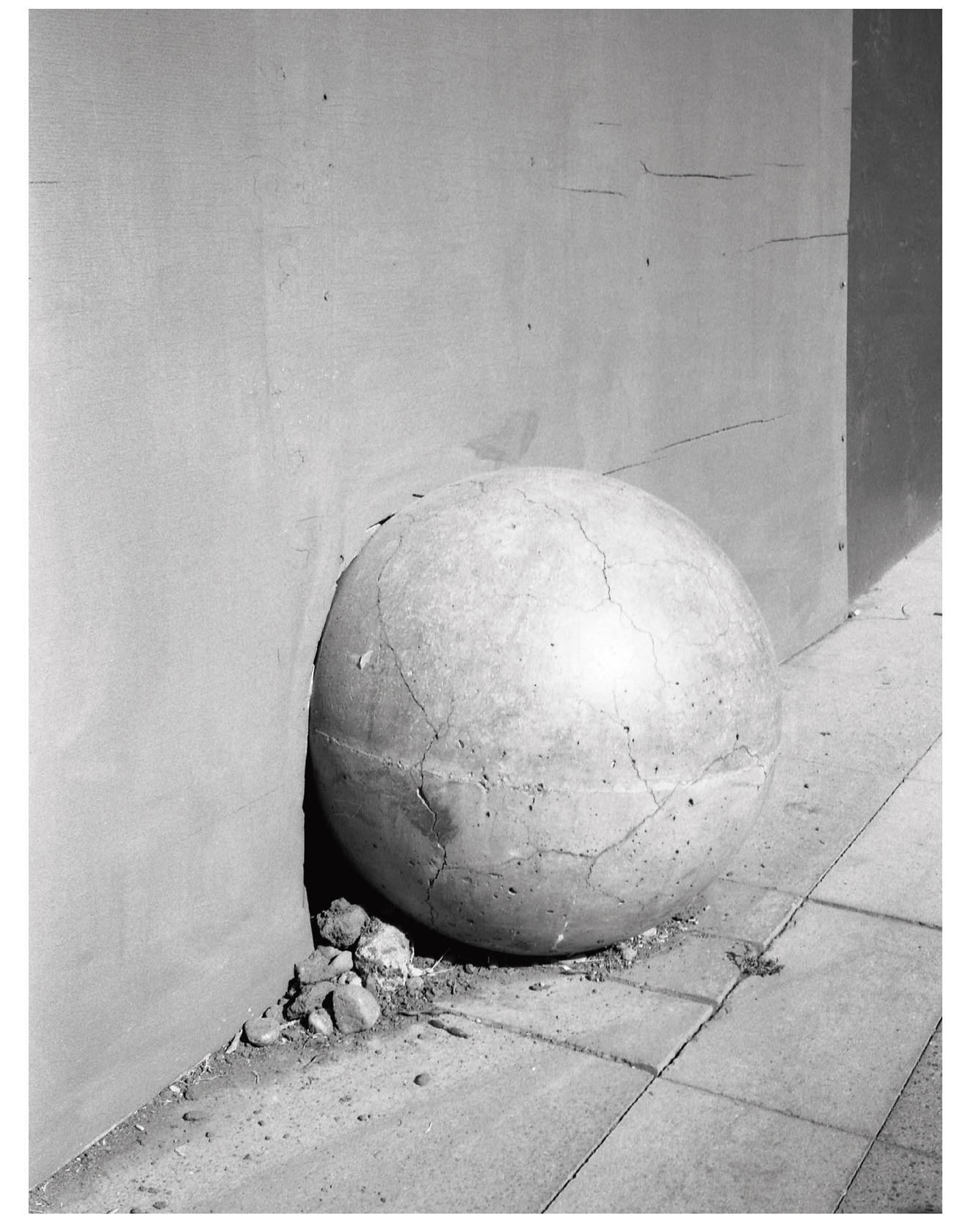 Sebastian Mejia – Landing , 2018, c ourtesy the artist
"The trunk rising up translates into a strategy for survival," Mejía explained in the same interview, "concentrating its energy in order to reach up for the sunshine." These are thirsty trees. In his work, the palm is a witness as much as it is a symbol of survival: it carries the scars and interventions of how time has pushed forward, often so carelessly." - Skye Arundhati Thomas.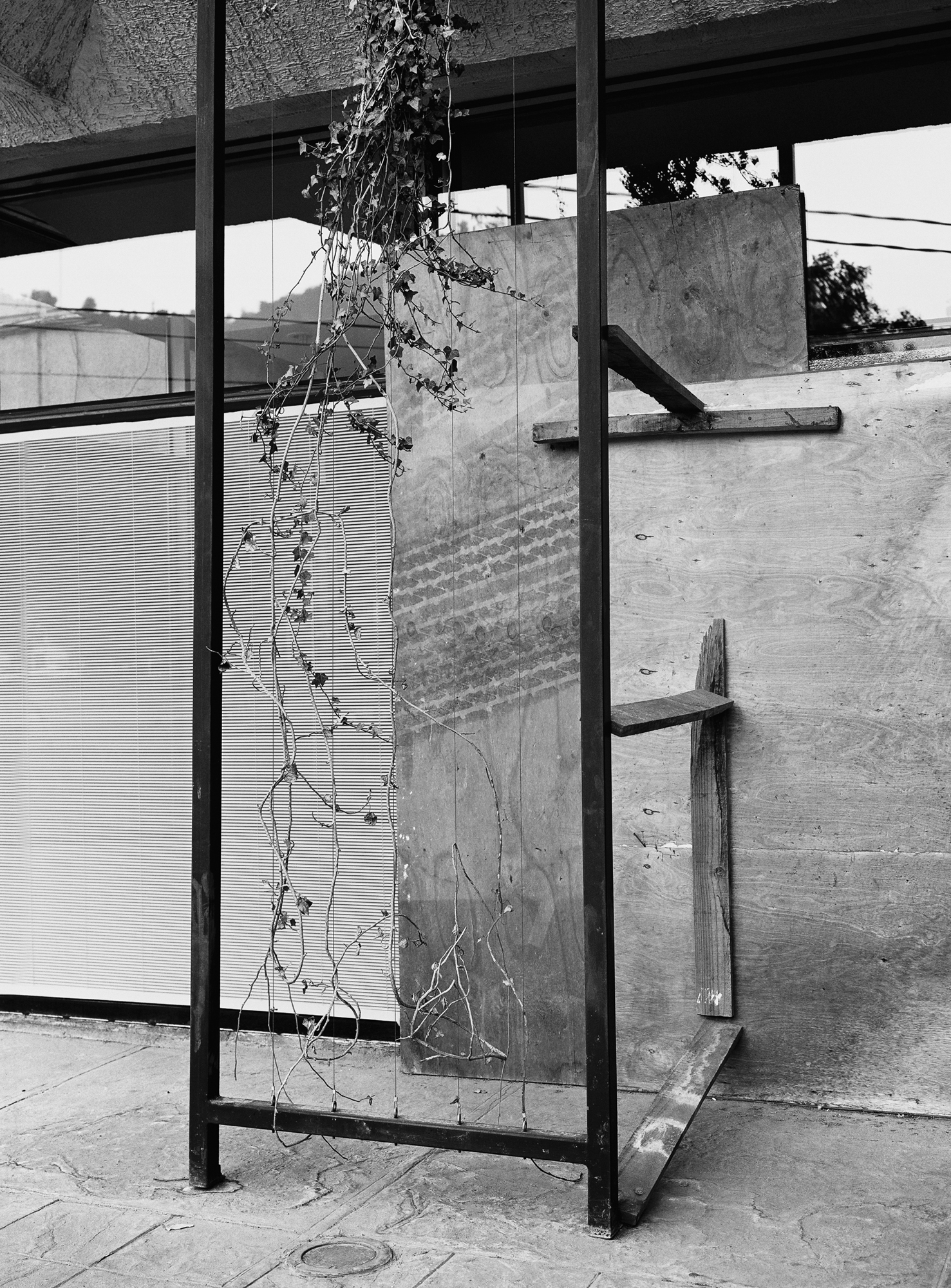 Sebastian Mejia – c ourtesy the artist
Mejia is one of over a hundred contemporary artists to be featured in Prime: Art's Next Generation , Phaidon's new survey of promising contemporary artists. We asked him a few questions about his life and art. When you've read the story take a look at Mejia's artist page on Artspace .
How would you describe what you do? I honor my photographic tradition and at the same time relish in the possibilities of contemporary art.
What's the most exciting thing about where you are in your career right now? I have worked long enough on my craft to allow myself certain liberties/errors. That maybe initially I wouldn't do just to prove myself I can do things right first.
What's on your mind right now? After working in the city for more than fifteen years I have started to explore the fringes, getting dangerously close to stepping out of my comfort zone.
How do you get this stuff out? All of my work is done on film, not only because it forces me to slow down the process but to insist on the material qualities of a medium that is always tending towards the practicality of virtuality.
In an Instagram age do art books still matter to artists? Yes more than ever!  In an age where images are determined by algorithms, just the simple act of composing a series of images together bound by a set of collaborative intentions makes it a sweet resistance to the fidgety habit of scrolling mindlessly.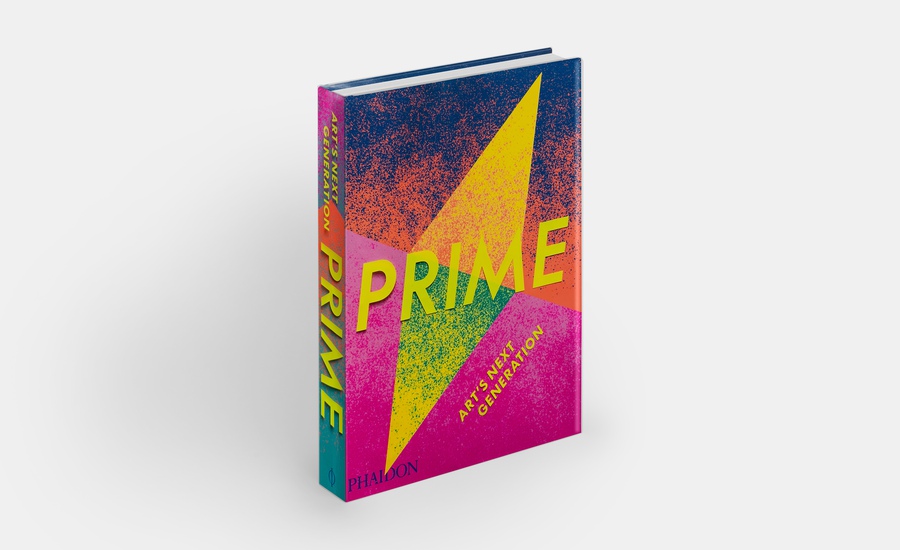 To see more of Mejia's work, and that of the art world's most gifted next generation, order a copy of Prime: Art's Next Generation here .