Buhlebezwe Siwani creates art as a space for healing, often centered on her own body. writes Tamsin Hong in Phaidon's new book Prime: Art's Next Generation . "As a sangoma—a traditional healer and spiritual diviner—Siwani occupies a space between the living and the dead, and her artistic practice is inseparable from this work. Of particular concern to Siwani is sharing the experience of black women, frequently drawn from her own stories, to address ongoing colonial legacies of white patriarchy in South Africa. One of the strategies she employs is to title her works in isiXhosa and isiZulu—the languages of her upbringing—as a way to confine the information they contain to those within the communities or those who have made the effort to learn the languages. In so doing, Siwani points out the Anglophone-centric art world and its residual connections to colonial power dynamics.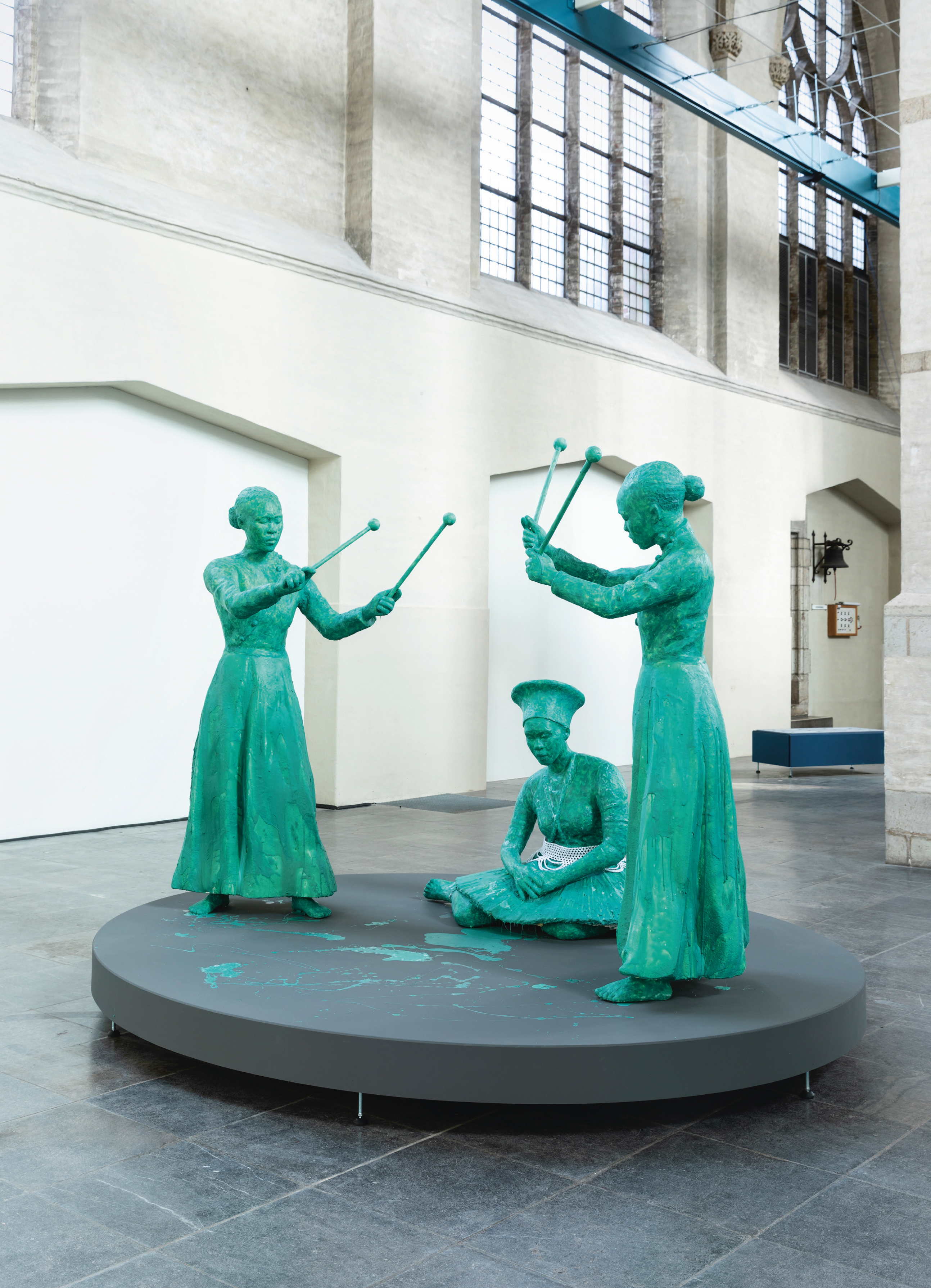 Buhlebezwe Siwani – Yimbasa yelizwe , 2020; courtesy Buhlebezwe Siwani, Museum Arnhem, WHATIFTHEWORLD, and Galeria Madragoa. Photo: Eva Broekema
Operating in many registers, Siwani incorporates everyday objects in her works as a comment on the quotidian occurrences of racism and sexism in black women's lives. In both Yimbasa yelizwe (2020) and Qunusa! Buhle (2015), Sunlight soap features as a comment on the way in which the black female body is both fetishized and considered "unclean." It is also a reference to Siwani's memory of the humiliating experience of having to bathe in public growing up—something that young boys did not have to contend with—and speaks to the pervasive violence of the gaze on young girls' bodies.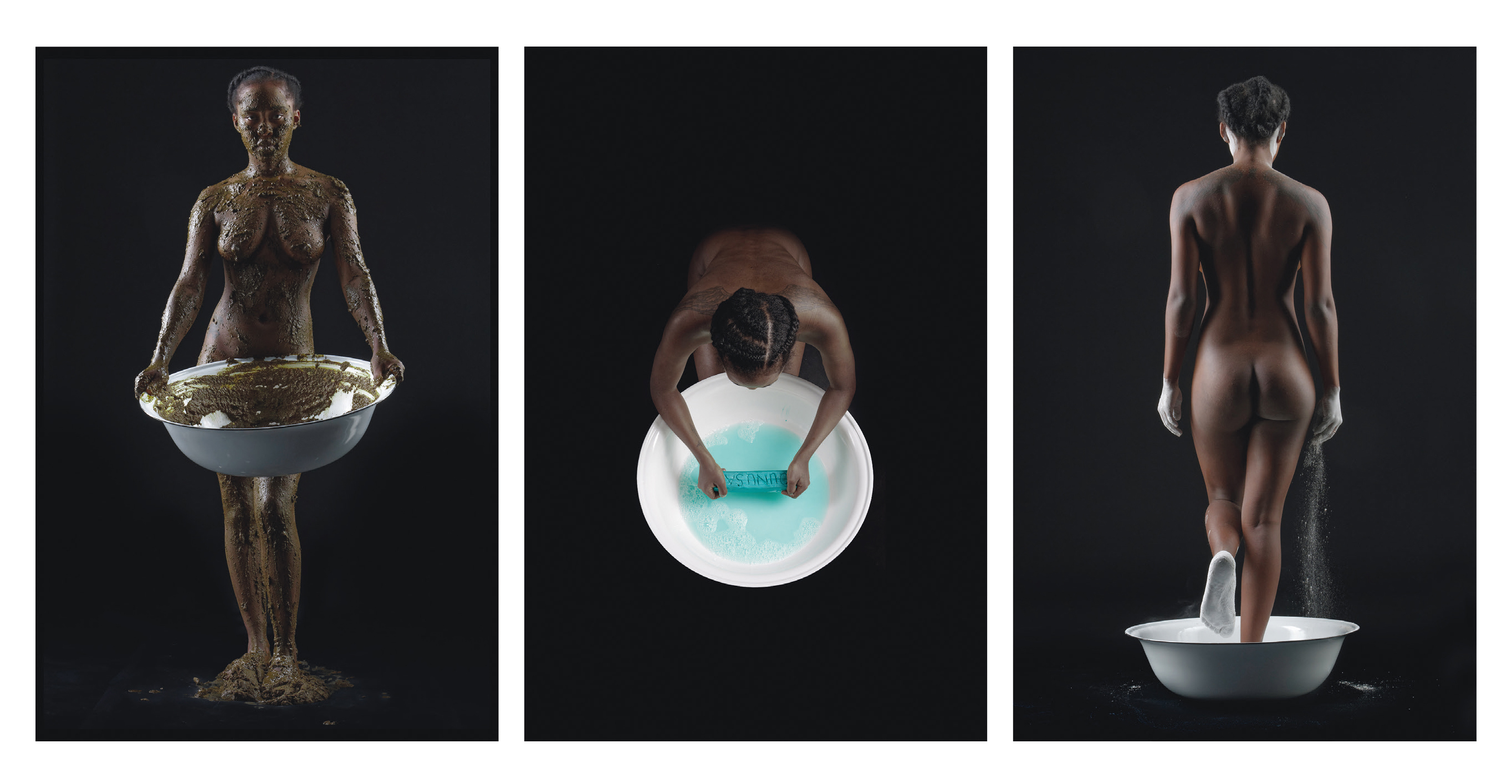 Buhlebezwe Siwani – Qunusa! Buhle , 2015, courtesy Buhlebezwe Siwani and WHATIFTHEWORLD
Reflecting on the problematic teachings of Christianity, a religion introduced as part of the colonization of Africa, Siwani's performative installation insimu yase-Edene (2019) contemplates the story of the Garden of Eden and its teachings about the dynamic between men and women. Supplanting the role of men as "savior," Siwani develops the space as a site where she conducts the saving, as she listens, watches, and eats the symbolically rich apples that form part of the installation. Site specificity is important to Siwani, who often undertakes unseen rituals to energetically prepare the space for the audience.
Her work also explicitly addresses the history and continuation of violence enacted on black women's bodies, as in uKhongolose (2017). Audio reports of women's brutal deaths fill the space as Siwani reads from news reports that describe their murders, surrounded by dozens of microphones that chime in with stories of their own, set up for those who could not be there. The convergence of a multiplicity of voices creates a sense of the collective experience black women share. Underscoring how this violence affects the artist's personal life, Siwani states at the end of the piece, "Every day I wonder whether it is my turn. Every day I turn around and look at the many behind me thinking 'this is it.'" - Philomena Epps.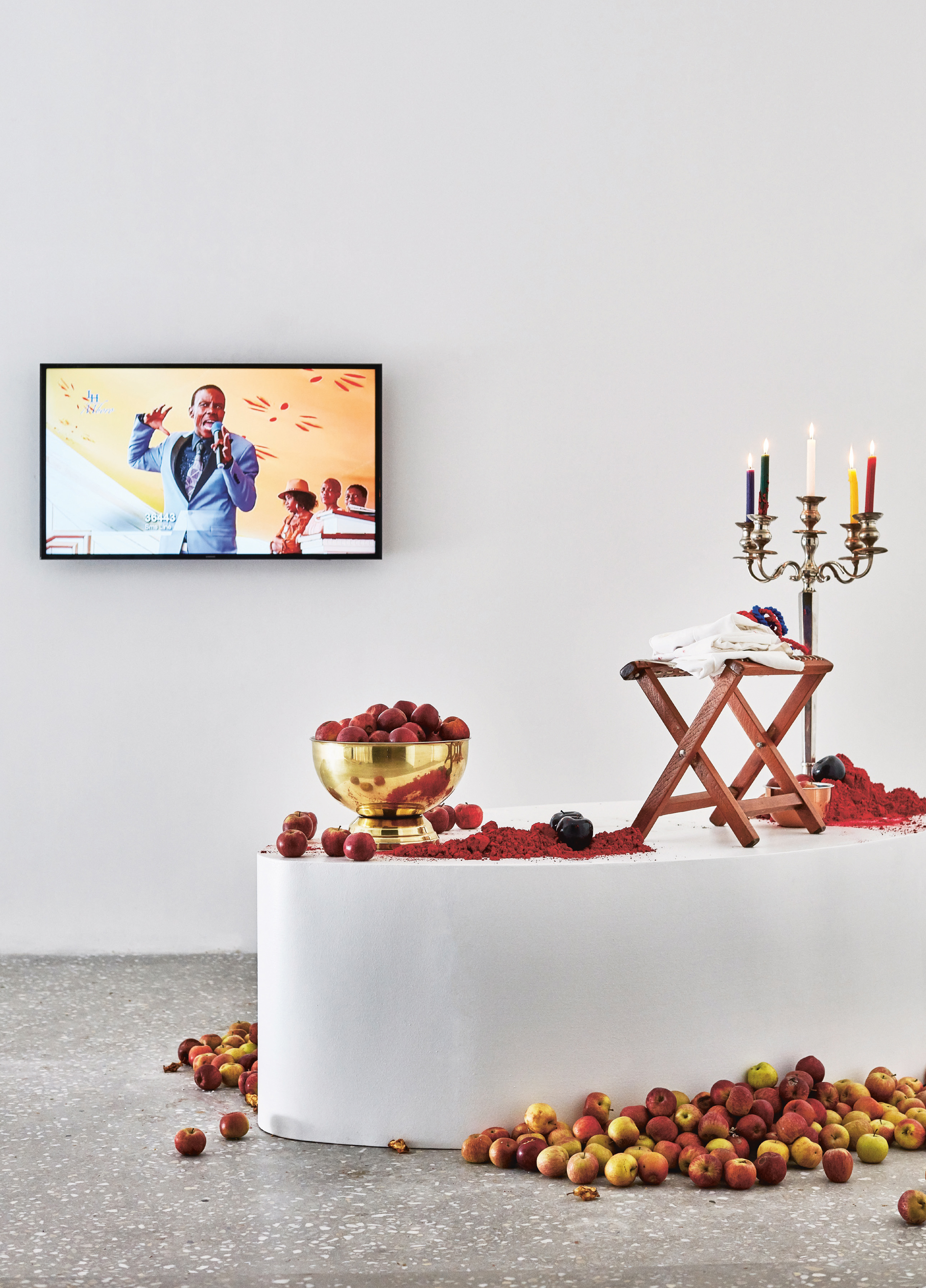 Buhlebezwe Siwani – insimu yase-Edene , 2018, courtesy Buhlebezwe Siwani and WHATIFTHEWORLD. Photo: Hayden Phipps
Siwani is one of over a hundred contemporary artists to be featured in Prime: Art's Next Generation ,  Phaidon's new survey of promising contemporary artists. We asked her a few questions about her life and art. When you've read the story take a look at Siwani's artist page on Artspace .
How would you describe what you do? I would describe what I do as giving objects a voice, finding a way to allow visuals to speak when people cannot find their own voice.
What's the most exciting thing about where you are in your career right now? Waking up with the knowledge that I am able to create and experiment unashamedly in my truth, that over the years I have learned so much and met so many different people.
What's on your mind right now? I HAVE SO MUCH WORK TO DO......And I need a new passport.
How do you get this stuff out? It is often so difficult to get started, so for me it is just to start somewhere and let the work find its way, once it begins to manifest itself physically one can see where something is heading. I actually normally like watching trash TV, something that requires no amount of brain power so that I can concentrate on getting an idea out. I work best around chaos/noise.
How does it fit together? I am not sure it does fit together, and if it does not, does it matter?
What do you think categorizes your artistic generation? Plowing through our ancestral and inherited traumas using our work.
What do you think of when you think of the word 'prime'? I think opportune, peak, top tier, flawless, etc... I also think of a first layer that lays the foundation for the other layers.
What is a typical working day for you? I wake up and lie in bed for a while and read emails, figure out what admin needs to be done and work it all out in my head. Typically in studio for a few hours just looking at a few things or experimenting with materials and then off to make dinner before 8pm and then I am generally on my computer until around 2am. I might go back to studio if I have a deadline. I prefer working at night.
What are the hardest things for you to get 'right' and what are your unique challenges? I think I often get in my own way and what I have learnt to get right is that nothing is perfect, and that perfection is subjective, so in a way my unique challenges, and what is hardest for me to get right, are somewhat the same.
In an Instagram age do art books still matter to artists? I love the smell of books, I think next to rent I spend most of my money on books. The digital space is awesome but in the same way that our work exists in tangible form so do books and that is why they will always matter to artists.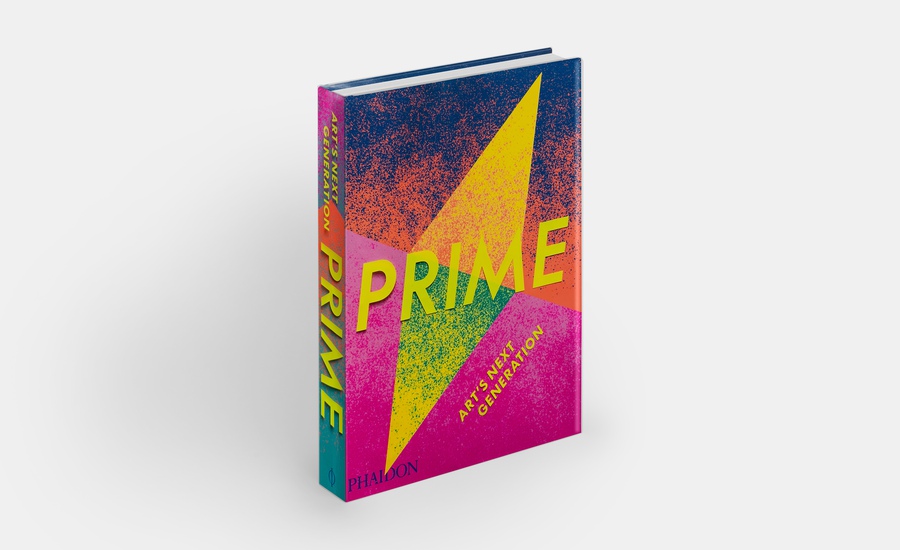 To see more of Siwani's work, and that of the art world's most gifted next generation, order a copy of Prime: Art's Next Generation here .
You can also take a look at her gallery, Galeria Madragoa, here ; her own personal website here ; and her Instagram here .