In Daniel Crews-Chubb's expressionist paintings, primal instincts prevail, writes Tausif Noor in Phaidon's new book Prime: Art's Next Generation. "The artist draws inspiration from the long arc of art history, gathering references from cultural traditions across time and geography, from Greek mythology to European Post-Impressionist painting and the Yasigi goddess masks of the Dogon people of West Africa. In accordance with this diverse array of source material, Crews-Chubb utilizes a variety of materials and methods to construct—and deconstruct, and then construct again—densely layered collages onto his canvases, which feature large, gestural drawings of human figures and still-life scenes. Zeus(!) blue (2019), for instance, offers a reinterpretation of the Greek deity of the sky and thunder.
Though Greek mythology emphasizes the capricious whims and desires of Greek gods and goddesses so as to draw them closer to humans, depictions of these deities in antiquity tended to take the forms of idealized human bodies. Here, rather than follow the standard typology of Zeus—hypermasculine, aged, muscular, and dignified, to befit his role as chief of Mount Olympus— Crews-Chubb elects to render Zeus in quick, wisp-like strokes of charcoal and ink that exaggerate the deity's limbs, fingers, and toes, a wily and unkempt figure that errs closer to mortal flesh than it does a heavenly body. Layered onto the canvas is a patchwork of fabric, oil paint, pastel, charcoal, ink, coarse pumice gel, and sand, continually reworked to create a chaotic, raw, and richly textured surface.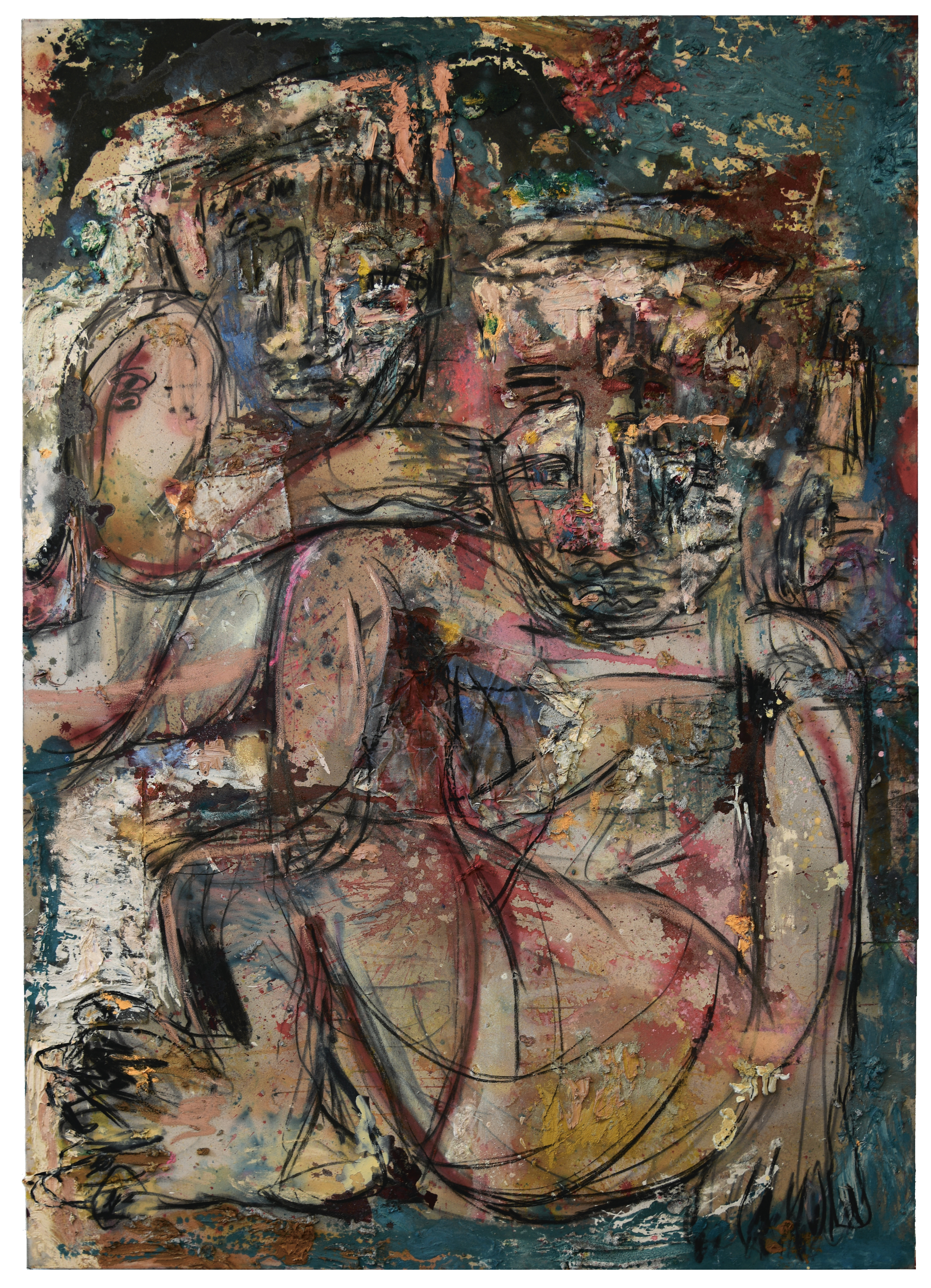 Daniel Crews-Chubb – Where the wild things are (teal), 2020; courtesy Timothy Taylor and the artist
Such a combination of styles and materials on a larger-than-life scale exemplifies Crews-Chubb's mode of expression, which is not to provide viewers with a staid, replicable image of his subjects—be they gods or everyday objects—but rather to expand definitions of both the human figure and inanimate objects. Blurring the formal boundaries between human and nonhuman through line and color, Crews-Chubb evocatively proposes that our own perception of ourselves—our construction of identity—may, too, be an artistic conceit.
The artist captures the essence of his subject matter but does not limit how that essence is expressed, adopting a recombinatory approach that continually shifts the viewer's ability to identify the painting's real-life referent.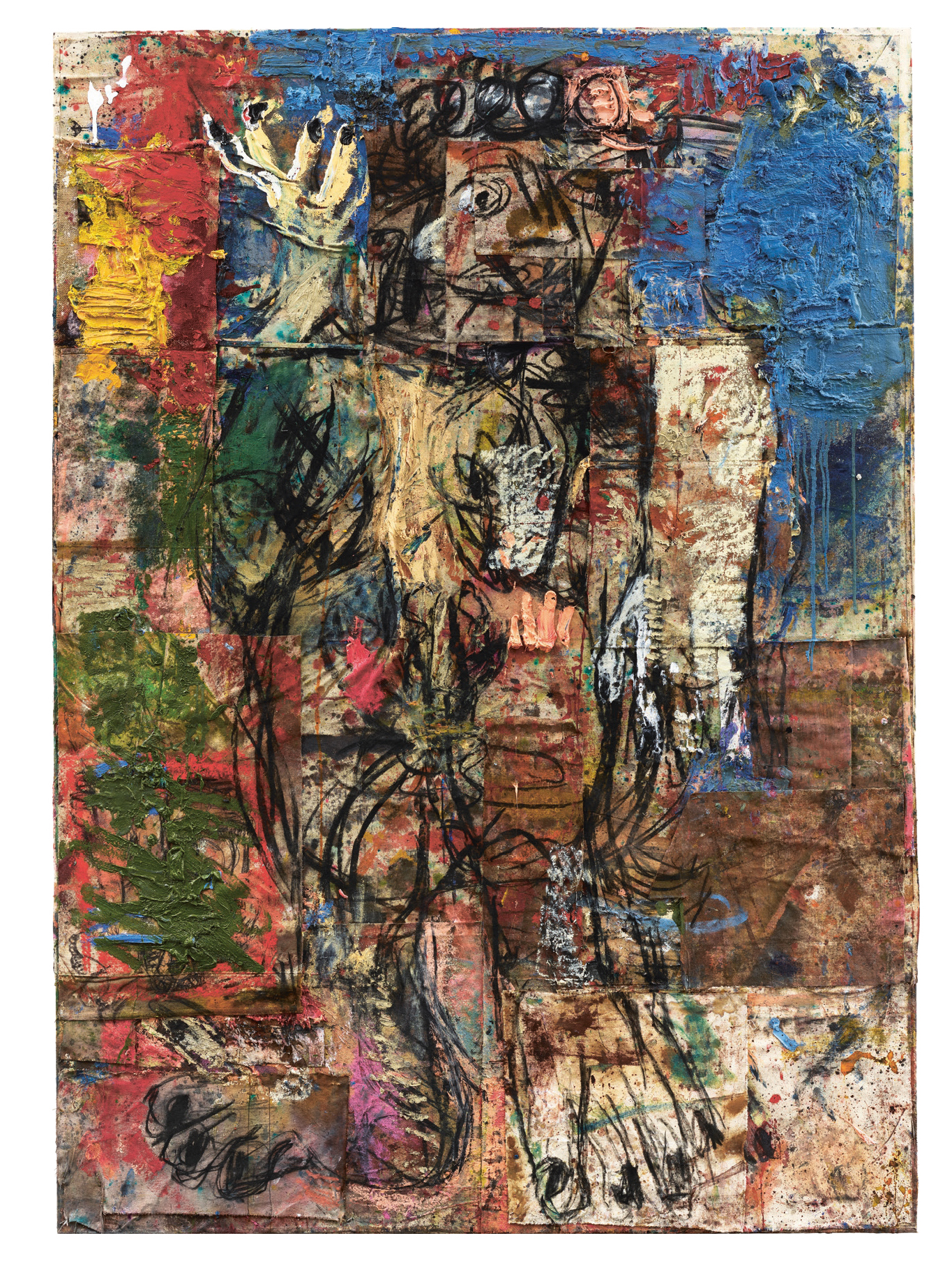 Daniel Crews-Chubb – Zeus(!) (red, yellow, blue, green), 2019; courtesy Vigo Gallery and the artist
Crews-Chubb, whose work draws comparison to the hodgepodge figuration of painters Willem de Kooning and Jean-Michel Basquiat, also incorporates widely recognizable art-historical references into his works, such as in Flowers (after Van Gogh) (2020). Using a variety of materials, Crews-Chubb retains van Gogh's iconic vase of flowers as the focal point of the painting but obscures it through contradicting perspectives and colors. Piecing them together, a hazy, expressionist image emerges, and Crews-Chubb shows that our perceptions and memories of the visual world around us are, too, a kaleidoscope of many fragments." - Tausif Noor.
Crews-Chubb is one of over a hundred contemporary artists to be featured in Prime: Art's Next Generation, Phaidon's new survey of promising contemporary artists. We asked him a few questions about his life and art. When you've read the story take a look at Crews-Chubb's artist page on Artspace.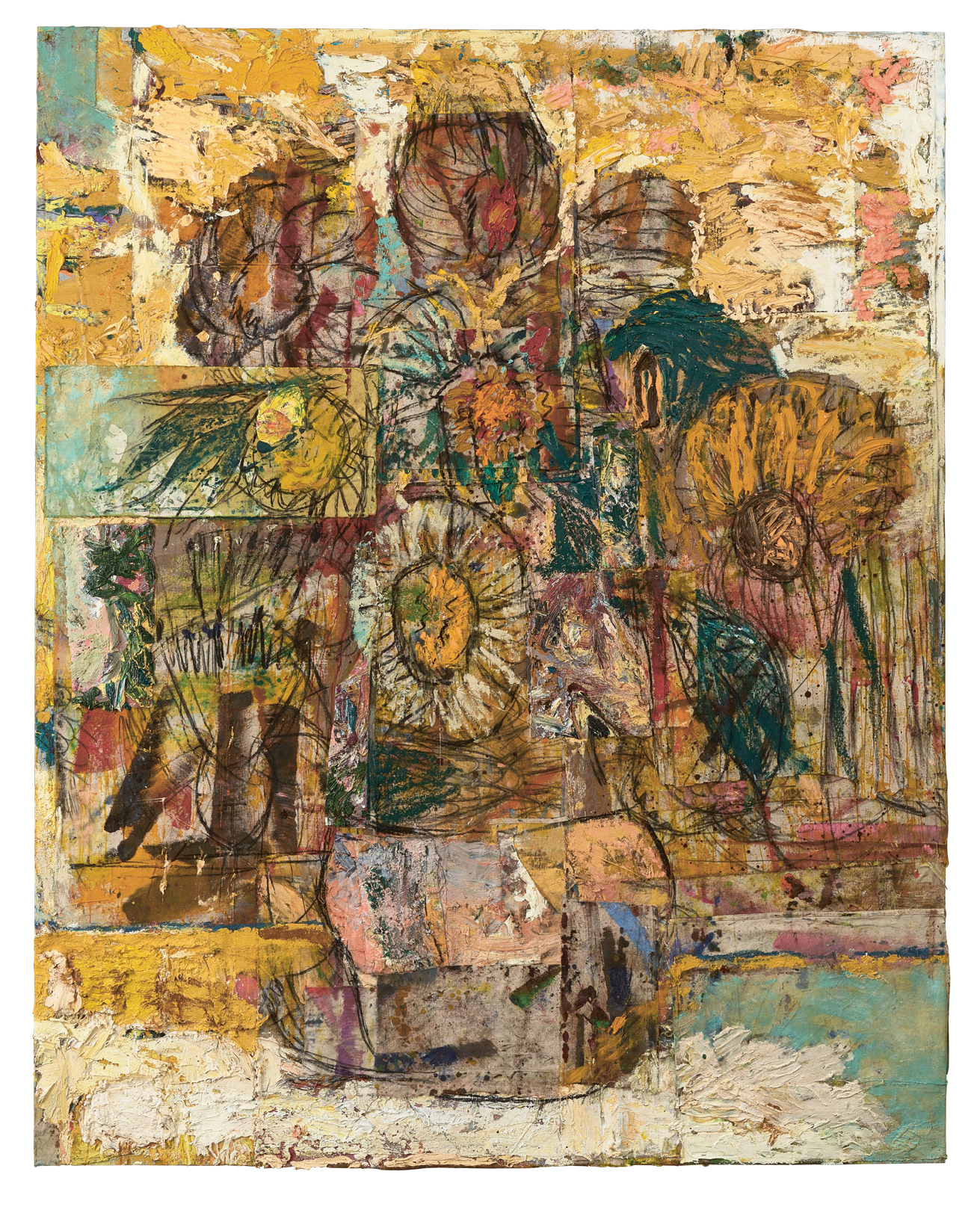 Daniel Crews-Chubb – Flowers (after Van Gogh), 2020; courtesy Vigo Gallery and the artist
How would you describe what you do? I would describe what I do as experimental collage paintings. For me, the surface is as important as the image. The surfaces get built up quite heavily through a cocktail of paint, sand, pumice gel, ink, spray paint, charcoal and collaged fabrics. The collage element provides me with an immediate way of editing and changing areas of the painting that are not working, or that I want to correct or rebalance.
What's the most exciting thing about where you are in your career right now? All artists have completely different trajectories, there are different moments or speeds at which things happen. For some artists things happen quickly, they start with a boom, while for others it may be a much slower process – it's the nature of the industry, which is often driven by trends. For me personally, I'm most excited about my upcoming museum shows, the Ashmolean in Oxford next year and the Long Museum in Shanghai the following- it's exciting to know my paintings will be showcased to a much broader audience.
What's on your mind right now? I'm currently thinking about what subject to paint next. Until this point my practice has consisted predominantly of depictions of figures, then I incorporated the flowers, and I have painted a few animals but would like to expand on this subject by shifting the focus to mythical creatures and then potential landscape. I'd like to see if my style would translate to landscape.
What is a typical working day for you? A typical working day for me is getting into the studio quite early, spending quite a lot of time just looking at what I produced the day before. I work in series, so I may have 10, 11 or 12 paintings all on the wall at once and I work on them all simultaneously – that way each painting in the series informs one another, there is a cohesion. I paint manically for around 4 or 5 hours. And then I go home to spend time with my family.
What are the hardest things for you to get 'right' and what are your unique challenges? For me the hardest part to get right is keeping a tension between figuration and abstraction but also beauty and ugliness. It's a very fine line for me to get the right balance. I'm interested in a raw type of beauty which incorporates ugliness, imperfections – for me something too beautiful almost feels false, artificial, like a trick. Paintings somehow become boring to me if they are too pretty.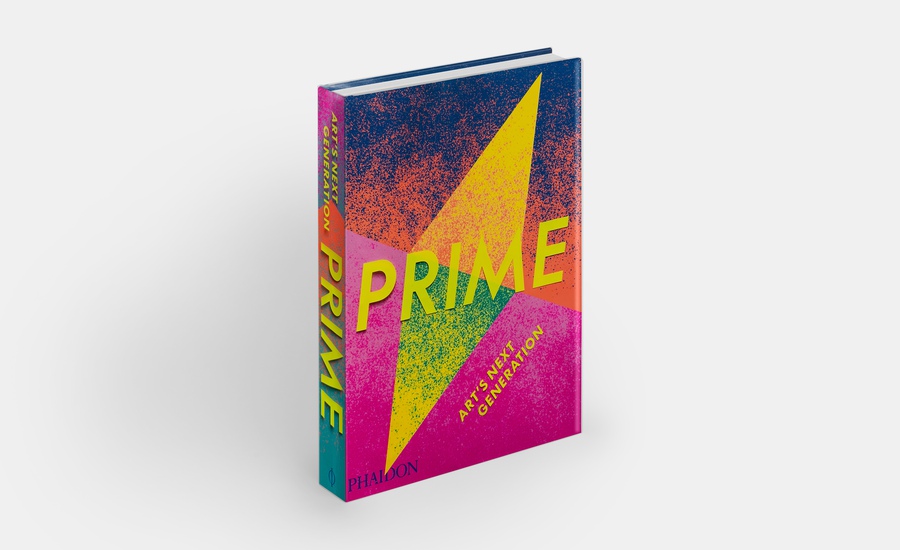 To see more of Crews-Chubb's work, and that of the art world's most gifted next generation, order a copy of Prime: Art's Next Generation here.