A woman leans forward, looking straight out from the canvas, writes Chris Fite-Wassilak in Phaidon's new book Prime: Art's Next Generation. "Depicted in thick brushstrokes and crosshatches, she seems poised, her head tilted to the side, posing in a low-cut dress, yet with a look that is slightly apprehensive. This portrait sits alongside another canvas that draws on the same palette of blacks, browns, beiges, and deep reds but presents them instead in a dense eddy of markings, knotted and twirling about in a storm of wild energy. Reginald Sylvester II's diptych Duality of a Woman (2021) provides a raw depiction of character: an uneasy figure study on one side, on the other a potential glimpse into the swirling thoughts and feelings the woman might be experiencing.
The piece encapsulates Sylvester's practice as a painter, moving between sharp figurative depictions, in which erratic, sometimes exaggerated bodies roam uneven landscapes, and abstract swipes, smudges, and incisions that form unsettled, complicated compositions of color. Between these two modes, Sylvester's work remains affective, immersive, and searching, with titles that hint at personal and religious themes, as well as the history of slavery, and that ask us to consider where we might find liberation or rejuvenation today.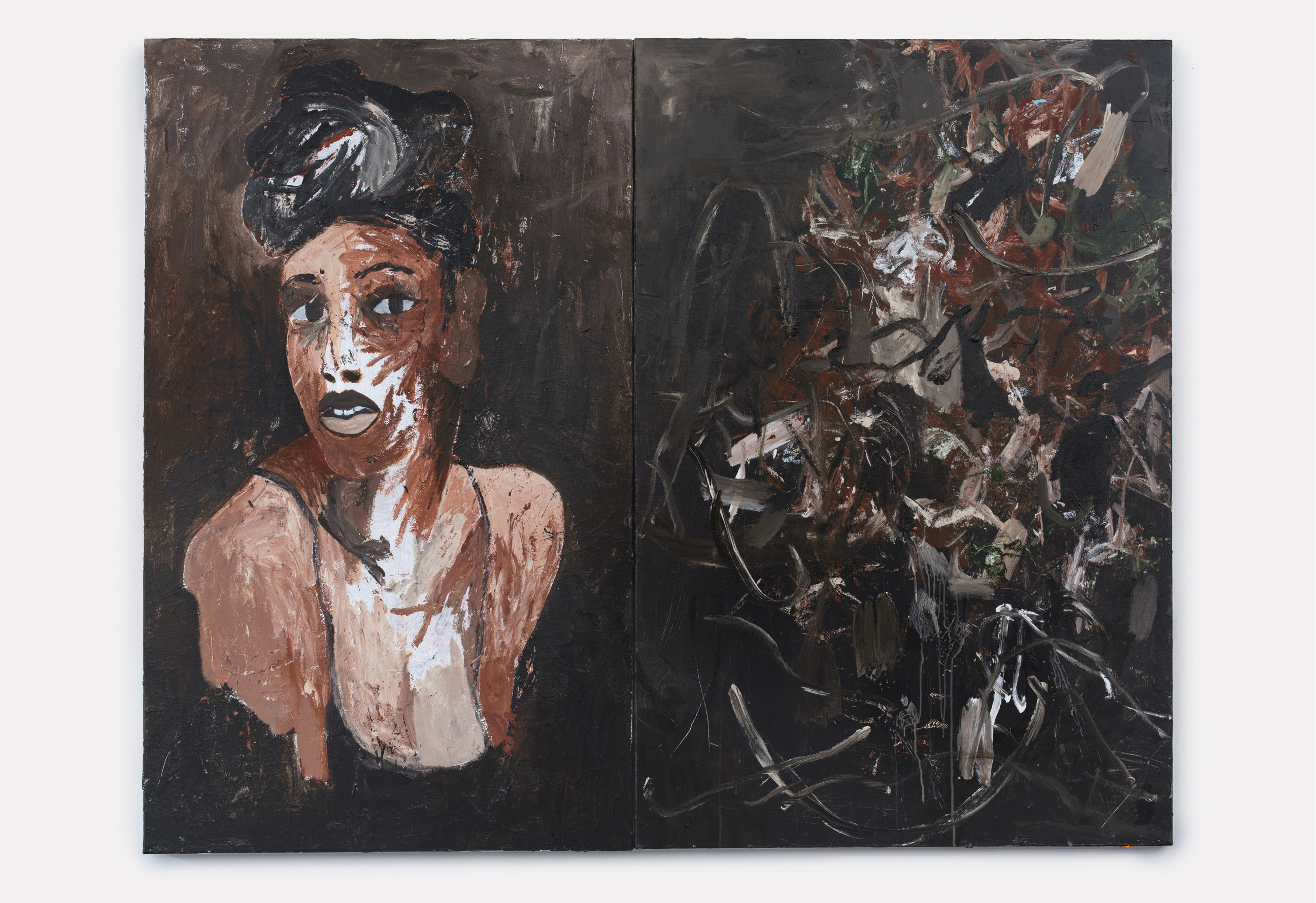 Reginald Sylvester II – Duality of a Woman, 2021; courtesy the artist and Maximillian William, London
In one of the artist's forays into sculpture, Last Laugh (2021), a column of black bricks and what looks like a pock-marked car muffler hold up a spiked bronze collar, used in the nineteenth century for the transport of enslaved people. The torturous device is left open, suggesting escape, or at least release, but the spikes remain a threat. The sculpture is wrapped in twine, a material which appears throughout Sylvester's work.
The painting Bondage III (2020), like many of Sylvester's abstractions, is rooted in Abstract Expressionist traditions. The painting has a murky background from which a thick hatch of red whorls and white and yellow daubs emerge; a few thick drips of light blue appear at the center, as though hinting at a glimpse of daylight through packed foliage. Binding all of this is a loose web of twine, knotted around the canvas as if to hold it in place, remaining, as the title tells us, in bondage.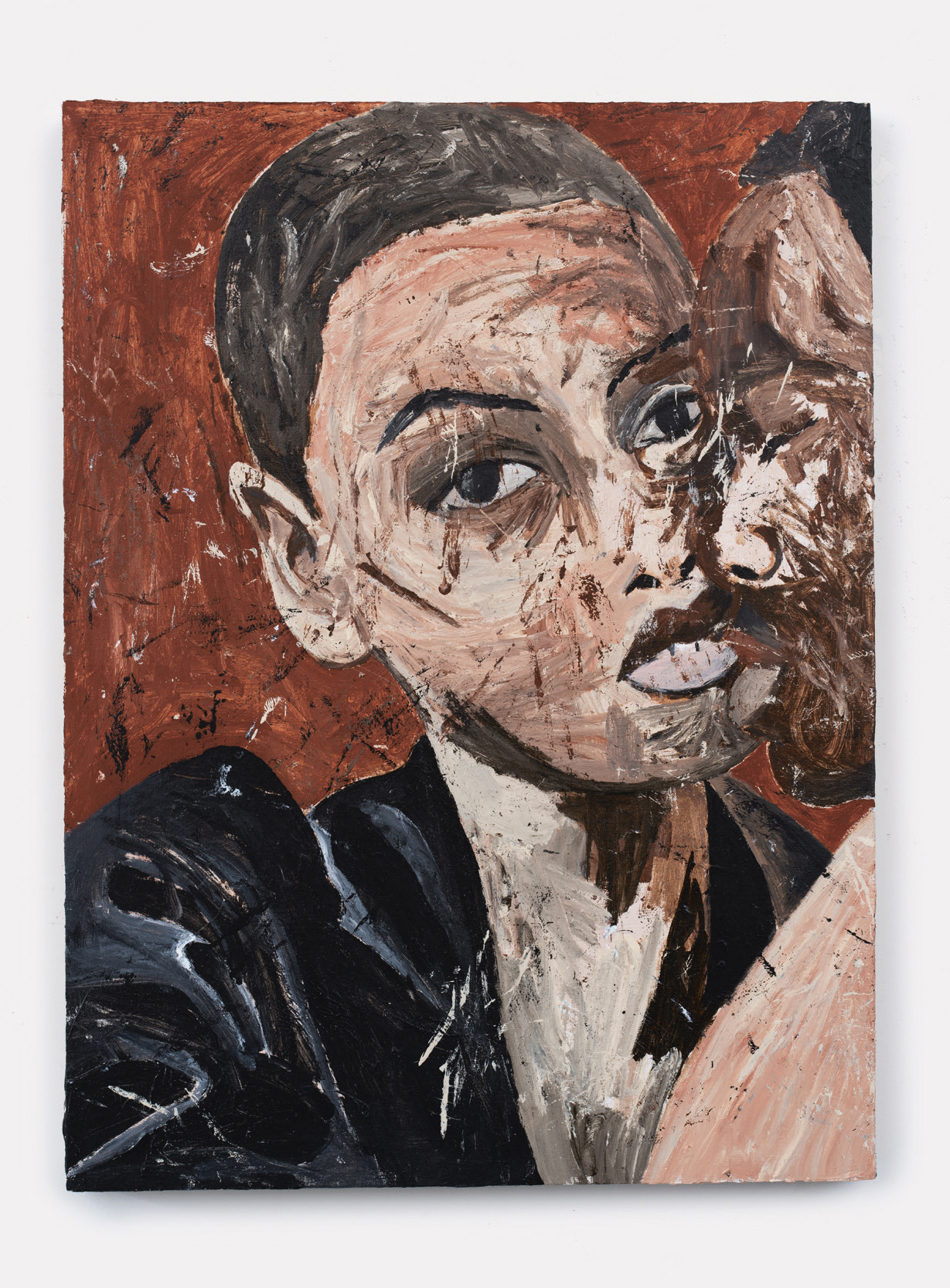 Reginald Sylvester II – Aj & Don, 2021; courtesy the artist and Maximillian William, London
The meaning of that confinement remains potently elusive, though in Sylvester's work there is a running association between the artist's journey into abstraction and a sense of spirituality. "I believe the definition of faith is evidence of things that are not seen," he stated in a 2019 interview with Office magazine."There is no evidence of what's going to come at the end of the journey of making the picture. But that's the beauty of it: having the faith that you're going to find that picture, that unconscious image." What we find in his effervescent, swirling images remains up to each of us." - Chris Fite-Wassilak.
Sylvester is one of over a hundred contemporary artists to be featured in Prime: Art's Next Generation, Phaidon's new survey of promising contemporary artists. We asked him a few questions about his life and art. When you've read the story take a look at Sylvester's artist page on Artspace.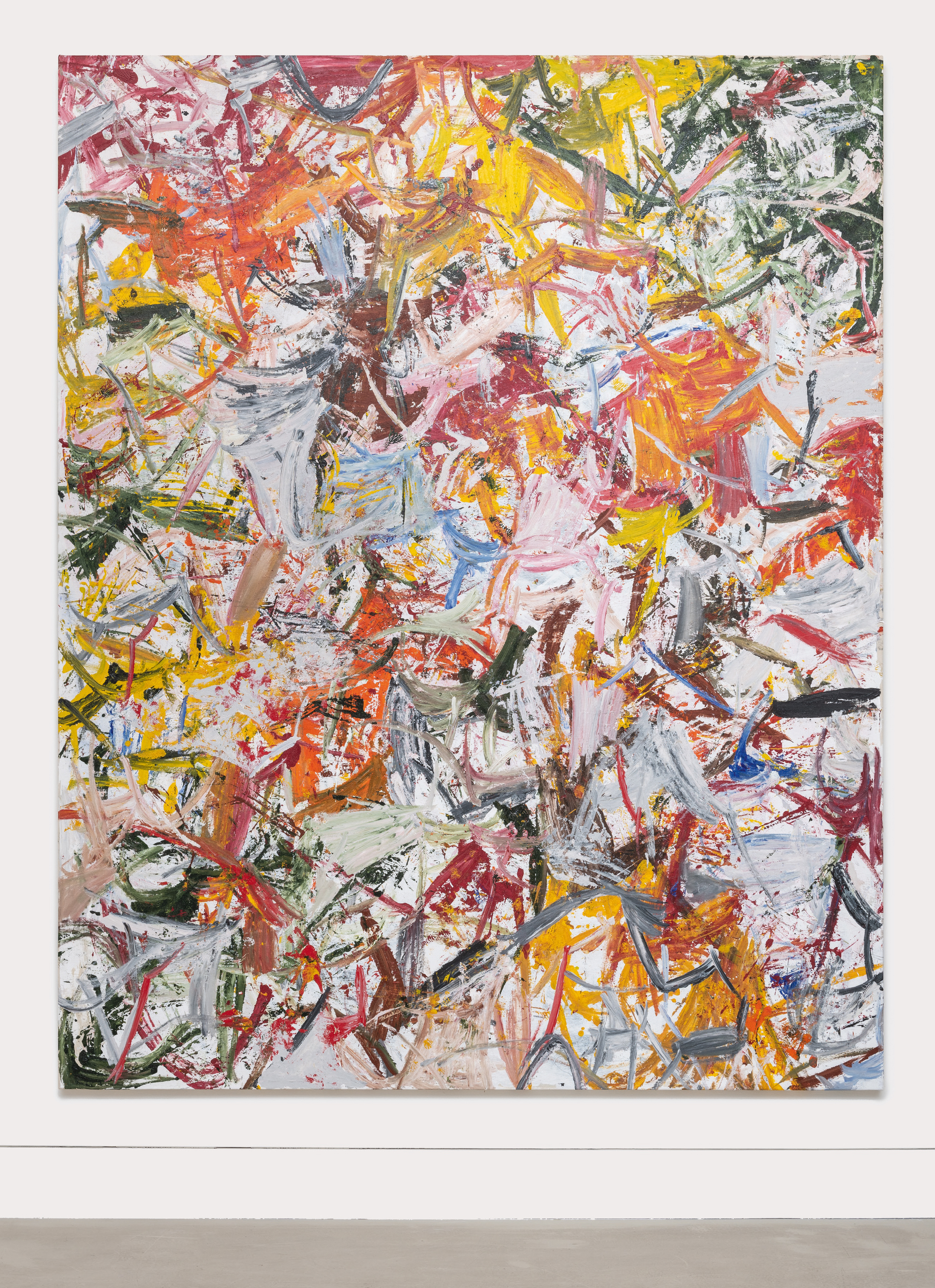 Reginald Sylvester II – Hope For One Last Stand, 2019 ; courtesy the artist and Maximillian William, London
How would you describe what you do? The act of making.
What's the most exciting thing about where you are in your career right now? I think the most exciting thing for me at the moment is that I'm fully able to realize the images and objects I want to make. Being able to achieve a certain sensibility throughout every work. I'm also able to gauge the level of play I allow within the making process, when to push, when to pull, and when to let go.
What's on your mind right now? Spending more time with family and loved ones. Also acknowledging the pain and suffering of black and brown peoples while giving a sense of thanks throughout making.
How do you get this stuff out? A rigorous studio practice. Being unafraid to try new things within the studio. Constantly searching and finding new ways to reflect what goes on within outwardly.
How does it fit together? Sometimes it doesn't, sometimes it does. It's a process. Time allows the puzzle pieces to fit and sometimes I have to remind myself of that.
What do you think categorizes your artistic generation? The circumstances of the world within the time period we make in.
What do you think of when you think of the word 'prime'? Optimus Prime at first, but pertaining solely to the word, elite, best of the best.
What is a typical working day for you? Writing, conceptualizing, sketching, emails, reading, and - if the energy is there - painting.
What are the hardest things for you to get 'right' and what are your unique challenges? Prepping ideas for future works I have. I'm so used to an intuitive process that the planning for certain things lacks. What's unique about that though are the challenges that arise. Beautiful accidents come from this which in turn result in unique processes.
In an Instagram age do art books still matter to artists? 100%! Archiving through print should live on forever.