In Colleen Blackard's hands, the humble roller-ball becomes a tool of cosmic potential. This American artist works in a number of media, including monotype, acrylics and oils, though her ballpoint renderings of sublime, eerie and astronomical subjects are truly remarkable.
Raised in Texas, the artist now divides her time between Austin, TX, and Brooklyn, NY, creating works that combine natural and celestial imagery with themes of memory, consciousness and change.
Blackard was the recipient of the 2017 Pollock-Krasner Foundation Grant; she has exhibited her work in solo shows and group exhibitions across the country, and has had her work placed into the permanent collections of Pierogi Gallery Flat Files, Brooklyn, NY, Marina Tsvetaeva Museum, Moscow, Russia and Amherst College, MA.
In our new series of profiles of artists who sell directly via Artspace, Blackard describes her own, personal artistic development, her choice of subject matter, and how she hopes viewers will feel, when they look upon her work.
COLLEEN BLACKARD - Orion's Belt, 2009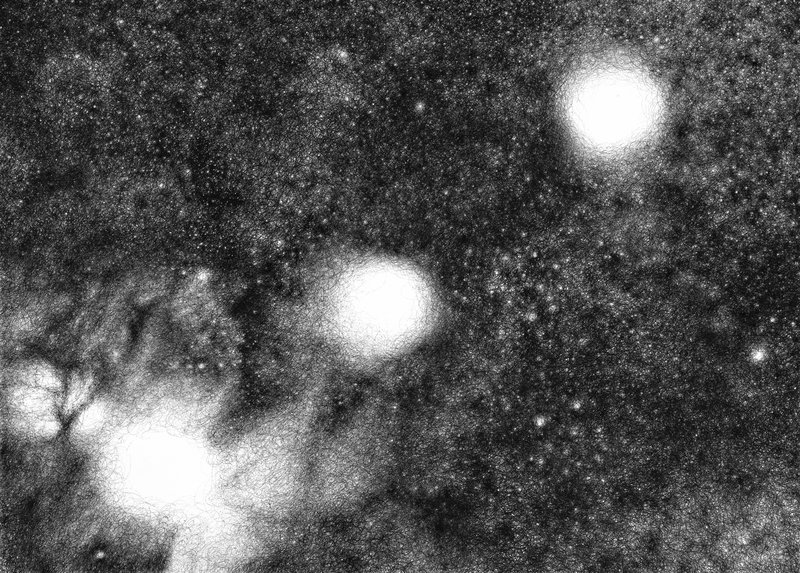 How would you describe what you do? I'm fascinated by the evolving atmosphere that light creates around transient subjects such as storms, nightscapes and other emotionally charged spaces. I use a range of media and distinctive application methods to connect external and internal landscapes. Whether in ballpoint pen, archival marker, monotype, or painting, I am constantly challenging the range of atmospheric effects possible using dynamic marks and translucent light on a two-dimensional plane. My finished work becomes a traceable imprint of this experimentation.
Where do your titles come from? The titles come from studying the finished works. I think about what the work means to me and play with various words until landing on the one that sounds right.
How do you choose your subject matter? I like to work in series. I start with an inquiry like, "How do I capture the infinite space of the universe?" or, "Can I use light and an abandoned barn to share my personal story of transformation?" and the work comes from there. I like to think of my work experientially, so yes, I absolutely imagine myself within a particular space and try to figure out how to share that experience and build a world for others to step into. It's also why I like working large, like my 8x10 ft watercolor drawing Important from the Abandoned Series, where you have to look up to see the stars. At the very bottom of the drawing, the tiny abandoned barn looks up, almost insignificant within this scale.
COLLEEN BLACKARD - Nebulae, 2009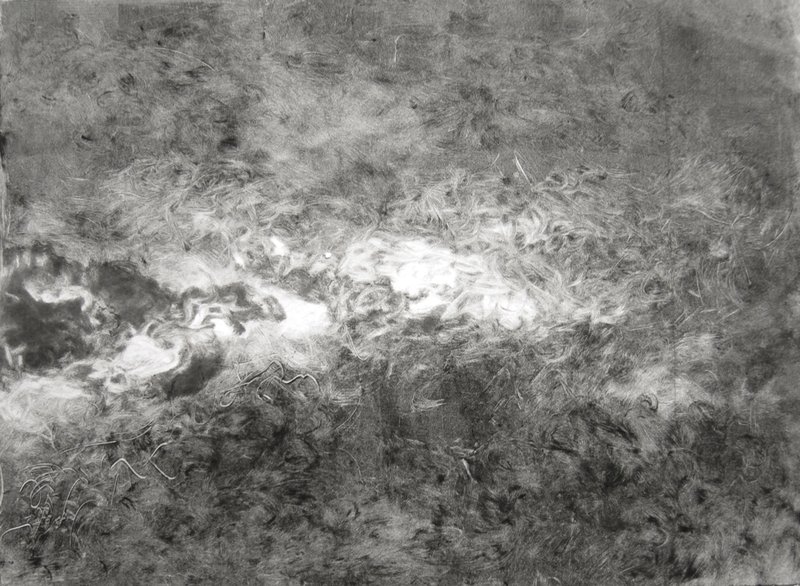 What is it about the heavens that attracts you? I started my celestial series after completing large-scale drawings of tornadoes, wondering what would the calm after the storm look like? Then I became entranced by the enormity of it all, just how incomprehensibly massive the distance is between the stars. I started contemplating where we are in the Milky Way Galaxy in relation to the massive black hole at its center. I began this series in the winter while living near the woods in Western Massachusetts, where at night the trees are absorbent black and the sky just glows. In the quiet, I couldn't help but to keep looking up and thinking about the scale of the infinite universe, and just how tiny a speck our blue marble is.
You use a ballpoint pen, which is unusual. Why? I had a wonderful professor in college, Judith Mann, who challenged me to build up charcoal-level blacks in my drawings using a pen. I took to it immediately, and loved how the roller-ball lent itself to circular marks. I developed my circular language to carve out the night sky and create my own constellations starting with large, chaotic, circular marks and then refining them into millions of points of light. I found that circles created an expansive effect, perfect for the endless reach of stars. This method to carve out light, which I first used in my celestial series, For the Universe, then became the way I rendered light within earthly subjects starting with water and natural landscapes, then moving into cityscapes when I moved to NYC, and so on.
Tell us a little about three of your works on Artspace Some of my work on Artspace is from my For the Universe series, including Orion's Belt and Creation.
Orion's Belt was based on a Hubble image of this constellation, and for this drawing I was particularly interested in rendering the glow of the Orion Nebula with my circular drawing technique. I kept the constellation recognizable, but allowed the surrounding star clusters to emerge intuitively from the controlled chaos of my circular drawing method, building up my own universe.
COLLEEN BLACKARD - Creation, 2009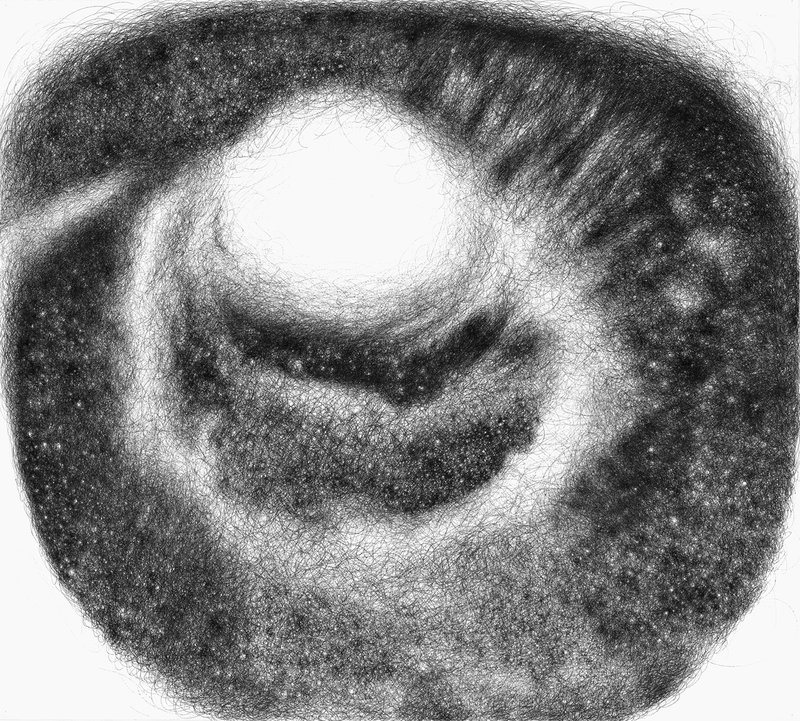 Creation, portraying the birth of a star, was drawn after Orion's Belt. In rendering this energetic subject, I noticed that my hand started drawing infinity signs instead of circles. It was as if my technique evolved to match the piece. I enjoyed the different textures this method produced. To this day, that's the only piece I drew with infinity symbols instead of circles.
There are also a few works from my Abandoned Series, including Release. This series examines the journey from isolation to connection as personified by an abandoned Texan barn. Based on my early childhood perceptions of emotional abandonment, the barn has many ups and downs while finding its way back to itself. I created Release a few years after Hurricane Sandy in NYC. It was my way of thinking about the effects of these natural disasters caused by climate change, and on a personal level it was about grief and letting go of control to go with the currents as they come.
COLLEEN BLACKARD - Abandoned But Beautiful, 2014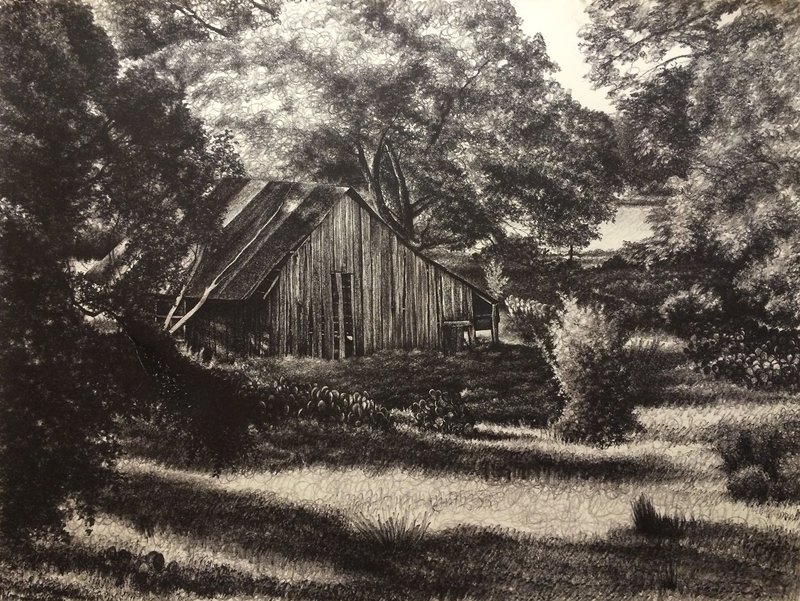 Could you describe your process? Once I get excited about a subject, I first spend time investigating its many facets. I sometimes do small sketches to work out the composition or to experiment with my newest medium of choice. Starting with ballpoint pen, I then scaled up and switched to archival marker, then large-scale ink drawing, watercolor, then monotype, and then acrylic and oil painting. We'll see what's next.
Once I'm ready, I start big, making large gestural marks and working the entire surface until I get lost in the details. At the end I unify it by adjusting the tones to create my intended lighting effects.
What made you want to become an artist? From an early age I found it easier to communicate with gestures and pictures than with words. It became my language, and, throughout school, I was always doodling in the margins or on post-it notes. I grew up with an incredibly supportive family, and my parents always encouraged me to pursue art. My mother also taught me how to draw at an early age. Then at Hampshire College, I had remarkable faculty that supported me in pursuing my own ideas in my work and owning my identity as an artist. I came out of my undergraduate program with a solo show and the confidence to go straight to NYC.
COLLEEN BLACKARD - Draco, 2009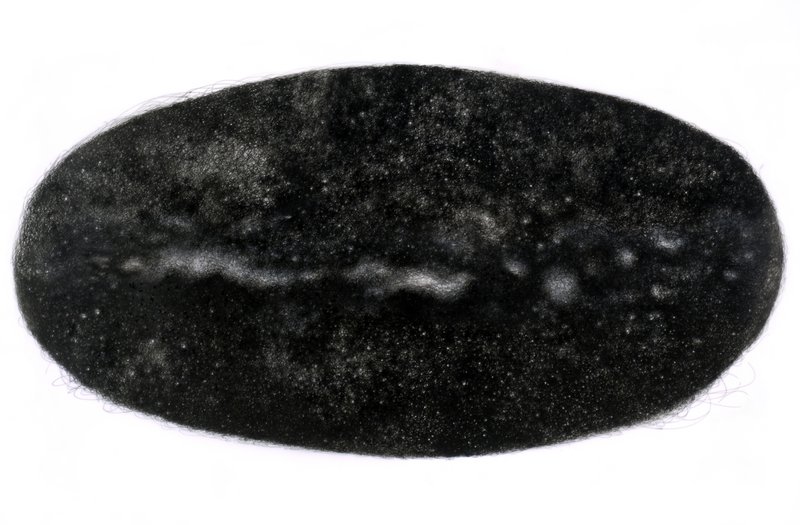 What was your earliest art creation? I think it was life-size stick-figure drawings of me and my sister on cardboard when I was about 4 years old. I liked the idea of creating something as large as life that you could interact with. Cardboard was a favorite medium for building worlds during my childhood.
What should people look for in your work and what do you hope they might get out of your art? I want to build worlds to share with them. If they walk away with a sense of wonder and possibility from experiencing my work, then I'm delighted. In my drawings, I also keep my circular process visible so they can connect to it.
Sometimes the results of my work surprise me. I once created a series about my family's experiences with Alzheimer's, and included a drawing of my grandmother. I covered the drawing with translucent drafting film so you would have to reach out and trace the image with your hand to see through it. For me, it was about memory; how it fades and then what is left. But when viewers reached out to touch the portrait of my grandma, I didn't realize how deeply that would affect me—that every time they reached out they were reaching out to remember HER. That was a profoundly moving experience for me, and I never expected that.
Do you collect art yourself? If so, what have you bought in recent years? I wish I could afford to! I know so many amazing artists I wish I could collect. So far I've been lucky enough to participate in artist trades. Most recently, I treasure a watercolor nocturne I received from Anna Shukeylo of a silhouetted house with warm light glowing from within.
COLLEEN BLACKARD - Release, 2014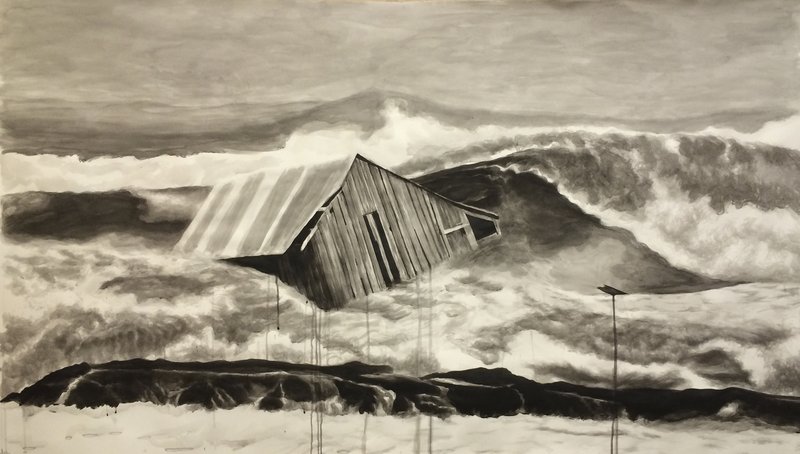 Do you always begin with a concept in mind or do you sometimes just paint? Whether I'm working from a theme, or painting from life, I follow what inspires me and what I want to capture or better understand. That often comes from life and then I translate it to drawings or paint. But I don't want my thoughts or ideas to overpower the work, and as I paint or draw I focus on letting the medium speak.
How do you get your inspiration flowing? Right now I find inspiration by walking in nature, following my sense of wonder to get caught up in moments as subtle and fleeting as the way the setting sun hits a flaming maple leaf or the sight of Purple Martins circling together in preparation for their trip south, or the sound of distant thunder as groups of dragonflies flurry by ahead of the storm.
But once I'm in the studio and have started a piece, music really helps. For the celestial series, I was listening to a lot of songs by Enigma through dark winter nights and that took me to a very transcendental space. More recently, I've been listening to Chopin and Debussy and other classical composers as I create monotypes in the studio or paint from the landscape outside. I've started practicing my old Debussy piano recital pieces from high school before I start work in the studio, and I've found that the exercise helps me to trust the decisions my hand makes when painting as well.
If you could choose any artist on earth to do your portrait, who would you choose, why and what instructions might you give them? I'm actually honored to have had my likeness captured by my friend, the talented painter Vincent Giarrano. He caught the every-day, still moments I experience working in my studio so brilliantly that I'm transported there every time I see it.
To answer who else I'd like to ask, I love Jenna Gribbon's figurative work. The fluid way she paints truly captures someone's inner fire, and her surprisingly bright color choice just glows more true than life. I would probably ask if she would visit my studio to see my work first, but that's it.
To see the full range of work by Colleen Blackard take a look at her artists page on Artspace here.
[blackard-module]