It's summer, and you know what that means—galleries are going all out on group shows and testing out fresh talent... giving us the opprotunity to speculate about which emerging artists we might be seeing more of next season. It also means that it's hot as all get-out in New York, so the time is nigh to punctuate your perambulations with some ice-cold air conditioned art viewing. There are a panoply of fresh and interesting shows to check out around the city this season, but if leaving the beach, the pool, or your frigid apartment sounds a little... ambitious, let the team here at Artspace do the leg-work for you. We've identified five stand-out emergent voices who definitely deserve their own solo ventures sooner rather than later. Stay on the look out for upcoming projects from these cutting-edge artists.
DYLAN HURWITZ
Danese/Corey, In the Summertime, May 17 - August 9, 2019
511 W 22 St. NYC 10011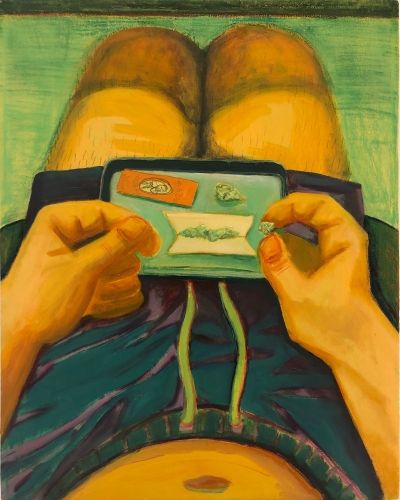 Untitled (rolling) 2018 via Danese/Corey

Tucked away in Danese/Corey's charming "In the Summertime" show lives a modest, buoyant portrait of a blunt, mid-roll, positioned above two hairy legs in swim trunks. The artist is Dylan Hurwitz, a freshly-minted graduate of RISD's MFA Painting program. Hurwitz's portrayals of queer embodiment combine luminous color and crackling impasto in their slow-burning narrative intimacy; the viewer, whether cast as voyeur or the subject himself, activates molten tenderness in each composition through artistically engineered proximity, whether scanning a glowy bathhouse pastoral or glancing down at a lover's large, square hand. Hurwitz's soft stylizations treat paint as a sculptural highlight, employing texture as a way to pull focus or create hierarchical depth in pictorial space. While often sexually explicit and searingly bright, however, Hurwitz's pieces rarely shout, trafficking instead in a sleepy brand of introversion that outlines the silence of everyday interiority. Both achingly personal and touchingly relatable, Hurwitz's expertly insouciant paintings nod to the history of portraiture en route to something radical and wry. We're sure to be hearing more from Hurwitz soon; he's shown his work throughout New England and New York, and has been the recipient of multiple scholarships and fellowships, including a School of the Museum of Fine Arts Grant and a residency at Takt in Berlin, Germany.


NAOMI NAKAZATO
Geary Contemporary, Rhythm Garden, June 13 - July 19, 2019
185 Varick St. New York, NY 10014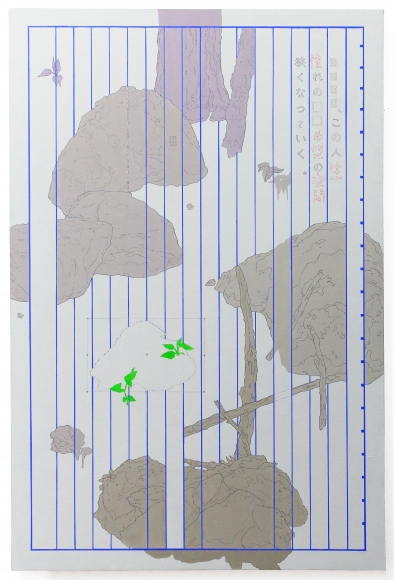 The April Letter, 2019 via Geary Contemporary
Geary Contemporary's Rhythm Garden exhibition ruminates on patterning, order, and resplendence in the natural world, and Naomi Nakazato's finely rendered The April Letter is no exception to its attendant company. Nakazato's multi-disciplinary practice maps the emotional topography of identity with an eye towards traditional Japanese aesthetics, questioning the role of self-curation in seamless, synthetic experience. While the manifestation of her concerns varies materially, often melding sculpture, painting, print-making and installationist gestures in single pieces, her work communicates in a restrained economics of beauty, fashioning charged liminal space from the compositional voids viewers tend to take for granted. Nakazato mines her own story as a biracial Japanese-American for a poetics of mistranslation that cross-pollinates nostalgia with virtual glitch, reminding viewers that authenticity may not be the clean delineation selfhood prescribes. Simultaneously fugitive and stoic, Nakazato's delicately balanced art objects yearn for unnameable place and incongruous time. Having earned her MFA from the New York Academy of Art, Nakazato is currently a Keyholder Resident at the Lower East Side Printshop and has received two Elizabeth Greenhields Foundation Grants. She lives and works in Brooklyn.
TIFFANY JAEYEON SHIN
Tiger Strikes Asteroid, New York, Ghost in the Ghost, June 21 - July 21, 2019
1329 Willoughby Ave #2A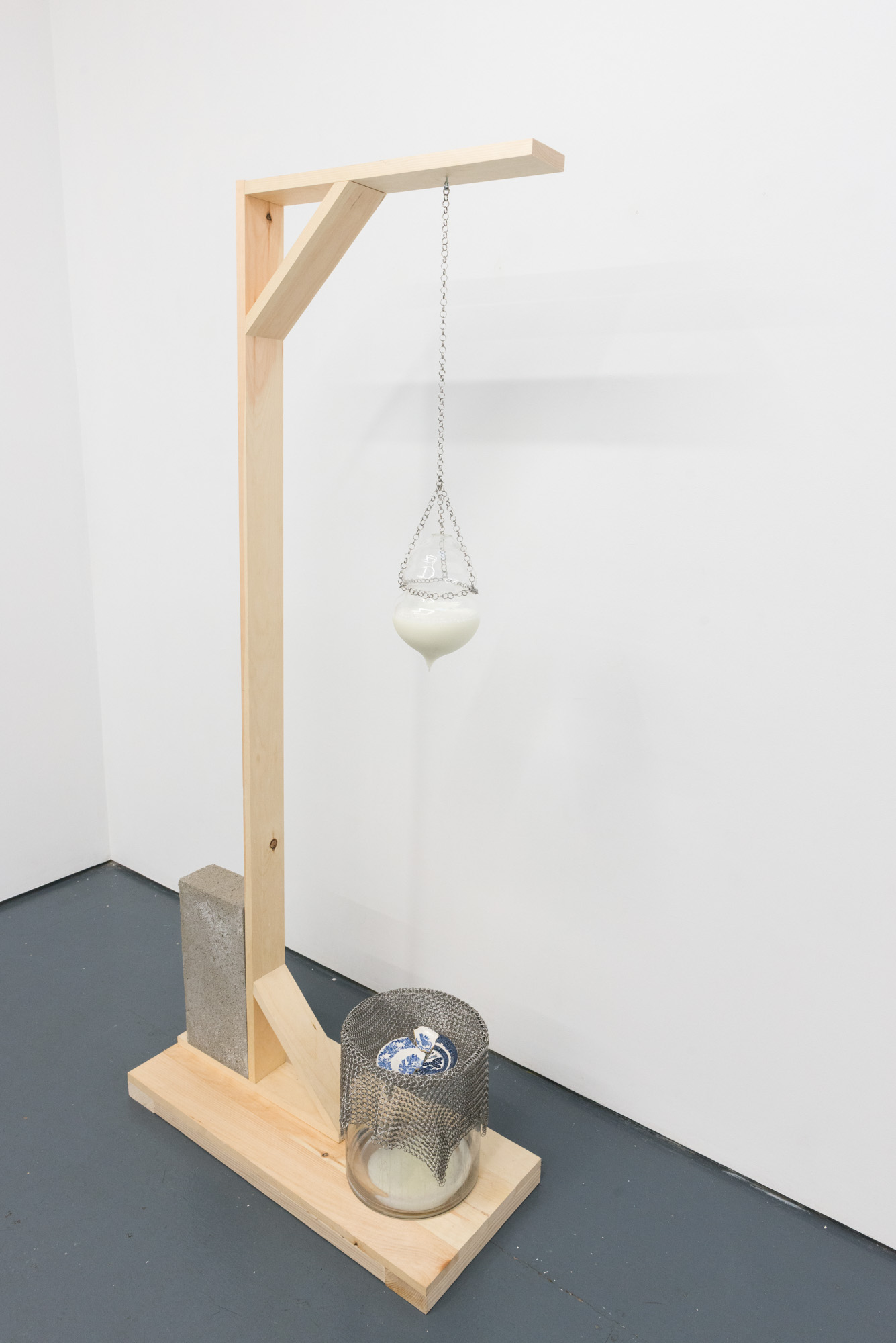 Untitled (Torture), 2019 via TSA
Shin's work investigates the crypto-political pentameter of flesh through spare, haunting multimedia installations that reflect the cultural conditions of personhood. Tiger Strikes Asteroid's excellent Brooklyn show, "Ghost in the Ghost," groups six artists whose practices confront the fetishization of Asian skin under patriarchy; Shin's piece, Untitled, (Torture), attempts the Sisyphean task of fixing broken porcelain with milk, a reference both to milk's biological bonding agents and the inevitability of age. Shin's brand of spatial poetics evokes desire's universal thing-ness, breeding a tense, respectful distance between viewer and object. She has long been interested in the historical and methodological processes that privilege white consumption; the results imbue a minimalist ethos with maximalist commentary on the racist and sexist systems that undergird American history. Shin, a Korean-Canadian-American artist, curator, and community organizer, has shown at a wide variety of institutions, including the AC Institute in New York, Knockdown Center in Queens, and Miranda Kuo Gallery in Chelsea.
OONA BRANGAM-SNELL
Mrs., Doldrums, June 22 - August 2, 2019
60 - 40 56th Drive, Maspeth, NY 11378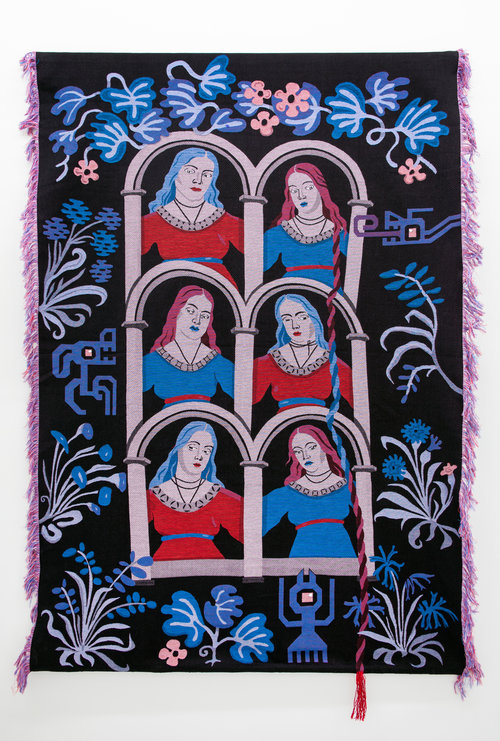 via Mrs. Gallery
Queens mainstay Mrs. Gallery is currently presenting "Doldrums," a group exhibition tracking the supernatural undercurrent of everyday perspicacity. Brangam-Snell's eerie, dynamic textiles take center stage in the show, infusing deftly humanoid surrealism with no shortage of wit, pathos, and winking whimsy. Her tight, classically-constructed tapestries update the storytelling properties inherent to fiber production throughout the centuries, both literally and figuratively weaving contemporary value systems into the world of her work. Brangam-Snell's pieces take a playful stance towards historical and religious allusion, never balking from the tonal insouciance belied by her reverent digital stitchwork. Her work's signature irreverence lives at the intersection of narrative agility and technical prowess, begging viewers to reconsider the iconographic secrets hiding in her pieces. A RISD graduate, Brangam-Snell currently works as a senior designer for textile firm Maharam.
KAT CHAMBERLIN
Gallery at BRIC House, Serious Play: Translating Form, Subverting Meaning, June 27 - August 18, 2019
647 Fulton St. Brooklyn, NY 11217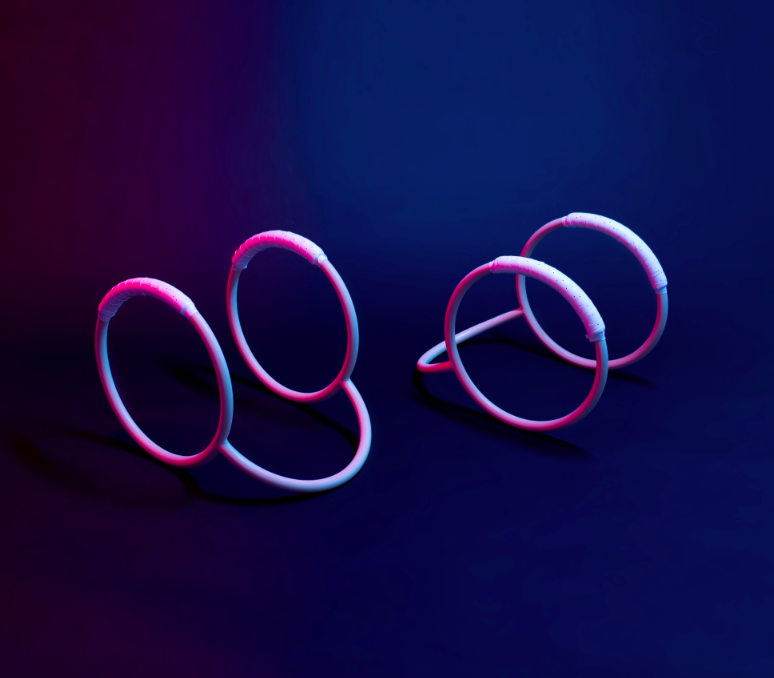 Handstand I and II, 2018 via BRIC c/o Wick Gallery
Curators Jenny Gerow and Elizabeth Ferrer have assembled an enthralling group of artists this season for their play-focused group exhibition at BRIC, introducing many viewers to the work of installation artist and sculptor Kat Chamberlin for the first time. Many of Chamberlin's contributions to this exhibition were also on view during her April 2019 solo fore, entitled "Here In Spirit," at up-and-coming Bushwick spsace Wick Gallery . Chamberlain's preoccupation with the metaphysics of cheerleading and, more specifically, the deconstruction of ritualized gesture, manifest in eerie theatrics and spare, desolate set-dressing, underscoring the absence of engagement with objects designed to facilitate physical perfection but unable to sustain the weight of a human form. Material slippage pushes against the borders of social commentary in Chamberlin's work, and the results flash a creepy, acidic spotlight on the performances we require of women in public space. Chamberlin, born in the Netherlands, received her MFA from the School of the Art Institute of Chicago, and currently lives and works in Brooklyn, NY. She has recently shown at the Hole in the Lower East Side and Beverly's in New York.
RELATED ARTICLES:
7 Artists To Watch: March 2019