Summer was great and all... but Fall is finally making its way back around and here at Artspace, we're more than ready to kick into high gear with some of this season's best shows! (Plus, check out our new series "Art Video + Video Art" to watch short videos either by or about three of the artists on this list: Sarah Lucas, Martine Syms, and João Maria Gusmão + Pedro Paiva.)
TOYIN OJIH ODUTOLA
Jack Shainman, New York
September 6th - October 27th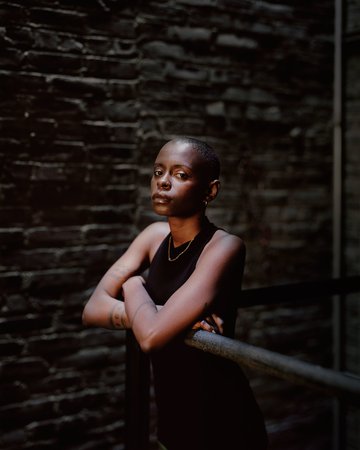 Image via Vogue Magazine.
The first time gallerist Jack Shainman saw the Toyin Ojih Odutola's drawings, "My socks rolled up and down without my touching them….That's always the key sign for me." He purchased all of her existing works, and now represents her. Ojih Odutola was born in Ife, Nigeria, grew up in Alabama, and received her MFA from California College of the Arts in 2012. Ojih Odutola was on Forbes's 2012 "30 Under Thirty" list, and had her first solo show, "To Wander Determined," at the Whitney in 2017. Ojih Odutola started out working exclusively in a monochromatic palette drafted entirely in ballpoint pen. Removing color allowed the artist to focus on the sculptural aspects of flesh, "how the skin narrates the work and how it is the basis of the work... a thickly-laid, sculptural bounty of brushstrokes as flesh." But since the Whitney show, she has added charcoal, pastel, and pencil to her repertoire; her drawings look painted.
"When Legends Die," which opens at Jack Shainman on Thursday, September 6th, continues the artist's series on two fictional Nigerian families joined by marriage: the aristocratic UmuEze Amara Clan and the nomadic House of Obafemi. Her subjects are rich. Like Black Panther's Wakanda, they exist in a fictional African country in which colonialism and slavery never occurred. To quote Rujecko Hockley, who curated "Wandering Determined," the characters' wealth "allows them indifference, the right not to care—something rarely afforded nonwhite people." It also allows Ojih Odutola to ask, "What what wealth look like in these countries if they'd been left alone?"
B. WURTZ
Metro Pictures, New York
September 6th - October 20th
ICA Los Angeles, Los Angeles
September 30th - January 27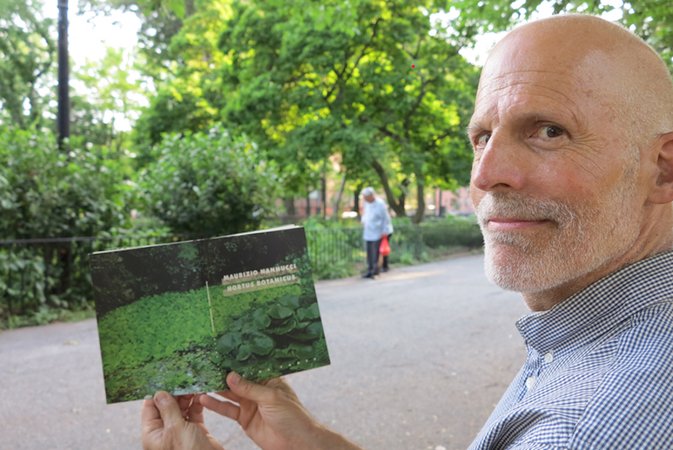 Image via Rainer Ganahl.
B. Wurtz has been making art for four decades, but only started getting serious attention after his 2011 career survey show at Metro Pictures. Now his upcoming exhibit, "Domestic Spaces," coincides with "Kitchen Trees," a major installation for Public Art Fund at City Hall Park in Lower Manhattan, and "This Has No Name," a museum retrospective of his work at ICA Los Angeles. Wurz is known for found object assemblages composed of quotidian objects: a red binder, blue broom handles mounted in an empty frame, grocery coupons glued onto a box. Disparate pieces are often tied together with strings. At B. Wurtz's 2012 show at White Flag, these assemblages were displayed on the floor, foregrounding the artist's interest in anti-monumental sculpture.
All of which makes "Domestic Space," his upcoming solo show at Metro Pictures, all the more surprising. The exhibit features large sculptures, early films, and photographs printed on fabric. But despite this difference in scale, "Domestic Space" actually continues Wurtz's Photo/Object series, which he began in 1987. Each item in the series is made up of a sculptural object and a photograph of that object, inviting comparisons between representation and that which is being represented. Moreover, while Wurtz's abstract photos of, for instance, giant metal objects seem like a far cry from grocery receipts and string, they are printed on domestic textiles, twisting and continuing his interest in the home and the everyday.
MARTINE SYMS
Bridget Donahue, New York
September 16th - October 28th
Sadie Coles HQ, London
September 6th - October 20th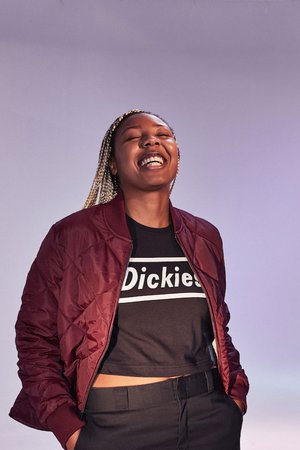 Image via Urban Outfitters.
Martine Syms was homeschooled through the ninth grade, taught herself advanced coding as a teenager, and graduated from the School of the Art Institute of Chicago at age nineteen. She worked in branding throughout her twenties; "Her final freelance assignment," Doreen St. Felix writes in her New Yorker profile of Syms, "was to spend a day helping Kanye West write his MTV Michael Jackson Video Vanguard Award acceptance speech, for the 2015 V.M.A.s, in which he announced his bid for the 2020 Presidency." In the profile––written just prior to Syms's MoMA solo show––the artist describes herself as a "conceptual entrepreneur," pointing to her hyper-facility across and interest in a variety of artistic mediums. Syms works in video, performance, and VR, and, in addition to MoMA, has shown at the New Museum, ICA London, and the Hammer, among others. But she is also the founder of Dominica Publishing, an imprint "dedicated to exploring blackness as a topic, reference, marker and audience in visual culture." Dominica has published books by artists and writers like Hannah Black and Diamond Stingily.
"Big Surprise," Syms's second solo show at Bridget Donahue, will run simultaneously with her solo exhibition at Sadie Coles HQ in London. The works combined from both galleries will culminate in an interactive video installation titled Mythiccbeing, a play on "mythic being" and "my thick being." It is hard to describe this show because it's hard to describe how good it is. It's one of the best shows this fall, though. Just go.
PAUL BLOODGOOD
White Columns, New York
June 29 - September 19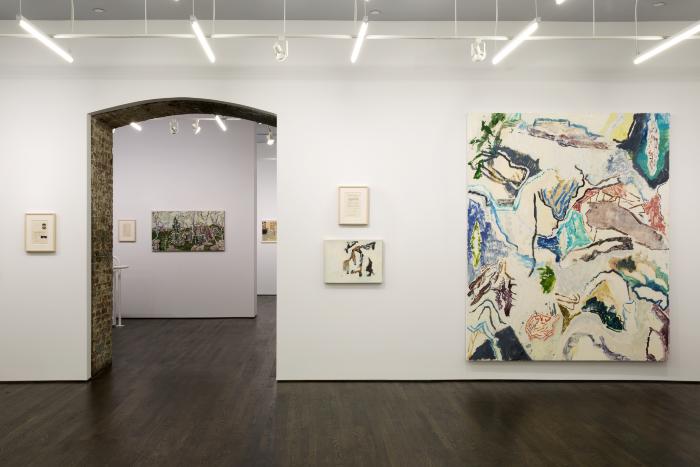 Image via White Columns.
Sadly, Paul Bloodgood, an abstract painter and poet, passed away earlier this spring from early onset Alzheimer's disease at the age of 58. He suffered a traumatic brain injury in 2010, the result of a mugging, yet continued to work in his studio until 2017. On view at White Column's is a survey exhibition of the artist's work from 1993 through the end of his career, and it "functions as both a retrospective of his work and as a testament and a memorial to his extraordinary spirit."
Bloodgood was of a special breed of artists dedicated to providing opportunities to other artists, whether jobs or exhibition space. After studying at Yale and Maine College of Art, he moved to New York in 1986 and founded an artist-run art transportation and installation company. (The company still exists, now called Art Crating, Inc.) He also co-founded the now-legendary AC Project Room gallery—an artist-run commercial gallery in Lower Manhattan that, over its 20-year lifespan, cultivated artists like Doug Aitken, Isa Genzken, Byron Kim, Anne Chu, among many others.
As an artist, Bloodgood made mostly abstract paintings (though some veered on being representational landscapes). In 1993, Jerry Saltz wrote of his work, "Paul Bloodwood's… paintings are filled with decisions about color, scale, surface and placement that seem unpredictable and wrong—therefore the paintings feel right and fermenting." Alongside his many colorful paintings of varying scale, White Columns presents three vitrines showcasing a selection of materials that relate the the AC Project room—like drawings, collages, research materials, and the original art work for Bloodgood's 1995 artist's book. Bloodgood's work has been exhibited at galleries like Gavin Brown's enterprise (1994), David Zwirner (2008), and Sandra Gering (1993 and 1995) among many others. Though this show isn't a season opener (it opened towards the end of June), it's time you take a look-see before it closes in just a couple weeks.
JOÃO MARIA GUSUMÃO + PEDRO PAIVA
Andrew Kreps Gallery, New York
September 6 - October 20
Image via Público.
Collaborating since 2001, Portuguese artists João Maria Gusmão and Pedro Paiva have never shown their work in New York—making their first show in the city, at Andrew Kreps Gallery, a big one. Their work isn't very known stateside (though they've exhibited extensively in Europe), so head to Andrew Kreps before October 20 for an introduction to their work: an immersive, architectural installation that includes new films recently shot in Lisbon. "Decelerating footage of the realm of domestic and biological objects, ornithology, science fiction, AC electric current, thaumaturgy, fake and real garbage, household appliances, socks, hardware and mirrors… the films aim to reconstruct the experience of time from an unnatural state, opening the objects depicted to a paradoxical allegory—an anthropomorphic worldview is created on top of an otherwise extra-terrestrial frontier," says the press release.
Parsing this statement isn't exactly easy… which is why it might just be the kind of thing you have to see in person to fully comprehend. If the films are anything like previous ones they've shown at Camden Arts Center in London, they're shot with high-definition film, silent, and short—making them feel full of gravity and expectation, despite their near-absurdist nature. According to Adrian Searle writing for the Guardian about the London exhibition, "They can make a drama out of nothing and art out of anything."
ARIA DEAN
Château Shatto, Los Angeles
September 8 – October 27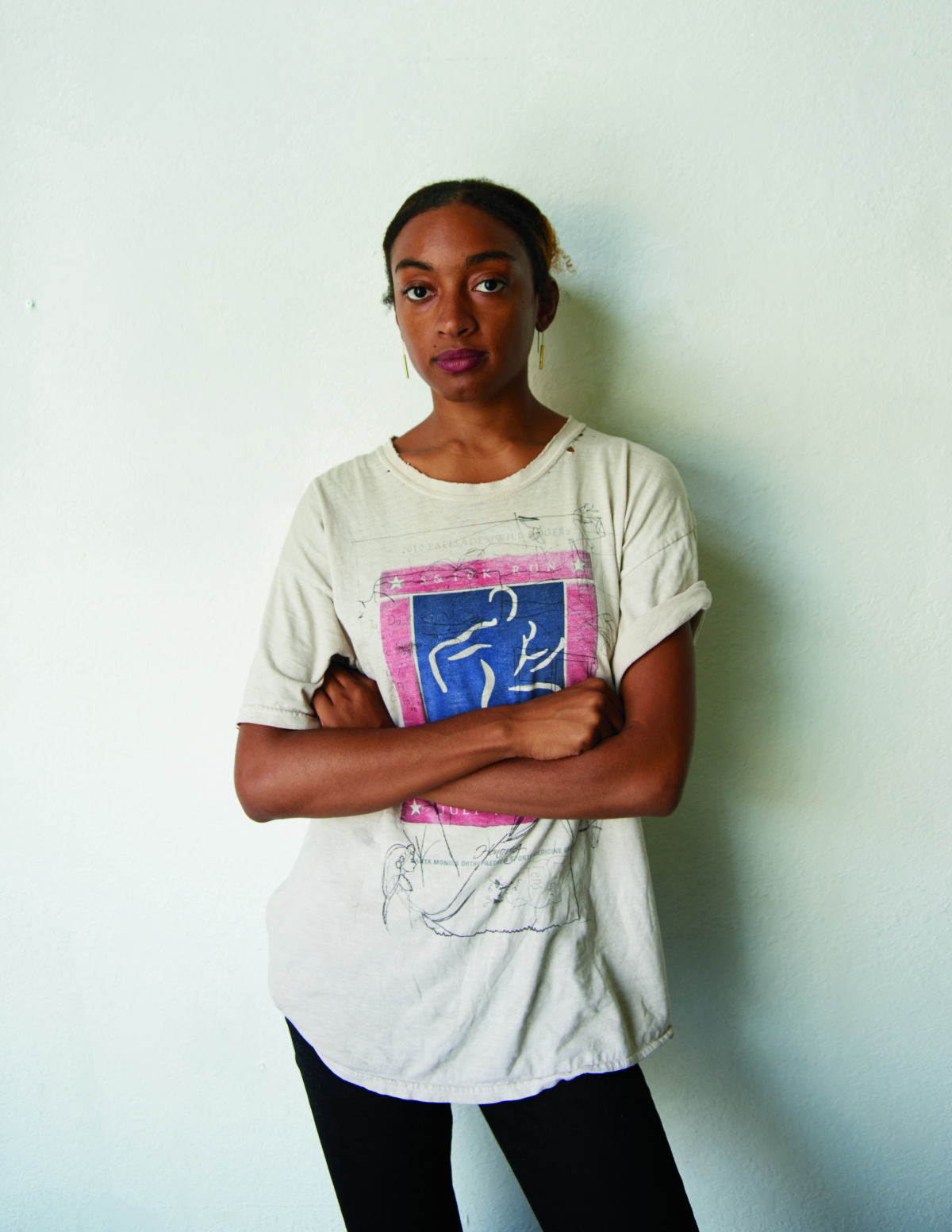 Image via Cultured Magazine.
Last summer, Aria Dean was included in a group show at Los Angeles' Château Shatto, sharing the spotlight with folks like Jordan Wolfson, Bunny Rogers, Chris Kraus, Martine Syms, Parker Ito, among others. Now, she's represented by the four-year-old gallery. Chateau Shatto opened their season with a solo show with the young artist and writer (she's written for Artforum, Art in America, The New Inquiry, Topical Cream Magazine, Mousse Magazine, CURA, Texte our Kunst, and many others—and we included her in our "2018's Best Pirces of Art Criticism" article. ) "Dean asks if blackness can be given form via a purely material or structural presence," says the press release. In the case of this show, these material manifestations are minimal sculptures made of clay and resin, continuously looped videos, and a replicative sculpture.
The clay sculptures address the landscape of the American South; but their slick, minimal appearance "undoes" the implied historical baggage. The videos are edited from crowd scenes in hip-hop videos, questioning "the relationship between the individual and collective being, between the continuous and discrete." And for the stand alone sculpture? It's a "literal invocation of a ghost"—whatever that means.
Dean is a cerebral artist, and her conceptual works are not always the easiest to access—but her perspective is sharp, focused, and illuminating if you're patient enough to understand it. Dean works as the assistant curator of net art and digital culture at Rhizome, and she's had recent solo and two-person shows at Arcadia Missa in London, American Medium in New York, and The Sunroom in Richmond.
GERTRUDE ABERCROMBIE
Karma, New York
August 9 - September 23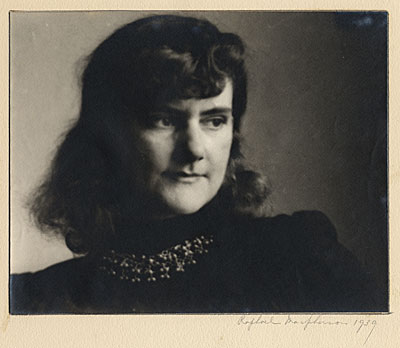 Image via Toomey & Co. Auctioneers.
It's been 66 years since American Surrealist Gertrude Abercombie's work has received a dedicated exhibition in New York. Having had her last exhibition in 1952 (Abercrombie passed away in 1977), the Chicago-native has made an extraordinary comeback thanks to a monumental solo show at Karma, which includes over 70 of the late artist's works and is accompanied by a massive biographical tome. Telling of both her approach to painting as well as her personality as a jazz-age bohemian saloniste (among friends, she was often called "The Queen of Chicago"), Abercrombie had once written in a note to herself, "Surrealism is meant for me because I am a pretty realistic person but don't like all I see." Her whimsical and curious compositions are awash in a mysterious ennui reminiscent of Edvard Munch and bear a marked allegorical stillness which calls to mind many of Magritte's works.

Since the show's opening last month, Abercrombie has become the talk of the town, garnering rave reviews in both the New Yorker and the New York Times, finally shedding light on an artist who thought of herself as "the other Gertrude," hosting salons from her home on Dorchester Avenue. Like Stein, Abercrombie created a space that was remarkably progressive, opening her home as a safe haven for black musicians who were often refused room and board at local establishments and for LGBTQ artists throughout the '40s, '50s, and '60s. Her survey exhibition at Karma is not to be missed and will, given her fascinating life and work, beg the question—what took so long?
SIMONE LEIGH
Luhring Augustine, New York
September 8 - October 20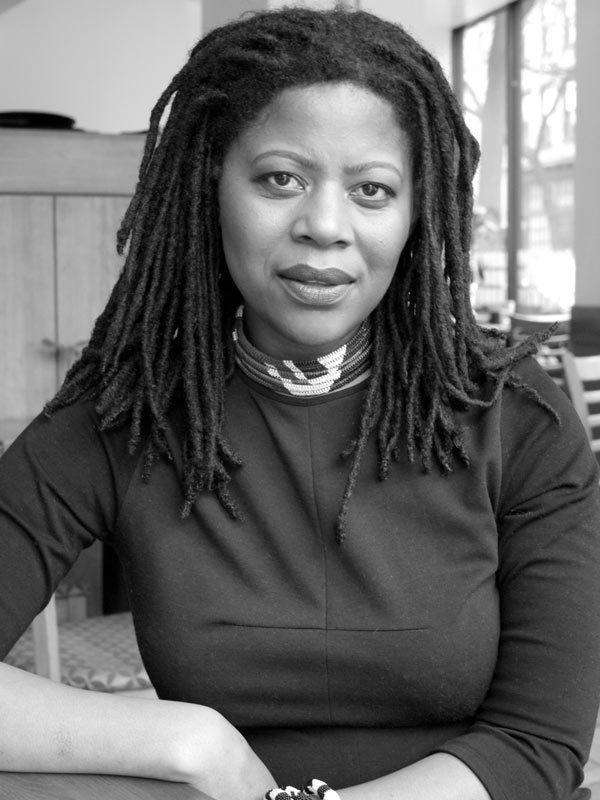 Image via Culture Type.
Sculptor and ceramic-artist Simone Leigh is having one hell of a year. Since October, Leigh's powerful work exploring the black diaspora and black female subjectivity has earned her the Studio Museum in Harlem's Wien Artist Prize, the Foundation for Contemporary Art Grant, the Guggenheim's prestigious Hugo Boss Prize shortlist, and her first public art commission at the Highline—a 16-foot tall bronze sculpture of an African-American woman whose torso expands into a skirt-like house called Brick House—unveiling in April. In discussing the title of her upcoming Highline piece with the New York Times, Leigh recalls the eponymous and classic funk number by the Commodores: "It was a celebration of black womanhood that we hadn't really heard. That was what was resonant about it—not necessarily a male gaze but that beauty was associated with mightiness and strength, as opposed to fragility. Being solid."

Keeping up with Leigh's well-earned ascent is her first solo show represented by Luhring Augustine, joining their esteemed roster of artists including Pipilotti Rist, Rachel Whiteread, and Glenn Ligon. For those unfamilar with her work, this show is the perfect opportunity to get acquainted before all of the #artselfies that are bound to flood your feed once Brick House debuts.
SARAH LUCAS
New Museum, New York
September 26 - January 20, 2019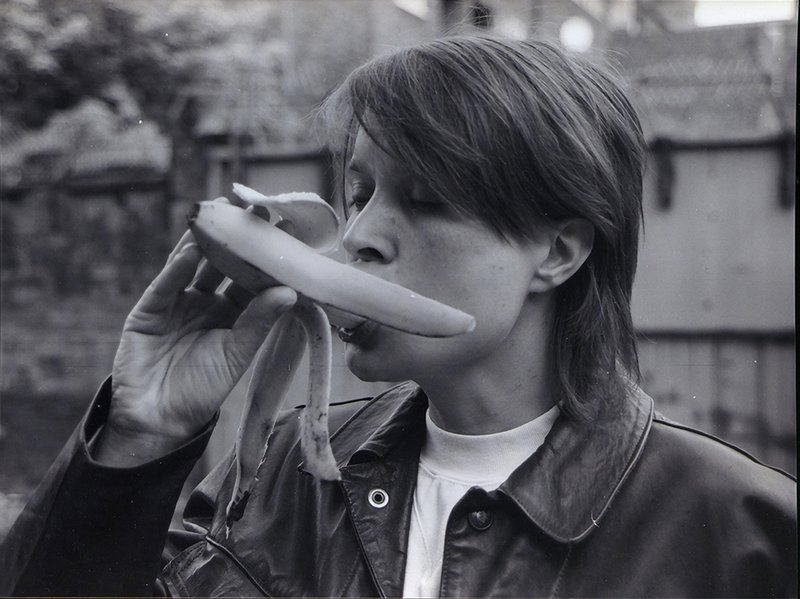 Sarah Lucas' Eating a Banana (revisited) (1990-2017) is available on Artspace for $10,000 or $880/month.
If you can believe it, "Au Natural" at the New Museum will be the first time Sarah Lucas' work will receive a full survey in the United States—shocking, we know! (This month also marks the release of the most comprehensive survey book of the artist's work, published by Phaidon and available on Artspace.) Despite the fact that Lucas was a core member of the Young British Artists of the 1980s (along with Damien Hirst, Tracey Emin, Chris Ofili) and is a household name in art-loving households across the pond, those of us stuck in the land of the free have had to live more or less without her provocative tongue-in-cheek confrontations of gender, sexuality, and identity, hallmarked by her iconic photograph Eating a Banana (1990), wherein Lucas looks at us while, well... eating a banana, daring us to make the fellative associative jump.
Since the YBA days of the late '80s, collaborating with Emin and curated by Hirst, Lucas' work has been extensively exhibited at institutions including the Tate Britain, the Tate Modern, and (fittingly) the Freud Museum, and in 2015, she represented Britain in the Venice Biennale. Admired as the notorious bad girl of the British art scene, Lucas was once called "the wildest of the Young British Artists, partying hard and making art that was provocative and at times genuinely shocking" in a profile by The Guardian. Opening at the end of this month, "Au Natural: Sarah Lucas" brings together more than 150 works in photography, sculpture, and installation throughout the museum's three main floors to reveal the breadth and ingenuity of Lucas' practice, giving New Yorkers even more opportunity to feel super weird about sex. First one to laugh nervously is a prude!

[related-works-module]
RELATED ARTICLES
Martine Syms's Master Class in Micro-Acting for the YouTube Age
8 Artists to Watch in February 2018
Collect the Winners of the Prestigious Hugo Boss and Guggenheim Prizes––For Under $4,000