To match the unseasonably warm weather we've been having in New York (three weeks at 80 degrees this time of year is totally fine, right?), these eight artists are bringing the heat! Be sure to catch their shows if you're in town.
MINDY ROSE SCHWARTZ
Queer Thoughts, New York
September 8 - October 15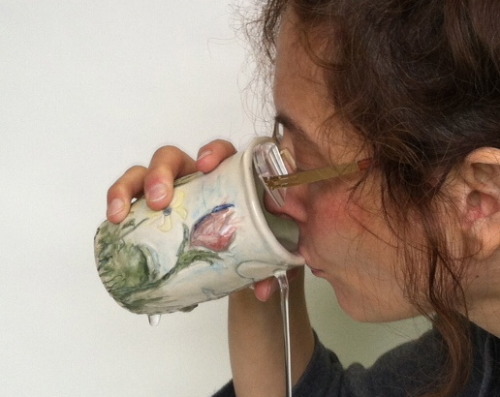 Nothing speaks to a person's character more than their taste in home decor—like somehow you already know your grandma has more vinyl-covered furniture in her one-bedroom apartment now than was there you last time you visited. This intimate relationship with everyday decorative objects is the crux of Chicago-based sculptor Mindy Rose Schwartz's first New York solo show at Queer Thoughts. A professor of sculpture at SAIC, Schwartz focuses on what she calls "the morphing effect"—how an individual's experiences with and memories of mass-produced objects can alter their intended meaning and function. Evocative of Louise Bourgeois's distinctively melancholic works, Schwartz's three-dimensional wall pieces made of upholstery fabric, jewelry, feathers, charms, and other every-day materials re-appropriate decorative motifs and transfigure objects into the unfamiliar, their readability and intentions rendered opaque. Schwartz's show at Queer Thoughts is on view until October 15th, leaving you with just enough time to engage in a fun exercise—if, as the show's press release puts it, "choices of decor are always a matter of taste, and taste implies an underlying system of social difference (an overt synonym of taste is classy)," what kind of person would decorate their home like this? 
DOMINICK DI MEO
JTT, New York
September 10 - October 22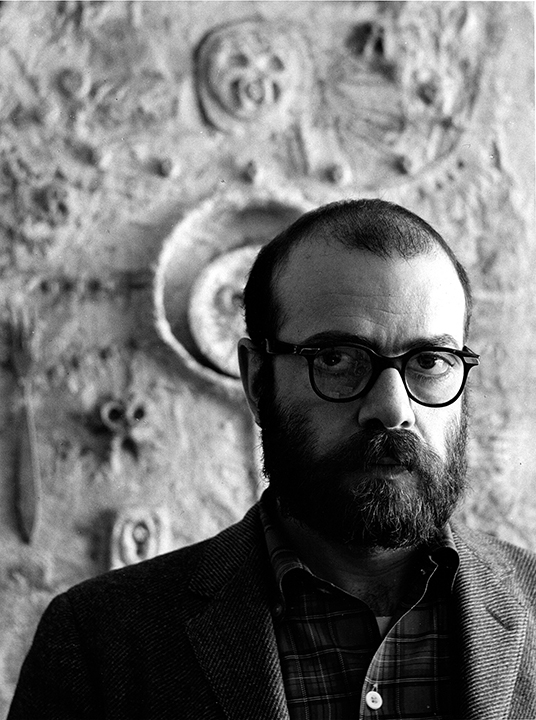 The earliest piece on view at Di Meo's first solo exhibition at JTT is from 1952; "Untitled" is a haunting wall relief with small, sculpted, skull-like faces protruding toward the viewer. A red line cuts across the horizontal piece, calling to mind a flatlining heart beat monitor, typically signifying loss of life. Living in Chicago in the early 1950s (before finally moving in 1969 to New York, where he currently resides) Di Meo was considered part of a community of artists unique to Chicago referred to as the Monster Roster. Though the recurring images of truncated and dismembered bodies that speckle his prolific 70-year career seem fittingly timed for the month of Halloween, Di Meo's influences are much darker and gruesome than bobbing for apples and overdosing on sugar. After contracting polio at the age of four, Di Meo spent four years in a children's ward strapped down to a bed to prevent him from moving his limbs (doctors at the time believed that limiting motion was helpful in the treatment of polio—we now know this couldn't be further from the truth.) From his bed, Di Meo watched the dead bodies of infants and children removed each night in black plastic bags, after witnessing them writhe and suffer for weeks before. According to the press release, "Di Meo confronted this memory throughout his entire life, constantly attempting to reconcile these haunting images with a dark and sinister humor." Well, that's one way to turn lemons into lemonade! 
RACHEL ROSSIN
SIGNAL, Brooklyn
September 29 - October 22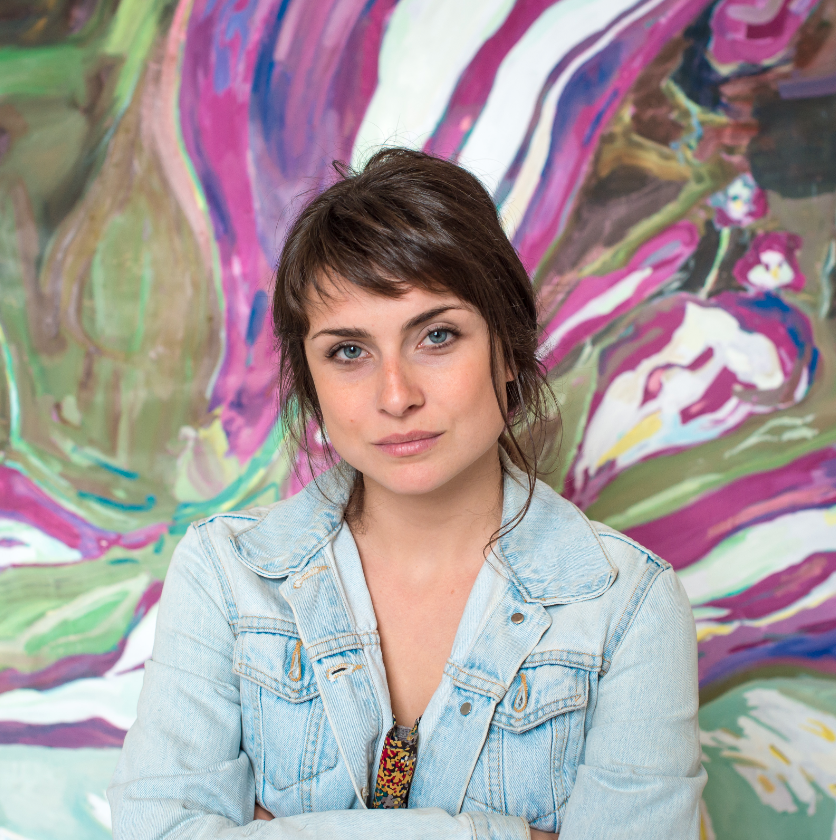 A pioneer in the sapling medium of virtual reality art, multi-media and installation artist Rachel Rossin has been busy breaking a lot of ground over the past few years. Most notably, the recent Forbes Art and Style 30 Under 30 recipient was the New Museum and New INC's first-ever virtual reality fellow from 2015 to 2016. Using game-engine physics and computer algorithms combined with more traditional graphic mediums such as oil paint or airbrush, Rossin creates visual experiences that are as surprising as they are familiar. This thrilling symbiosis aims to transcend our cultural bounds of perception. Her current show, Peak Performance at SIGNAL finds the artist working predominantly in painting and sculpture in order to investigate the sense of disembodiment experienced in virtual reality, "recast[ing] the human body as a digital phantom represented across different media." 
GINSSIYO APARA
Housing, Brooklyn (group show)
September 22 - October 23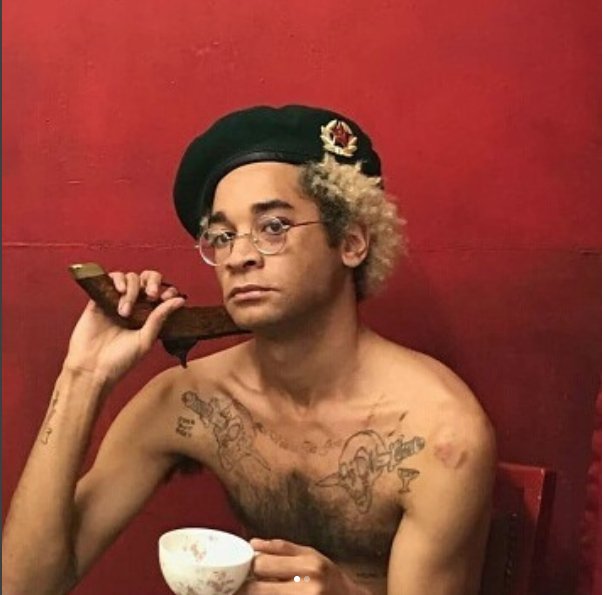 There's not a whole lot of public information about Ginssiyo Apara, though his Instagram —@afrocuban_art_daddy—gives us a place to start. The Brooklyn-based artist (he used to live in Columbus, Ohio) currently has several works on view at Housing, Bed-Stuy's newest art gallery, which lives in American Medium's old haunt, and shows the work of black artists, curated by black artists. Apara's paintings of 40 ounce malt liquor bottles and tall cans of Modelo are rendered on the surfaces of black plastic bags—the kinds most often used by bodegas for their ability to hide the (alcoholic) contents held within. Unframed and un-flattened, the works look as if they could blow away in the wind, giving them a feeling that's both precious and disposable. In the smaller of the two galleries inside Housing is an arrangement of glazed ceramic chicken wings, scattered on the floor in the corner. Though we can't say much about where this artist has been, we are closely watching where he's going. And if you haven't gotten around to checking out Housing yet, it's definitely worth the trip. Their current group show is one of the best we've seen among this season's opening exhibitions.
JORDAN CASTEEL
Casey Kaplan, New York
September 7 - October 28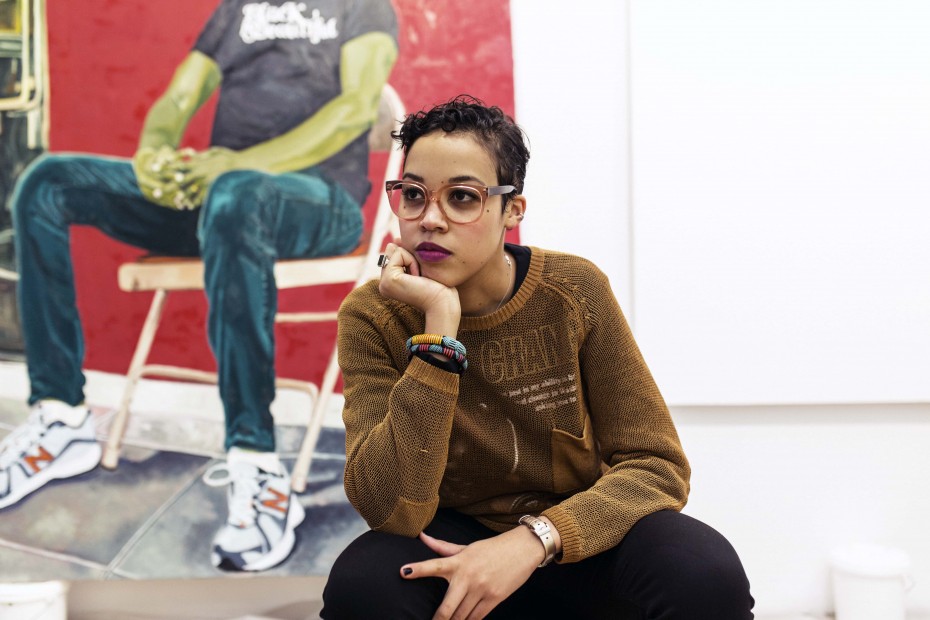 In her recent feature on Art 21's New York Close Up series, Jordan Casteel reflects on a conversation she had with her twin brother where he was describing his experience being followed around in a store, "People follow me like I'm a threat but they don't know that I'm a father and that I'm trying to get my act together...They don't know anything about me. I'm just the person that's going to steal something." This pervasive image of the criminalized, objectified black male is exactly the kind of visual stigma that Casteel's work so beautifully and concisely subverts in her new series of paintings on view at Casey Kaplan. Simply titled Nights in Harlem, the show is so direct in its humanity, it's humbling. The larger-than-life portraits are all based off of photographs Casteel takes of men she encounters in her neighborhood at night. These no-frills oil paintings succinctly cast away the typical associations of fear and danger in favor of intimacy and compassion. On view through October 28th, Nights in Harlem cuts to the heart of the matter, offering honest portrayals of black male identity that debunk the dehumanizing images so frequently perpetuated in the media.  
ARIA DEAN
American Medium, New York
October 19 - November 26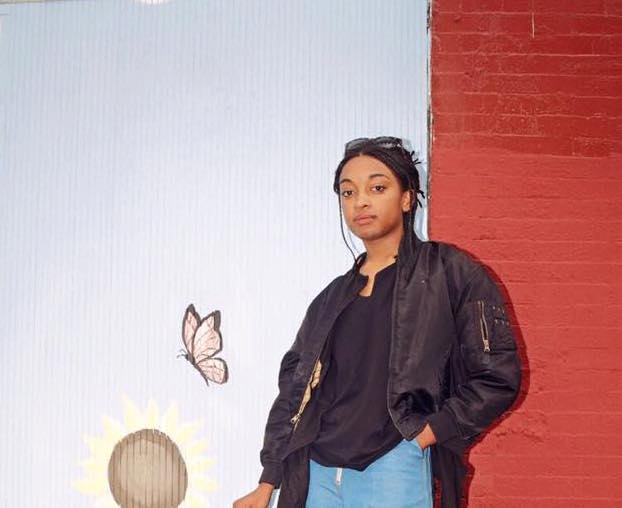 As the assistant curator of net art at Rhizome, and a prolific writer whose work has appeared in Artforum and The New Inquiry among others, Aria Dean is a creative force to be reckoned with. Her artworks are potent conceptual reflections on black history, culture, and subjectivity, smooth in their delivery but unapologetic in their intent. For instance, her sculpture Dead Zone (I) features a single cotton branch preserved inside of a bell jar, with a cell-phone signal jammer built into the pedestal. The reception intervention speaks directly to Dean's desire to keep hallmarks of black culture and trauma from being spread freely, or from being appropriated without consent. Such tactics leave its creators and subjects, as she writes in Poor Meme, Rich Meme, "to see their forms snaked away, value siphoned off by white hands." Dean's solo exhibition, her first in New York, opens later this month at Chelsea's newest resident American Medium.
BARBARA HAMMER
Leslie-Lohman Museum of Gay and Lesbian Art, New York
October 7, 2017 – January 28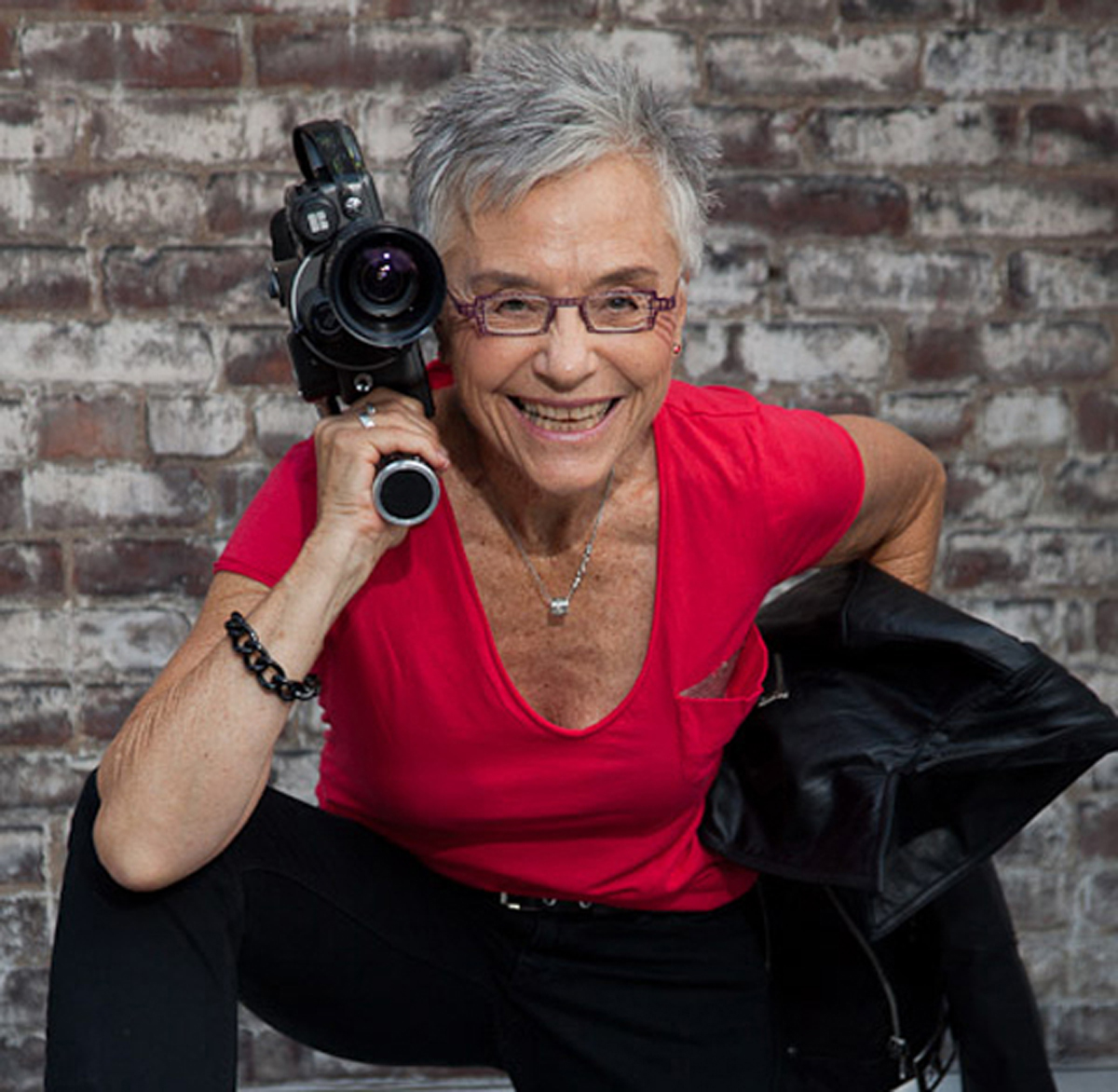 Experimental filmmaker Barbara Hammer burst onto the scene in 1974 with her groundbreaking short Dyketactics, a film that brazenly yet poetically depicted two women meeting in the countryside and making love. Hammer went on to define the genre of queer filmmaking, shifting between dream-like montages and straightforward documentaries that explored the female body, stereotypical gender roles, and lesbian identity throughout time and across the globe. This month, the Leslie-Lohman Museum stages a spellbinding retrospective of her work, digging through Hammer's archives to present a myriad amount of powerful films and installations, some of which haven't seen the light of day for decades. It's not one to miss, with even Hammer telling Interview Magazine, "[the curators] pulled out things that I didn't think a typical retrospective would show."
AZIKIWE MOHAMMED
Knockdown Center, Queens
September 9 - October 29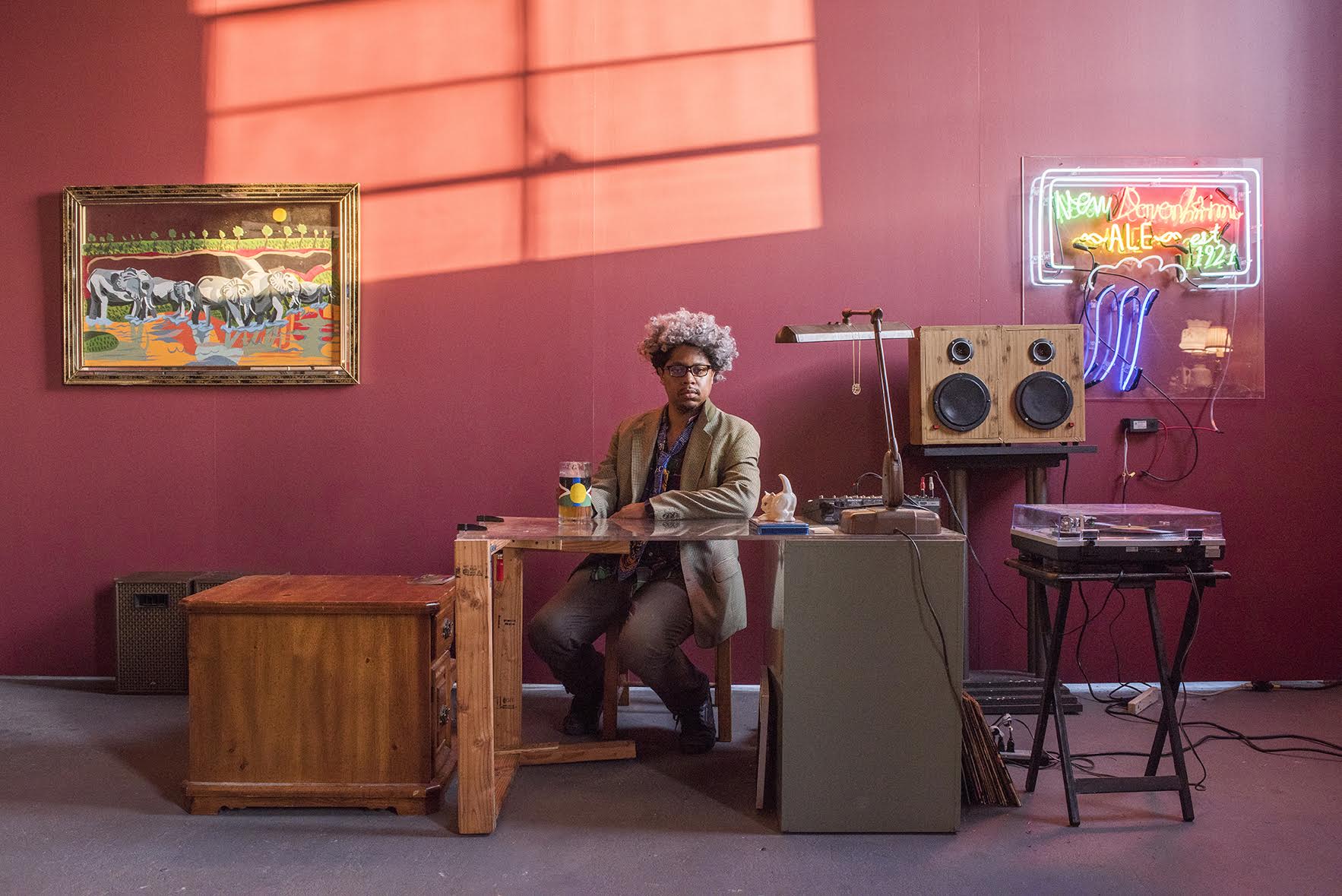 Up-and-coming New York-born artist Azikiwe Mohammed has transformed part of Knockdown Center's 50,000-square-foot space into Jimmy's Thrift of New Davonhaime, a fictional thrift store situation in a fictional location (the town's name is derived from the five most densely populated Black cities in the United States: New Orleans, Detroit, Jackson, Birmingham, and Savannah.) Mohammed inhabits the space daily, acting as Jimmy, the thrift store's owner, accepting donations that include photographs (to be added to his "Black Community Family Albums"), original music compositions (which will be stored digitally in artist-designed flash drives), and on-site audio-recorded memories describing the first time participants realized they were black (to be compiled and turned into records). Mohammed's work includes large figurative quilts, photographic portraiture, lamps, and paintings on mirror (among other things) that offer nuanced portraits of Black lives. He graduated from Bard College in 2005 and has since received the Art Matters Grant and the Rema Hort Mann Emerging Artist Grant. Check out the "shop," flip through some photo albums, and speak with the artist himself.