Artspace is thrilled to announce that we have partnered with UNTITLED, ART to launch the UNTITLED, ART Charitable Artist Edition, featuring an editioned work on paper by Genesis Tramaine entitled Black Woman University .
The digital archival print will debut at Artspace & Phaidon's booth during the preview of UNTITLED, ART Online, powered by Artland, at 11am EDT on Thursday, July 30.
An edition of 50, the benefit print is priced at $1,000, with proceeds from the sale supporting programming, fellowships and grants at the New York Foundation for the Arts (NYFA).
Genesis Tramaine is an Urban Expressionist painter whose work explores the shape and identity of the Black American face. Her imagery captures the spirited emotions of the untapped, underrepresented soul of Black people through a mixture of collage, acrylic and oil-based paintings.
Tramaine's faces are layers of real moments and imagined metaphors. She explores ethics and insanity, the mundane and the inhumane, spirituality, sexuality and sentimentality. A native New Yorker, Tramaine graduated Summa Cum Laude with a Masters from Pace University and has been exhibiting her work since 2010. Most recently, she was the subject of a solo exhibition at Almine Rech, London.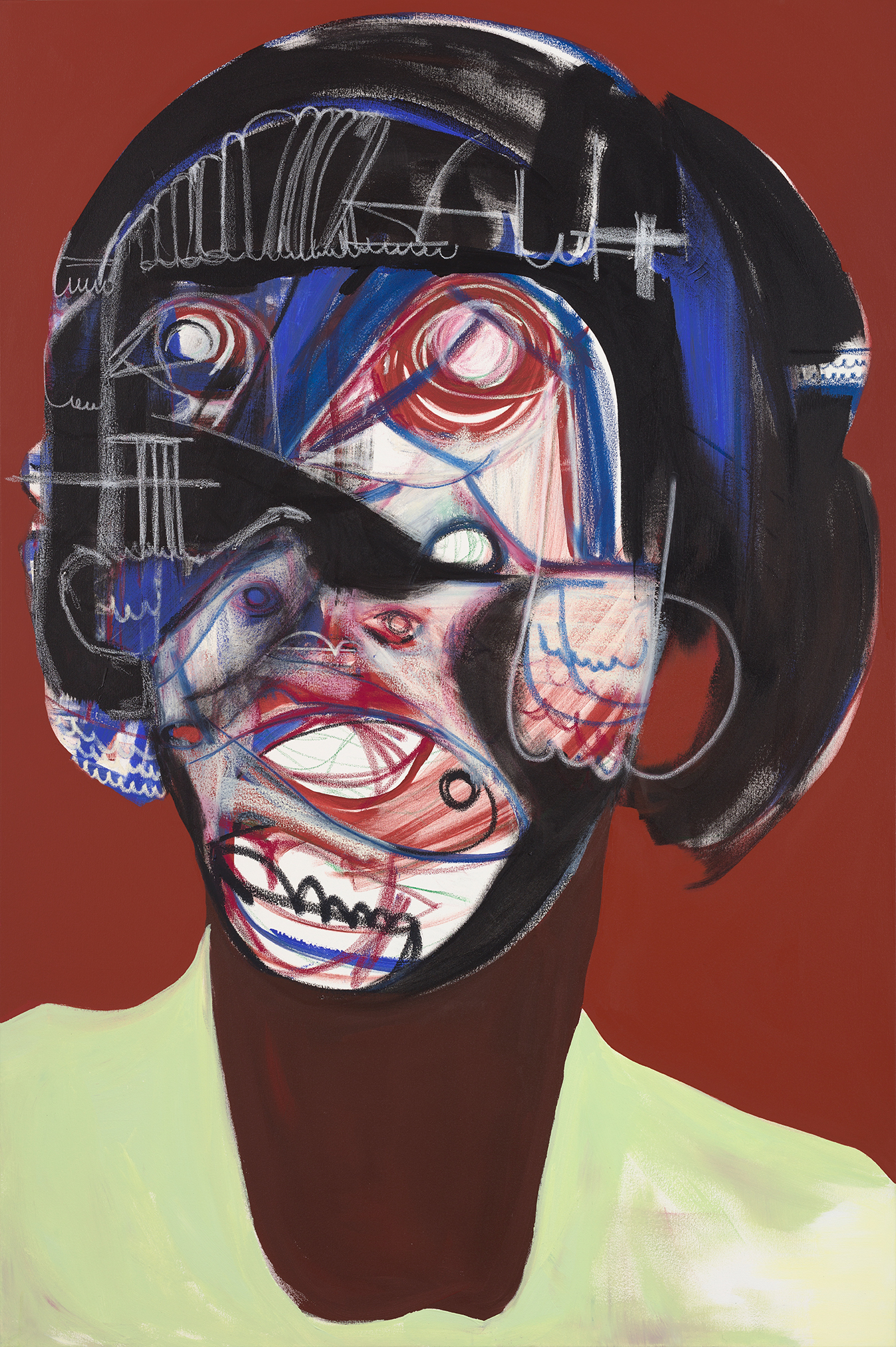 Genesis Tramaine, Black Woman University , 2020.  Courtesy of the Richard Beavers Gallery
"We are excited to be partnering with UNTITLED, ART for the third year following successful fairs in both Miami and San Francisco," said Artspace & Phaidon CEO, Keith Fox. "We are equally thrilled to be launching Genesis Tramaine's charitable edition at UNTITLED's first virtual art fair. As a native New Yorker, Genesis is a natural fit with NYFA, pairing an incredibly talented artist with an essential New York arts nonprofit organization."
UNTITLED, ART is an international, curated art fair founded in 2012 that focuses on curatorial balance and integrity across all disciplines of contemporary art. UNTITLED, ART innovates the standard fair model by selecting a curatorial team to identify and curate a selection of international galleries, artist-run exhibition spaces, and non-profit institutions and organizations, in dialogue with an architecturally designed venue.
NYFA is a nonprofit service organization that empowers working artists and emerging arts organizations across all disciplines at critical stages in their creative lives and professional/organizational development. Each year, NYFA provides cash grants to individuals pursuing artistic excellence in all forms.
"We are excited to welcome Artspace & Phaidon as our charitable partner for the inaugural edition of UNTITLED, ART Online," said Manuela Mozo, Executive Director of UNTITLED, ART.
"Genesis Tramaine is a rising voice of her generation and her work speaks poignantly to our current moment in history. We are proud to feature her work as part of the UNTITLED, ART Charitable Artist Edition and to have the opportunity to support NYFA in such a meaningful way,"
Artland is an online platform dedicated to all facets of contemporary art and which connects galleries and art collectors via the web and its proprietary app. Artland has grown into the world's largest community of art collectors, the largest library of private collections, one of the most read art magazines in the world, and the biggest provider of comprehensive digital tools to galleries, including its renowned 3D recording services for gallery exhibitions.
We will be posting more news of this exciting venture and an interview with rising art star Genesis Tramaine at Artspace next week. Inquire now to register your in interest Black Woman University , 2020.