What does it mean that the presiding vibe at the Sunday Art Fair—which, as London's youthful talent showcase, is typically energetic—was one of dystopian morosity? The kids are not alright, the event seemed to say, with several artists telegraphing a spirit of technological dread mixed with a kind of existential if-you-can't-beat-em-join-em complaisance. Here are a few of the more attention-grabbing turns at the fair.
LOUISA GAGLIARDI
Tomorrow Gallery (New York)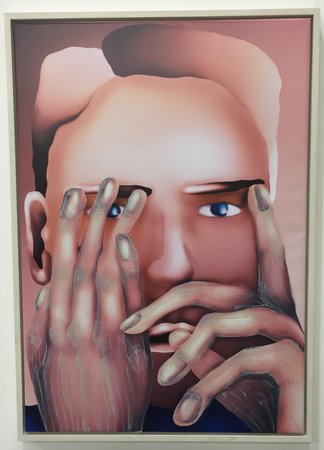 Based in Zürich, the artist and Rietveld alumna Louisa Gagliardi has recently been specializing in large-scale, close-in portraits of friends and acquaintances (some of them up-and-coming art-world figures themselves) that she derives from her social-media network and then transliterates through a series of visual moves redolent of digital painting, '90s music videos, and 6 a.m., just-home-from-the-techno-club attitude.
Her canvases are fashion-ready examples of what might be viewed as Post-Internet portraiture—a burgeoning synthetic idiom explored in different ways by artists like Michael Williams, David Rappeneau, and Joshua Nathanson—and she makes them even more creepily alluring by slathering on plasticine materials, like the combination of latex and acrylic that here creates glove-like sheathes around the hands.
Tomorrow Gallery's Tara Downs says the "tenuously sexual" vibe these paintings give off make some viewers uncomfortable, which may have appealed to the Swiss Institute's Simon Castets and Serpentine godhead Hans Ulrich Obrist, who will feature her in "The Filter Bubble," an upcoming show at LUMA/Westbau that they're organizing under their 89plus rubric. Her paintings at the fair were $5,500 apiece.

JOANNA PIOTROWSKA
Southard Reid (London)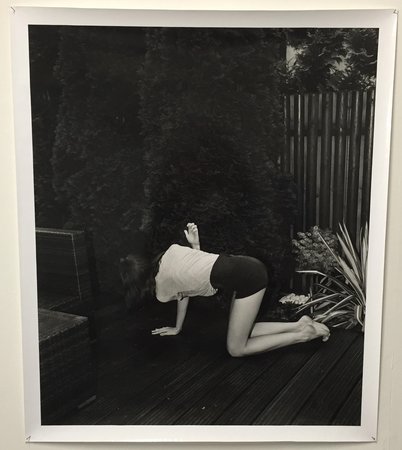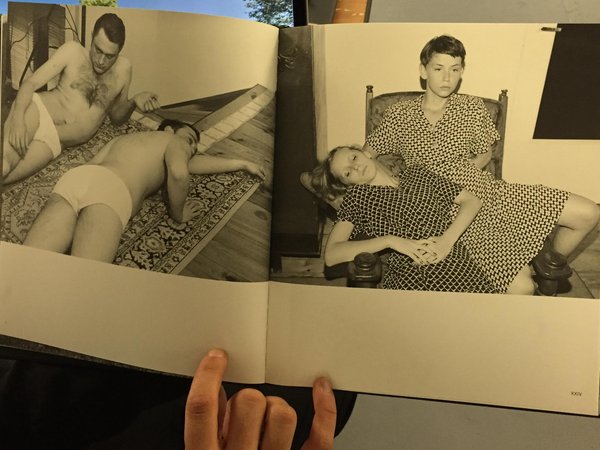 Joanna Piotrowska is a recent Royal College of Arts graduate who grew up just outside of Warsaw and has dedicated herself to returning to familiar sites from her youth and photographing members of the families she grew up alongside—except instead of creating an atmosphere of warmth and love, she destabilizes these images, posing them in unnatural positions or capturing them in unsettlingly sensual interactions. (Her photo book, Frowst, gives the impression of an unusual community indeed, which is a testament to her storytelling powers.) At the fair, this photo of minor-key elegance was going for £1,200, from an edition of seven.
ALEX RATHBONE
Frutta (Rome)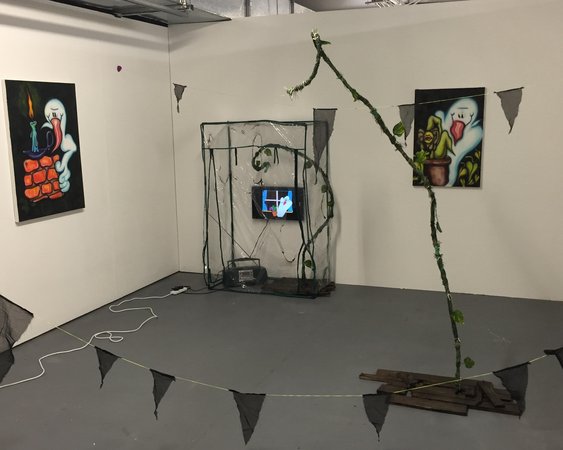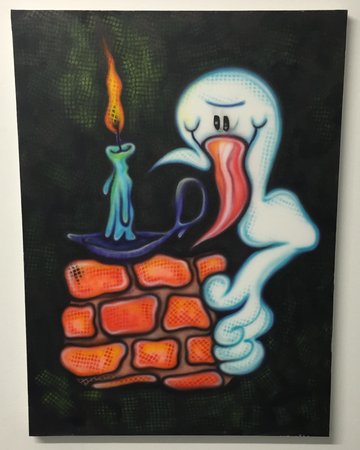 The fair's spooky mood gets a cheerful spin in the work of Alex Rathbone, whose acylic-and-spray-painting whimsies combine motifs of red-lipped tentacle plants (who knew Little Shop of Horrors still had a hold on kids today?), brick walls, and a kind of plucky ghost bird who seems to be the artist's mascot at the moment. Born in Glasgow in 1987 and now based in Berlin, Rathbone found his start in graffiti and now plies his Halloween-appropriate vibe across painting, animation, installation, and sound. He just started showing with Frutta, but has had a good run lately, with a two-person outing at the Sunday Painter and two shows coming up at New York's Meyohas space and Los Angeles's Nicodim Gallery. Here his paintings were €2,500, with the installation priced at €4,500. 
SPIROS HADJIDJANOS
Future Gallery (Berlin)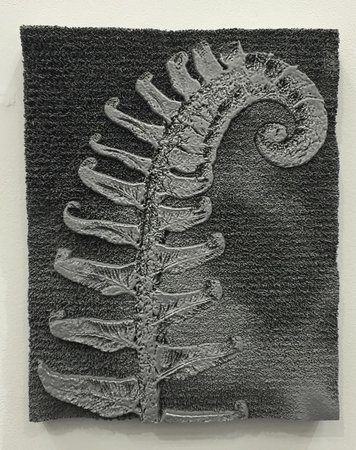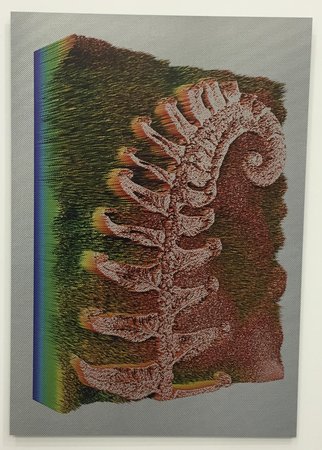 The Athens-based artist Spiros Hadjidjanos is interested in the new ways information can be represented in the age of digital tools, and at the fair he made a dazzling case for his approach with the help of Karl Blossfeldt, the naturalist whose black-and-white images of plants were touchstones of Modernist photography. Here, Hadjidjanos has taken one of Blossfeldt's photographs of a common North American fern and transmuted it through two processes.
For the first, he ran a digital file of the image through an algorithm to render it as a 3D depth map, with the dark parts receding and light parts coming to the fore, then used a 3D printer to manifest it as an alumide sculpture. He then used a UV printer to execute another version of the 3D map (from a side perspective) on carbon fiber, where it takes on a trompe-l'oeil holographic quality.
Blossfeldt also spent time in Athens chronicling the plants in the ancient friezes, and here Hadjidjanos is proposing high-tech twists on the classical relief. A graduate of Berlin's Universität der Künste, will be featured alongside an upcoming survey of Jan Dibbets's photography at the Musée d'Art moderne de la Ville de Paris; his sculpture here was €6,100 euros, the photograph €8,200.


DARJA BAJAGIĆ
Room East (New York)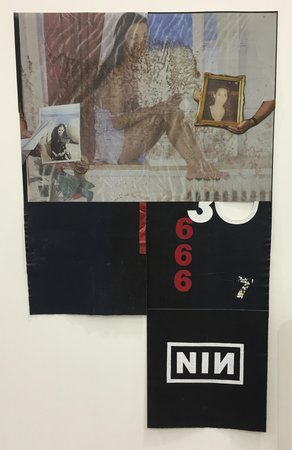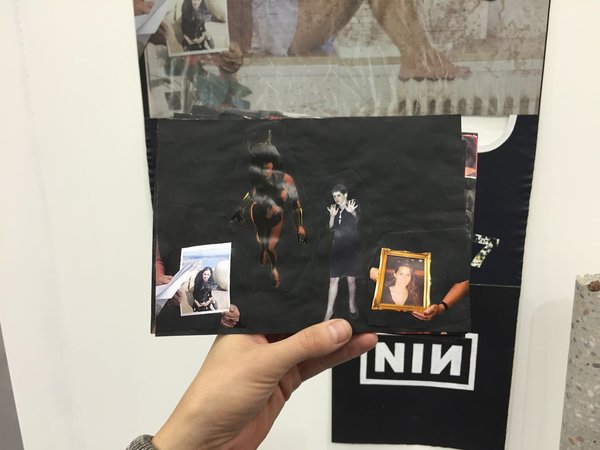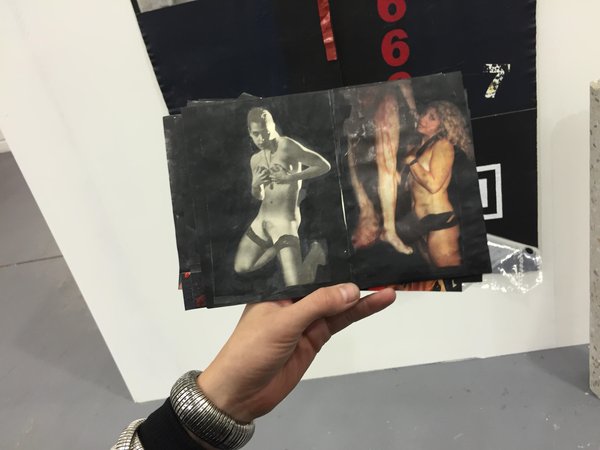 Notoriety has done wonders for the young Titograd-born artist Darja Bajagić, who left Yale like a bat out of hell after art school dean Rob Storr vilified her for her aggressive use of pornography, insisting it meant she improperly understood the advances of feminism and suggesting that she receive counseling—a public brouhaha that endeared her to the New York art community, including Jerry Saltz, who called her subsequent gallery debut one of the best shows of 2014.
Here, her collage-based paintings on view indicate that she has made advancements since then, and that her work has become progressively darker. Made from unstretched canvas that she has UV printed with images that she has sourced from social media, serial killer blogs, pornography, and industrial music iconography, they traffic in cryptically confused identities and play to dark appetites—a soft-core porn star will be juxtaposed with a missing girl (Donna Jou, in this piece) who will look like a photo sourced from Facebook who will have a striking resemblance to the artist herself. A sanguinary smear caps things off. (After extensive experimentation, the artist determined that real blood mixed with stage blood provides the most realistic effect while maintaining its color over time.)
Storr's main complaint with Barjagić seems to have been that she exploited her materials without really knowing what she was doing, but other curators and dealers have embraced her disturbing style, and she's going to be in the upcoming Castets/Obrist show—plus another 89plus outing at Paris's Musee d'art moderne in November—as well as a show opening at Paris's New Gallery this Thursday. Her painting was priced at $9,000, while the collage studies were $1,500 apiece.