Amid all the tasteful abstract painting at this year's edition of Frieze London lurked a few artists whose work is inching the conversation forward in ways that seem both urgent and path-breaking. Here are a few of the standouts, four from the present day and one from the recent past.
TREVOR SHIMIZU
47 Canal (New York)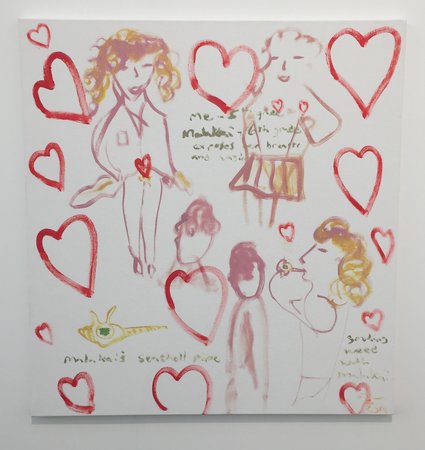 A painter whose childlike scrawls brim with both innocence and experience, Trevor Shimizu uses his canvas to tell arrestingly intimate stories from the inside of his head—kind of like the drawings that child psychologists elicit to show mommy sitting alone in the kitchen while daddy and the neighbor go off to their "special place." This painting, for instance, recounts the happy memory of the first time the artist encountered breasts and a vagina in the wild (he was in fifth grade; the girl was in sixth) and the first time he smoked pot.
Currently featured in Greater New York, Shimizu (whose paintings range from $3,000 to $15,000) is no outsider naïf—although he conveys his tales with a rude immediacy, he does so at a step removed (as if through a stage persona à la Larry David or Louis C.K.). His work recalls a quote from Jasper Johns, as paraphrased by Peter Schjeldahl: "Style is only common sense. You figure out what people like about you, and you exaggerate it."
ED FORNIELES
Carlos/Ishikawa (London)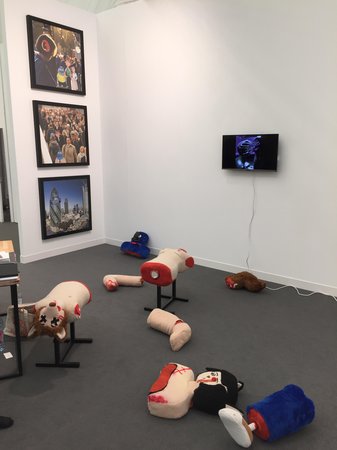 Another artist who exploits the liberating possibilities of a persona is Ed Fornieles, who a year ago adopted cartoon animal characters as stand-ins for himself and his closest friends, using them to disclose his anxieties and private thoughts through both his work and his Instagram account.
In this charming fantasy layer, Fornieles is a fox, Amalia Ullmian (another artist who uses Instagram as a gallery) is a cat, and his chum Dean is a platypus, and the three photo-illustrations on view at the fair (£7,000 apiece, on watercolor paper) show them taking in the anomie of London urban life. New hand-sewn cushion pieces, meanwhile, show these characters torn apart into bloody pieces (£6,000 for a chair, £12,000 for the floor pillows) and reflect that the artist is going through a rough time (according to his dealer).
Fornieles is familiar with the dissociative vagaries of having a public image; for a decade he was a tabloid fixture as the much-photographed boyfriend of Theory of Everything and Star Wars reboot actress Felicity Jones. Here, he is poeticizing a form of mirror-stage agita that has long plagued celebrities (perfect cartoon on the outside, crying on the inside) but that now is available to all of us thanks to our parallel social-media lives. 


LAURE PROUVOST
Mot International (Brussels)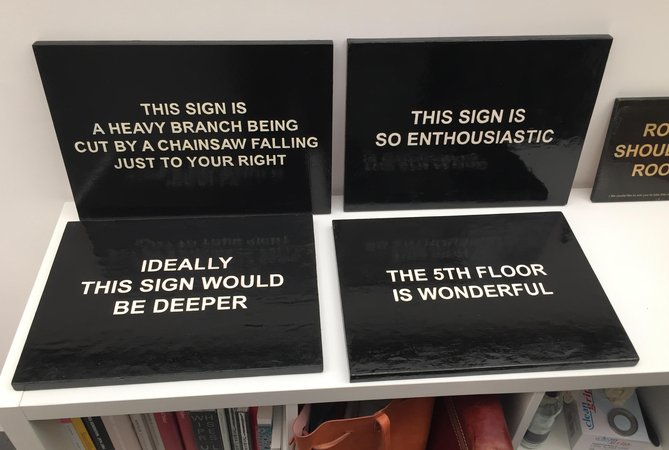 Navigating the increasingly confusing divide between the real and the virtual is a theme seized upon by several of the more captivating artists in the fair. Some artists leap through the looking-glass to make their work on the Web; others examine the immanence, to borrow a theological term, of the digital in the material world.
The Greek artist Andreas Angelidakis, whose sculptural re-creation of ruins from Second Life (which he says will be "the ancient Rome of our future," along with Facebook) were acquired at the fair by the future-shock-embracing Zabludowicz Collection, is of the latter camp. So is Laure Prouvost, a multimedia star best known for her short, YouTube-ready videos of quick cuts and sharp ideas which she tends to surround and support with sculptural installations.
These paintings, as one could call them (£6,000 apiece), serve as a precis of her approach: inspired by the classic-format title cards that she uses in her videos, these solid little plaques pop that 2D filmic trope into the real world like a prop in Roger Rabbit. They emphasize their physicality with thick paint and use text to grip the viewer with direct addresses, emotional cues, and references to a shared environment.
MIRA DANCY
Night Gallery (Los Angeles)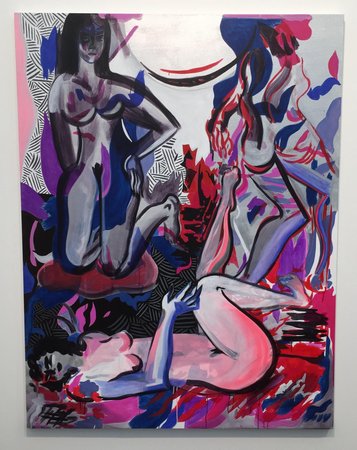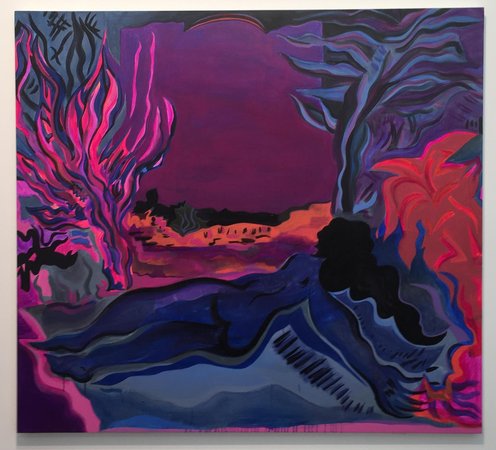 When is painting not simply decorative, or "zombified"? When it's used as a rhetorical device to advance a relevant real-world agenda, not just to re-enact the intellectual battlefield victories of the past. (Think about that, macho painters, before dressing up like de Kooning or Kippenberger for Halloween.) But revisionist history, as opposed to historical re-enactment, is a fun and effective game—and Mira Dancy does it well.
A New York-based painter who is nonetheless the guiding spirit of L.A.'s Night Gallery (she and co-founder Davida Nemeroff attended Columbia together), Dancy paints in a style clearly inflected by Art Nouveau and German Expressionism, yet whereas the paintings of that era routinely depicted women as passive muses—subjects of the male gaze—she renders them as assertive protagonists, confronting the viewer and owning their space. (A sign piece also in the booth repeated the phrase "You will never own me," an apt call-to-arms for her painted figures.)
The artist, also in Greater New York, had a solo show at the gallery in January and has since rocketed off—her work will be included in the Rubell Family Collection's upcoming survey of female artists during Art Basel Miami Beach and in another exhibition planned at collector Budi Tek's Yuz Foundation in Shanghai. Her large paintings run from $16,000 to $18,000, with smaller ones in the $5,000 to $7,000 range. 


SYLVIA SLEIGH
Freymond-Guth Fine Arts (Zürich)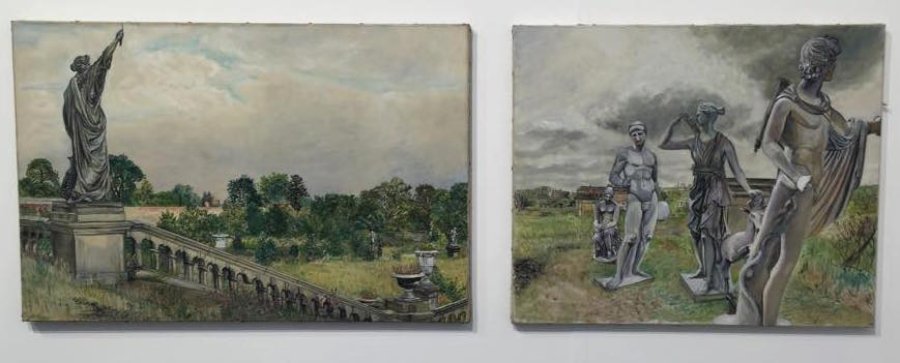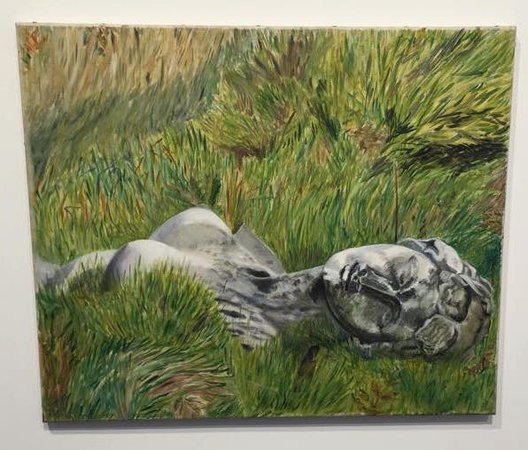 Speaking of revisionist history, one could see the burgeoning reclamation of the work of older female artists by younger galleries as a way of righting a historical wrong—a market turn that parallels the de-marginalization of David Wojnarowicz, Martin Wong, and other long-overlooked talents. Take the example of Sylvia Sleigh.
A brilliant painter who exhibited a Picabia-esque range of styles over her long career, Sleigh was represented at the fair by a suite of late-1950s paintings of the gardens around London's Crystal Palace, a monument of glass and steel that was the cutting-edge capstone of the 1851 World Exposition. By the time Sleigh was working the edifice, razed by Nazi bombs and British neglect, had turned to rubble. She approached the site as a graveyard of empire, framing it with a clinical perspective reminiscent of the films of Alain Resnais or the photography of Eugène Atget.
Today, 26 paintings from this series remain extant (£35,000 to £45,000). They represent just one of the unturned stones of Sleigh's seven-decade career—an opportunity for collectors, sure, but also a reminder of the way in which her career, like the Crystal Palace, was disregarded until too late. When she died in 2010 at 94, curators fondly recalled having been in contact with her for years, but too few of her works were acquired during her lifetime; today, she has yet to have a single U.S. museum exhibition, according to dealer Jean-Claude Freymond-Guth.
Now European curators are embracing her and giving her major shows, but Freymond-Guth has conflicted feelings on the subject. "It's wonderful when people get a second chance," he says, "but why didn't a museum buy when she was alive and it really could have helped?"