The amount of exciting art by young artists at EXPO CHICAGO this year is a problem, specifically for anyone who hopes to tour the fair for aesthetic enrichment alone and leave with their wallet intact. There are talents here that will be exciting to keep an eye on for quite some time, and the fact that their work is available at painfully reasonable price points (for the most part) means that someone stands to make some very smart acquisitions indeed. Here are a few names to look out for in the aisles.
JOSHUA NATHANSON
Various Small Fires (Los Angeles)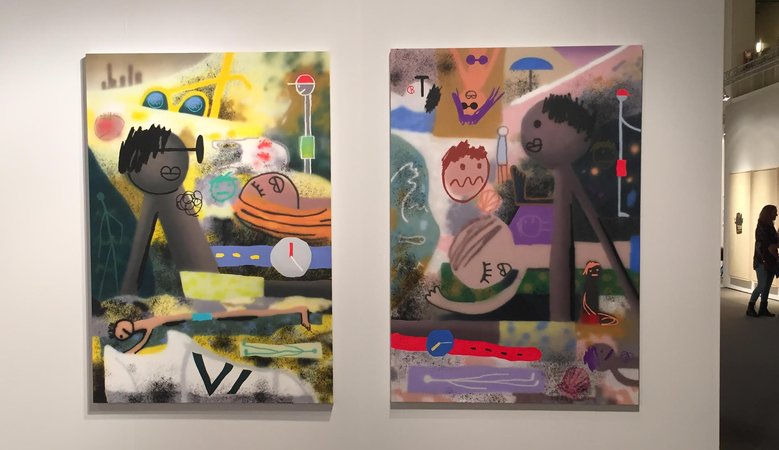 A 37-year-old Art Center graduate who was in Sterling Ruby's class, Joshua Nathanson is only now starting to get attention—he's currently having his first solo show at Various Small Fires—but the timing is fortuitous, because if Ruby's rambunctious sculptures and big-sky paintings capture the L.A. of the aughts, Nathanson's thoughtful, computery, sleek, and telegraphic paintings exemplify the city's present-day art moment. He makes paintings by going to public spaces around L.A., like the beach or the Americana mall, and quickly sketching what he sees there—tanners lounging in swimwear, dog-walkers, picknickers, etc.—on an iPad, then goes back to his studio and simply paints these scenes on canvas in acrylic, airbrush, and oil sticks that he melts on his stovetop.
If that sounds a bit like what the Impressionists were doing in Paris around the 1870s, setting up their easels in plein air to portray the conspicuous leisure of the ascendant bourgeoisie, that's because it is, and Seurat's Grand Jatte (that Chicago landmark) and Ensor's louche boulevards are other important touchstones. (How the paintings relate to today's technology, characterized by intuitive interfaces and clean graphics, as opposed to how Impressionism relates to the camera of its day might be a fertile path to explore.)
Artists, it should be said, love Nathanson's work. He came to the gallery's attention when Sanya Kantarovsky went to the owner, Esther Kim Varet, and said, "Everyone's rooting for this guy—he deserves some attention." Laura Owens is a big fan, too, and a very, very famous artist just bought two paintings that he plans to show in his own cutesily named project space. Collectors are paying attention now too: the works in the booth (titled Like Three 10 and Almost Five, and priced at $7,500 apiece) presold, Nathanson's gallery show is sold out, and the waiting list is 60 people long.

DAVID JIEN
Richard Heller Gallery (Los Angeles)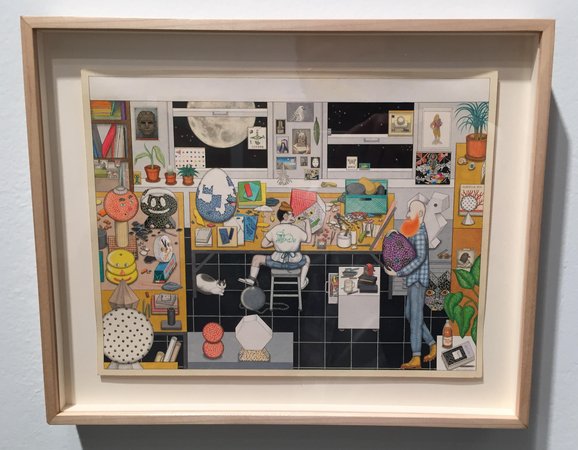 Another Art Center graduate who came to his dealer's attention through the artist grapevine is David Jien, who joined after his best friend Devon Troy Strother told Richard Heller that he was someone he needed to snap up. As a test, he brought in two of Jien's larger drawings; they sold three days later. Looking at his work, you can see why. A former graffiti artist who decided to change course after doing a little jail time for his art, Jien uses a magnifying glass and colored pencils to make incredibly intricate drawings that seem to combine comics with Persian miniatures and Medieval illuminations, and which all together build a broad master narrative about a world of creatures locked in a battle of good versus evil. (If you look closely, you might see that he occasionally works his old tag, Lyfer, into the compositions.) At the fair, Heller featured several drawings including this small rendering of the artist in his studio (priced at $4,500) that seems especially suited for hours of close looking.


DANIEL TURNER
Johann König (Berlin)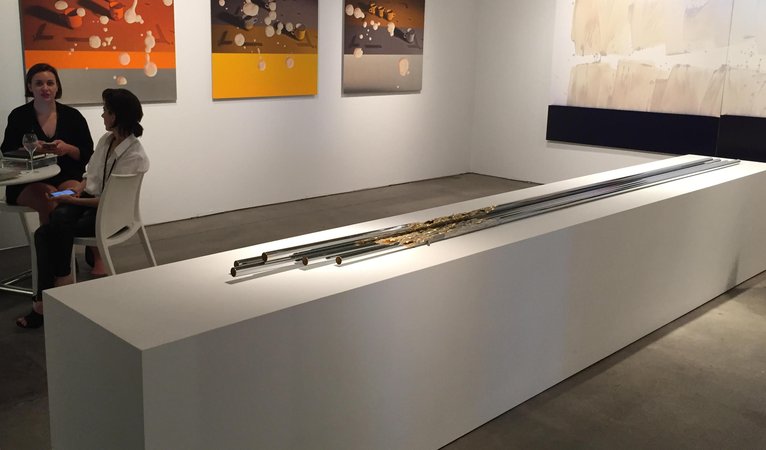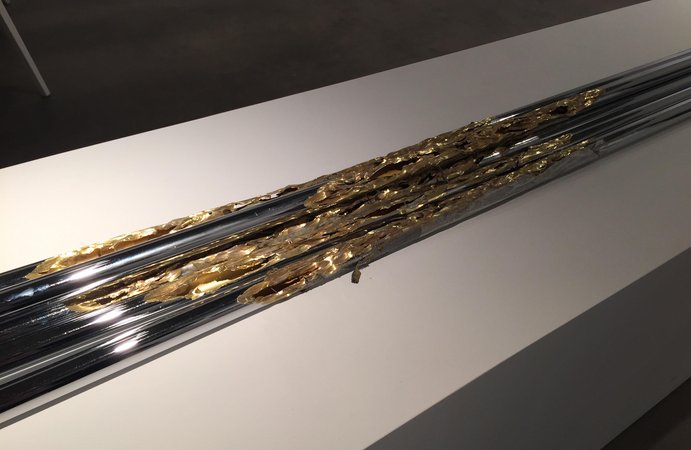 The Virginia-born, Brooklyn-based artist Daniel Turner has been getting a slow build of attention over the past couple of years for his diverse, aggressive, lyricaly industrial work, landing solo displays at White Cube and Team Gallery and even a spotlight in Interview magazine. (His chiseled cheekbones may help.) A former New Museum guard and painter who pulled a Baldessari in 2006, burning a decade's worth of his canvases and converting the ash into new work, he recently joined Johann König's Berlin gallery, which brought these pieces to the fair: metal tubes that the artist had fabricated with a later of gold plating on the inside and then attacked with a chainsaw. The pieces, which are usually placed on the ground (and, at $45,000, are especially pricey due to their high cost of manufacture), look a bit like savage musical instruments and gleam in the light. 


VICTORIA FU
Honor Fraser (Los Angeles)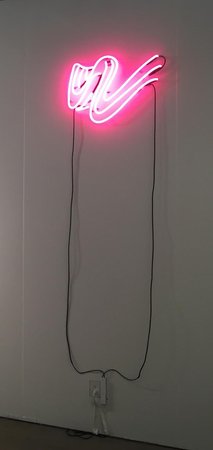 The L.A. artist Victoria Fu is interested in our haptic engagement with digital images and devices, and she has used film, sculpture, photography, and installation to explore these interactions. Featured in the last Whitney Biennial, where she had a video installation in the lobby gallery, she has recently been making enticing neons that celebrate the various interactions we have with our smartphones. The piece at the fair, priced at $4,500, is a paean to that most ubiquitous of our newfound gestures, the swipe.


J.J. PEET
On Stellar Rays (New York)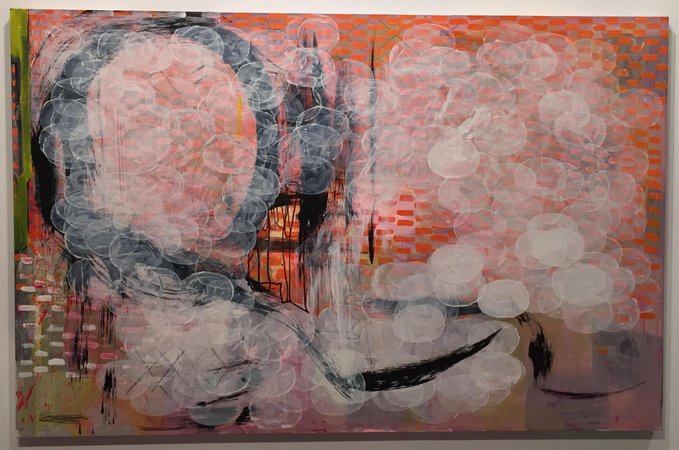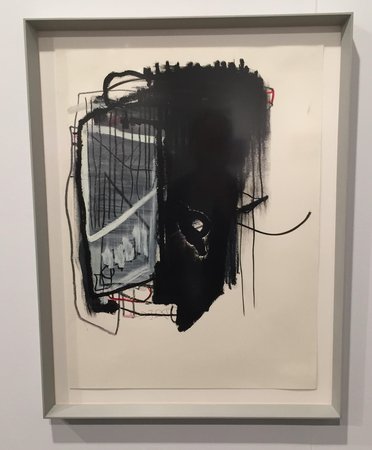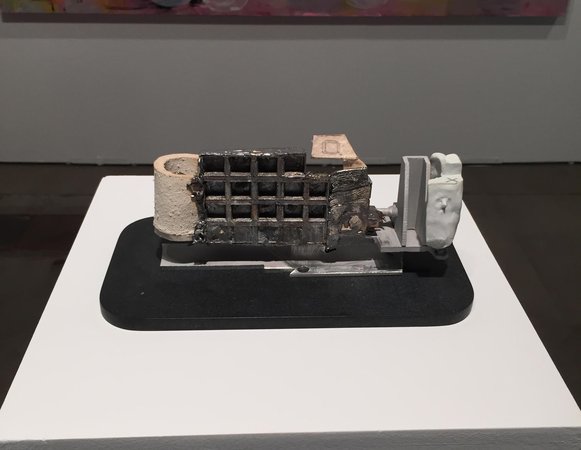 An expert craftsman who ranges easily between sculpture, paintings, drawings, animation, and photography, the artist J.J. Peet has been known to work on pieces for years, returning to them again and again until he "makes the right moves," as he puts it. That slow-and-steady approach has been nurtured by his longtime gallery On Stellar Rays, and now at the fair it's paying off in a big way with a dense, power-packed display of work that feels like a miniature survey and might knock your socks off. It certainly did for Arts Club director Janine Mileaf, who pulled her socks back on long enough to award Peet this year's Northern Trust Purchase Prize for best Exposure display at the fair.
The large paintings are lush and riveting ($22,000 apiece), the large-format Polaroid is creepy in the best way ($6,000), the drawings are sumptuously layered ($3,000, including very nice artist-made frame), and the tight little tabletop sculpture ($7,000) should tide over the advisors and collectors who consider ceramics to be his strongest suit. Success has propelled the artist in the right direction: just back from a prestigious residency at the European Ceramics Workcentre, he has now moved into a new, larger studio equipped with separate spaces for sculpture, animation, sound, and painting, with the last one expansive enough for his biggest undertakings to date.


PAUL HEYER
Chapter NY (New York)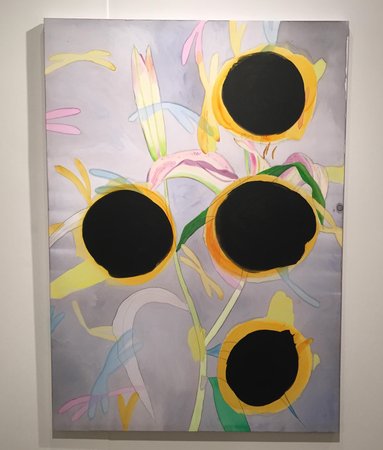 A 33-year-old Chicago native who moved to L.A. but then thought better of it and moved home, the painter Paul Heyer is in love with the decadent romance and headlong grandiosity of the 1980s, that era of silk shirts, spandex, airbrushing, and Julian Schnabel (along with his aesthetic twin, Bob Guccione). To make the paintings at the fair, the artist stretched polyester over canvases and used oil and acrylic to paint flowers, black dots (meant to signify burns), and the occasional fluttering chromosome (those X shapes). Priced at $10,000 to $12,000, they're among the most gushed-about pieces at the fair.


SARA MAGENHEIMER
Document Gallery (Chicago)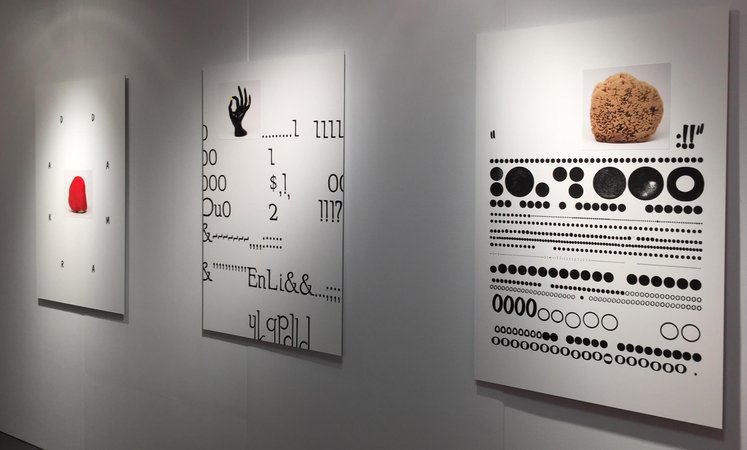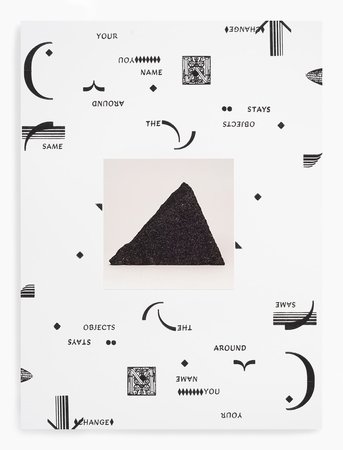 Inspired by the one-armed modernist poet Blaise Cendrars, Sara Magenheimer takes the fact that poetry is a visual medium and guns it to the max, creating compositions powered by mysterious correlations between objects, images, and text. The photographs are of objects in her studio that she uses in her film sets for separate projects, and she uses the printing press in her gallery (the founder, Aron Gent, is an artist himself) to form the rest. An up-and-comer based in New York, Magenheimer has shown at Cleopatra's, had a residency at the Kitchen, an has screened her work at Chapter NY and BAM. One of her pieces on view in the gallery's booth, priced at $500, was the best steal of the fair.
VARIOUS ARTISTS
Regina Rex (New York)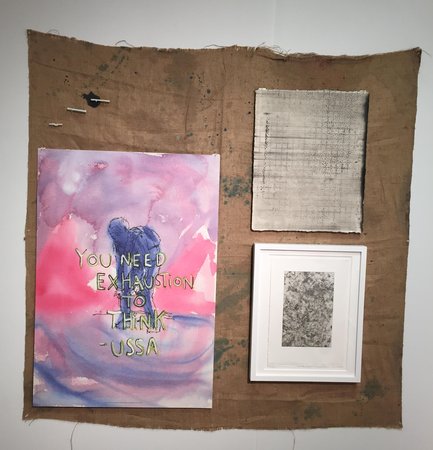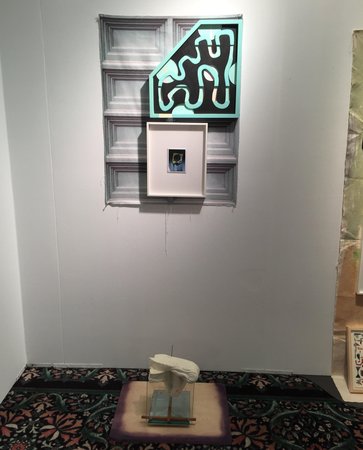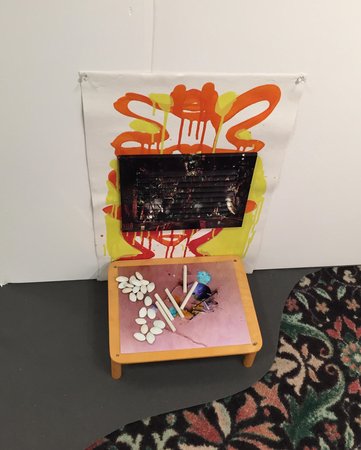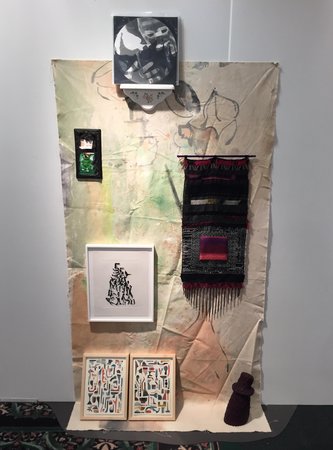 The Chinatown gallery Regina Rex is run by a collective featuring 18 artists, each of whom is very interesting in their own right and at least one of whom, like Eli Ping, operate separate galleries of their own. If you think that's messy and confusing, you're right—so embrace it! They're sending out some of the most exciting artistic energy in New York's emerging sphere right now, and they're transplanted a bit of that to Chicago in their booth, where members Siebren Versteeg, Alta Buden, and Max Warsh have curated a group show of work by their friends, displayed atop work of their own that they made to serve as "substrates" or backdrops. (They also didn't like the fair's floor, so the cut it away to reveal Navy Pier's quasi-charmingly dated carpeting.)
Among the other artists included in the show are the exciting Michael Assiff, Robin Kang, Dave Hardy, and Ben Vida, and the works on view are meant to be sold together as a gestalt but, really, "we want to support the artist, so ultimately we're flexible," said Warsh. (The pieces range from $3,000 to $12,000.) In other words, the whole thing is pretty improvisatory. "From all approaches, it's a major problem," Versteeg admitted. "But the artists we work with trust us to experiment. This is the furthest we've gone with that trust bond so let's see what shakes out." Fun.