Best known for his fiery (and celebrated) feature films including the 2013 Academy Award-winning blockbuster 12 Years a Slave, the British filmmaker Steve McQueen approaches his craft with a decidedly artistic sensibility. It's not surprising, given his background—McQueen studied fine at London's prestigious Goldsmiths' College and New York's Tisch School of the Arts before cutting his teeth with a series of conceptual short films. These early efforts, shot in black and white 16mm film and often featuring McQueen himself, brought the auteur acclaim and, in 1999, a Turner Prize, making him one of the very few experimental filmmakers that can seriously claim both art-world and pop-culture bonafides.
In this excerpt from Phaidon's new book frieze A to Z of Contemporary Art(originally published in the September 2007 issue of frieze magazine), McQueen recalls two very different films that he considers especially influential in his development as an artist. To purchase the book and read some of the best pieces from frieze's 25 years of art journalism, click here. The original article can be found here.
Zéro de Conduite (Zero for Conduct, 1933), by Jean Vigo, had a massive impact on me. It's just 45 minutes long and depicts a rebellion in a French boys' boarding-school. The film says everything: it's inventive, it's magical, to some extent it is sexually ambiguous, it's political, it's bizarre, and it has a great narrative at the same time. All these ingredients add up to something that's huge, almost too big. But there's also the fact that it's so magnetizing, beautiful and wonderful to watch—you want to look at this film. You're always thinking on different levels; not just about the images but what is happening and the psychology of the characters. 
There's a slapstick element to the film, a real sense of comedy, that drives it. I think at the time Zéro de Conduite was made, to create anything of that subversive nature, there had to be an element of humor to carry people along. However, it was banned for years by French censors and didn't get a general release until 1946.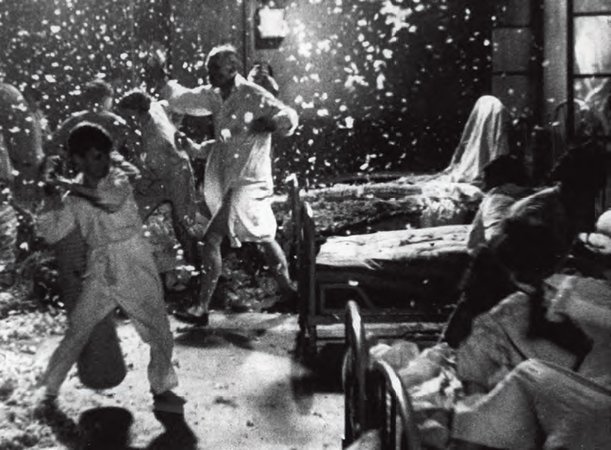 Still from Zéro de Conduite, 1933
The influence of Zéro de Conduite, which I saw for the first time in 1990, is as much about a period in my life as it is about my understanding of art. Going to New York and coming across the Whitney Biennial in 1993, I felt that anything was possible if you did it rather than thought about it. At Goldsmith's, where I was studying at the time, there were certain ways of doing things, of talking, which put limits on how you approached making art. When I went to New York, I realized that London was a dot on a white piece of paper at that time. Seeing Zéro de Conduite gave me a sense of permission, and in some ways it was the first movie that allowed me to think that things were possible. To some extent, your imagination is limited when you look at something and you're not making work yourself. You're trapped, because it's all about the effort to actually do it. Say you have to lug a load of boxes up the stairs: if you think about it, your feeling is "oh fuck, I can't do that"—if you just do it, you're involved.
While I was at Goldsmiths', a film enthusiast came in—unfortunately I can't recall his name—and brought with him a bunch of film reels, including Andy Warhol's Couch (1964), in which one of Warhol's superstars lies on a couch, with another lying along the top of the back-rest, just looking at him. He shot it at the average speed of 24 frames a second, but he projected it at a speed slower than the average heart rate. When it was projected, the film pulsated—it was incredible.
Couch and Zéro de Conduite were the two films that really did it for me. I think that's where it started and, in a strange way, where it stopped. It's one thing having, for instance, nice images on your studio wall that influence you when you're just beginning as an artist or filmmaker, but when you go about getting into a situation where you begin to make work yourself, it's a different kettle of fish altogether. It's all about doing it—the physicality of making films. What you see at the end is never the same as the situation of how it was done, yet that process is very important. It's all about making a lot of mistakes and being brave.
I used to go and watch a film at least twice: the first time for fun, the second time to look at it closely. If I liked it, I'd see it three or four times. But the last thing I want to do right now in my life is spend time in cinemas. I hate going to them. Nowadays, I'd rather go and see something live—a concert, or dance; jazz or contemporary music—because when I'm in a cinema, I often feel that I'm wasting time watching something old and stale, shot two or three years ago, and that I should be doing something else instead.
The connection with the idea of "filmmakers" and "film" doesn't mean anything to me. Exhibitions just about painting, sculpture, or film ghettoize the whole thing. It's nonsense. I also feel a connection with musicians. For example, I like Tricky very much—he has his own sound and is amazing, but he never got his dues. Because he has asthma, there's a lot of strange breathing that can be heard in his work. This connects back to Warhol's Couch and projecting below the heart rate; there's a really direct physiological effect, a kind of physical angst, that's being explored in both artists' work.
I shoot films, but I do other things; at the end of the day it's got to be about the ideas, not one particular medium.