To combat our angst over this week's mixed bag of midterms results we've been looking to Martha Rosler, who has been making art against American imperialism and totalitarianism since the sixties. While Rosler started out as an abstract painter, she soon switched to photography and collage, inspired by Dada and Pop Art's repurposing of mass media. House Beautiful: Bringing the War Home (c. 1967-72) exemplified the kind of cut-and-paste anti-war imagery that Rosler would become known for. In Cleaning the Drapes (c. 1967-72), for instance, she spliced together images of American GIs in Vietnam with upper middle class Americans culled from House Beautiful, combining the cause and effects of the American war machine. Rosler also literalized Vietnam's status as the first "living-room war," since––unlike World War II or the Korean War––it could be TV-broadcast into American homes.
"Irrespective," Rosler's current retrospective at The Jewish Museum, looks at Rosler's anti-war collages, from Vietnam to Iraq, but highlights new work as well. Reading Hannah Arendt (Politically for an Artist in the Twenty-First Century), for instance, could be considered the artist's response to Trumpism. The piece consists of large transparencies bearing excerpts from Arendt's The Origins of Totalitarianism.
Below are six works on view in the "Irrespective" exhibition that are particularly relevant amidst our post-midterm angst. See them in person at The Jewish Museum through March 3, 2019.
CLEANING THE DRAPES
Photomontages, c. 1967-72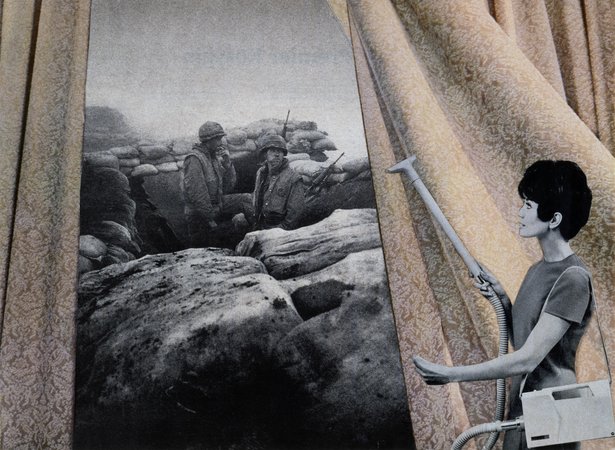 Image courtesy of the Art Institute of Chicago, through prior gift of Adeline Yates
Martha Rosler's anti-Vietnam photomontages combine scenes of commodified domesic bliss with the imperialist wars used to fund it. Here, a woman lifts back her drapes to find American GIs.
RED STRIPE KITCHEN
Photomontages, c. 1967-72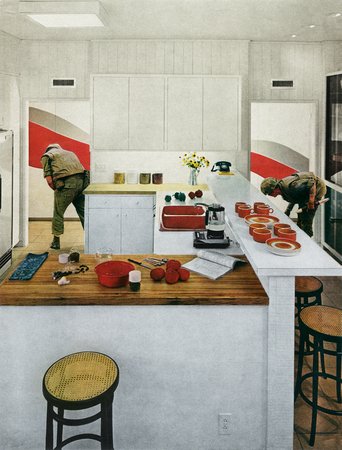 Image courtesy of the Art Institute of Chicago, through prior gift of Adeline Yates
For Rosler, the domestic wasn't just a counterpoint to war. As curators Darsie Alexander and Shira Backer point out in the catalogue text, "Domestic life serves for Rosler as a kind of microcosm of the world at large, a miniature stage on which gender roles and expectations are defined and tested; where labor is differently apportioned and differently valued; and where issues of economic access, equality, and disparity play out." Here, American GIs root around for Tupperware or silverware as if scouting landmines.
PHOTO-OP
Photomontages, 2004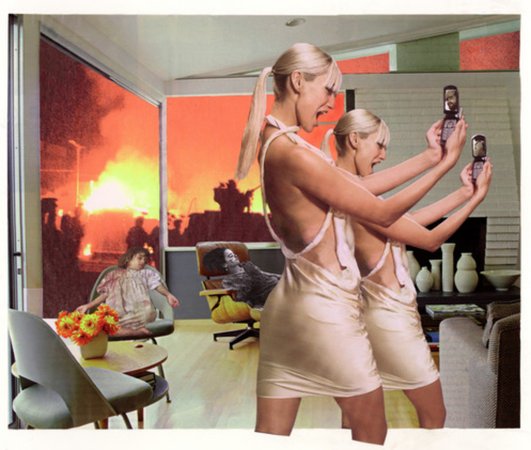 Courtesy of the Artist and Mitchell-Innes & Nash, New York
Rosler repurposes her cut-and-paste collage genre for new American conquests: the wars in Iraq and Afghanistan. In Photo-Op, social media and selfie culture distract from atrocities abroad thanks to a fiberoptic network that runs on petrochemicals sucked from the Middle East.
LEXINGTON AVENUE STATION, NEW YORK
Chromogenic Prints, 2002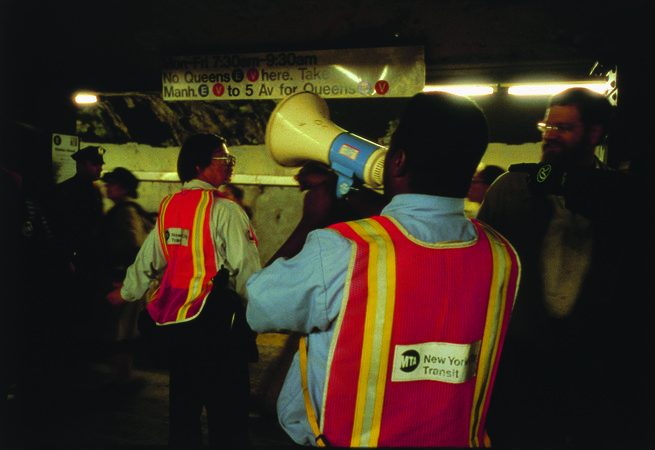 Image courtesy of the artist and Galerie Nagel Draxler Berlin/Cologne
Alongside her pieces on American imperialism, Rosler has, since the eighties, also been doing a series on places of transit, from airport lounges to gas stations. Here, she photographs a New York City subway station, foregrounding the city's delapitated infrastracture and the everyday stopgap measures people invent to get around it.
CAPITALISM, DEMOCRACY
Pigmented Inkjet Print, 2018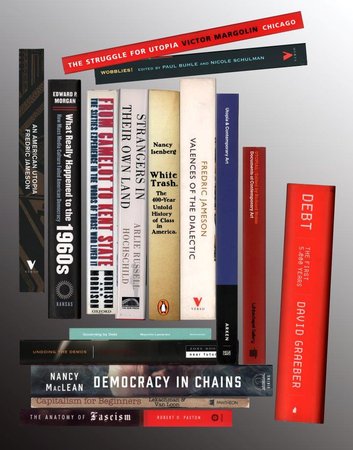 Courtesy of the artist and Mitchell-Innes & Nash, New York
Capitalism, Democracy is part of a larger series called Off the Shelf, which points to the importance of text and reading in Rosler's practice (her library was turned into a traveling reading room in the mid-aughts). These floating books also hint at the ballooning amount of information produced in the Internet Era.
READING HANNAH ARENDT (POLITICALLY, FOR AN ARTIST IN THE 21ST CENTURY)
Translucent plastic, 2006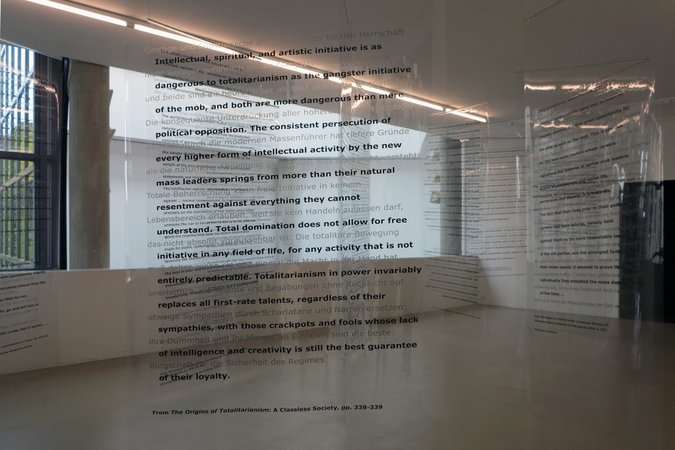 Courtesy of the artist and Mitchell-Innes & Nash, New York
Philosopher and political theorist Hannah Arendt wrote widely about authoritarianism, censorship, and violence, publishing her most important works, The Origins of Totalitarianism and The Human Condition, after World War II. For Rosler, Arendt's themes––the causes and effects of totalitarianism––parallel the Trump administration's fascism.
RELATED ARTICLES:
"Make Tea Not War": Eight Examples of 21st Century Protest Art
1993: Jenny Holzer's Feminist "Sex Murder" Raised Fury in Germany—For All the Wrong Reasons