The list of great artists who have scandalized audiences with sexually explicit artwork is a surprisingly long one, and it stretchers back centuries. Artists from Michelangelo—who was pressured to add drapery to his nudes—to Gustav Courbet and Robert Mapplethorpe, have seen their erotic works decried, attacked, veiled, and censored. But rarely has it been forgotten. Throughout art history, what is considered taboo by one generation is dubbed a tour-de-force by the next. The maligned becomes the masterpiece.
Along those lines, the Clark Institute of Art is currently showcasing a blockbuster loan show from Madrid temptingly titled "Splendor, Myth, and Vision: Nudes From the Prado." It brings works by Titian, Rubens, Tintoretto, and Velasquez to the Berkshires museum, some two dozen of which are being shown in the U.S. for the first time.
More specifically, the show—up through October 11—salutes the "Salas Reservadas," the private little rooms in which Spanish kings kept their dirty pictures. Several of these paintings were almost burned in the 18th century, but ingenius defenders of culture argued that their preservation might actually descrease sin—because future artists could learn from them, rather than use seductive live models.
Here, we look at some of the exhibition's highlights, and the stories they tell.
1. The Poetic Paramour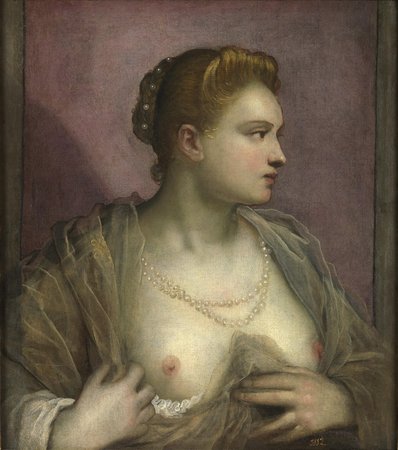 Lady Revealing Her Breast by Tintoretto, circa 1580-90


This portrait by Tintoretto is of Veronica Franco, a celebrated courtesan and poet of 16th-century Venice. Franco was rumored to have been the lover of the King of France—and, here, adopts the fashion of some ladies of the French court by going topless. Tried, and acquitted, by the Spanish Inquisition on charges of witchcraft, Franco certainly ensorcelled the aesthetically elite, and her Venice literary salon was known throughout Europe. As controversial for her independent ways (she financially supported many friends and family members, and edited books) as for her sexuality, she is said to have once stated of sex: "I wish it were not a sin to have liked it so."
2. Incest, the Greatest Taboo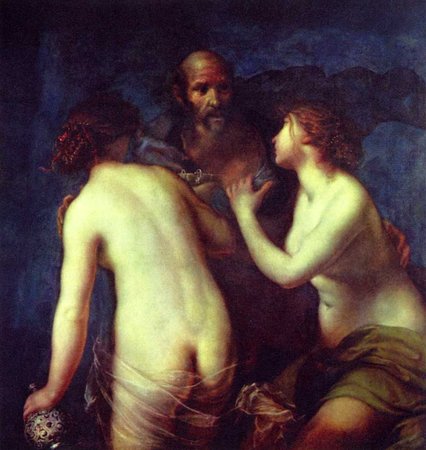 Lot and His Daughters by Francesco Furini, circa 1634


The eroticism of this artwork is obvious, and its chillingly taboo nature is only given away to modern audiences by its title. God brought fire and brimstone upon Sodom and Gomorrah, but warned the devout Lot and his family to leave before the event. Lot's wife looked back, against the angels' instruction, and turned to salt. To yield a male heir who could carry on the family line, his daughters then got him drunk and, as the Old Testament reads, lay with him until both became with his child.
Why would a Spanish royal want such a painting, its painterly qualities aside? This was a gift from Ferdinand II, Grand Duke of Tuscany, to Philip IV of Spain when he married his own cousin Mariana of Austria in 1649, and can be read as an endorsement that such alliances are necessary.
3. The Martyrdom—and Then Fetishization—of St. Sebastian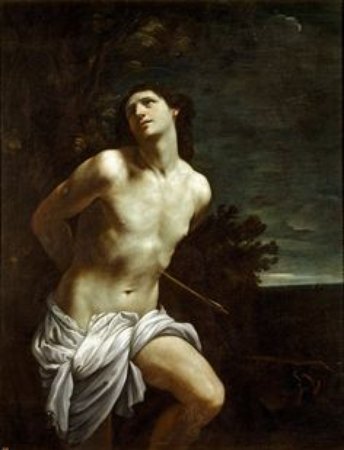 Saint Sebastian by Guido Reni, circa 1617-1619


Saint Sebastian has become a gay icon over the centuries, so much so that Oscar Wilde took the alias "Sebastian" in his honor, and Tennessee Williams named a character after him. How did that transformation happen? Theories differ, but it is known that the martyred saint, who is believed to have been older and not as buff as his usual portrayal, was prayed to in times of plague. (He had famously survived a hail of arrows, after all.) But it was thought that begging an infirm man for health was a bad idea, art historian Charles Darwent has argued, so artists made him look as hale as possible, and thus hot.
Look closely at this circa-1618 image: years after the painter's death, a few inches of white fabric was added to the painting right above the loins by censors. 
4. 16th-Century Peeping Toms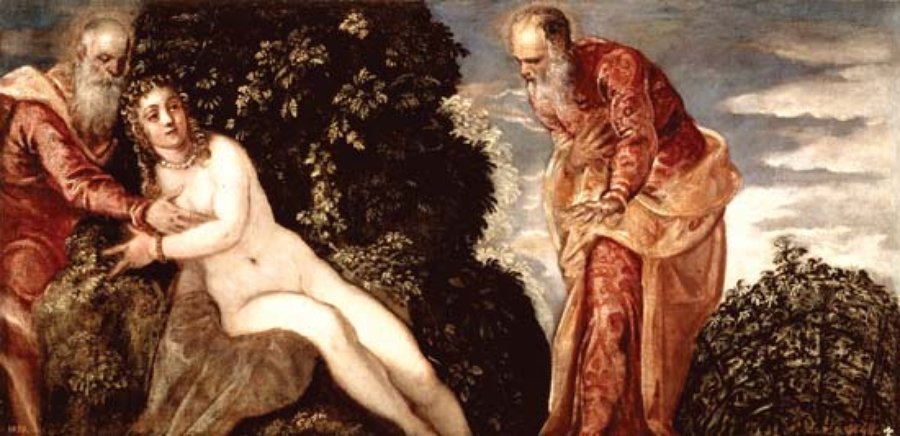 Susannah and the Elders by Tintoretto, circa 1555 


The Bible's Book of Daniel, in some versions, tells the story of Susannah, a married woman who is spied upon while bathing by two elderly judges. They tell her that if she doesn't have sex with them, they will claim to have seen her committing adultery. She refuses, they do accuse her, and she is sentenced to death. But the prophet Daniel—clearly an avid watcher of "Law & Order" episodes—suggests that the two men be separated and each instructed to give a detailed description of what they saw. When it becomes apparent that they are lying, she is freed.
The Susannah story is a very common one in Renaissance and Baroque portraiture, and even Thomas Hart Benton and Pablo Picasso treated the subject. It allows voyeurism and moral outrage because the woman is both clean and innocent, but also exposed and the subject of lust. 
5. The King's Naughty Art Nook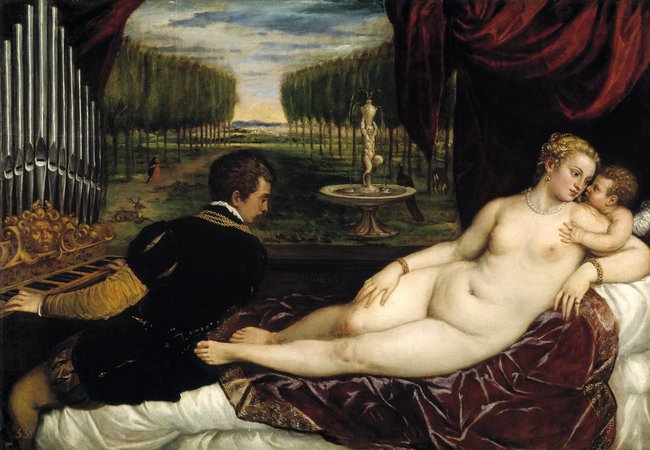 Venus With Organist and Cupid by Titian, circa 1550-55