Collage is many people's first route into creating visual art and something about its rough-hewn construction always brings back memories of schoolroom sessions with deconstructed magazines, safety scissors and paper glue. But despite – or maybe because – this accessibility, it has proven to be a remarkably versatile art form, reoccurring through genres as disparate as Surrealism and Pop, and incorporated into everything from Eduardo Paolozzi's late 1940s work like Meet The People to Kurt Schwitters' 'Merz' experiments. The term derives from the French papiers collés for the technique of affixing paper cut-outs onto surfaces.
It first developed in the early 20th Century and shaped the ideas and practices that would evolve into photomontage and assemblage at different times. "Collage allows the opening up of conscious, which is very direct," said the conceptual artist John Stezaker who worked with the medium. "It's also a way of looking at what you are consuming all the time."
Collage is again enjoying one of its periodic resurgences right now. Deborah Roberts' large scale collage-on-canvas portrayals of African-American life and history was the stand out guest piece for the Smithsonian National Gallery's recent triennial exhibition; Clotilde Jiménez's constructions of bodybuilders, boxers, gay life and Black culture drew rave reviews after his debut solo show at Mariane Ibrahim Gallery in Chicago; Teen Vogue recommended several collage artists as part of their recent affordable art round-up for young collectors; and Collage Club London's events pre-lockdown were selling out across the city.
Collage pieces are bold statements but have a real dynamism – here are our favourite pieces from the last three years currently available from Artspace.
Filippo Imbrighi - Ignorance is Bliss – Marilyn Monroe, 2019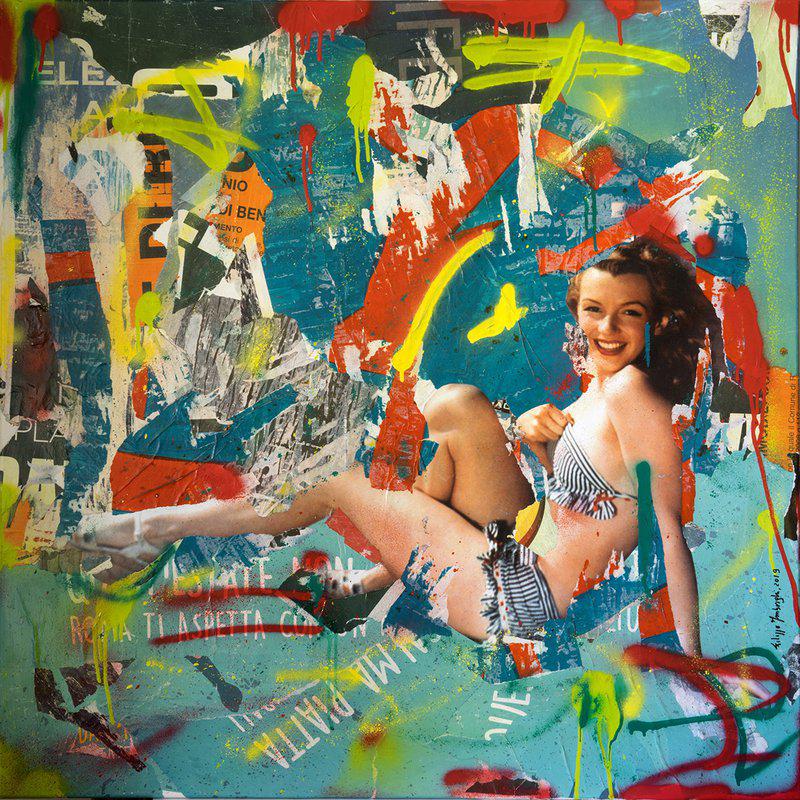 Fillipo Imbrighi (b.1975) is a visual artist based in Rome who specialises in working with print media collage. Over 20 years work, his visual style – with a complex colour palette combined with fragments of newsprints – has become increasingly refined. "Collage is another way of telling a story," he writes. "Cutting elements and then merging them, overlapping them until the story speaks to you and the narrative is ready to be told." This painted collage is built around one of the first known modelling shots of Marilyn Monroe, photographed in 1949 on California's Zuma beach and which secured her deal with 20th Century Fox after casting director Ben Lyon saw it. The rest of the collage is built up from layers of flyposters collected by the artist from the streets of Rome and other cities. The unique work has been glossed to protect the component parts, is signed by the artist and comes with a certificate of authenticity.
Charles Wilkin - The Listless Cyst Between Beauty and Brutality, 2020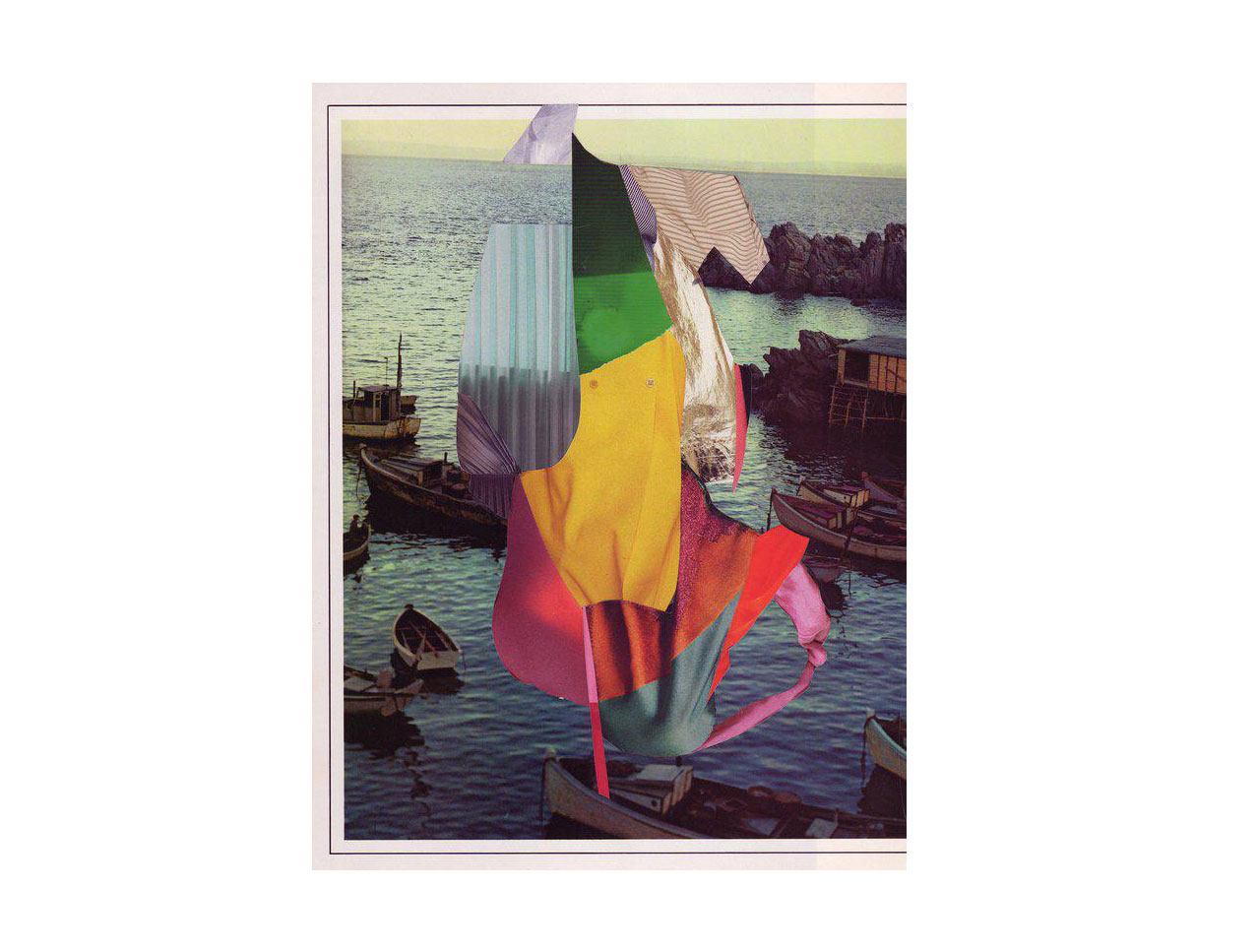 Charles Wilkin is something of a cottage industry as an artist. Since 2006 he has exhibited prolifically, both alone and in group shows from Pennsylvania to Madrid, producing surreal and seductive collages from his studio in the Catskills. The New Yorker first came to Artspace's attention despite not being represented by a gallery, with his work nonetheless having made its way into the permanent collections of the Library of Congress in D.C. and the Museum für Kunst in Hamburg, Germany, while he also co-curates the International Weird Collage Show in Barcelona. When Artspace spoke to him in summer 2019 he explained the allure of collage as an art form. "Collage as a medium… has an inherent ability to replicate the frenetic world we live, with all its cruelty and ugliness," he said. "I'm always pushing my work to reconfiguring that reality through my use of layering, color, and texture. By finding associations that may seem awkward or unexpected I'm able to reveal the unseen qualities of human nature that lie just beneath the surface, transforming reality into something much more alluring and aspirational." This unique work comes with a certificate of authenticity.
Naomi Vona - Connection Point, 2019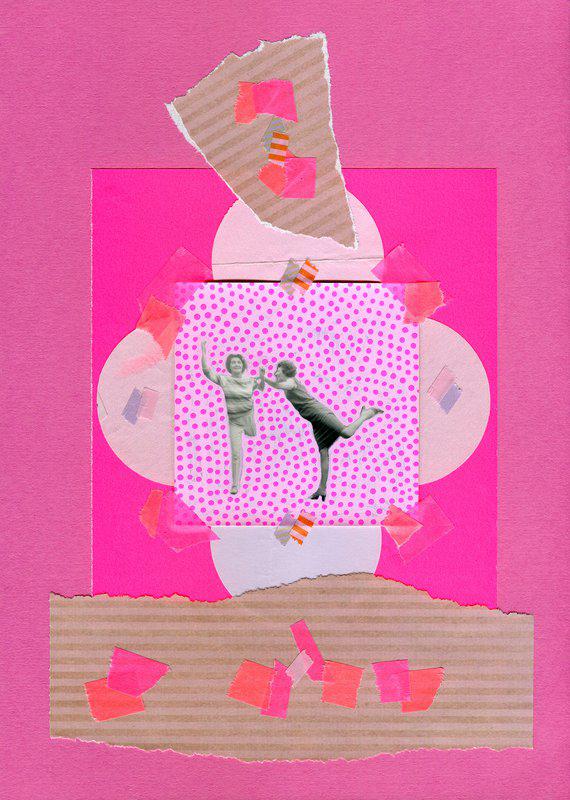 Italian artist Naomi Vona (b. 1982) describes herself as an "archival parasite, with no bad intentions." Her densely intricate work pulls together photography, collage and illustration, frequently using found photography as her source material, mutating its meaning with the use of pens, paper, washi tape and stickers. Some of her work uses intricate, multi-layered patterns of dots and neon creating a shimmering, eye-popping effect on the paper. Others, like this piece, favour super-strong colours, bold cuts and maximum impact. "I consider my collages a reflection of my past and present," she says. "But they also allow me to keep a curious look into an imaginary future." This unique work comes signed and dated with a certificate of authenticity.
Aaron Wexler - Vessel Undone #2, 2019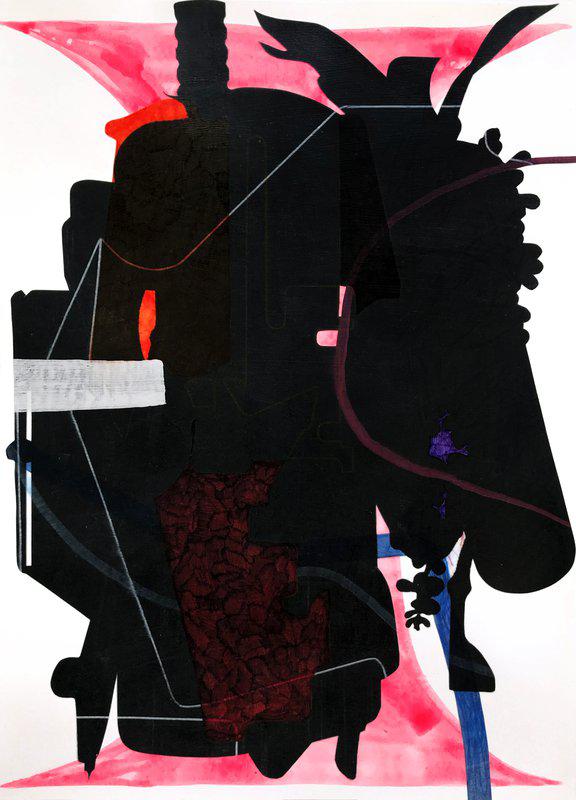 Born in Philadelphia in 1974, Aaron Wexler lives and works in Brooklyn. He has exhibited in solo and group shows from Morgan Lehman Gallery in NY to Sezon Gallery, Tokyo and is in public and private collections including The West Collection and The Saatchi Collection. It's not difficult to see why his work has resonated so strongly with audiences: his pieces on fabric-covered panels have the robust quality of quilting or mosaic, with layers built from paper, paint and book cover cloth; his works on paper are somewhat more delicate, with greater use of white space and washes of watercolour giving glimpses of natural forms and organic shapes. This unique work comes signed by the artist.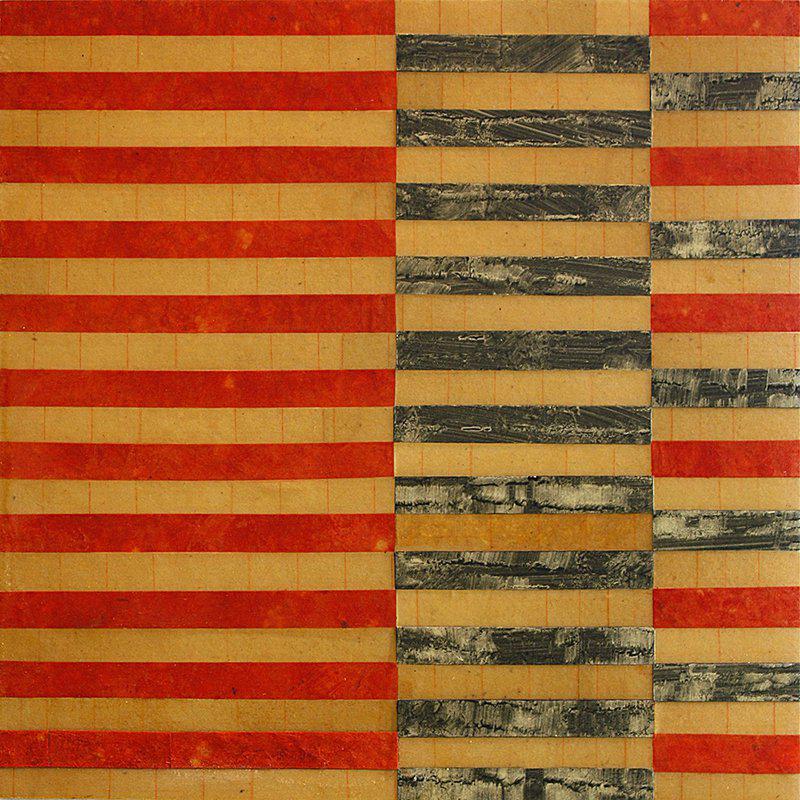 Jamie Brunson's work is grounded in an attempt to transform the spiritual into the physical. "For many years, the focus in my studio work has been translating the visual and sensory experiences that occur in meditation practice, into formal terms," she writes. Since relocating to Northern New Mexico in 2014, this has been further informed by the overwhelming scale of the natural world around her – what she describes as "the dramatic effects of atmospheric phenomena, the vast scale of the sky and the land with it's dominant horizon line, and the historic architecture that marks the region." Her collage work has focused increasingly on geometry and architectural forms, turning her encounters with real places into formal compositions. Her use of found and vintage materials – in this case, found paper, monotype, acrylic – reflects this. "I'm drawn to the idea of constructing something beautiful and original from materials marked by the patina of age and use, in the same way that ancient structures endure through time and history." This unique work comes signed and dated by the artist.