If you're an art lover, what's the best way to impart your love of art to the kids in your life? Even if your child, grandchild, or best friend's kid is still too young (and antsy) for museum visits, don't worry––Phaidon's children's books are an easy, fun introduction to visual culture. Find Colors, Pile of Leaves, and These Colors Are Bananas were all produced in conjunction with the Whitney Museum of American Art, and are inspired by the museum's approach to looking at art. We're also featuring a package deal of books by Herve Tullet (whose Press Here has sold over 1 million copies worldwide) and Jean Jullien, as well as a collection of cookbooks for kids. Pass on your love of art to you kids this holiday season!
My Art Book of Love
by Shana Gozansky
$16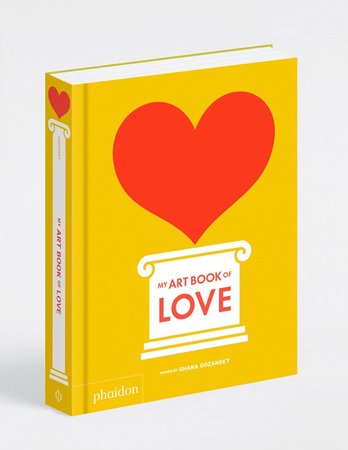 For toddlers and preschoolers, connecting their own experiences of love to those they see on the canvas allows them to truly engage with the material. Thirty-five full-page artworks feature love in all its forms, accompanied by a brief and gentle read-aloud text. Each artwork's title and artist's name are included as secondary read-aloud text. This stylishly compact art book is this first title in the "My Art Book" series, which suits lovey and artsy families alike! This tender and wise ode to love is perfect for children ages 2-4.
Seeing Stars
by Sara Gillingham
$22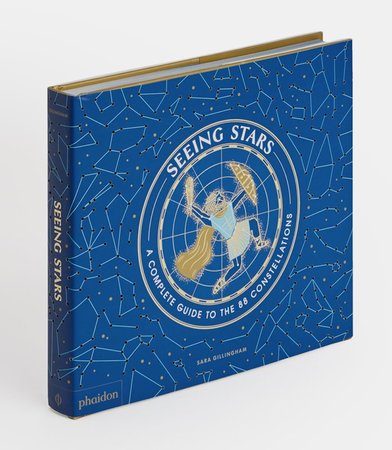 This artful and accessible introduction to constellations equips readers with the information they need to locate, name, and explain all 88 internationally recognized constellations. Each cluster of stars is featured alongside the "story" (mythological or historical) behind its naming, tips on how to find it, what times of year it is visible, and key stars and asterisms within its grouping. Complete with star maps and a glossary, this keepsake volume of visual reference and beauty is perfect for inquisitive young stargazers ages 7-10.
These Colors Are Bananas
by Jason Fulford and Tamara Shopsin
$16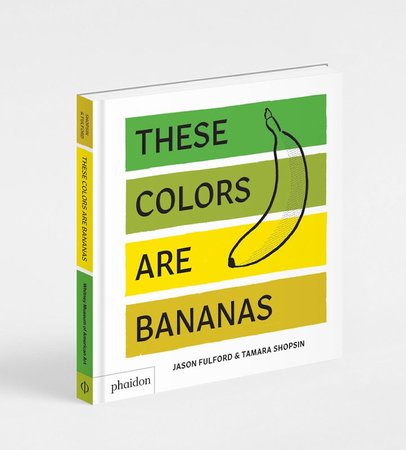 What color is a banana? It can be at least 25 different shades, according to this artful swatchbook of versatile subjects ranging from dogs, clouds, and everything in between. An inversion of the way we typically look at color, this book challenges readers' predispositions towards using a particular crayon for a particular object. Eleven items are each presented alongside a grid of color ranges: the "apple" page features yellows, greens, and reds; the "egg" page a range of greens to grays; even "grass" is surprising, with suggestions of pink. This book is perfect for children ages 2-4.
Find Colors
by Jason Fulford and Tamara Shopsin
$14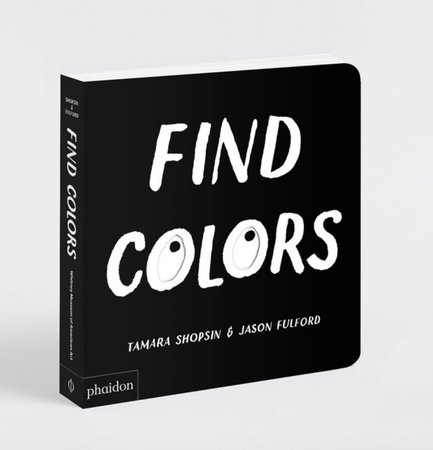 A colors book with no colors––instead, die-cuts to peek through and find them yourself. This introduction to colors provides children the space to visually experiment. Readers will gaze around the room through a rooster-shaped hole in search of something red, through a sun-shaped hole for something yellow, through squiggly worms for something pink. Designed for the youngest readers, ages 2-4, this sturdy board book features 12 die-cuts made to flip and carry on a color-seeking mission.
A Pile of Leaves
by Jason Fulford and Tamara Shopsin
$18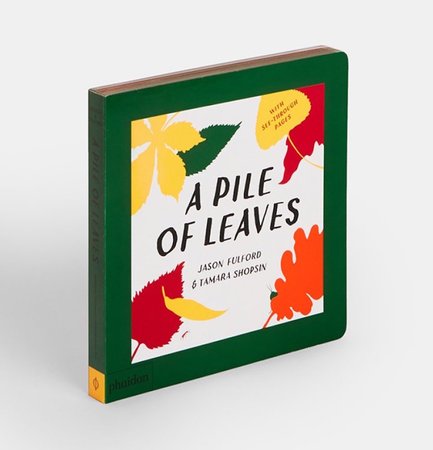 Dig through the leaf pile in this collage-inspired book with see-through pages! Readers explore the concept of layering and collage with this interactive exercise in composition. Each clear acetate page features a single element in the leaf pile, though some are not leaves at all! As readers turn the pages, the leaf pile is deconstructed piece by piece on the right side, and reconstructed on the left. Younger readers will enjoy the seek-and-find aspect of the hidden objects, while older readers might experiment by adding their own images between the pages. A key at the back provides the names of each kind of leaf shown. This book is incredibly cute, and is perfect for children ages 2-4.
Hervé Tullet Collection
by Hervé Tullet
$50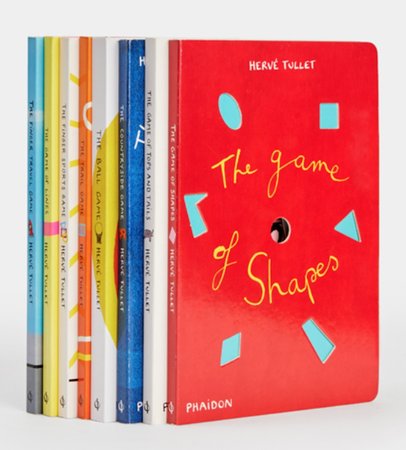 Hervé Tullet is perhaps best known for Press Here: it has sold over 1 million copies worldwide and has been on the New York Times bestseller list for over 3 years running. This collection of Tullet's is part of the "Let's Play Games" series, which offers a range of thought-provoking concepts, formats, and visuals for young children, and has sold more than 250,000 copies worldwide. The thick board pages in titles like The Finger Sports Game and The Game of Lines are perfect for little hands to hold and turn, encouraging young ones to exercise fine motor skills in the context of humor and play. Packaged as a boxset, these eight books are 50% off their individual prices. Whether you're hanging out with grandchildren or looking for the perfect gift for a friend's preschooler, the Hervé Tullet collection is perfect for children ages 2-5.
The Jean Jullien Collection
by Jean Jullien
$32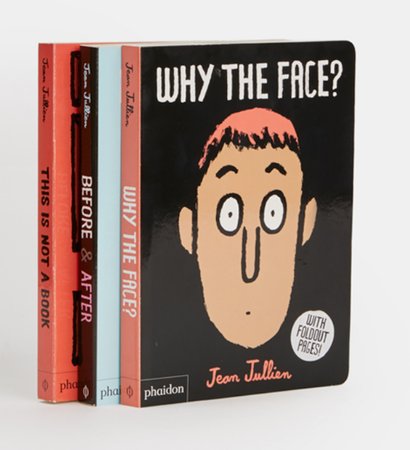 These three witty, beautifully illustrated children's board books are by French graphic designer, Jean Jullien. In Why the Face? Jean Jullien tickles the funnybone with a book of facial overreactions. Faces are presented first, allowing the reader to wager predictions of what may have prompted such an expression, before the dramatic answer is revealed.
In Before & After, Jullien depicts a set of clever and surprising before-and-after two-frame narratives, each progressed by a page turn. From pale skin to sunburned skin, dirty to clean, long hair to short hair (to long again), Jullien masterfully builds anticipation and a satisfying resolution with each pairing.
This Is Not A Book is––a laptop, a pair of hands to clap, a toolbox! Each spread of this book is actually something else entirely, challenging young readers to see things quite differently! Packaged as a boxset, these three books are 20% off their individual prices, and are a perfect gift for children ages 2-5.
My First Cookbooks
by Lotte Nieminen
$69.95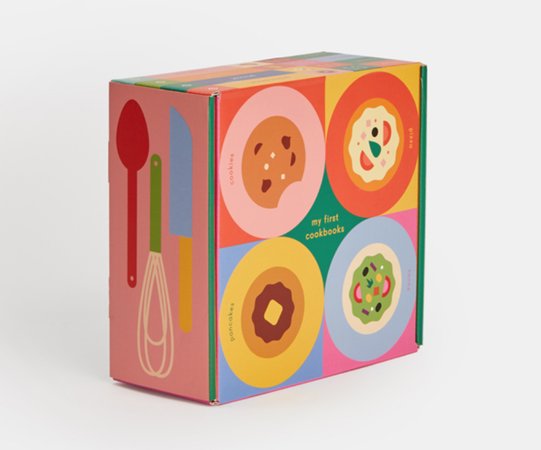 Cook pancakes, pizza, tacos, and cookies with these bestselling, beloved, interactive recipe books––all in one fun box. Sift flour, pour milk, crack eggs, chop vegetables, knead dough, ladle batter, preheat the oven, cut corn off the cob, add toppings, spread sauce, flip pancakes ... all inside these books! Wheels, tabs, textures, and sliders invite children to engage in each step of the cooking process, while removable pop-outs of the finished foods allow them to proudly share their creations. Sold as a boxset for the very first time, these three cookbooks are the perfect gift for budding chefs ages 7-10.