America's influence on all of modern popular culture is so ubiquitous that it's easy to take it for granted. But one country's landscape, people and visual language has disproportionately shaped a sense of how the world looks like no other. That this iconography has stayed so consistent despite the huge upheavals and changes that the country itself has gone through is a testament to its enduring power.
'I feel sometimes an American artist must feel, like a baseball player or something,' wrote the abstract-expressionist artist William de Kooning. 'A member of a team writing American history.' Even those most countercultural and rebellious artists end up contributing to this great country's accumulated visual language, and retelling its story to the rest of the world. For that reason, art collected in this style has an enduring, timeless quality – it never goes out of fashion, or looks anachronistic or dated. From cars and fashion, to film stars and signage, this is the best of Americana from the Artspace archive, available to buy now.
Collier Schorr - Young Rider (2008)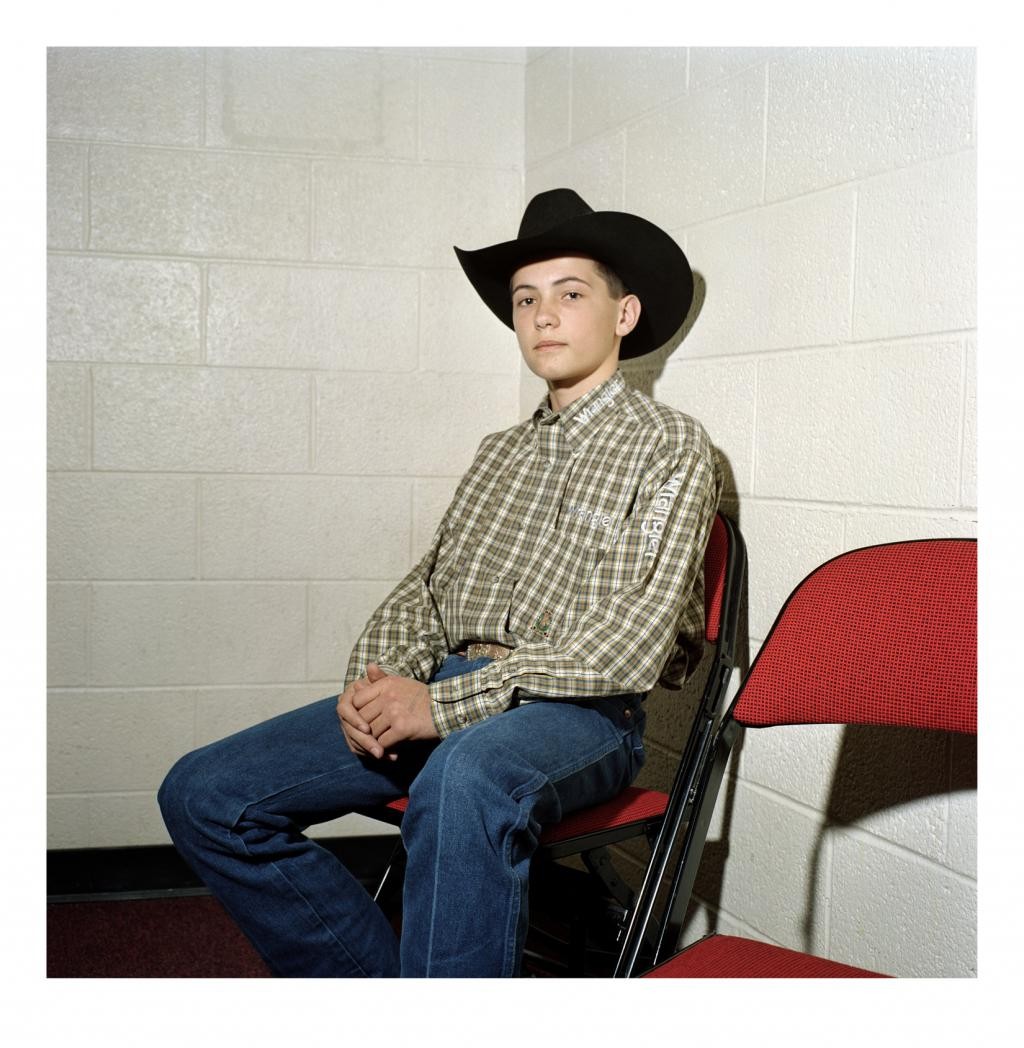 Collier Schorr has frequently turned her camera on youth – and the trappings of that age – both in America and her native Germany. From army cadets and teenage wrestlers to the kids from Stranger Things, she expertly straddles the world of gallery art and celebrity portraiture (her coveted work has also appeared in Interview, Vogue and Numero as well as the Whitney Biennial and MoMA New York). This image first appeared in More American Photographs, a 2011 group show at the CCA Wattis institute which recreated the photography program first instituted by the Farm Security Administration in 1935 to document the country as it emerged from the Great Depression.
As America emerged from the financial crash of 2009-10, Schorr and others captured where the country was at visually. In Schorr's case, this was a young adolescent cowboy – his gaze somewhere between confidence and naivety, his shirt a little oversized and his creased jeans not yet broken in. It's a timeless shot of American youth on the cusp of adventure taken by one of our most astute visual artists. Buy Collier Schorr's Young Rider on Artspace now.
Alex Prager - Kimberley (2008)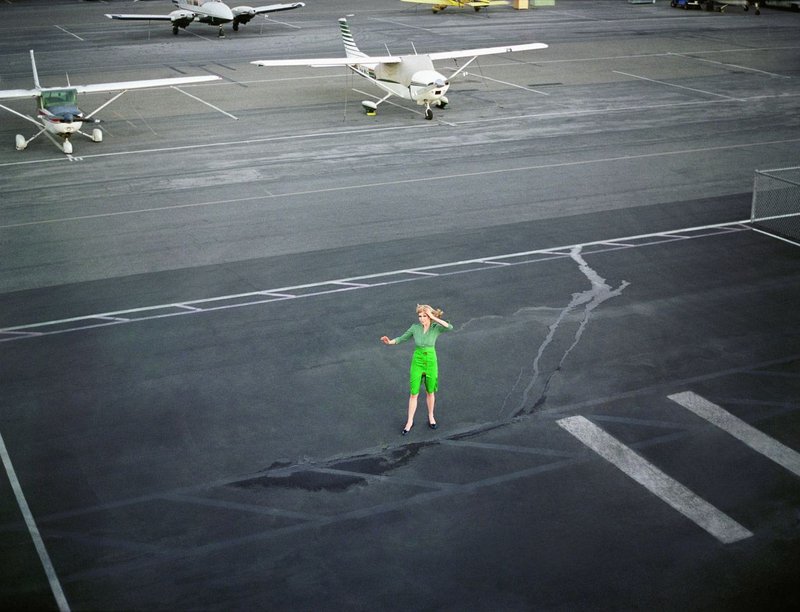 Alex Prager is a photographer and videographer who doesn't just document the environment of America, but places herself squarely in the centre of it. Somewhere between Cindy Sherman and Lana del Rey, she creates caricatured versions of herself from assemblages of vintage clothing, technicolor clothing and eye-popping makeup and places them into artificially created public spaces – cinema auditoriums, crowded beaches, the ocean. The resulting images are a manipulated glimpse of a 'real' country and artist, but with enough adjustment and alteration to suggest that there is a bigger narrative behind every picture.
Prager is a self-taught photographer, who funded her way through her early work by juggling three jobs (receptionist, clothing store and handing out flyers for clubs), and has detailed an encounter with the work of William Eggleston as her own creative lightbulb moment:
"I was looking for my outlet and when I saw the Eggleston show I felt the physical and emotional reaction to his work," she says. "I'd never really noticed photography being used as art before, I'd previously only known it as fashion and advertising. I wanted to know more. It felt like magic to me at the time.'"Having kitted herself out with second hand photographic kit from eBay, she began her creative journey. "Within the same week… I just went for it." Take a look at Alex Prager's Artist page on Artspace.
Mary Ellen Mark, Young Bull Riders (1991)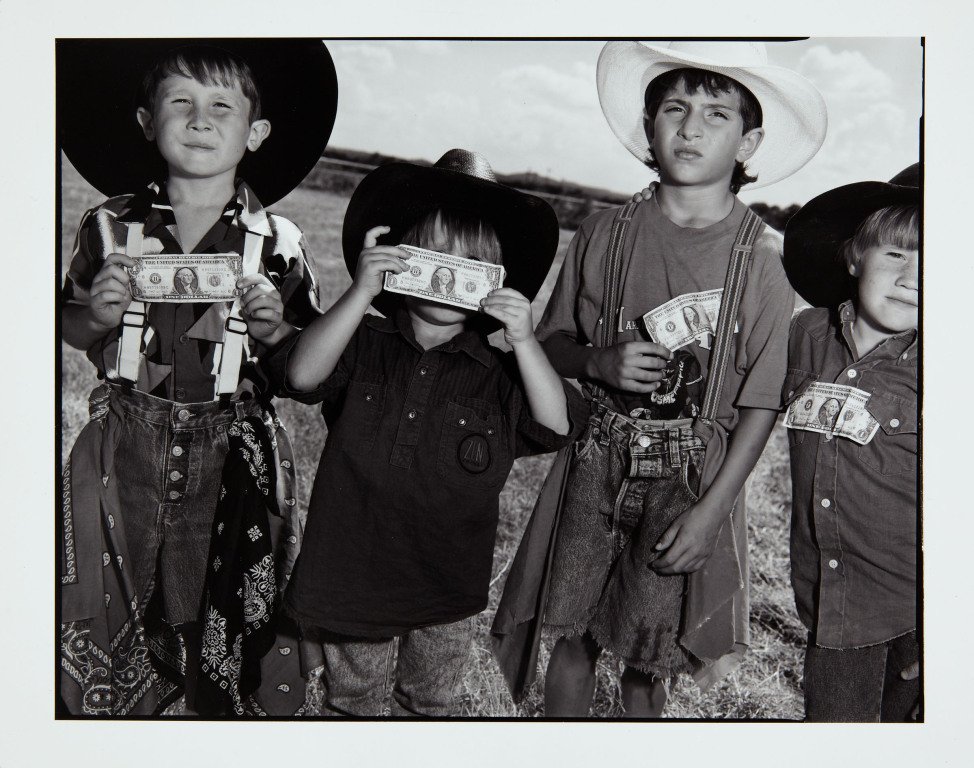 Mary Ellen Mark was one of America's most prolific photographers, exhaustively documenting the country around her, building up decades-long relationships with some of her subjects and producing something between art, photojournalism, and social commentary for her books, gallery shows and the pages of The New Yorker, LIFE, Rolling Stone and Vanity Fair. In 2014 she received the Lifetime Achievement in Photography Award from the George Eastman House as well as the Outstanding Contribution Photography Award from the World Photography Organisation.
This photo was taken in 1991 at the Boerne Rodeo in Texas and forms part of her series American Odyssey, through which she documented the country between 1963 and 1999. 'I have crossed paths with some wonderful people and some terrible ones,' she wrote on the series' completion. 'One thing is for sure, for all of its ups and downs it has always been an incredible adventure. You can find everything in this country, anything goes, and anything can happen. My travels through America have defined my vision as a photographer.' Buy Mary Ellen Mark's Young Bull Riders on Artspace now.
Benny Safdie, - Elvis' Pink Cadillac (2010)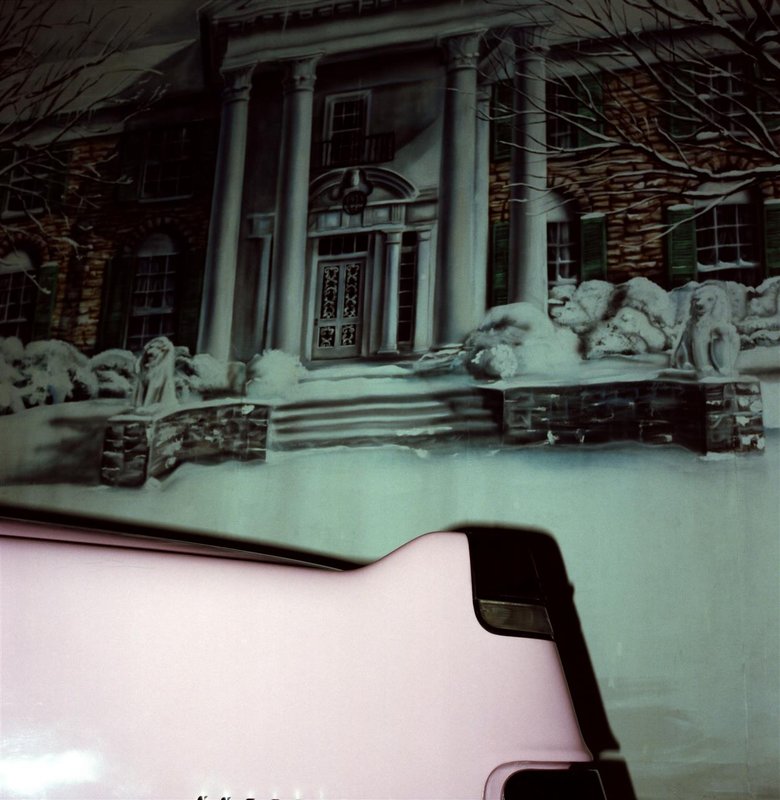 Benny Safdie is better known as a film director – along with his brother Josh, his latest film Uncut Gems was one of this year's most remarkable pieces of cinema. Born in 1986 and raised in New York, in 2012 while working on his first films he co-opened the Mmuseumm gallery, a 36-square-feet space in a discussed elevator shaft in TriBeCa along with his brother, and the creative director Alex Kalman.
In 2015 their own artwork took precedence with the show Pieces of Advice x From a Pedestrian Point of View including Benny's photographs and large-scale cutouts created by his brother. 2017 saw Benny's first full solo show, For All The Squares at the Yoshii Gallery.
Cars are a common motif in his work – close ups of weathered flat tyres, rain drops reflecting on a glossy grey exterior, custom paint jobs and furry dice hanging from a rearview mirror. This homage to the ultimate American mode of transport peaks results here in him photographing perhaps the ultimate expression of it: Elvis' pink Cadillac, immediately identified by its shark-like tailfin and pastel paintjob. Buy Benny Safdie's Elvis' Pink Cadillac on Artspace now.
Stephen Shore, July 22nd, 1969 (2010)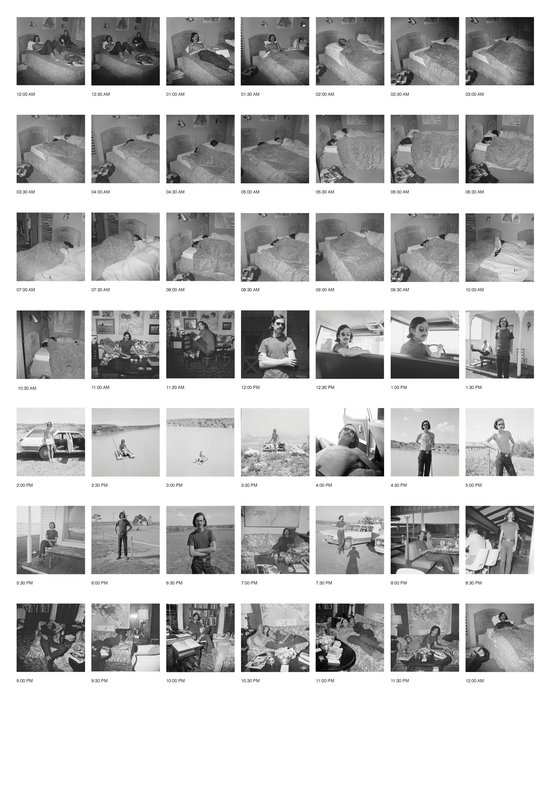 Stephen Shore is one of the key pioneers of color photography in American art, raising it from a cheap, advertising medium to a legitimate tool for converting the everyday American experience into something which could be seriously critically assessed and appreciated. However, while he started to use color in 1971, there was several years lesser-known work that he had created in black and white before this – including this series in which he documented his friend Doug Marsh at 30-minute intervals for 24 hours.
'I didn't want to wait for a good moment to take the photograph around that time,' Shore explained. 'I wanted to do it at exactly that time.' Shore – now one of the most awarded photographers in America – was so enamored with the end result that in 2007 he put it forward as part of the Not For Sale group show at PS1 which focused on works that artists had picked as the one which they could not bring themselves to part with. It's available now in a special edition hardback book in slipcase, with a tritone lithograph. Buy Stephen Shore's July 22, 1969 on Artspace now.
Frank Worth - James Dean Leaning on Fence Post (1955)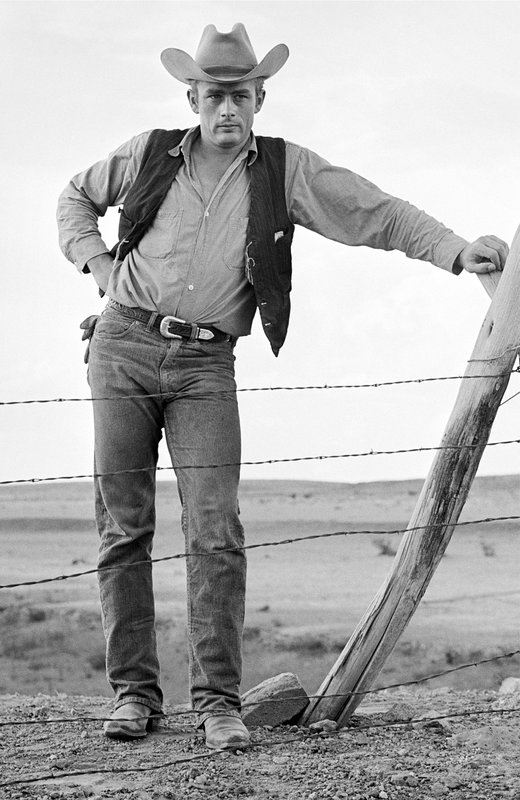 New Yorker Frank Worth began his career as a photographer in the world of news, having approached the local office of the International News Service (INS) while still a student. He was immediately dispatched to work, photographing actors and actresses as they arrived on the California express train at Grand Central Station. Realising that he had not just technical skill as a photographer, but also an ability to put talent at ease and work without getting starstruck. He duly shot everyone from the Rat Pack and Marilyn Monroe to James Dean – but as well as the work he filed for his day job, he built up an archive of personal shots which were never published and only discovered on his death in 1999.
This shot captures James Dean on the set of Giant, aged just 24 and in the third of his major film roles. Elizabeth Taylor and Rock Hudson co-starred, but Dean's role as ranch hand Jett Rink would be his last. During filming, Warners had banned Dean from any car racing activities, but as soon as the film wrapped he resumed his obsession with fast, powerful automobiles. On September 30, 1955 he was killed in a car crash en-route to a competition. Worth's portrait serves as one of the very last professional images of the young man, and an icon of Americana. Buy Frank Worth's James Dean Leaning on a Fence Post on Artspace now.
[Americana-module]
RELATED STORIES
These Sports Themed Works will Make Your Collection a Winner
Artspace's Most Iconic Music Photos
From Protest to Portraiture – 5 political photos to add to your collection