When describing feats of sporting brilliance, fans and commentators frequently imbue these acts with a transcendent power, using the language of miraculous beauty to describe them. Soaring, heart-stopping, unbelievable - physical acts, couched in the moving language of art and emotion. And in return, artists and photographers have taken on sport as their subject matter, connecting their world of aesthetics and imagery with something more earthy, visceral and - for many - 'real'. These are our picks from the Artspace vault of what happens when our best photographers and artists turn their lens towards the sporting life.
JOHN BALDESSARI - Four Hands and a Baseball Bat, 2016

Four hands and a Baseball Bat , 2016, by John Baldesari
John Baldessari passed away this year on January 2nd at his home in the Venice district of Los Angeles, aged 88. Originally an art teacher, he marked his departure from conventional painting with a grand incineration of the work that he'd produced up to that point – he eventually found a mortuary who agreed to furtively burn them at night for him. What followed was a creative rebirth and a new style of working, in which Baldessari combined elements of Dada , Surrealism , Pop and Conceptual Art , creating prolifically across photography, video, live performances, paintings and sculptures.
Baldessari often worked with found photography and appropriated imagery. In this case, a photo of four hands gripping a baseball bat where he has zoomed and cropped the image to remove all peripheral details bar the bat and the different-hued hands. In 2016, he produced an edition of the work to tie in with the 40th anniversary of the Lincoln Center Education, the musical 'playing' on the Lincoln Center's stage equated with the playing taking place on the baseball field.
JONAS MEKAS - Holy Fools (Miles Davis), 2012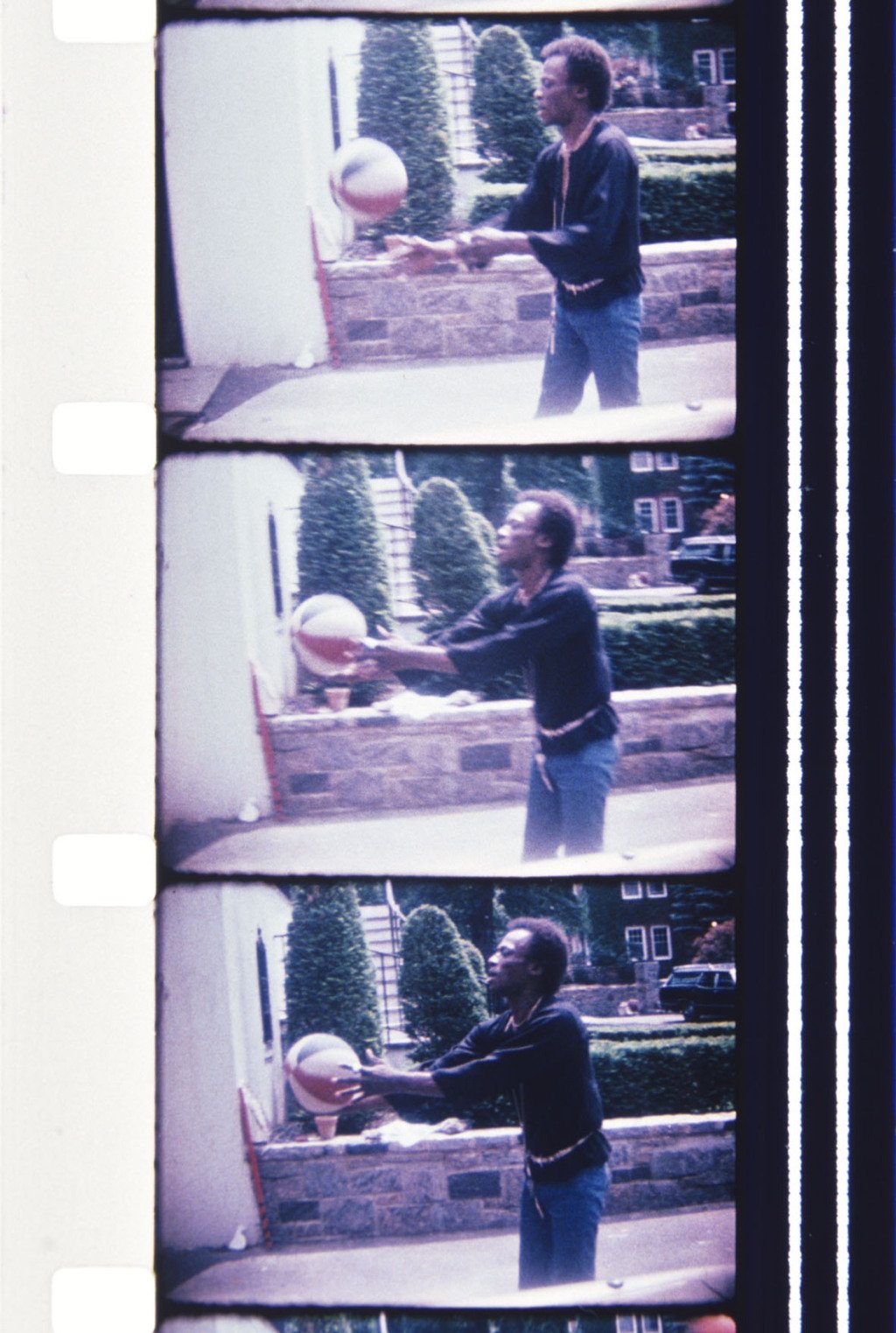 Holy Fools (Miles Davis), 2012 by Jonas Mekas
Born in Lithuania in 1922, the American filmmaker Jonas Mekas is the founder of the Anthology Film Archives, founded in 1964 as the world's leading archive of avant-garde films. Mekas has worked across academia, tech projects (he made a year's worth of short films for the Apple Video iPod in 2005) and the establishment of his own visual arts center in Vilnius.
Mekas emigrated to America in 1949, settling in New York and becoming an integral part of the burgeoning art community in the city. His circle would include Allen Ginsberg , Kenneth Anger , Nam June Paik , Yoko Ono and Andy Warhol (Mekas would carry out camera duties on Warhol's film Empire). With proximity to these characters, Mekas shot a series of video portraits on 16mm film stock in which notable creatives around him performed for the camera. As well as Warhol, Mekas shot John Lennon in this way, while playing basketball with Miles Davis.
The finished film, Happy Birthday to John , was shot in 1971 on October 9th, the day that Yoko Ono's exhibition This is Not Here opened at the Everson Museum of Art. This image is a series of frames taken from that footage, including the visual distortion and framing from the handheld camera, and the sun-washed colours of the faded film. For the record, Davis appears to be the better hoop-shooter of the two men.
GOSHA RUBCHINSKIY - Untitled (from Crimea/Kids series), 2013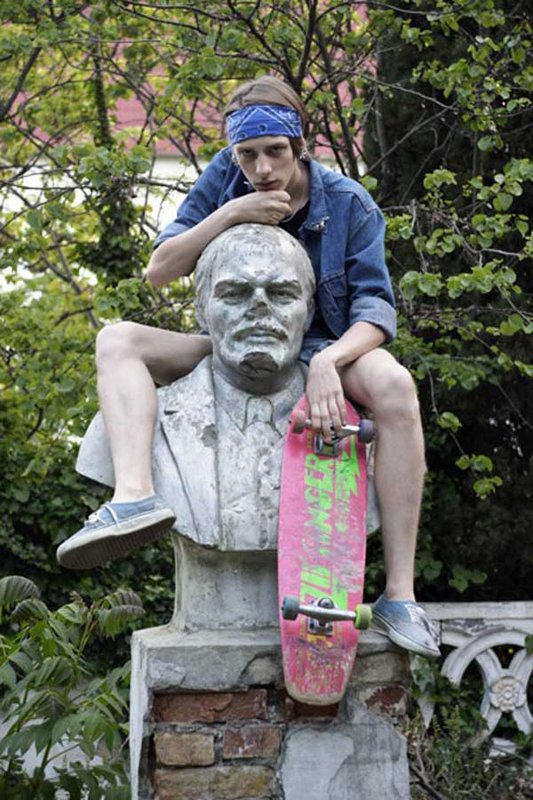 Untitled (from Crimea/Kids series) , 2013 by Gosha Rubchinskiy
Born in 1984 in Moscow, Gosha Rubchinskiy came of age throughout one of the most turbulent times and places in modern European history. A fashion designer, filmmaker and photographer, his work references not only his own upbringing, but also the glut of consumerist influences which flooded into Russia at the end of Communism and the language and stereotypes which the west projected onto his country as 'the end of history' played out around him - his first fashion collection was titled Empire of Evil in reference to Ronald Reagan's description of the Soviet Union.
In 2014 he published Crimea/Kids, an 80-page photozine study of youth skate culture, along with an accompanying film. In Rubchinsky's photos, the timeless style of western dropout culture is retooled by Crimean teenagers, and contrasted with the antique Soviet imagery and iconography around them. Made just before the current ongoing conflict with Russia and Ukraine over the region, the work took on a different dimension with the outbreak of hostilities. Check out some great skateboard art from Damien Hirst, Yayoi Kusama, George Condo, Keith Haring, Jean-Michel Basquiat and JR here .
GEORGE FISCHER - Muhammad Ali Preparing for "Thrilla in Manila", 1975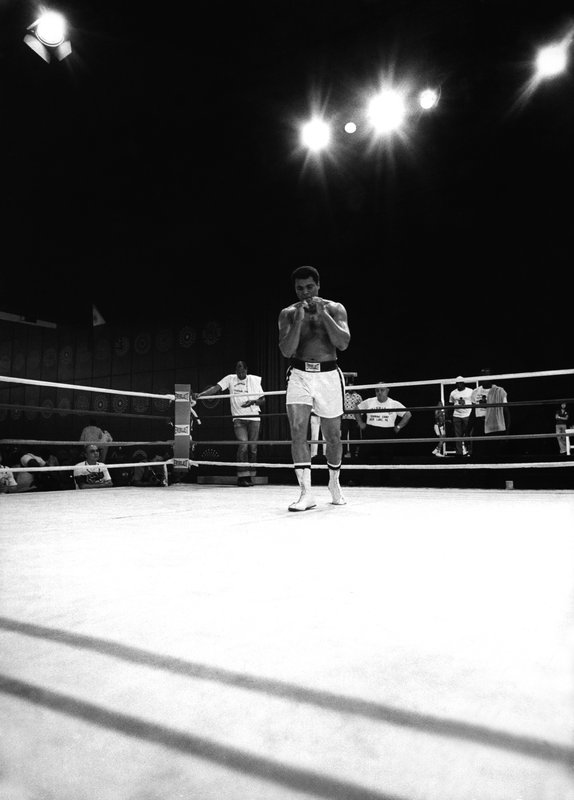 Muhammad Ali Preparing for "Thrilla in Manila" , 1975 by George Fischer
"It will be a killa and a thrilla and a chilla when I get the gorilla in Manila!" Using his customary pre-fight blend of verbal dexterity, playground bullying and brute psychology, Muhammad Ali ramped up the tensions before the third, decisive fight of his series against Joe Frazier in the Philippines on October 1st, 1975. The fight was a huge media circus and public draw – vast audiences tuned in via closed circuit broadcast systems and pay-per-view broadcasts to see Ali win on points after 14 rounds, closing the series at 2-1 in his favor.
At least, this was the hypeman's take on it. In reality, the fight captured the darkness of boxing like few other fights. 'Both came to the battle weary, aged and struggling to contain self-delusion. They left damaged and irreparably bitter,' wrote Kevin Mitchell in a retrospective account of the fight in 2015. 'The fight was the closest to sanctioned manslaughter boxing had allowed.' To this day, differing versions of events claim that Ali was on the verge of quitting but was overruled by his own trainer until Frazier's corner signaled to the referee that their man would not come out for another round.
All these contradictions are contained in Fischer's superb shot – the champion, alone, a mixture of defiance and uncertainty, out on the canvas and distanced from all around him and illuminated by the arena lights. A career marked by both struggle and greatness nearing its brutal conclusion.
In a piece for Bloomberg last year, one prominent art buyer gave a simple description of what had propelled Jonas Wood 's paintings to such high commercial and critical acclaim: 'They have wall power.' While working in a relatively traditional form of realistic painting – portraits, still life and landscapes – Wood's mastery of rich, vibrant color, layered patterns and deceptively complex forms and shapes have elevated him above and beyond his peers.
Born and raised just outside Boston, he was exposed to a broad range of influences – his mother was a school drama teacher who spent time building and painting sets, his father was an architect, while his grandfather was a collector who accumulated work by Warhol , Bacon and Lichtenstein . Wood's debut solo show in 2006 generated a serious buzz, with prices climbing rapidly from 2015 when Gagosian staged its first show of his work a painting bought by Saatchi in 2009 for $60,000 sold for $837,449 in October 2015 at Christie's.
This piece was produced in 2018 as part of the Downtown4Democracy art movement (other contributing artists include Richard Prince , Paul Chan and Judith Bernstein ), with spinning basketballs rotating through a repeated red-white-and-blue command to go and exercise your democratic duty. Wood is an avid basketball fan, having painted NBA Hall of Famers Kareem Abdul-Jabbar, Charles Barkley and Bill Walton, while the basketball motif has cropped up in the likes of Green Ball (2014) and Collaboration Appropriation 6 (2015). There is also a five-foot high basketball with a chair inside in the artist's studio.
Last year the artist worked with Artspace on a special limited edition, titled Bball Studio (2019) which brought together a hardback copy of Phaidon's Jonas Wood monograph along with a bespoke limited edition silkscreened print and tote bag.
Like what you see? Check out the sports related artwork module below for another edit or click here for the full range of our sport related art.
[sports-module]