The story of modern pop music is as much visual as musical. Just as a whole crop of silent movie stars failed to make the transition once talkies came in, the artists who endured from the Fifties onwards were those who looked as good – or in some cases better – than they sounded. There's a reason why Elvis became an enduring icon despite the wildly variable quality of his recorded output; why Brian Jones' cultural impact vastly outweighed his musical contributions to those early Rolling Stones records.
But one result of this is that the same few images of big names tend to be in circulation to the point of over-familiarity. However, there's a far greater reward to be found by digging beneath the familiar and exploring those less exposed moments from an artist's formative years. So with that in mind, we've been working through the Artspace archives to find a selection of alternative images of some of music's most iconic names. Here's our selection.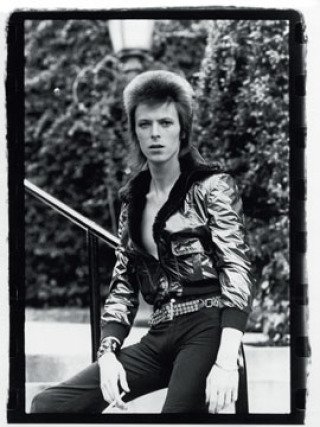 Mick Rock was the key photographer of the Glam Rock period – the hyper-kinetic live photos of Iggy Pop, Lou Reed's deathly pallor on Transformer and Syd Barrett's bombed-out portrait for The Madcap Laughs were all down to Rock. However, it's for his work with David Bowie that he's best known, including the most frenetic live shots of The Spiders From Mars. This image from our archive is different – unstaged and unguarded, it captures Bowie right at the tipping point of his career. After the dead ends of his Sixties experiments, and the false start of Space Oddity, he has finally lighted on the sound, collaborators and imagery which will see him dominate the Seventies in the way that the Beatles did the Sixties. From here, in quick succession he will go on to become Aladdin Sane and the Thin White Duke, co-create The Stooges' Raw Power, reinvent himself with Young Americans, transfer to Berlin and explore Krautrock with Brian Eno and act in films, before connecting the dots to New Romanticism with Scary Monsters. This shot catches him right at the start of all that.
Bob Dylan 1968 by Elliot Landy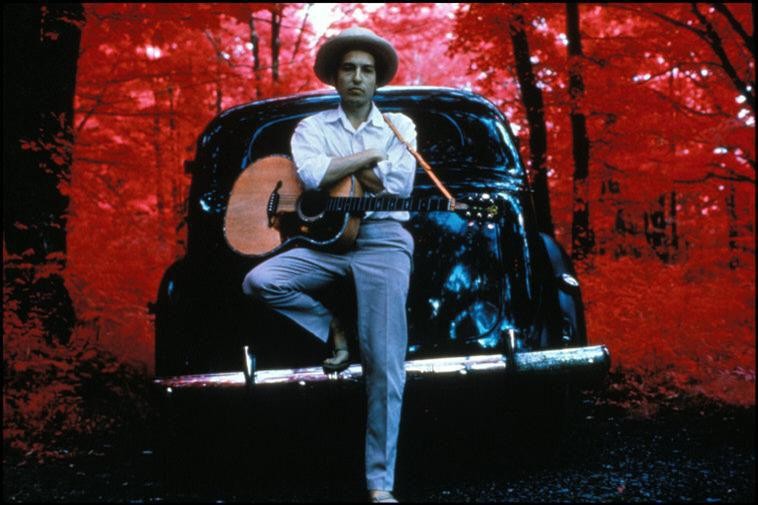 1968 was a chaotic year in American politics: as Nixon came to power, the country witnessed riots which left 40 people dead, assassinations (Dr Martin Luther King, Robert F Kennedy), Black Panther shootouts, the Zodiac Killer, the deepening quagmire of Vietnam. In response, Bob Dylan – the nation's foremost protest singer – withdrew from the fray. Following the release of John Wesley Harding in December 1967, Dylan along with his wife Sara and their three children, detached, retreated to rural upstate New York and seemingly looked inward. Pursued by fans and dogged by rumors around his absence, Dylan agreed to a photoshoot with Elliot Landy who had shot The Band's debut album. What resulted was a mixture of future promotional material (the sleeve of 1969's Nashville Skyline), intimate family portraiture and this oddity – shot on infra-red film, Dylan's rural retreat seemingly inundated with blood-red foliage.

Beatles at Abbey Road 1964 by David Hurn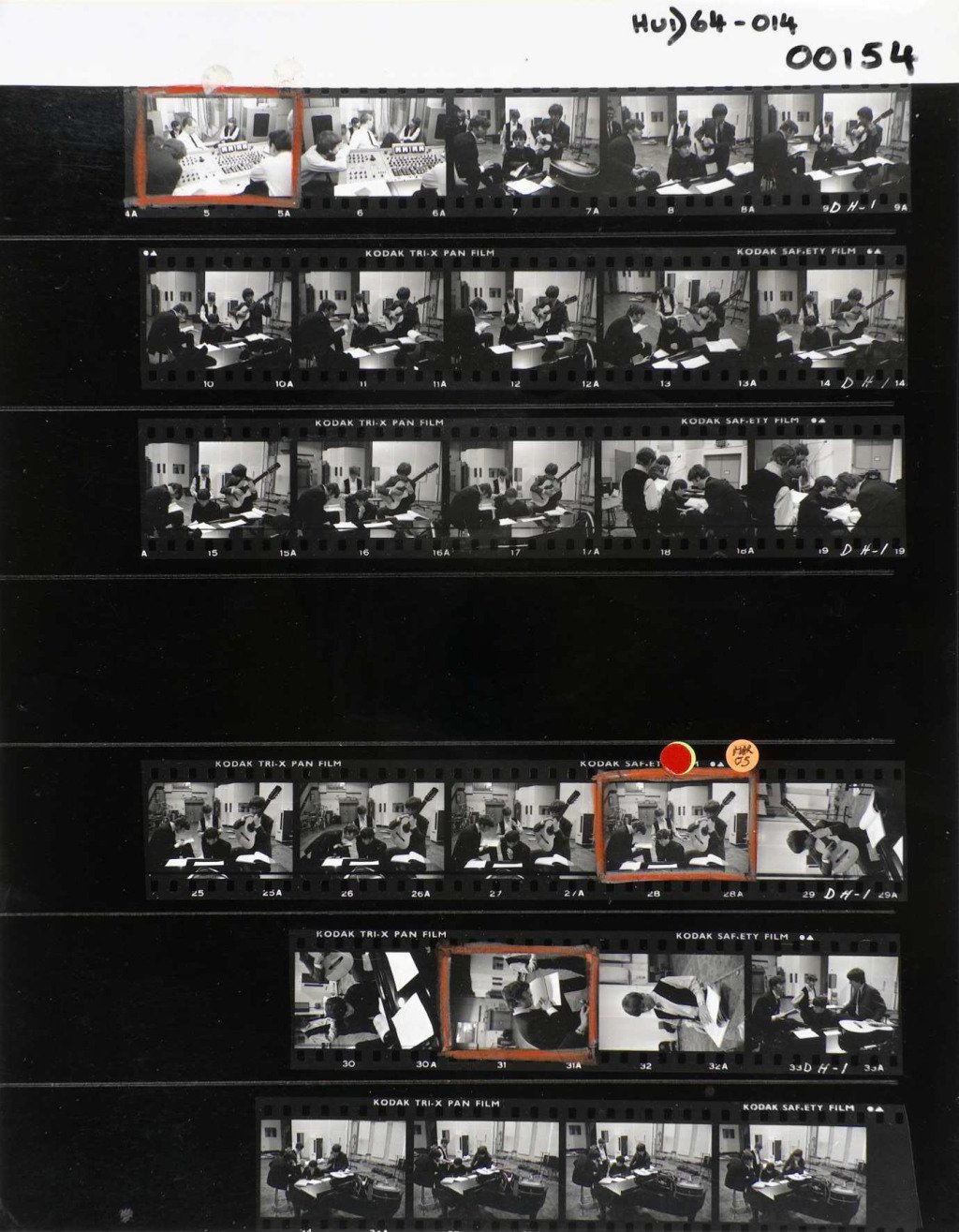 These original contact sheets are the visual equivalent of the outtakes and lost traces that populate bootlegs and box set extras. They show the Beatles examining the script of A Hard Days Night and at the eye of a creative and commercial storm: 1964 alone will see their first US album release (Introducing The Beatles) and number one single (I Want To Hold Your Hand), their frenzied arrival at JFK and debut on The Ed Sullivan Show to an audience of 73 million people, their immortalization as waxworks at Madame Tussauds, one month where they hold the top five positions in the US singles chart, meetings with Cassius Clay and Bob Dylan, the release of A Hard Day's Night and Beatles For Sale. This is the last time that they will have anything like a normal existence – from this year on, they'll no longer be individuals, or just a band: they'll be an emblem of an entire cultural movement, and just two years later a completely studiobound project, mired in legal wrangles and infighting. No other band ever did so much, so fast.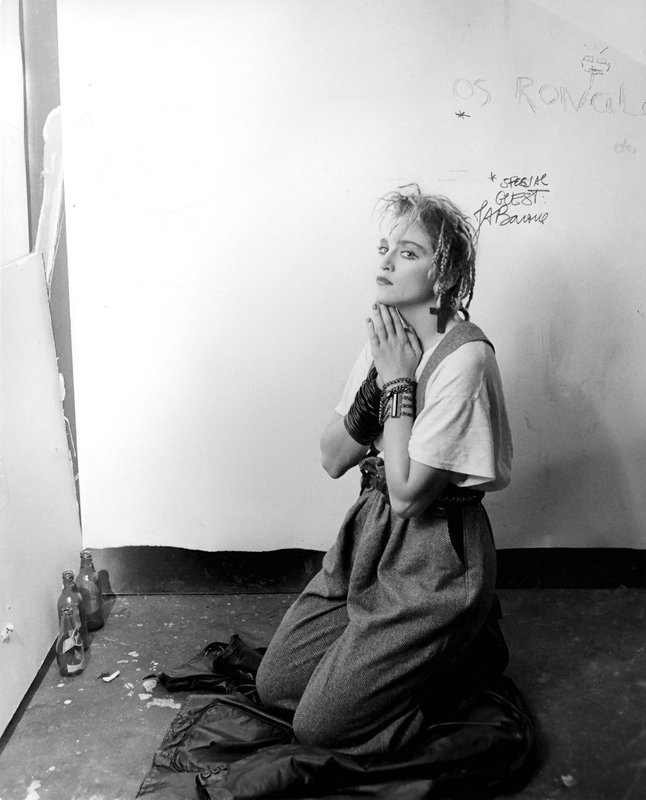 Eric Kroll's shots of Madonna were taken the year of her debut album. But they're most interesting as a snapshot of the place and culture that forged her. Taken backstage at the Danceteria, this was the club where she had convinced resident DJ Mark Kamins to play her demo of Everybody, which led to her first deal with Sire records. This location of Danceteria was its second (the first was closed by the New York Police and Fire Department in 1980), and in its 21st Street incarnation became the epicenter of the new wave scene frequented by everyone from Basquiat and Keith Haring to New Order and the Beastie Boys. Taken at the very start of her elevation to international celebrity, this image is a reminder of the strange, avant-garde world that Madonna emerged from.

Louis Armstrong 1950 by Weegee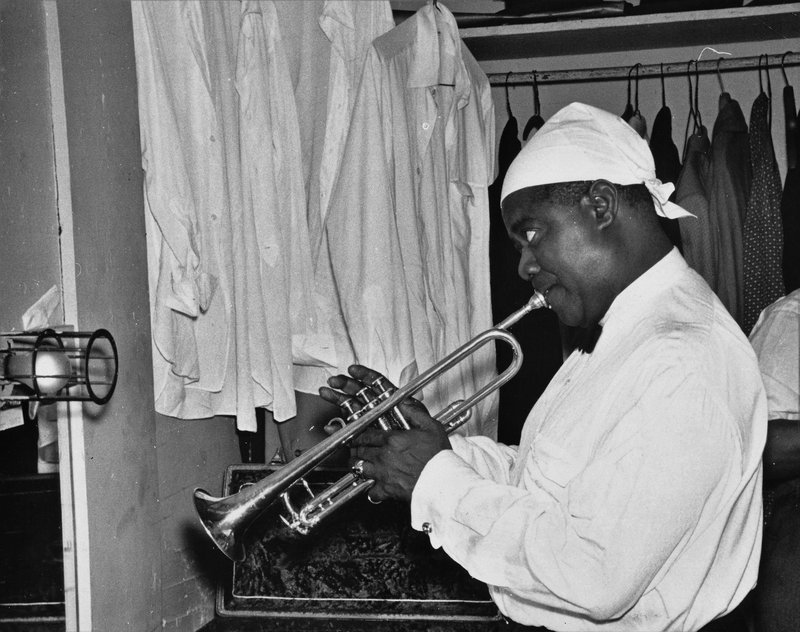 This is firstly of interest as it marks an unusual trip into music from Arthur 'Weegee' Fellig, the ultimate chronicler of New York's murderous criminal underbelly (for a time in the late 1930s, he was the only photographer with a licensed police-band shortwave radio, enabling him to arrive at crime scenes as quickly as the responding officers). But secondly, in its candid portrayal of Louis Armstrong as he warms up backstage at the Basin Street nightclub in New York, it captures the hard reality of life for a jobbing musician. By 1950, Armstrong was one of jazz's biggest figures and an international celebrity – but out on the road he's still preparing in the cramped confines of a tiny dressing room, surrounded by bare bulbs, racks of stage suits and hangers of drying laundry.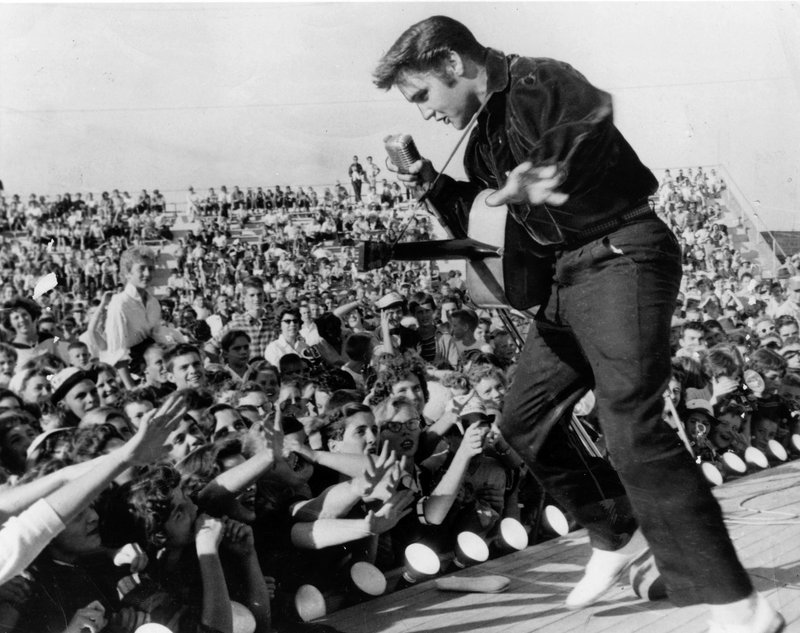 The key images of Elvis are so ingrained in culture that they have come to define him – the supersize jumpsuits of Vegas, the black leather of the comeback special, the stripped down minimalism of Jailhouse Rock. But it's easy to forget that what created his entire phenomenon originally was his electrifying live performances. This shot, taken at the Mississippi-Alabama Fairgrounds in Tupelo marked his homecoming show to a fair where he had first performed at the age of 10. In the previous nine months alone he has made his first recordings for RCA (including Heartbreak Hotel), released his debut album, and broken through on nationwide TV shows. This homecoming show saw him cementing his status as a youth icon and the embodiment of the emergent rock n' roll culture – 50 National Guardsmen were deployed as a crowd, including a young Tammy Wynette – lost control. From this point on, he belongs to the world, not Tupelo.
Bob Marley live by Bob Gruen, 1975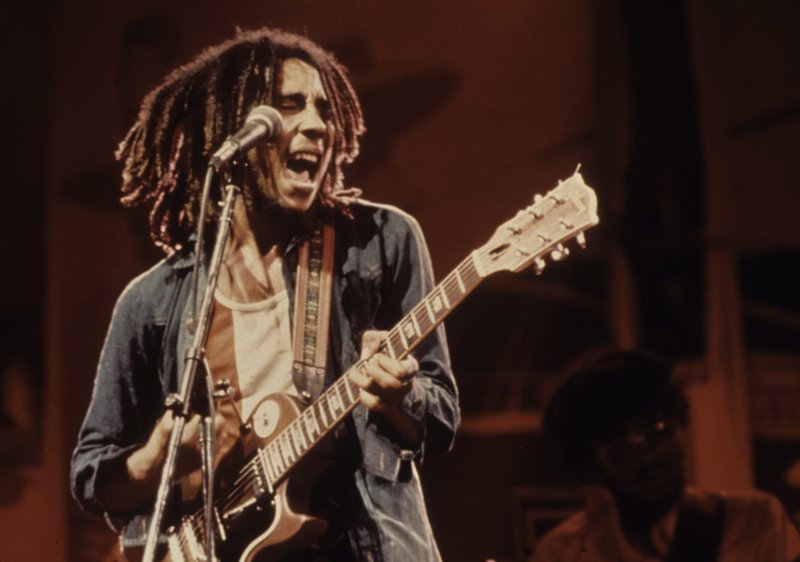 This image was taken at the Wollman Rink in Central Park, New York when Bob Marley and the Wailers headlined the annual, low-budget Schaefer Music Festival. Touring their Natty Dread album (and its hit single, No Woman No Cry), the band played to an estimated 15,000 people, more than double the venue's usual capacity. Marley was ascending to the level of a true international star, with NYC mayor Abraham D. Beame offering him the keys to the city in response to the show. However, it also captured him at a high point – a year later, as political violence convulsed Jamaica, Marley, his wife and manager would all be injured after being shot by raiders at Marley's home. Soon afterwards he would move to England where he would live in exile for two years, and in 1977 be diagnosed with cancer. In 1981 he would be dead, aged just 36.
Justin Quirk is a writer and editor based in London. He has written about music, culture, photography and design for The Times, The Guardian and Esquire. He regularly appears on the BBC World Service and Soho Radio talking about culture and current affairs and DJs at London's audiophile bar, Spiritland. His first book, Nothing But A Good Time - The Spectacular Rise and Fall of Glam Metal, is published this year.
Check more Artspace photography here.
[iconic-photos-module]