Weirdly, we're almost a quarter of a way through the twenty-first century. And while it can be easy to believe that the most important artistic masterpieces happened in the distant past, our new millennia has already birthed its share of wonderful artworks. In this excerpt of Phaidon's 30,000 Years of Art, we look at some of our favorite twenty-first century artworks and artists including Arthur Jafa, Theaster Gates, and Hito Steyerl.
ERNESTO NETO
Leviathan Thot (2006)
Polyamide tulle, polyamide stockings and Styrofoam pellets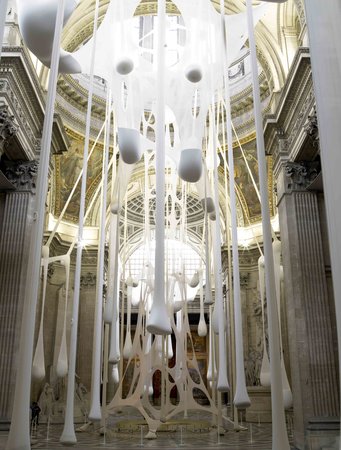 Leviathan Thot by Ernesto Neto (2006), image via Phaidon
In biblical terms, Leviathan is a sea monster that is sometimes either a whale, crocodile, or––as was common in the Middle Ages––the Devil himself. Philosophically speaking, the word refers to Thomas Hobbes's 1651 political treatise, in which he imagines the ideal state as a sea monster, a metaphor for a commonwealth built from the bodies of its citizens with the sovereign as its head.
Suspended body-like within the neoclassical architecture of the Panthéon in Paris, Ernesto Neto's Leviathan Thot both alluded to this history and sensually reinterpreted the monster. There is nothing hard or rigid about Neto's art; semi­transparent forms twist, knot and hang to create marshmallowy and multi­ sensory environments.
Neto's spatial constructions draw on the work of 1960s Brazilian neo­concrete artists such as Lygia Clark, Lygia Pape and Hélio Oiticica, all of whom invested an awareness of the organic and the somatic into geometric abstraction. His signature naves ("spaceships" in Portuguese) are filled with either sand or a mixture of spices such as cumin, turmeric and cloves, which serve to unite the work with the body and vice versa. By collaborating with gravity, Neto (b.1964) builds a secondary, organic and informal architecture, rede ning the way the visitor interacts with context as a body in space.

WOLFGANG TILLMANS
Greifbar 36 (2006)
Unframed inkjet print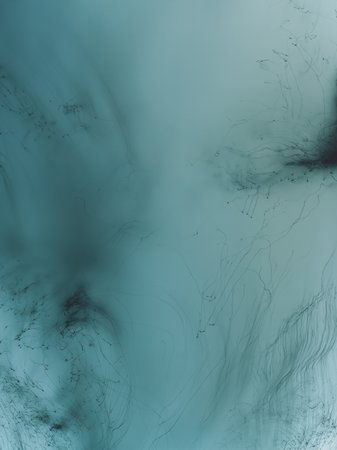 Greifbar 36 by Wolfgang Tillmans (2006), image via Phaidon
Manipulating light on to photosensitive paper to create images without the aid of a camera is a technique as old as photography itself. Known as the luminogram process, many artists have experimented with it, including László Moholy­ Nagy, Gottfried Jäger and, since 2003, the German photographer Wolfgang Tillmans (b. 1968).
Reminiscent of clouds or ink dissolving in water, the hazy blue tones and dark spindly veins of Greifbar 36, like all the works in Tillmans' Greifbar series, were created using an undisclosed process that relies just as much on chance as on the skilful manipulation of the artist. The title, which translates as "tangible," is deliberately ironic, for each image has an ethereal, otherworldly quality.
Tillmans rose to prominence in the 1990s with an expansive body of portraiture, landscape and still life photography, with subjects ranging from the acutely personal to the political. In carefully composed exhibitions, he displays his abstract, camera­less images alongside his lens-­based photographs. While the monumental scale of Tillmans' Greifbar images invite comparisons with the work of Color Field and Abstract Expressionist painters such as Mark Rothko and Kenneth Noland, the artist insists they should be viewed as photographs with a direct connection to the material world.
HITO STEYERL
Factory of the Sun (2015)
Single channel high definition video, environment, luminescent LE grid, beach chairs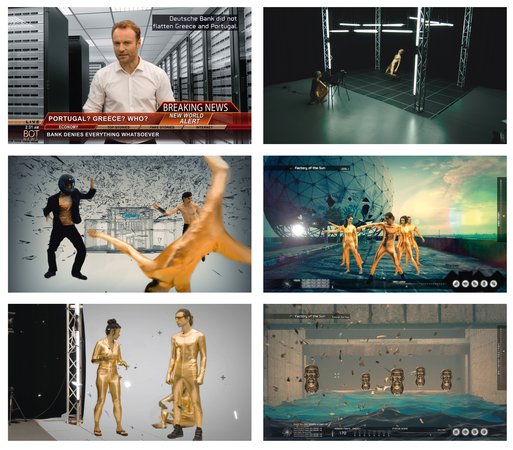 Still from Factory of the Sun by Hito Steyerl (2015), image via Phaidon
Factory of the Sun takes the form of a darkened room lit by a grid of fluorescent blue lights. Viewers sitting in reclining chairs watch a dystopian science fiction film in which elements of the nancial sector have seized control of physics, developing a way to increase the speed of light in the pursuit of profit. Workers, forced to dance, have their bodily movements recorded by advanced motion-capture technology and mysteriously turned into arti cial sunlight – a dangerous process that risks death. The film, which mixes reportage with documentary, found footage, video games and Internet dance videos, considers the scope for resistance in a world dominated by surveillance and the global flow of data.
Hito Steyerl (b.1966) is an in uential and outspoken artist, writer and theorist concerned with the impact that technological advances are having on daily life. Through her research driven videos, installations, texts and performances, she explores a complex web of ideas that relate to visual culture, politics, globalization, surveillance, migration and feminism. The circulation and consumption of images in an accelerated, globalized world is a recurring theme for Steyerl, who claims, "Images do not represent reality, they create reality."
ARTHUR JAFA
Love is the Message, the Message is Death (2016)
Video (colour, sound)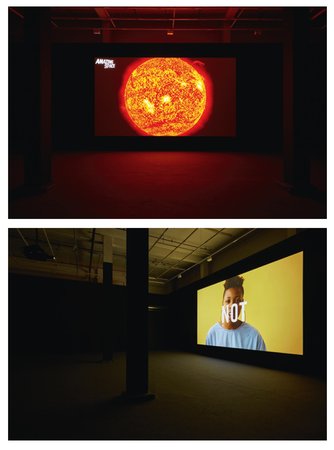 Love is the Message, the Message is Death by Arthur Jafa (2016), image via Phaidon
In a meticulously choreographed cinematographic edit, Arthur Jafa (b.1960) combines found video footage with a soundtrack of Kanye West's 2016 song Ultralight Beam to create a seven minute­ long masterpiece. As the gospel­like tune swells and wanes, images flow in a continuous sequence, taking the viewer through the gamut of human emotion. From a YouTube clip of a teenager singing "I been dreamin', I been dreamin,'' which cuts to historic footage of Martin Luther King Jr., or a video of police violence against black citizens that segues into an amazing basketball dunk, Jafa's moving images evoke the power, beauty and nuanced complexity of black culture in the United States––distilled in a question to camera posed by the actress Amandla Stenberg: "What would America be like if we loved black people as much as we loved black culture?"
The work was on show for the first time as Barack Obama left office and Donald Trump inaugurated his presidency––a timely moment to re­visit the history of the African­-American struggle. Critical of black representation in mainstream media, but underscoring the ubiquity of black music, dance and bodily presence in contemporary society, this compilation video depicts black life bluntly and at its fullest.
Jafa has overlapping practices as a film director and cinematographer as well as a visual artist, through all of which he probes ways in which black cinema might manifest itself today.
YIN XIUZHEN
Portable City (2012)
Suitcase, used clothes, light, map, sound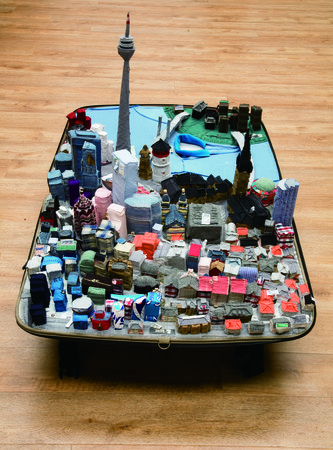 Portable City by Yin Xiuzhen (2012), image via Phaidon
In 1989, Yin Xiuzhen (b.1963) graduated from her studies in oil painting at Capital Normal University in Beijing. Like many artists of her generation, the development of Yin's work cannot be uncoupled from the uncertainty and political tumult in which it emerged. Having grown up during Mao Zedong's Cultural Revolution, she explores in her art the complexity of collective and individual identity, belonging, memory and displacement. These themes are embodied in Yin's signature material: second-hand clothing and textiles.
In her Portable Cities series, the artist makes a wry comment on a globalized world by constructing "soft cities" within suitcases: instead of taking one's baggage to a city, the city itself becomes one's baggage. Abstracted, pliable and approximate, each metropolis is a kind of three-dimensional, sculptural postcard, which, like a postcard, is both generic and personalized.
Though Yin's criticism of China's economic rationalization and the push towards urbanization remains lyrical rather than overt, her attention to memory as a form of resistance is clear: "In a rapidly changing China, 'memory' seems to vanish more rapidly than anything else. That's why preserving memory has become an alternative way of life."
KERRY JAMES MARSHALL
Untitled (Studio) (2014)
Acrylic on PVC panels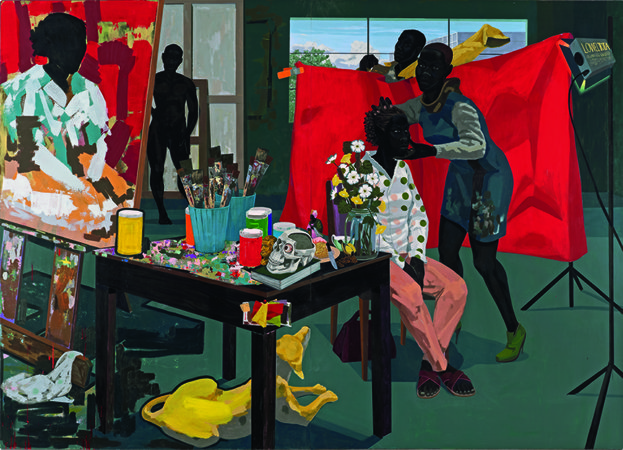 Untitled (Studio) by Kerry James Marshall (2014), image via Phaidon
Kerry James Marshall (b.1955) grew up in Los Angeles at the height of the civil rights movement and has dedicated his career to challenging the marginalization of African­-Americans in art and society. His paintings, which explore the history of black identity in the United States, exclusively feature people of color figures largely absent from the history of art in the west.
Untitled (Studio), which combines still life, portraiture, landscape and abstraction, depicts a busy artist's studio lled with people and painting equipment. Brimming with references to the art of the past, this canvas is an ode to painting and to the medium's versatility. It was inspired by Marshall's teenage visit to the studio of Charles White (1918–1979), an artist whom he greatly admired. The experience was formative: having never seen an artist's studio before, let alone that of a black painter, Marshall found in White a role model. Known for his Depression-­era murals and large­-scale paintings of African­-Americans that helped shape the civil rights conversation, White taught Marshall the importance of creating art that engaged with history, culture, politics and social issues. Untitled (Studio) celebrates Marshall's discovery that black people could also become successful artists.
THEASTER GATES
12 Ballads for Huguenot House (2012)
Deconstructed timbers and other construction materials from 6901 South Dorchester Avenue, Chicago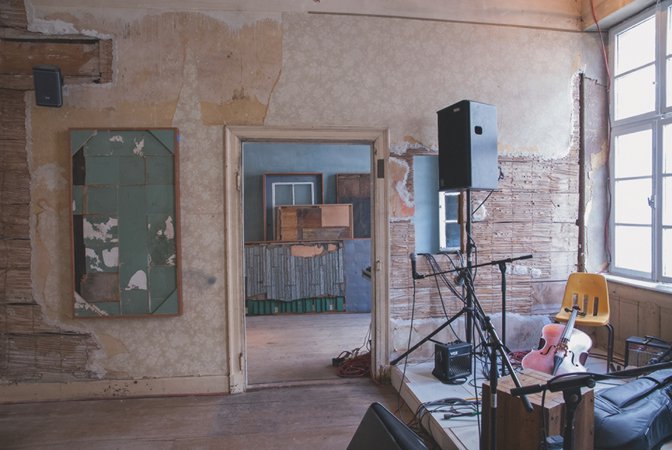 12 Ballads for Huguenot House by Theaster Gates (2012), image via Phaidon
The socially engaged projects of Theaster Gates (b.1973) address issues of urban decay and class inequality. His sculptures, installations and performances are part of a broader vision to revitalize deprived neighbourhoods and effect social change through art. Collaborating with archi­tects, craftspeople and laborers, Gates buys and renovates derelict properties, creating community spaces and artworks made from salvaged materials. Profits from the sale of his works are used to fund new social projects, often in the poorest areas of his native Chicago.
When Gates was invited to participate in the 2012 edition of Documenta––an international exhibition held every five years in Kassel, Germany––he toured the city and discovered Huguenot House, a dilapidated property built by French migrants in 1826. Using recycled materials from a previously renovated site in Chicago, Gates set about refurbishing the German building. 12 Ballads for Huguenot House challenged viewers to reconsider their sense of value and community within an urban context. For more than a year, the house provided a place for Gates and his team to live, while at the same time hosting performances, talks, meals and the production of art. During Documenta, 12 videos featuring musicians recorded in Chicago were displayed throughout the property, breathing new life into its formerly abandoned spaces.
RELATED ARTICLES:
We Ranked Hito Steyerl's Online Videos From Best to Best: Watch Them All Here
If a Celebrity Makes a Painting, Is It Art? A Look at 8 Famous Stars Who Consider Themselves Artists
6 Reasons to Collect Jonas Mekas's Loving Tribute to New York City