Five reasons to collect Jonas Mekas ' loving tribute to New York City:
(Plus, read our 2015 interview with the artist here .)
1. Last week, we sadly lost one of the greatest avant-garde filmmakers and critics, Jonas Mekas (1922 -2019). From his obituary in the New York Times : "It is rare to have consensus on the pre-eminence of any person in the arts. But few would argue that Mr. Mekas, who was often called the godfather or the guru of the New American Cinema—his name for the underground film movement of the 1950s and '60s—was the leading champion of the kind of film that doesn't show at the multiplex."
2. An immigrant from Lithuania, Mekas wasn't only a prolific filmmaker and critic—he also meaningfully supported and promoted independent filmmakers by co-founding several institutions: Film Culture , an influential quarterly journal; Anthology Film Archives,  which remains the world's most important repository of experimental films; and Film-Makers Cooperative, a distribution network. But Mekas' rallying spirit didn't begin in New York; when he lived in occupied Lithuania during WWII, he worked for a subversive underground newspaper.
3. So, what are Mekas' lauded films about, anyway? "There is no plot to speak of," wrote critic Roger Ebert of Mekas' first feature film, Guns of the Trees (1961). "The characters are dropouts from society, beatniks they used to be called, who live relatively simple lives, uncomplicated by Vietnam and Timothy Leary… What Jonas Mekas has made in this film, perhaps without fully intending to, is a documentary of a style of life."
4. Mekas's work has been shown at the 51st Venice Biennale, Documenta 11, MoMA PS1 in New York, and Moderna Museet in Stockholm. A former lecturer on film at MIT, Cooper Union, and New York University, Mekas opened the Jonas Mekas Visual Arts Center in Vilnius, Lithuania in 2007. Last year, a documentary about the artist entitled "I Had Nowhere to Go" was released by the Scottish artist and filmmaker Douglas Gordon .
5. To New York With Love Portfolio , a portfolio of 21 prints, is the artist's loving tribute to the city—a gift of poetic reminiscent images. Mekas was invited to the Neiman Center in 2009 to produce the serial portfolio, which consists of images excerpted from his film footage and diaristic 1969 work, Walden (Diaries, Notes, and Sketches) .
6. $6,000 for 21 prints, each measuring 16 by 20 inches, signed a dated... that's a steal. (If you're looking for less of a commitment, collect Mekas' prints one by one here —though they're going fast.)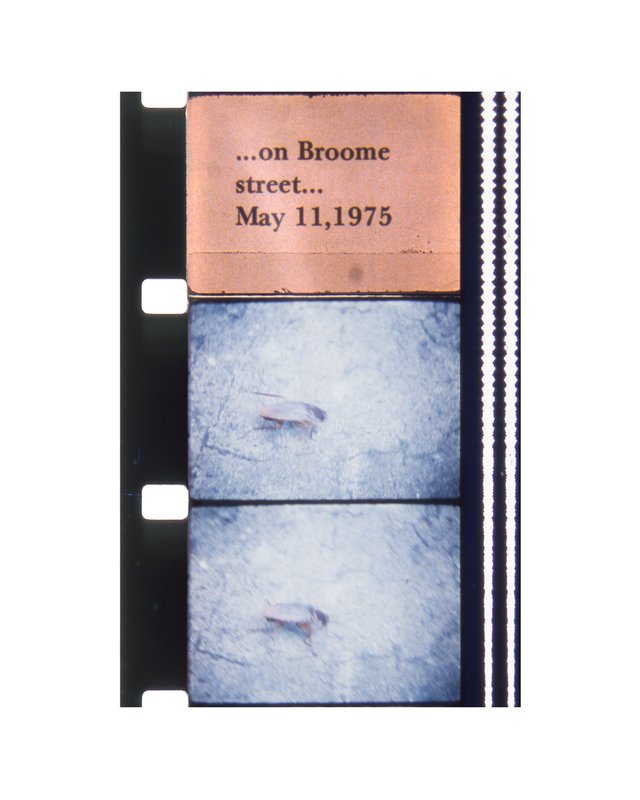 One of the 21 prints within the portfolio. Click here to see the others. To New York With Love is available on Artspace for $6,000 or as low as $528 per month.
RELATED ARTICLES:
Experimental Film Pioneer Jonas Mekas on the Early Days of New York's Avant-Garde
"We Need a New Vocabulary": Filmmaker Jonas Mekas on the Future of the Avant-Garde
Underground Legend Jonas Mekas's Guide to Becoming an Avant-Garde Filmmaker