Five reasons to collect KAWS' toys (that aren't "just 'cause'").
1. Well-known as a street artist, apparel producer, and graphic designer, KAWS blurs the boundaries between fine art and commercial art. His work is collected by the High Museum of Art in Atlanta, the Rosenblum Collection in Paris, and the Modern Art Museum of Fort Worth, and he's represented by major galleries Perrotin and Skarstedt. He has installed large-scale permanent public artworks at the Musemplein in Amsterdam and at the Modern Art Museum of Fort Worth. In 2017, the artist created an Air Jordan 4 shoe for Nike and a Peanuts -inspired T-shirt and plush toy for Uniqlo. In 2012, KAWS' Mickey Mouse-like figure was adapted into a balloon for the Macy's Thanksgiving Day Parade.
2. After graduating from the School of Visual Arts in New York with a degree in illustration in 1996, KAWS worked as an animator, painting backgrounds for cartoons like 101 Dalmatians, Daria, and Doug . (He now appropriations cartoons like The Simpsons , SpongeBob SquarePants , and the Smurfs , among others.) During this time, he did street art on billboards, bus shelters, and phone booths using the moniker for which he's so well known today.
3. KAWS's cult-like following includes apparel-obsessed adolescents, art historians, and collectors alike (Tobey Maguire and Pharrell Williams among them).
4. KAWS is most known for his Companion series of toys, which incorporate his signature style of smooth cartoonish figures, in some cases cut away to reveal a dissected human-like anatomy.
5. KAWS produces his Companion figures in multiple scales. Life-size versions are reserved for collectors willing to dish out upwards of a million dollars (Sotheby's is auctioning one off on November 14; it's estimated to sell for $800,000-1,200,000. In the past, his Companion sculptures have sold for as much as $411,000.) The smaller versions on Artspace pack a pint-size punch—for just $285. (For more color options and a variety of figures, see additional available works here .)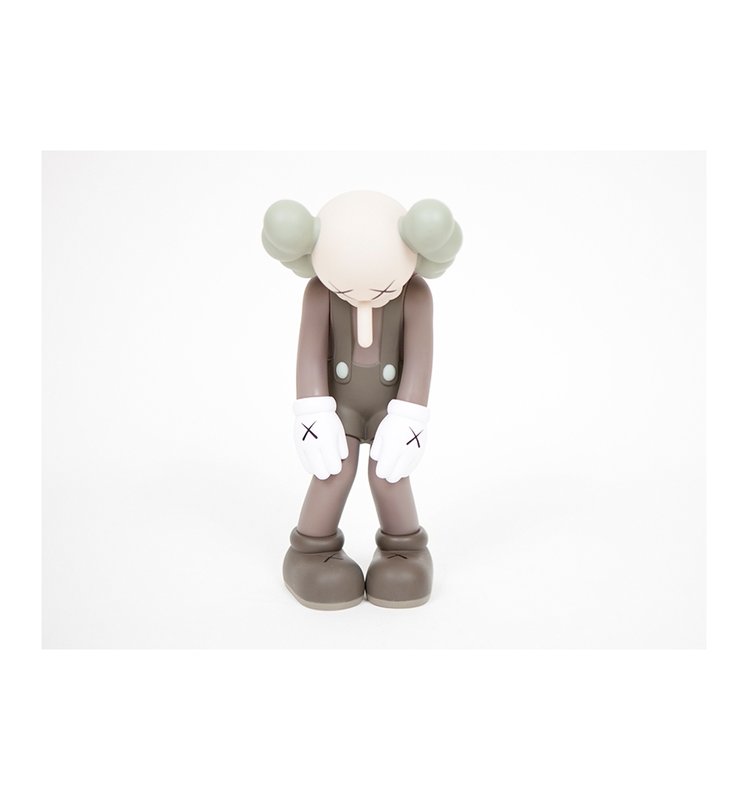 Small Lie (Brown) , 2017 is available on Artspace for $285, or as low as $26/month
[related-works-module]