Here are six reasons to collect prints by Salvador Dalí. (Artspace has a wide selection available— browse them all here .)
1. Born in 1904 in Catalonia, Spain, Salvador Dalí was arguably the most famous twentieth-century Surrealist. He was inspired by Cubism, Dadaism , and Freud's then-new theories of the unconscious, fetishism, and desire, although his painting expertise is also attributed to the influence of the Renaissance masters.
2. Dalí worked with his own invented symbology, which included melting clocks, bureau drawers, and fictional animals, including one of his signatures: elephants with exaggeratedly skinny legs.
3. Dalí worked in a variety of mediums. Two of his sculptures, Lobster and Telephone (1936) and Mae West Lips Sofa (1938), became Surrealist icons, as did his mustache with its waxed, up-ticked ends.
4. Dalí's aesthetic was also very much inspired by the graphic arts. He began making etchings and lithographic prints early on his career, and continued to do so throughout his life.
5. The prints featured on Artspace are part of Biblia Sacra vulgatæ editionis , illustrated by Dalí and published by Rizzoli-Mediolani between 1967 and 1969. In Abraham, Abraham! , an angel sent by God prevents Abraham from sacrificing his son. The angel, shown from the back, their head hidden, overwhelms the frame in a majestic lavender blur, while Abraham, a small scrunched naked torso, knife raised, looks up to greet the impending miracle.
6. Dalí's works can be found in major museum collections across the world including the Metropolitan Museum, New York, Museum of Modern Art, New York, and the Guggenheim, New York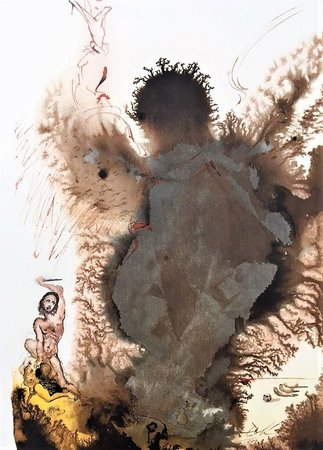 Abraham, Abraham! is available on Artspace for $900 or $80/mo
[related-works-module]