Four reasons to collect Oops Pool Float by Cindy Sherman:
1. Cindy Sherman is one of the most celebrated conceptual photographers in the 20th century. Most known for photographing herself in costume and makeup to embody caricatures of tropes of female identity. Serving as her own model in the majority of her work, Sherman's self-portraits came to prominence in the late 1970s through a series of black-and-white photographs called Untitled Film Stills. In these works, produced between 1977 and 1980 and evocative of glossy 8-by-10-inch publicity shots, Sherman used different costumes, backdrops, wigs, facial expressions, make-up, and poses to transform herself into a range of female archetypes from debutante to starlet, from housewife to lush.
2. Sherman's Oops Phone Float resembles and iPhone with a picture the artist created by merging two photographs from her phone. It comes in a reusable swim bag with the artist's motto: "I'd rather be swimming."
3. Who says you need a pool for a Cindy Sherman pool float? The metallic silver inflatable can be used in water, or shown as a sculptural object inside the home.
4. Oops Phone Float is Third Drawer Down's newest addition to the Pool Float Collection, and proceeds from all sales will directly benefit Friends of + POOL, a non-profit overseeing the planning of a public pool that floats in the Hudson River, filtering river water in the process.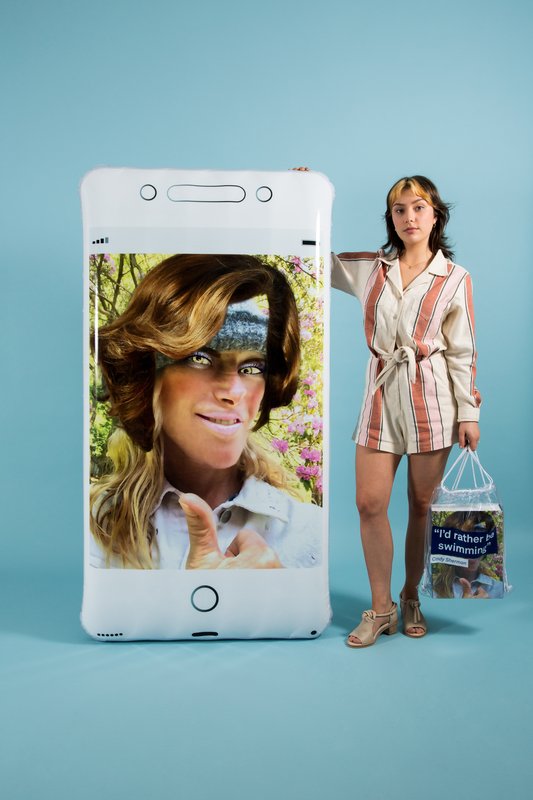 Oops Pool Float is available on Artspace for $250
[related-works-module]